Preparing Christmas dinner is something I look forward to every year, however I often get in a rut serving the same recipes year after year. If you are anything like me, you are looking for a new recipe to serve. These Christmas Dinner Ideas including appetizers, main dishes, potatoes, salads, drinks and dessert are sure to help!
Pick a few recipes and add them to the printable Holiday menu. It includes a spot for your recipe source, grocery list and if you are hosting dinner and others are bringing a dish, you can add that too.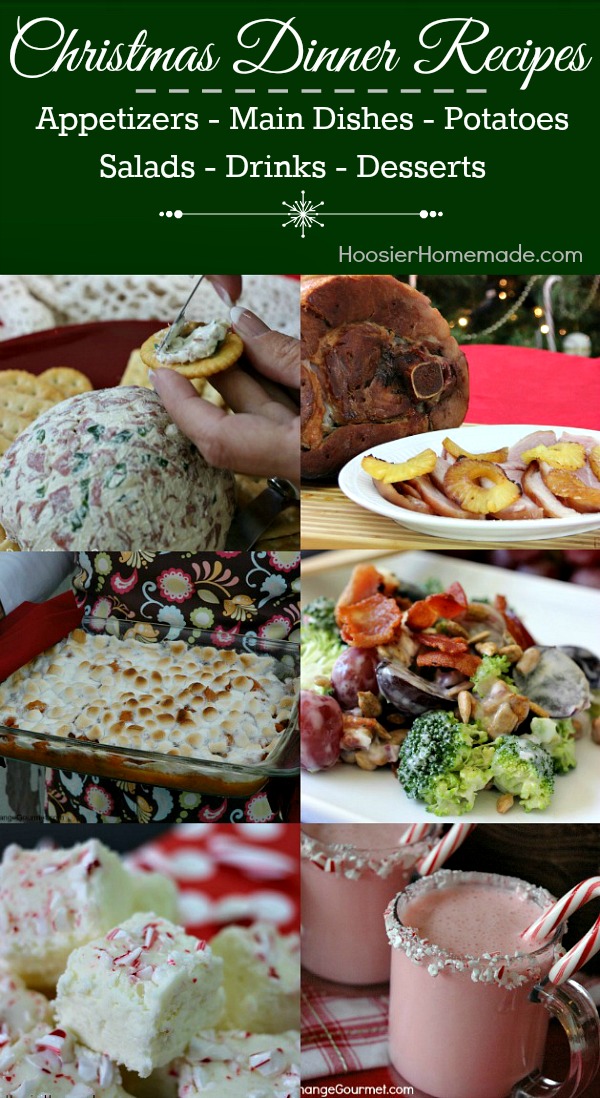 We are wrapping up week one of our 12 Steps to Christmas Sanity. So far in this series we have made a Christmas Card, scheduled all of our parties and events on our Printable December Calendar, gathered budget friendly gift ideas, printed out a Christmas Gift List and now we are tackling the Christmas Dinner Menu! Thanks to Laura from I Heart Planners for all the great printables!
Today we have a Printable Menu Plan for you, click on the photo to download…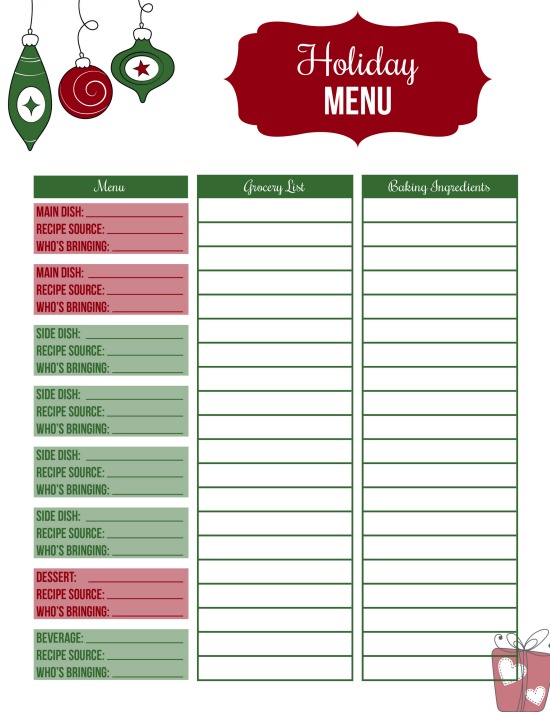 Christmas Appetizer Recipes

Christmas Dinner Main Dishes

Christmas Dinner Potato Recipes

Christmas Dinner Salad Recipes

Christmas Dinner Drink Recipes

Christmas Dessert Recipes

And follow along each day as we help you get ready for the holidays!
Day 4 – Printable Christmas List
Day 6 – Baking Supplies Checklist and Printable List
Day 7 – No Bake Holiday Treats: Hot Fudge Sauce, Christmas Candy Crunch, Cookie Dough Truffles, Homemade Gum Drops and Hot Cocoa Mix
Day 8 – Simple Decorating Ideas
Day 9 – Easy Gift Bags with Fabric Handles and Printable Gift Tags (2 different styles)
Day 10 – Gift Basket Idea and Printable Gift List
Day 11 – Party Prep and Printable Party Planner
Day 12 – Organizing Christmas Decorations and Printable Box Labels and Inventory Sheet