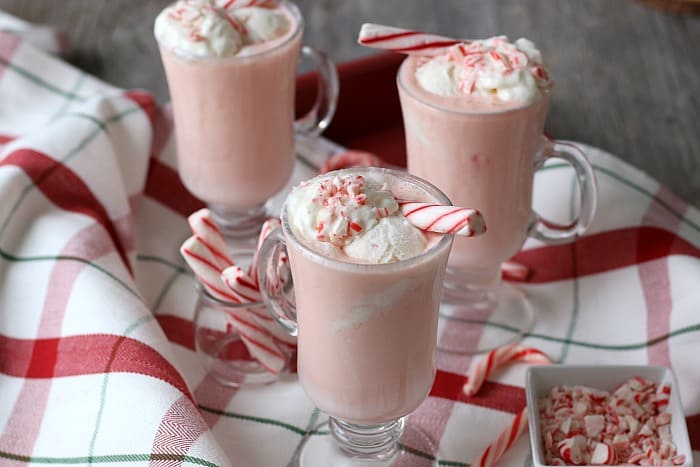 This Peppermint Punch takes only 3 ingredients to have a festive drink for the holidays! And you can make it with or without alcohol.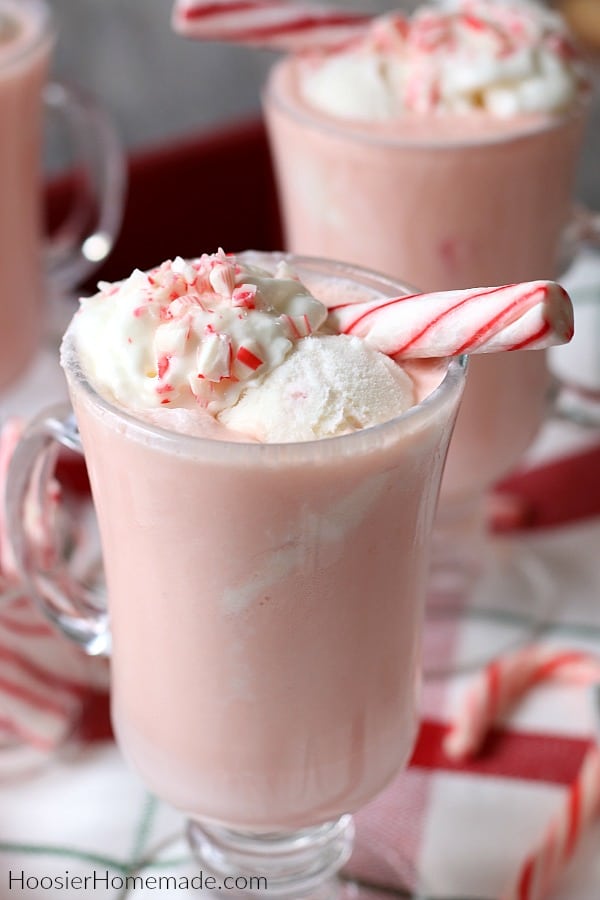 Welcome to Day 4 of the 100 Days of Homemade Holiday Inspiration! Each day we will be inspiring you with recipes, decorating ideas, crafts, homemade gift ideas and much more!
If you are entertaining this holiday season and looking for something different to drink, this Christmas peppermint punch will be the perfect choice! With just three ingredients, you can serve your guests a beverage they have probably never had. And because they can only have it once a year, it is certain to leave a lasting memory on those who have celebrated with you.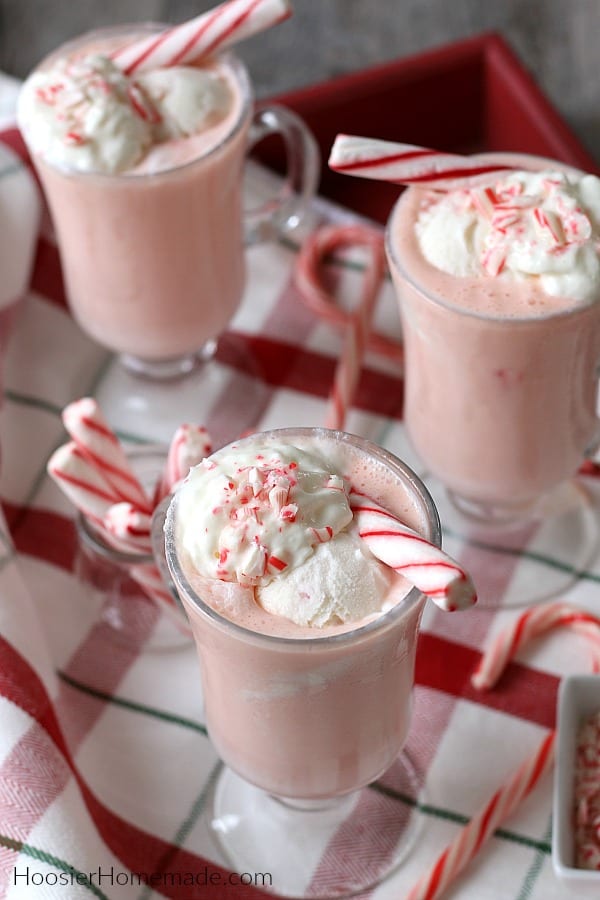 Lately we have been chatting about creating holiday memories with your family. SIMPLE recipes and ideas that you can make that the family will remember year after year.
Serving a special drink during the holidays, whether it's at a party or with cookies while you are watching a Christmas movie is definitely one of those special moments to build memories.
My mom always served a special drink during the holidays, sometimes it was simple like hot apple cider, and other times she would make Eggnog from scratch. Either way, it was fun and something I remember.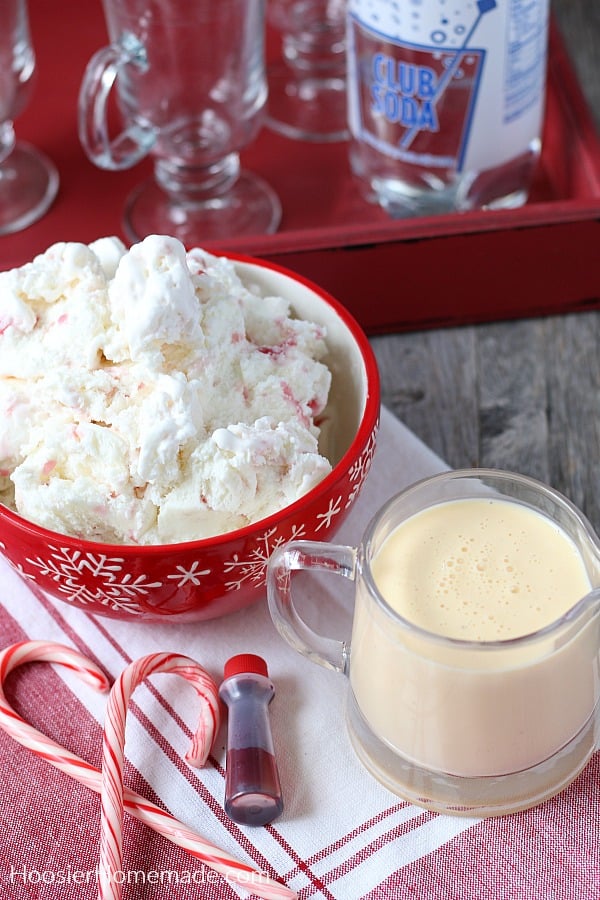 Peppermint Punch
Ingredients
Peppermint Ice Cream – I used Edy's brand of ice cream for this recipe, but any will work
Eggnog
Club Soda
Red Food Coloring – this is optional, depending on if your ice cream is pink or white, and if you want to add it
Whip Cream – again, this is optional, but always a fun addition
Peppermint Sticks or crushed Peppermint, optional and it says, it's a fun addition as well
Kitchen Essentials Needed
Blender
Big spoon or Ice Cream scoop
Measuring Cup
Glasses
Heavy resealable bag (for crushing peppermint)
Rolling Pin or hammer (for crushing peppermint)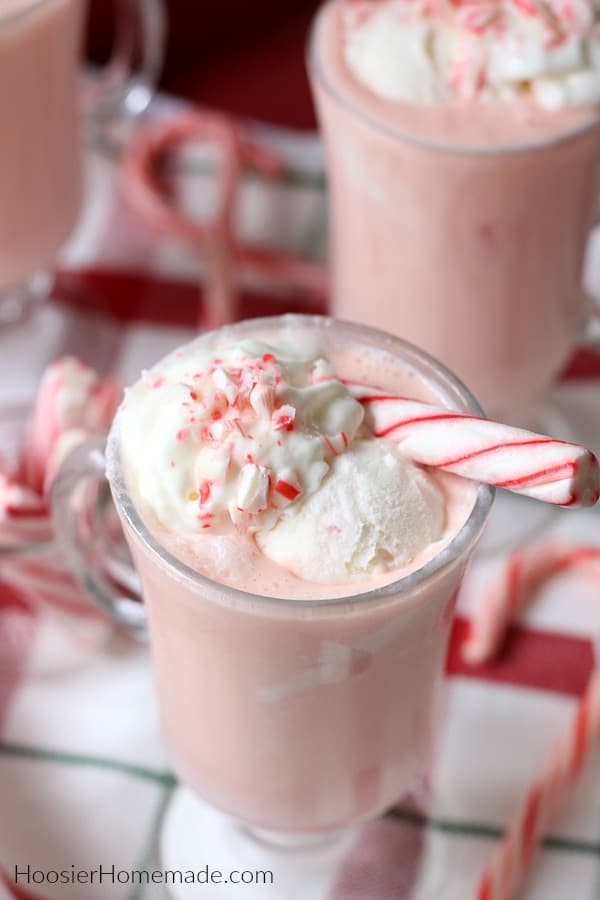 Making this Peppermint Punch is SUPER easy. I do have a few tips though –
Chill your glasses ahead of time, it will keep the drink cold longer
If you want to add a scoop of ice cream to the top of the drink – scoop 1 for each glass and put it on a plate and freeze it
Be sure to have the toppings ready
To crush peppermint – you can use peppermint candies or candy canes. Add them to a resealable bag (be sure it's heavy and won't break) and hit them with the rolling pin or a hammer into small pieces
Alcohol – if you would like to make this drink for adults, add 1 ounce of Peppermint Vodka to each drink after you blend the ice cream and eggnog
Eggnog – you can find this in the refrigerator section of your grocery store, near the milk
Serving – I like serving this punch in a tall fancy glass, but you can certainly use regular glasses or even mason jars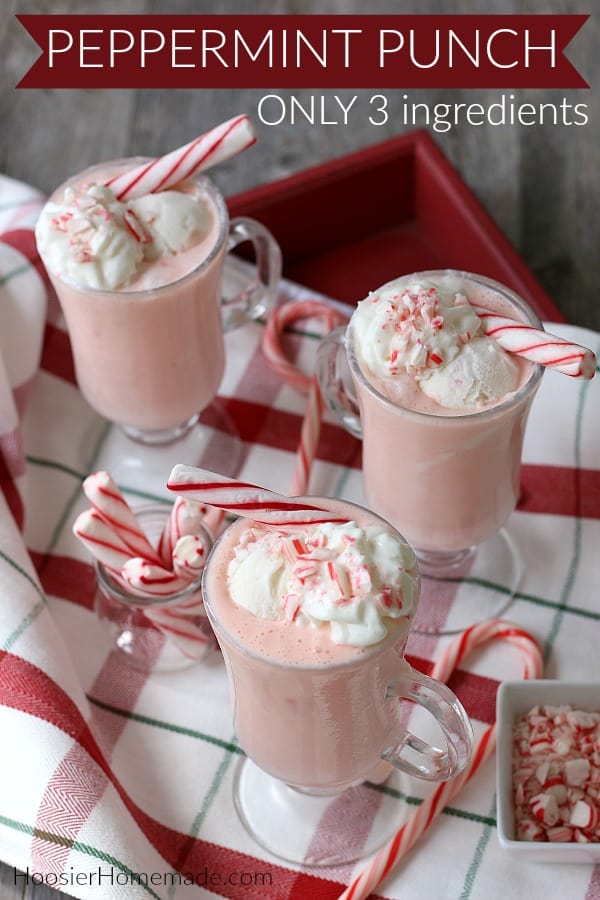 Follow along with the 100 Days of Homemade Holiday Inspiration for more simple recipes, easy crafts, homemade gift ideas, decorating tips and much more!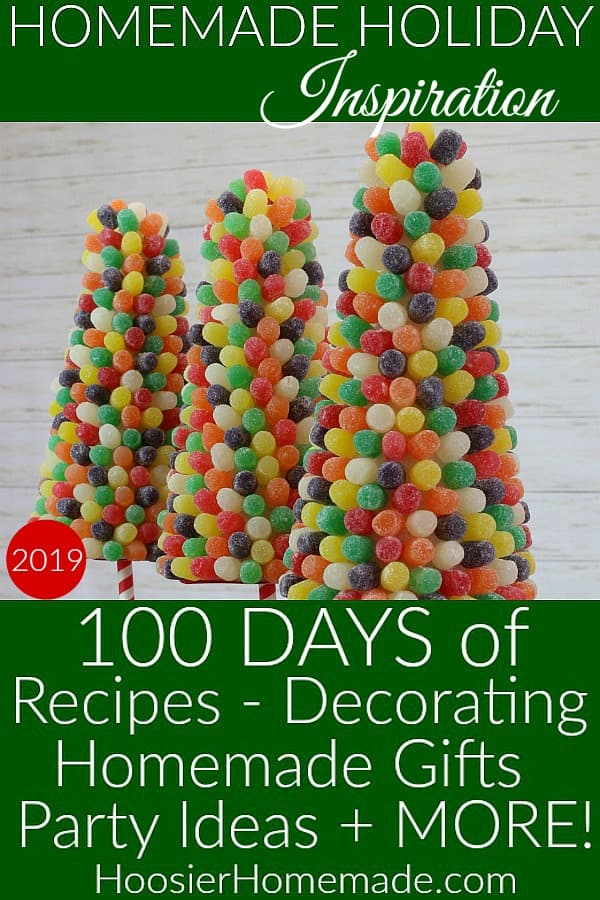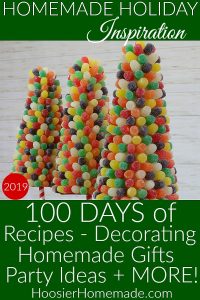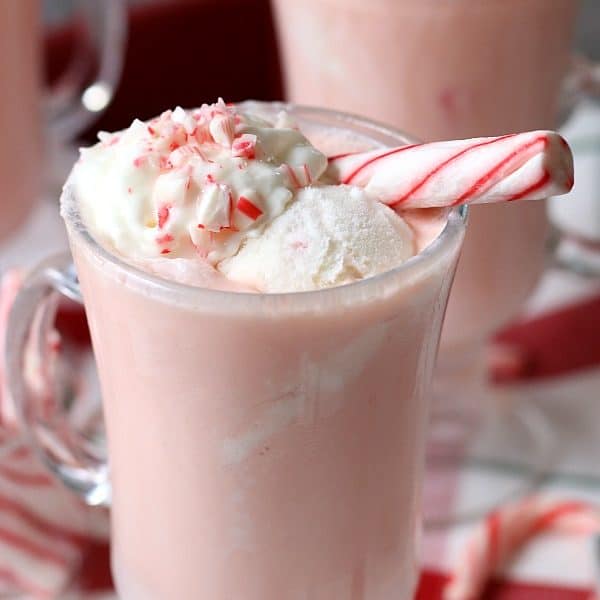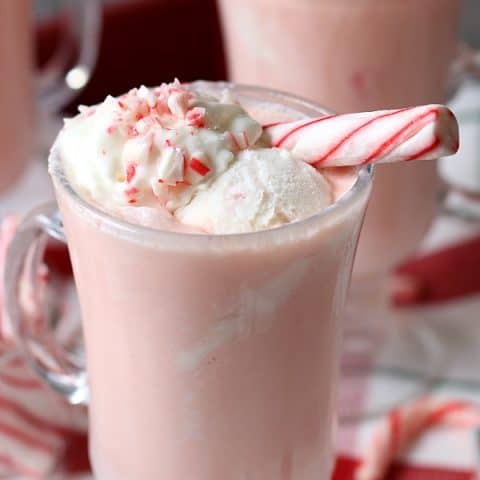 Peppermint Punch
This festive drink can be made with or without alcohol and only take 3 ingredients.
Ingredients
4-5 large scoops Peppermint Ice Cream, more if you want it thick
2 cups EggNog
Club Soda
Red Food Coloring, optional
Crushed Peppermint or Peppermint Sticks for garnish, optional
Whip Cream, optional
Instructions
Add ice cream, eggnog and a few drops of food coloring if needed (see notes) to blender
Blender on low until smooth
Pour into glasses until 3/4 full
Top off with Club Soda, be sure to leave enough room for whip cream if you are adding it
Add whip cream, peppermint stick and crushed peppermint, if desired
Drink immediately
Notes
Food Coloring - if your peppermint ice cream is pink, you may not need the food coloring. I used Edy's ice cream and it is white with peppermint pieces
Alcohol - if you want to make this Peppermint Punch for adults, add 1 ounce of Peppermint Vodka after blending