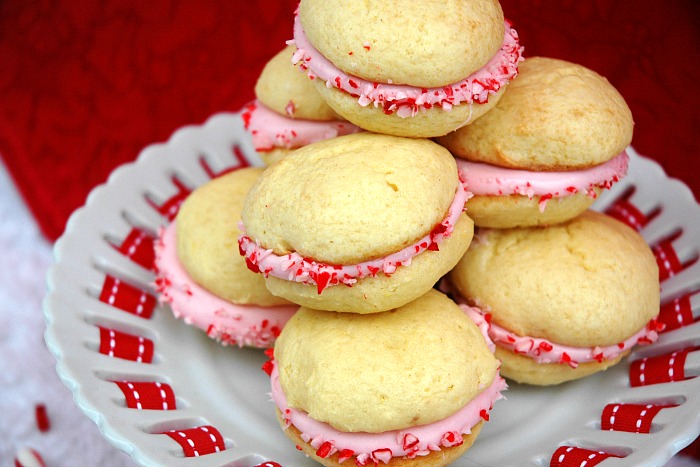 Christmas is almost here! Serving a special dessert for a Holiday Party can sometimes be difficult with everything else there is to do. I love desserts that look amazing…look like you spent hours on them…but are really easy. These Peppermint Whoopie Pies have amazing flavor but are super easy to put together!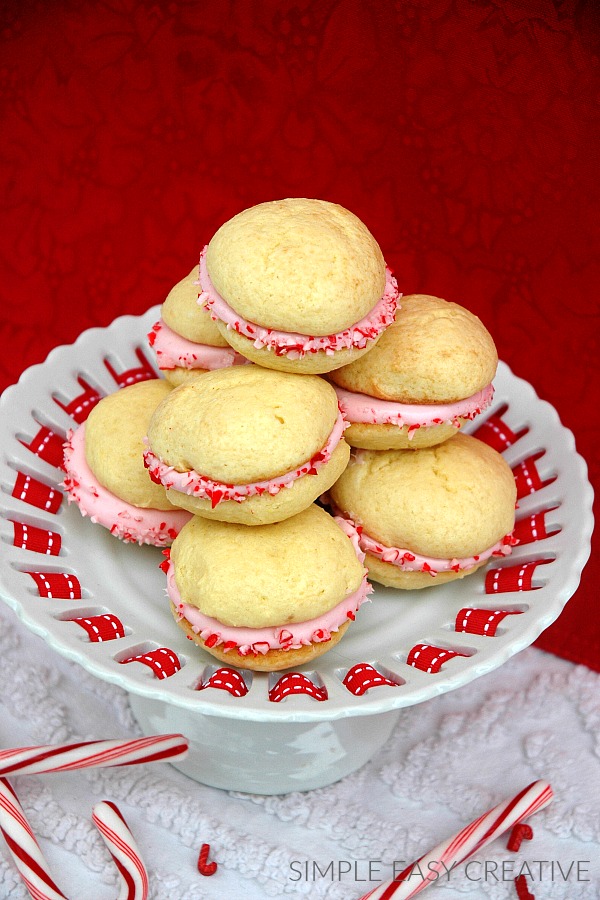 The Whoopie Pie flavor combinations are endless! With all the different flavors of cake mixes and frostings, you can let your imagination run wild!
For the holidays, we love these Easy Whoopie Pies with red and green Funfetti sprinkles, Raspberry and Chocolate are a delicious combination, and we can't forget the iconic Pumpkin Whoopie Pies!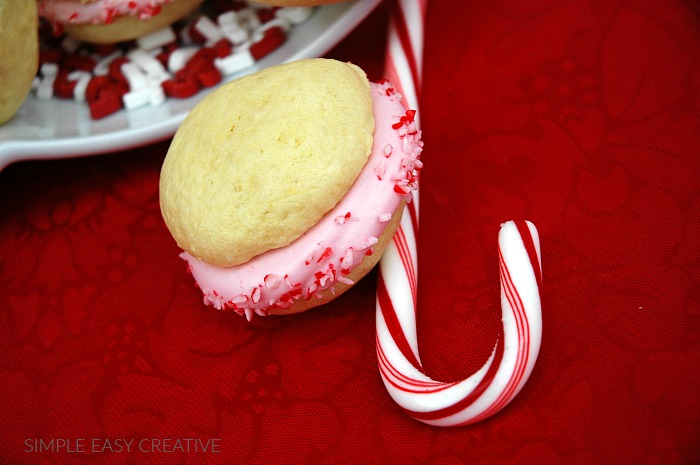 What is a Whoopie Pie?
We love them! We eat them! But have you ever wondered where the name "Whoopie Pie" came from?
These two soft cookies made into a sandwich originally started with Amish bakers. Many Amish recipes come from generations that have passed down the recipes, so no one really knows. But it's been told that when the Amish children would find these treats in their lunch bags, they would shout "Whoopie!"
In the early 1920's the Whoopie Pies were sold at bakeries. And they have now evolved into many, many flavor combinations, although Marshmallow Fluff is the most popular for filling.
How to make Peppermint Whoopie Pies
Whoopie Pies made with White Cake Mix
Decorator bag or resealable bag
Crushed Candy Canes or sprinkles
Putting these little cuties together is a snap! After the Vanilla Whoopie Pies bake and are cooled, a simple dollop of Peppermint Frosting, a sprinkle of crushed candy canes and you have an amazing dessert in under 30 minutes!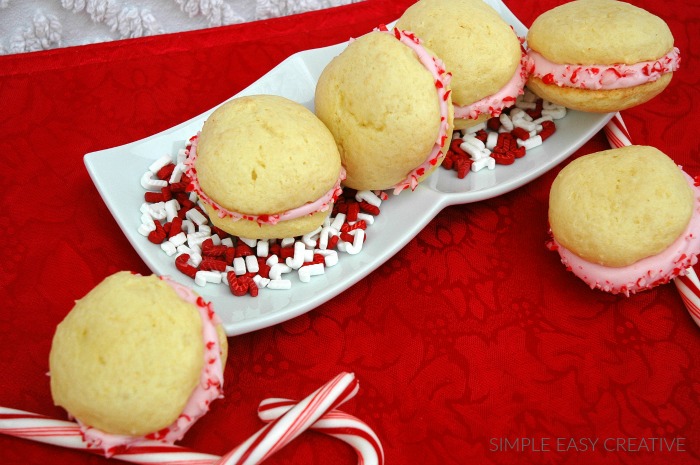 Looking for more amazing Peppermint Desserts to serve for the holidays? Click on the Photo below for the recipe –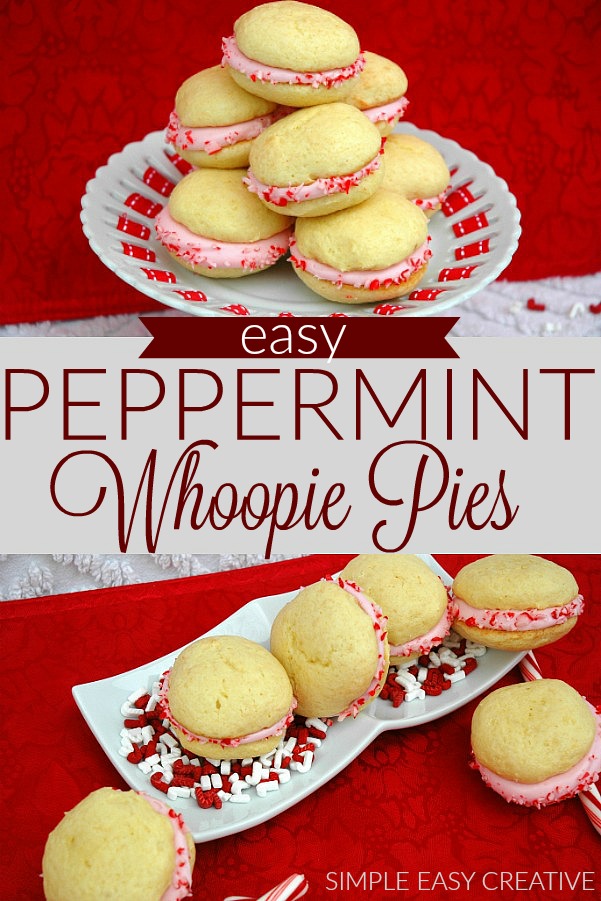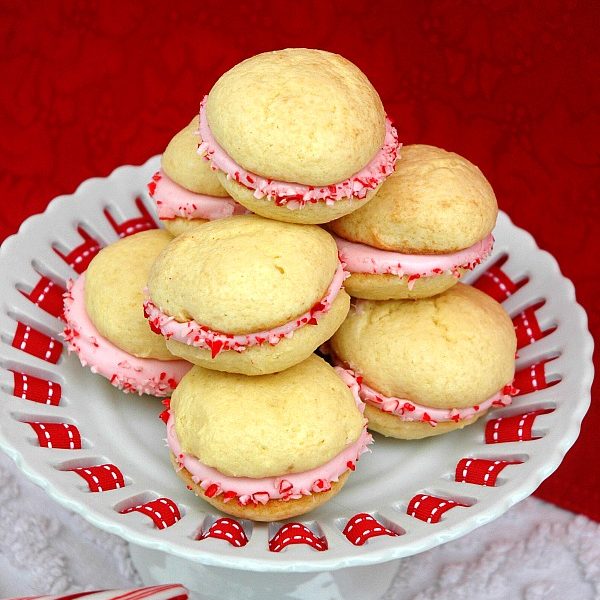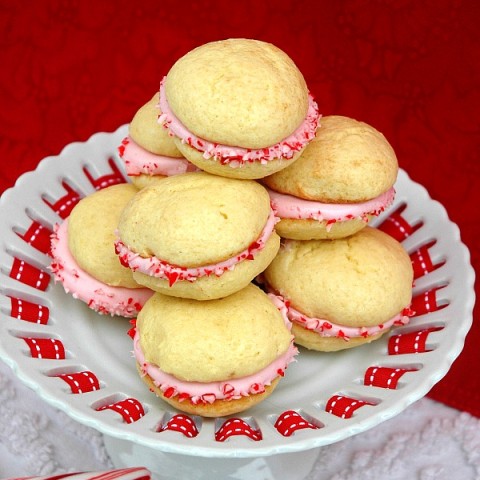 Peppermint Whoopie Pies
Add a special touch to your Holiday dessert table with these Peppermint Whoopie Pies
Ingredients
Cake
1 box white cake mix
1 small box instant vanilla pudding
1/2 cup flour -you may need a little more if the cookies are flat
1/3 cup oil
3 large eggs
1 cup water
Frosting
Peppermint Frosting - Recipe HERE
Decorations
Candy Canes, crushed
or Sprinkles
Instructions
Cakes
Preheat oven to 350 degrees
Spray cookie sheet with non-stick cooking spray
In a large bowl, add all cake ingredients, mix well
Use a small cookie dough scoop to divide batter
Bake at 350 degrees for about 10-12 minutes
Cool completely
Frosting
Using the Peppermint Frosting recipe, prepare frosting
Fit a decorator bag with a giant round tip
Crush candy canes
Pipe frosting onto a cake and then top with another
Sprinkle with candy canes or add sprinkles
Notes
The cakes can be made ahead and stored in an airtight container - single layer.
Frost and serve the same day.
Store leftovers in refrigerator