This Hot Chocolate Charcuterie Board adds creativity to your hot chocolate in a very simple and fun way! And it makes a great gift too!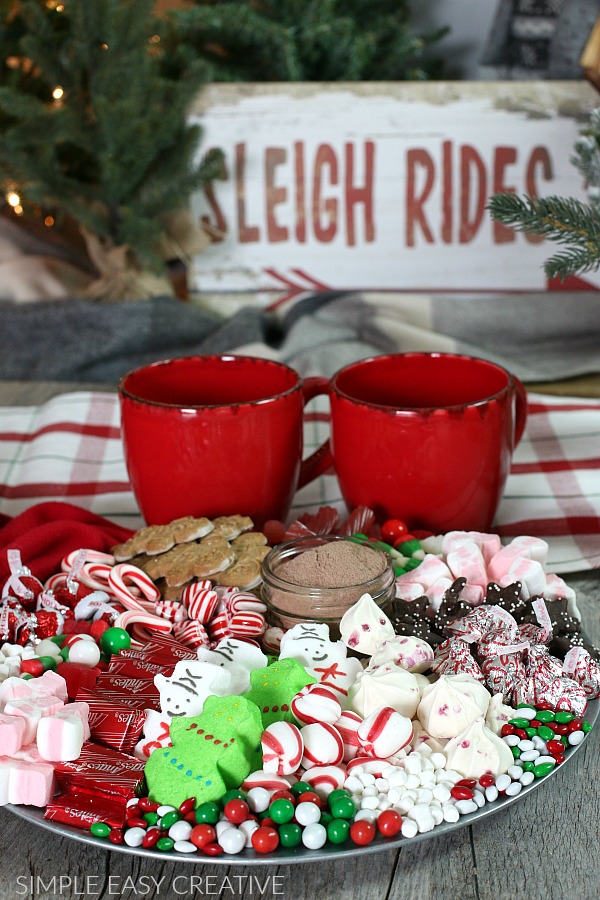 Each time I create a Charcuterie Board, it becomes my new favorite. It all started with Brunch Charcuterie Boards, and then came the tray with fruit and cheese to go with a smoothie. And there were Charcuterie Boards for Summer, Fall, Appetizers and then Chocolate Fondue for the holidays.
And now Hot Chocolate Charcuterie Board – the Charcuterie Board ideas were definitely flowing this year!
The fun thing about Charcuterie Plates is that the ideas are endless and the skies the limit! Really – anything you want to add, themed or random, all one color or a variety of colors – you get to choose.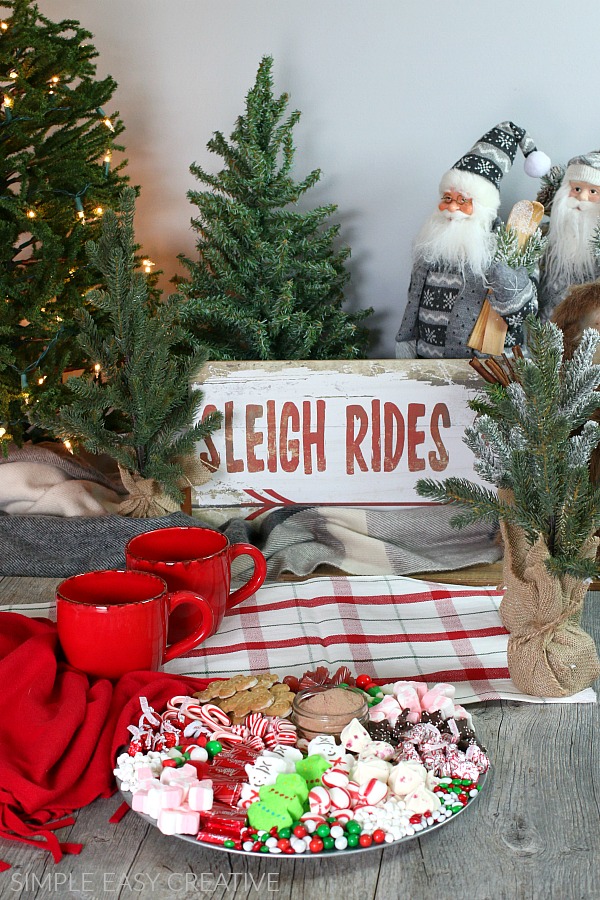 What is a Charcuterie Board?
Originally, the term Charcuterie came from the French, meaning – dressed meats and meat dishes. However, it has now evolved into much more.
Charcuterie Boards can hold a variety of meats, cheese, fruits, vegetables, desserts and much more!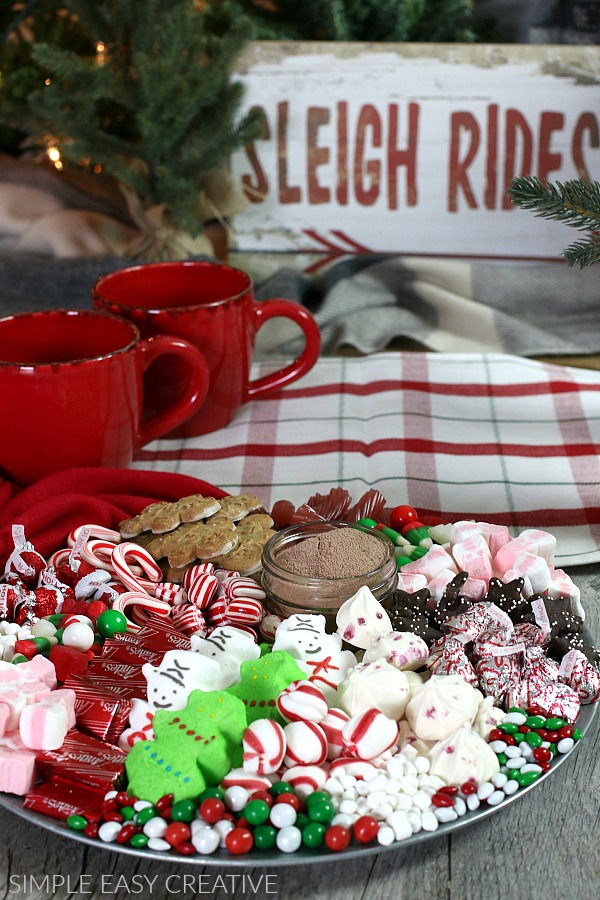 After creating several Charcuterie Boards, I have a few tips for you to make it even easier –
Tips to build a Charcuterie Board
Choose a theme – it could be a simple as meat and cheese, or ingredients that pair well with something you are serving – like the Pumpkin Fluff and Fall Board
Choose a color – this isn't always a must, but it does make it easier, especially when you are choosing ingredients. For example, if you are making a Charcuterie Board for a Summer cookout and want it sunny and bright, choose yellow, blue and orange food to add.
Choose a plate or cutting board that is flat and has no sides or very low sides. I like using trays that have just a small edge to hold all the food in.
Begin with the largest pieces first, then fill in going smaller and smaller. For this Hot Chocolate Tray, I added the jar with hot chocolate mix, then the Peeps Marshmallows, Gingerbread Men, then Peppermint Meringues. Then filled in with the smaller items, and finished with the Mallowbits Marshmallows, candy coated sunflower seeds and round sixlets candy.
When you are adding, start with a base layer, then after the plate is full, then you can go back in and fill on top to add more height.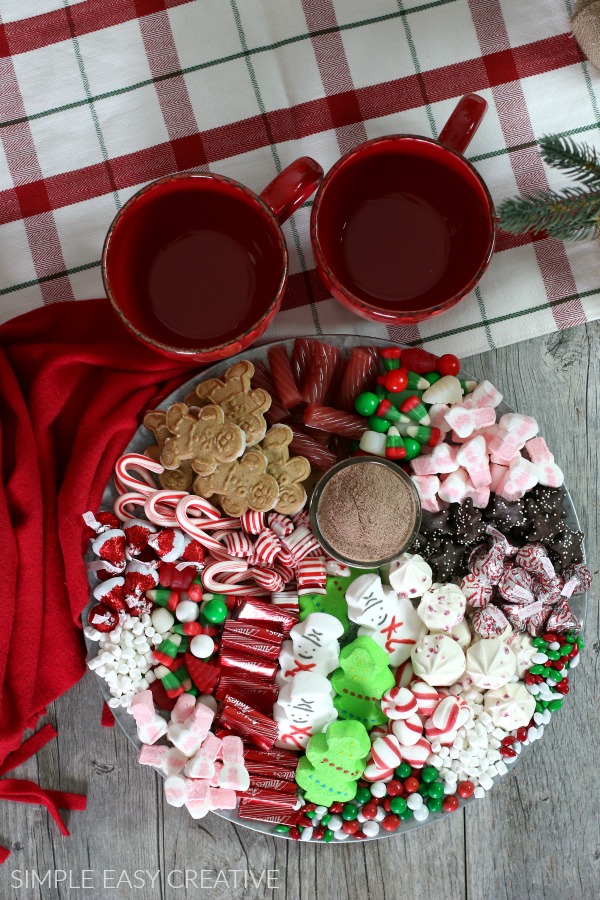 What you add to your Dessert Charcuterie Board is totally up to you, here is what I added to give you inspiration –
What to add to a Charcuterie Board
Hot Chocolate Mix – we love this homemade mix, and it's super easy to make
Peppermint Balls
Kisses – Santa and Peppermint
Chocolate Stars – from Trader Joes
Mini Gingerbread Men – from Trader Joes
Marshmallow Snowmen – from Target
Red Licorice – from  Trader Joes
Peppermint Meringues – from Trader Joes
Christmas Candy Mix – from Target
Now you can serve it with Hot Chocolate, add it to a Hot Chocolate Bar or even give the board as a gift!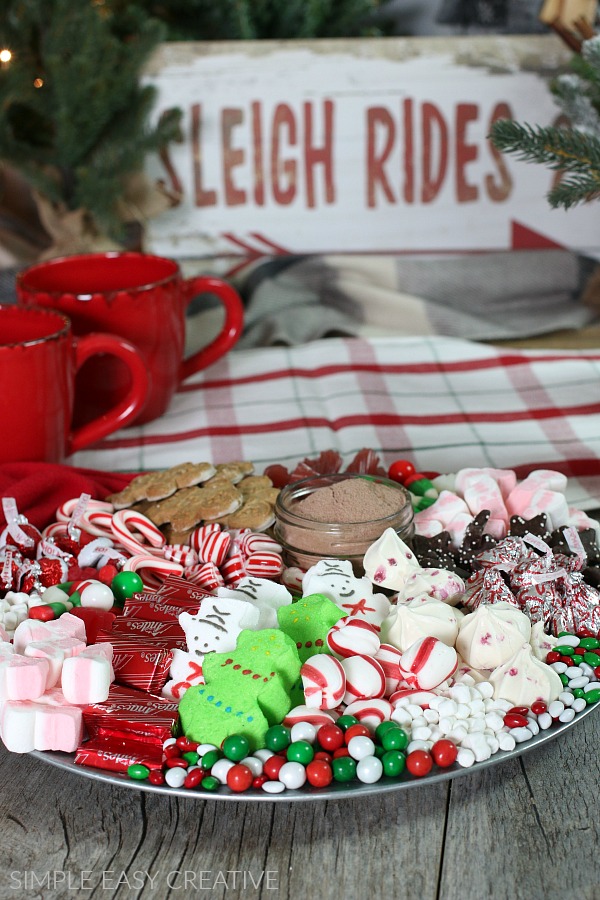 Looking for more Charcuterie Board Ideas? Click on the photo –