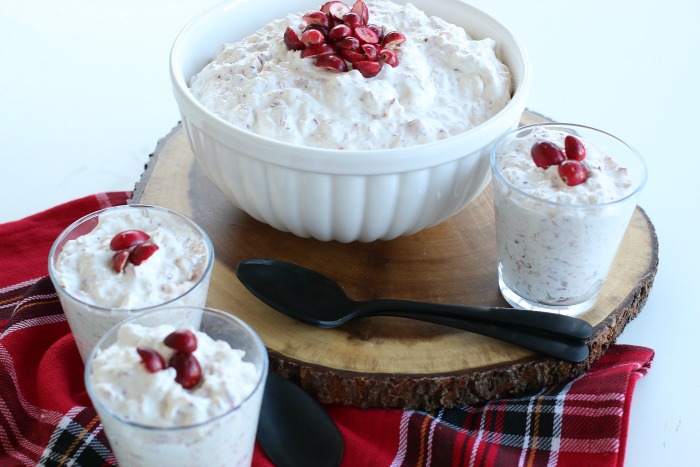 Some call it salad, some call it dessert – either way, this Cranberry Fluff will quickly become a family favorite. The recipe is super easy, goes together in 10 minutes or less and great for a beginner cook.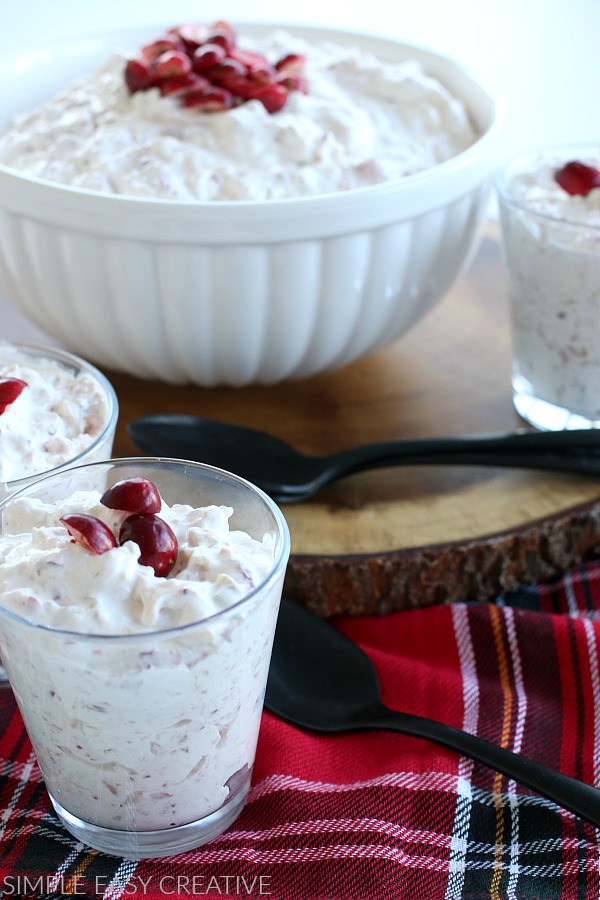 Are you ready for the easiest make ahead recipe ever? In about 10 minutes, probably less, you can have this Cranberry Fluff put together and in the refrigerator chilling. Then when you are ready to serve, just pull it from the fridge, unwrap and it's ready.
This Cranberry Fluff Recipe is very basic, and a great one to start with if you are new to the kitchen. You will need –
Cranberry Fluff Ingredients
Cranberries, fresh or frozen – you won't use a whole bag, so you can use the rest on Cranberry Bread 
Crushed Pineapple, canned
Mini Marshmallows
Sweetened Condensed Milk, found in the baking aisle
Whipped Topping, thawed – you can also use heavy whipping cream beat until stiff peaks form
Walnuts or Pecans, optional
Tools
Large Bowl
Spatula or large spoon
Food Processor, preferred (I have this one and LOVE it)  but a knife will work too
Plastic Wrap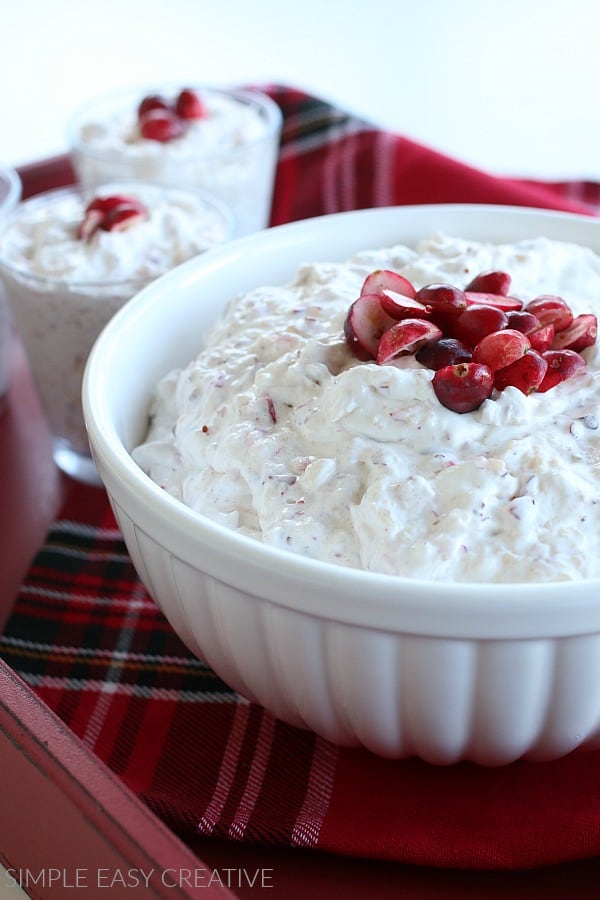 Whether it's Thanksgiving or Christmas, Cranberry Fluff Salad has been a tradition in many families, especially here in the Midwest. There are many variations, depending on the family – some add nuts, some add grapes or other fruit, others use whipping cream or whipped topping, some like cream cheese or no cream cheese – the list goes on and on.
However, one thing I do know – no matter how you make Cranberry Fluff, it's a favorite! Just like the Cherry Fluff and Pineapple Fluff, it will disappear before you can even go back for seconds.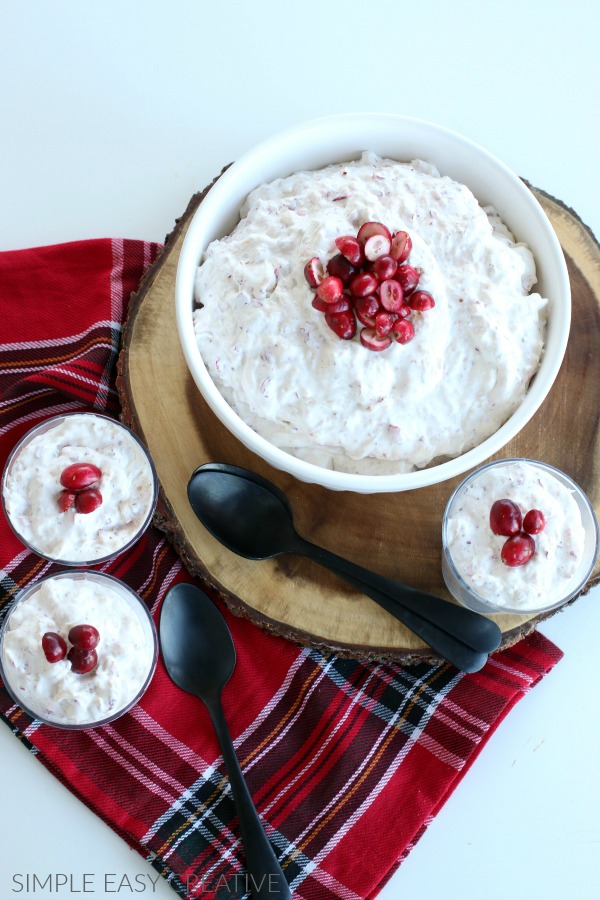 Looking for more easy make ahead recipes? Click on the photo below –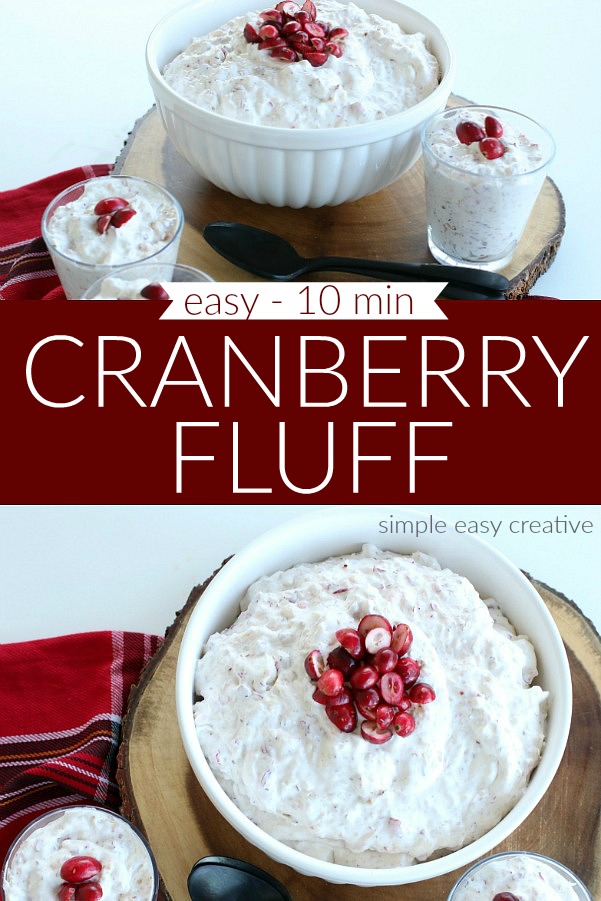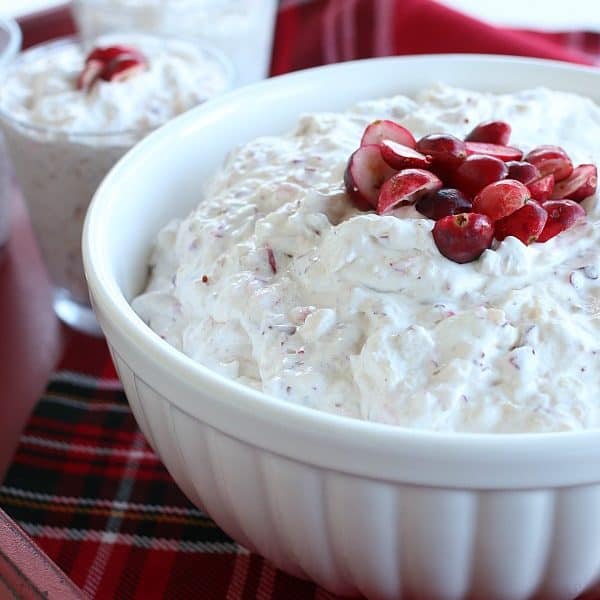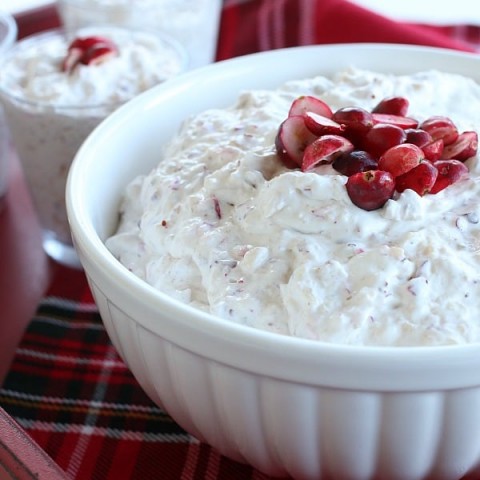 Cranberry Fluff
This easy Cranberry Fluff Recipe can be made ahead, chilled and ready to serve.
Ingredients
1 + 1/2 cups fresh or frozen Cranberries, chopped finely
1 can (20 oz) Crushed Pineapple, drained
1 can (14 oz) Sweetened Condensed Milk
1 (8 oz) tub Whipped Topping, thawed
1 cup Mini Marshmallows
1 cup Walnuts, chopped,optional
Instructions
Chop cranberries in food processor, add to large bowl
Drain pineapple, add to bowl
Chop walnuts in food processor or using a knife, add to bowl
Add milk and marshmallows, stir together
Gently fold in whipped topping until well combined
Cover with plastic wrap and store in the refrigerator for at least 1 hour before serving, overnight is fine.
Store leftovers in refrigerator