Simple, easy and fun desserts are definitely my favorite for the holidays- less time in the kitchen means more time with family! And these Pretzel Hugs are the perfect Christmas candy!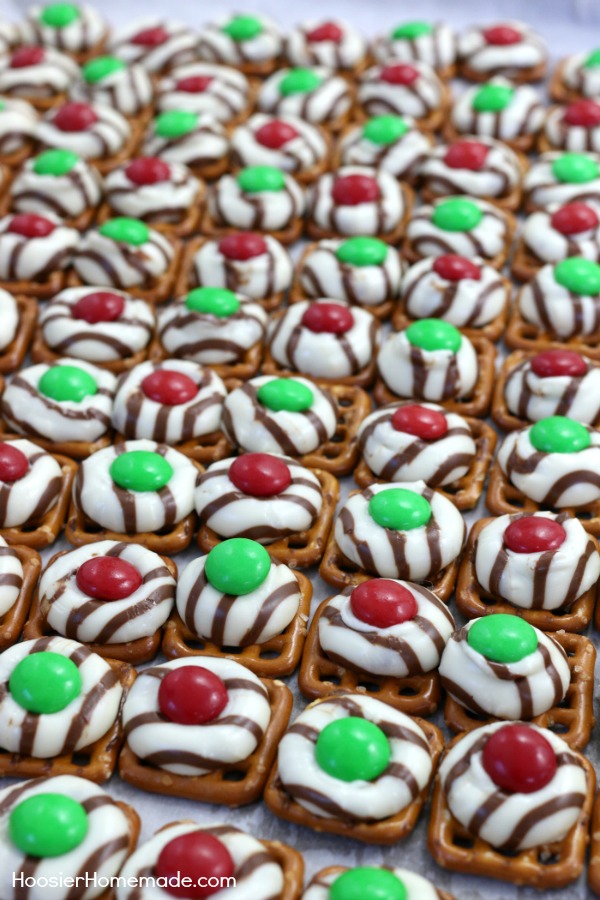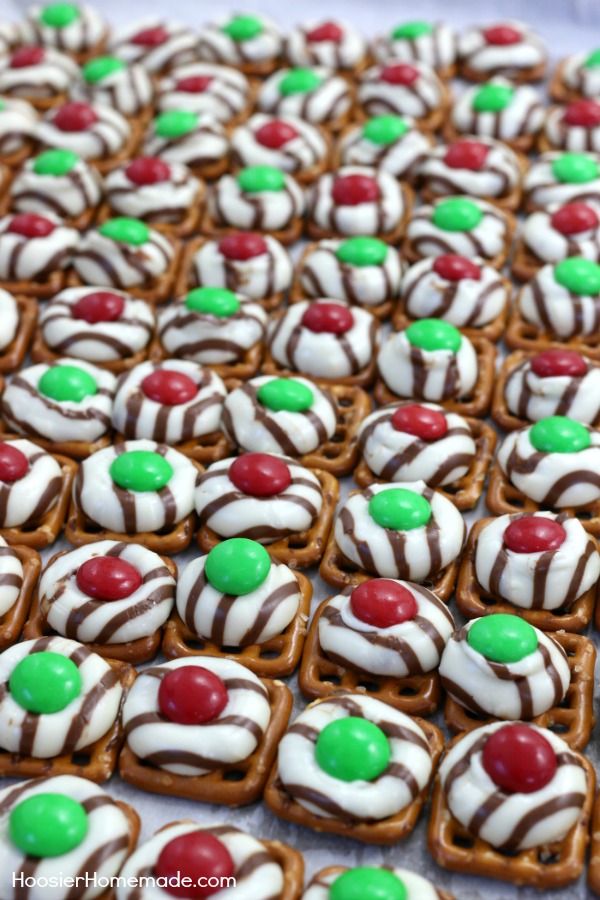 With only three ingredients, these pretzel hugs only take a few minutes to make- and they are so cute and festive that they can definitely be given as gifts! I think making both versions (details below) and tying them up in a cellophane bag would be adorable for neighbors and teachers.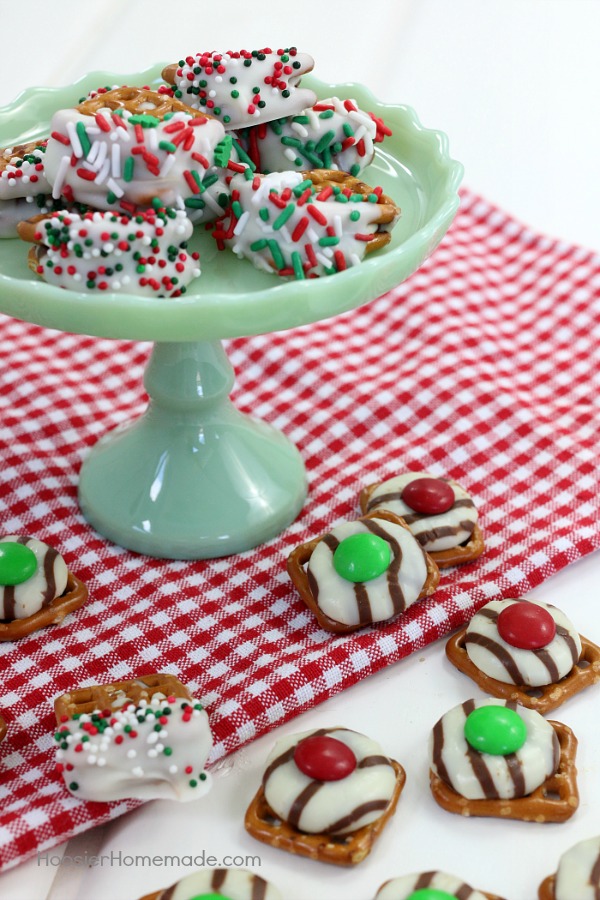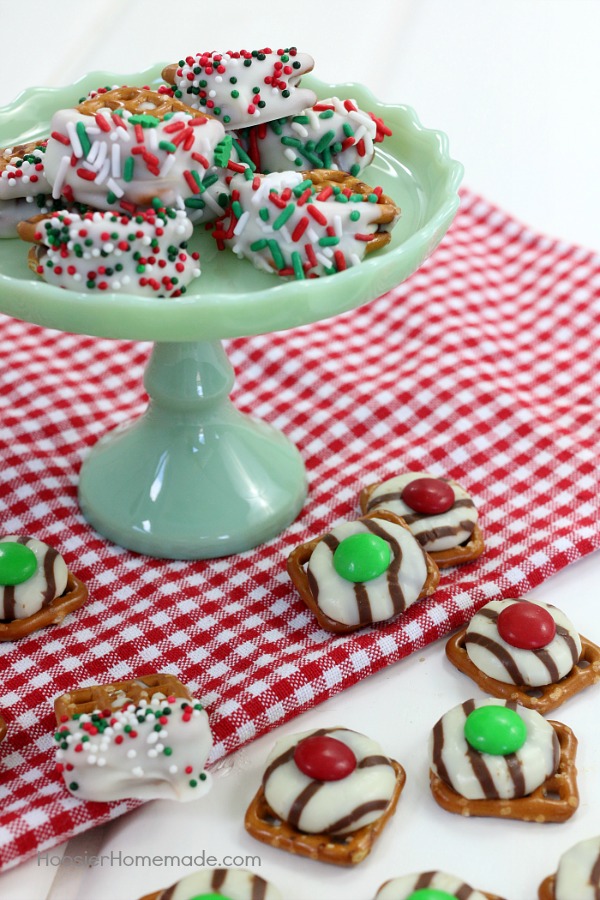 The first way to make these treats (with candy on top) is the most popular, but the second way might be my favorite! By adding an extra pretzel, the combination of salty and sweet is perfect for me. And then you can add sprinkles- I am obsessed with sprinkles during the holidays- they just make everything a little bit more fun!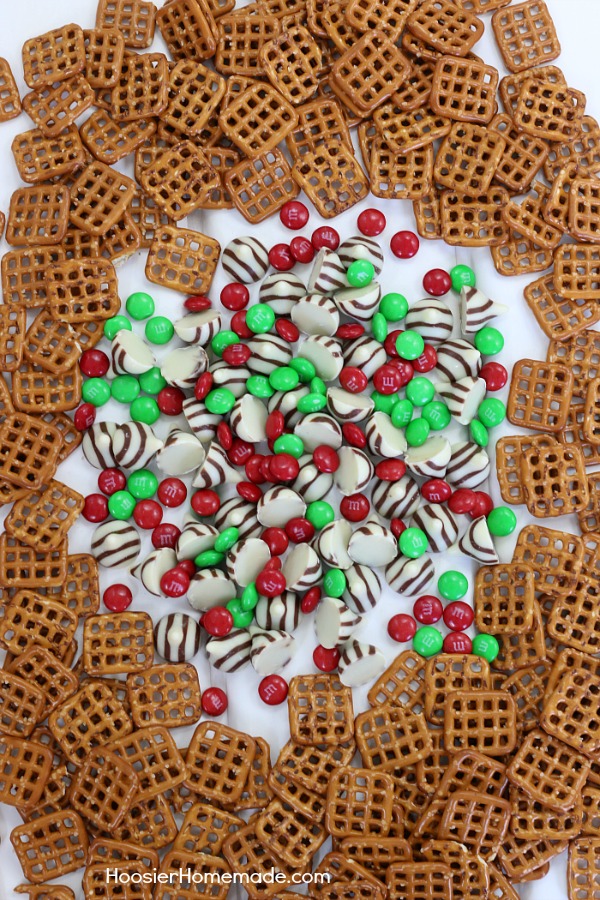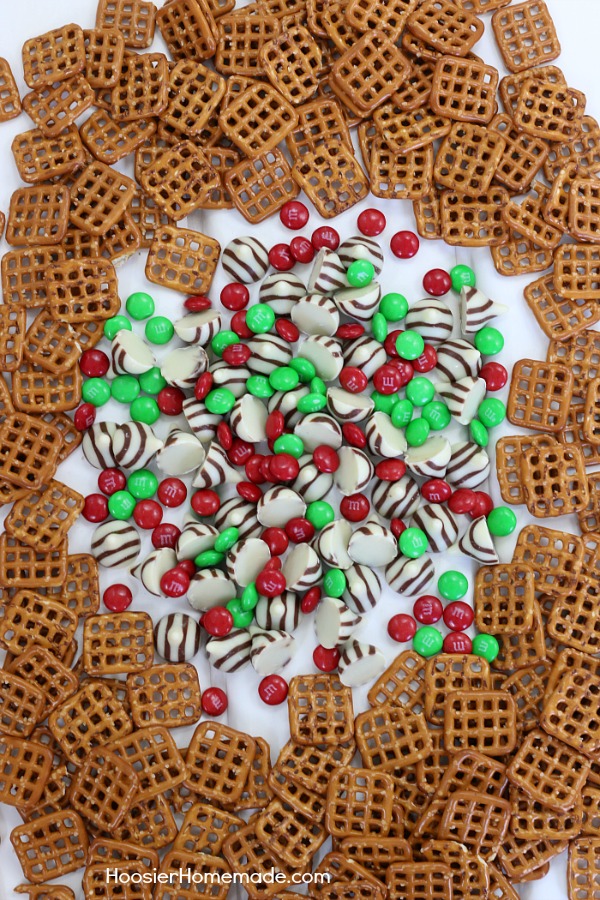 These Christmas Pretzel Hugs take only 3 ingredients!
Pretzels – I used Snyder's Snaps (square)
Chocolate Kisses – Hugs – 2 bags
Christmas M&M's chocolate candies – any color will work just fine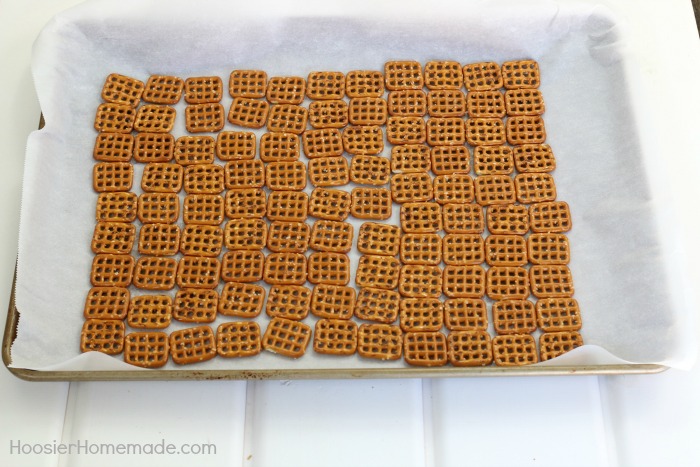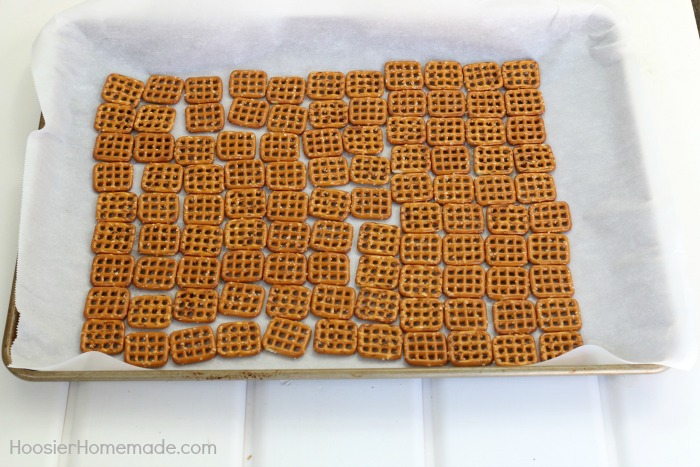 Step 1:
While your oven is preheating to 200 degrees, add parchment paper to a large cookie sheet.
Then add the pretzels to the cookie sheet.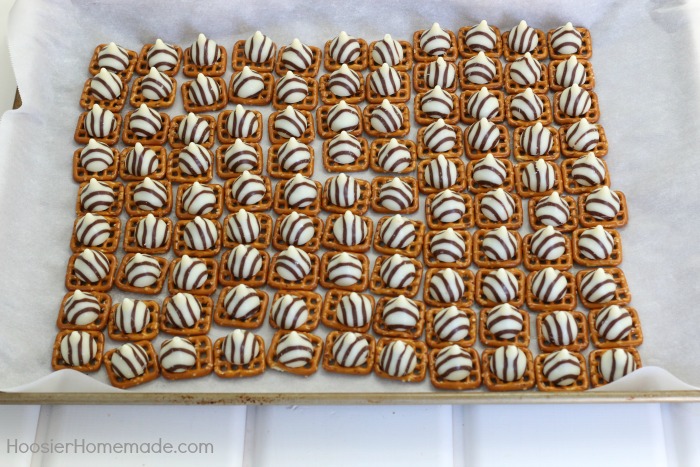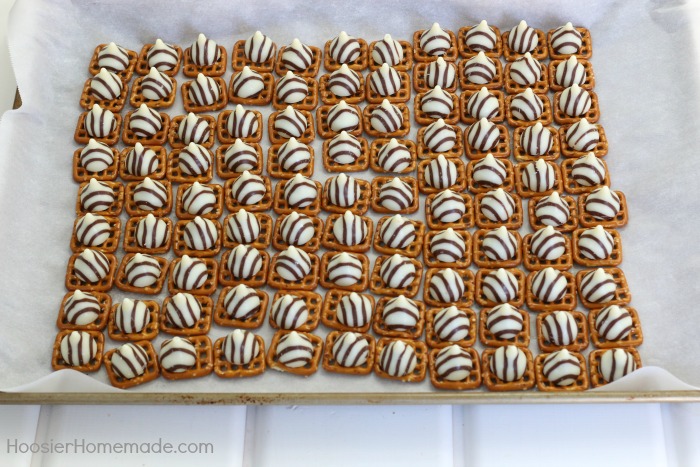 Step 2:
Then unwrap the chocolate kisses and add to the top of the pretzels.
Into the oven they go for about 4 to 5 minutes. You can check them at about 3 to 4 minutes by adding a M&M chocolate candy to the top and gently pushing down to see if the kiss is melted enough.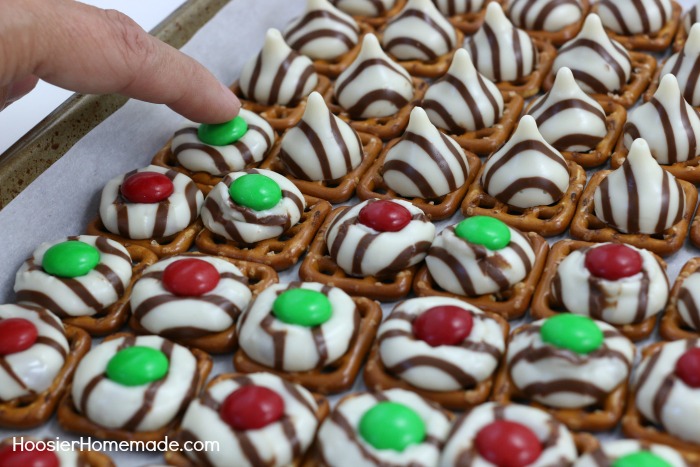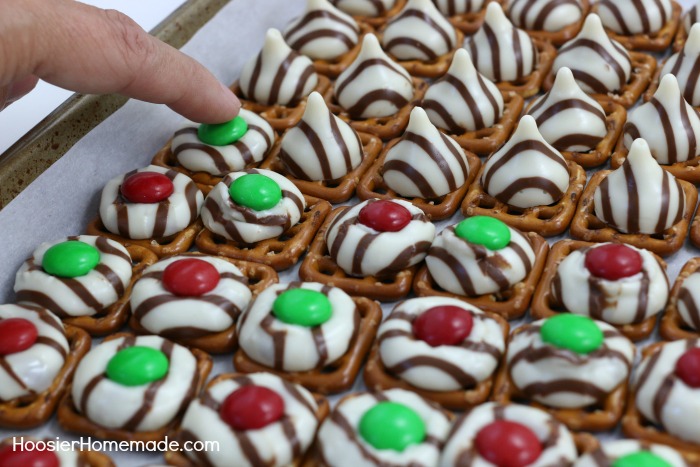 Step 3:
Add M&M chocolate candies to the top of the chocolate kisses and gently push down.
I used red and green candies, however you can easily use whatever color you want, and definitely change them for the holiday or season. They come in a variety of colors and flavors now.
Place cookie sheet in refrigerator 10-15 minutes or until firm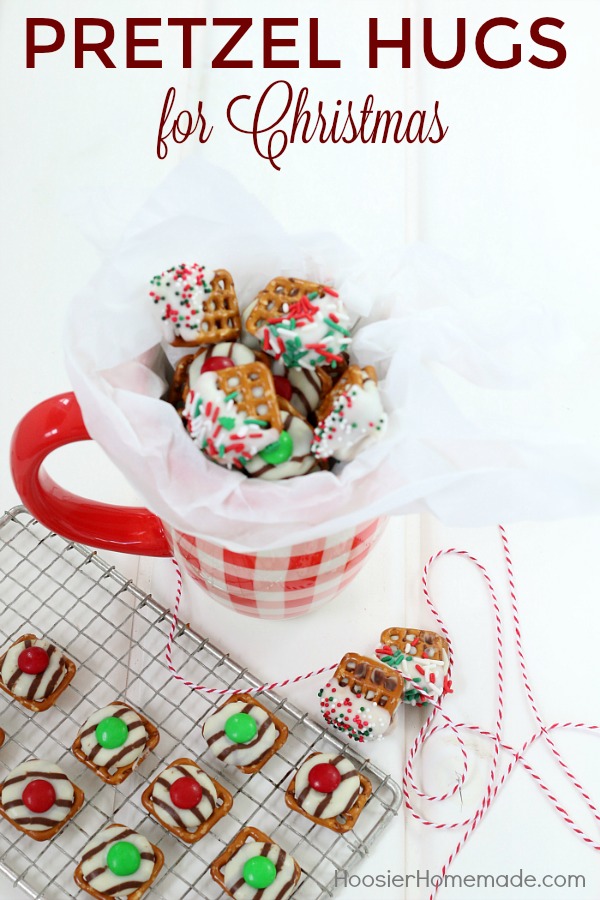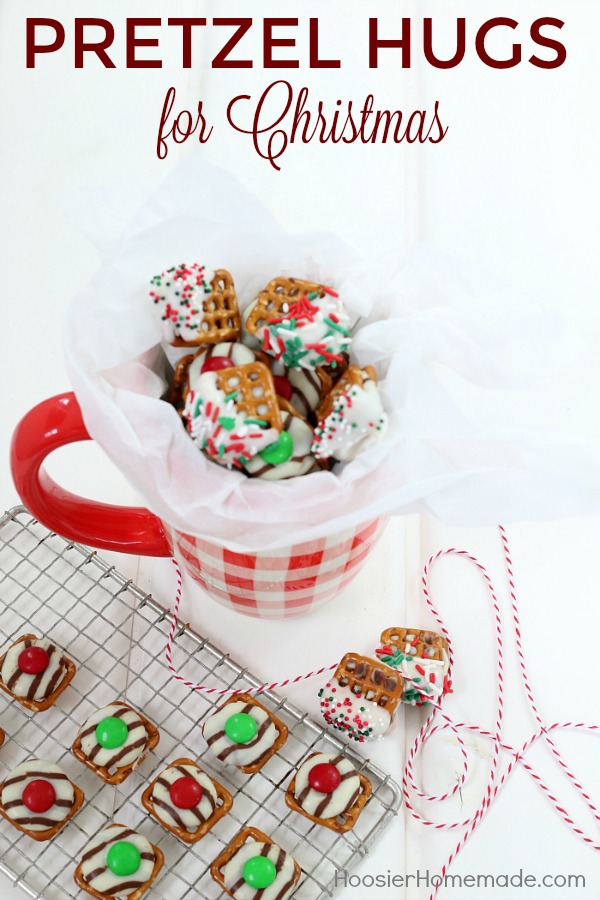 Giving these Christmas Pretzel Hugs for a gift is perfect…and easy too! For some of the treats, I left off the M&M chocolate candy and instead add a pretzel to the top of the chocolate kiss.
After you remove them from the oven, immediately add the top pretzel. Then place them in the fridge to chill about 10-15 minutes or until firm.
In a small bowl, melt vanilla almond bark (a couple blocks) and have your Christmas sprinkles ready. I like to work over a paper plate, for less clean up.
Then dip the pretzel sandwich into the melted almond bark, and add sprinkles. Return to the cookie sheet and chill for 5-10 minutes.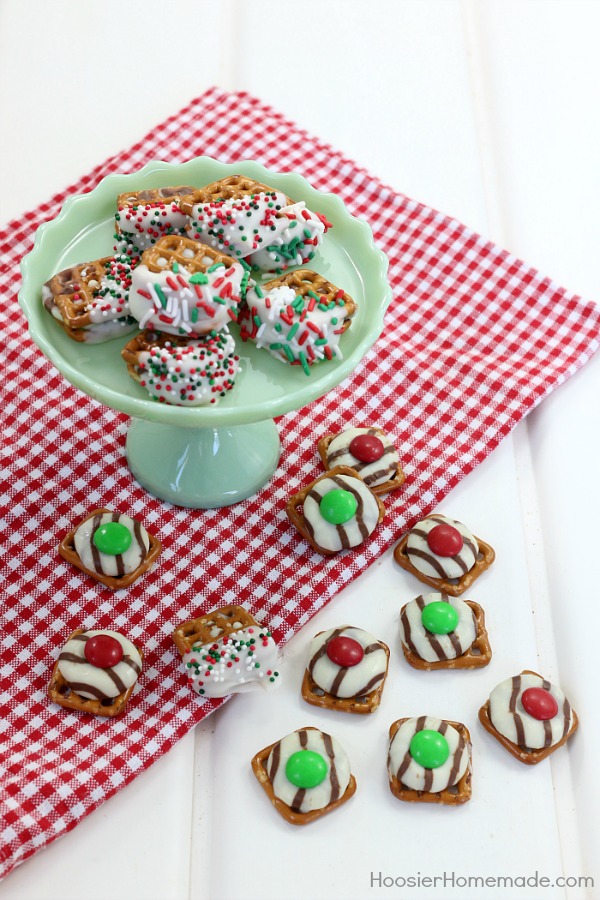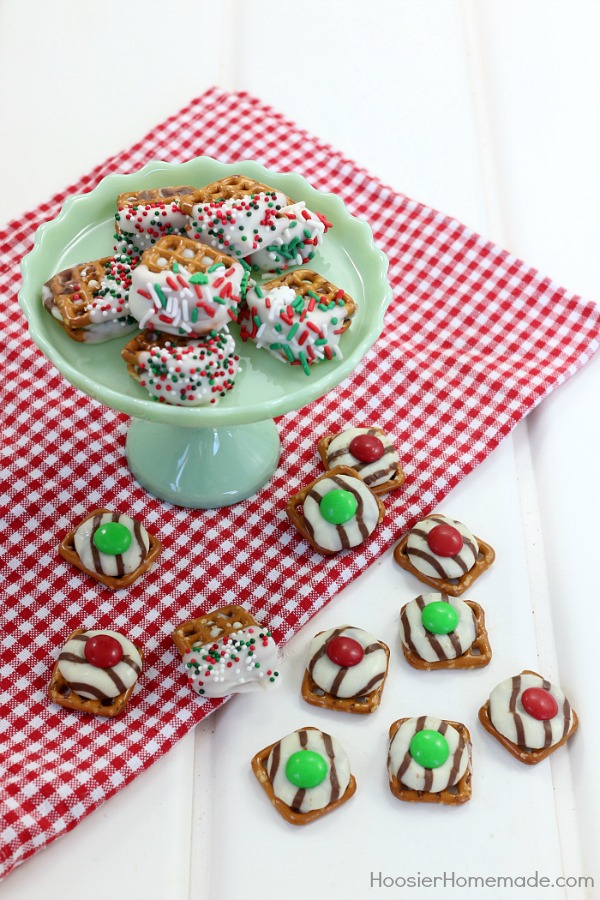 Looking for more easy Christmas candy to make? Try these!
(click on the photo for recipe)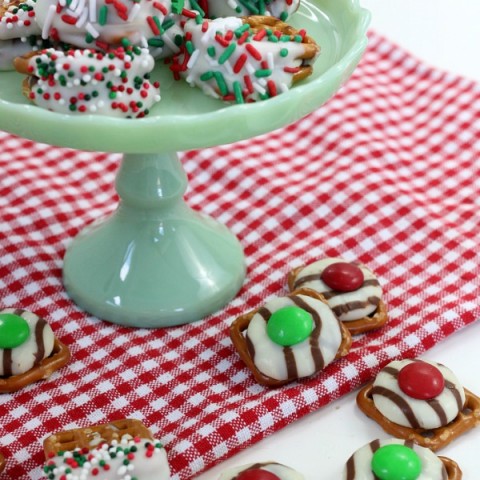 Christmas Candy: Pretzel Hugs
Ingredients
1 bag square pretzels
2 bags Chocolate Kisses - I used Hugs
1 bag M&M Chocolate Candies
Pretzel Sandwiches
Vanilla Almond Bark
Sprinkles
Instructions
Preheat oven to 200 degrees
Add parchment paper or silicone baking mat to a large cookie sheet
Add pretzels
Unwrap and add chocolate kisses
Bake for 4-5 minutes or until chocolate kisses are shiny and melted enough to add the M&M's
Remove from oven and immediately add M&M's, push down gently
Place in refrigerator to chill 10-15 minutes or until set.
Pretzel Sandwiches
Remove from oven and immediately add another pretzel on top, pushing down gently
Place in fridge to chill 10-15 minutes
In a small bowl, microwave 2 blocks of vanilla almond bark. Cook for 1 minute, stir, then continue cooking in 30 minute intervals, stirring after each 30 minutes and removing just before chocolate is melted. Stir until completely melted.
Set sprinkles out and work over a paper plate for easy clean up
Dip each pretzel sandwich into melted almond bark, gently shake off excess, and immediately add sprinkles.
Place back on cookie sheet and chill 10-15 minutes
Store in air tight container