These easy to make Cream Cheese Mints will be perfect on your Christmas dessert table! All your friends and family will love them as gifts as well!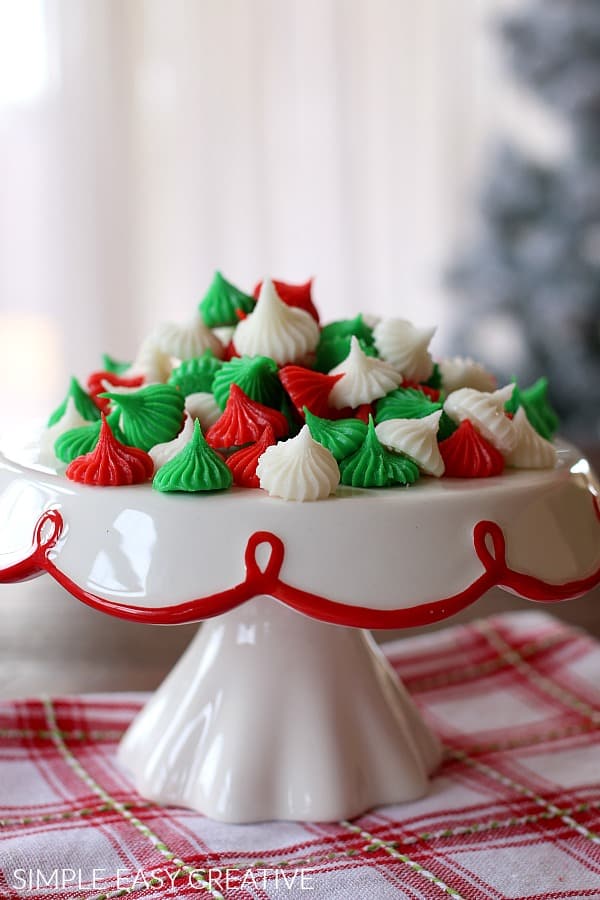 Making Cream Cheese Mints has been on my list for several years, with all the other Christmas baking to be done, I just never got around to it.
But I will definitely be adding them to my dessert table this holiday season! They are super easy, taste delicious and turned out really cute in these little bite size stars.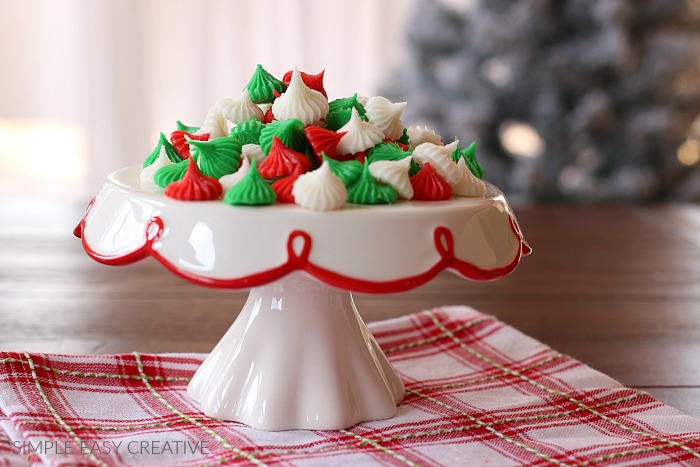 Once the basic Cream Cheese Mint Recipe is made, there are endless ways to shape them. You can even use mint molds. This time though, I chose to make them into stars using a piping bag and decorator tip #199.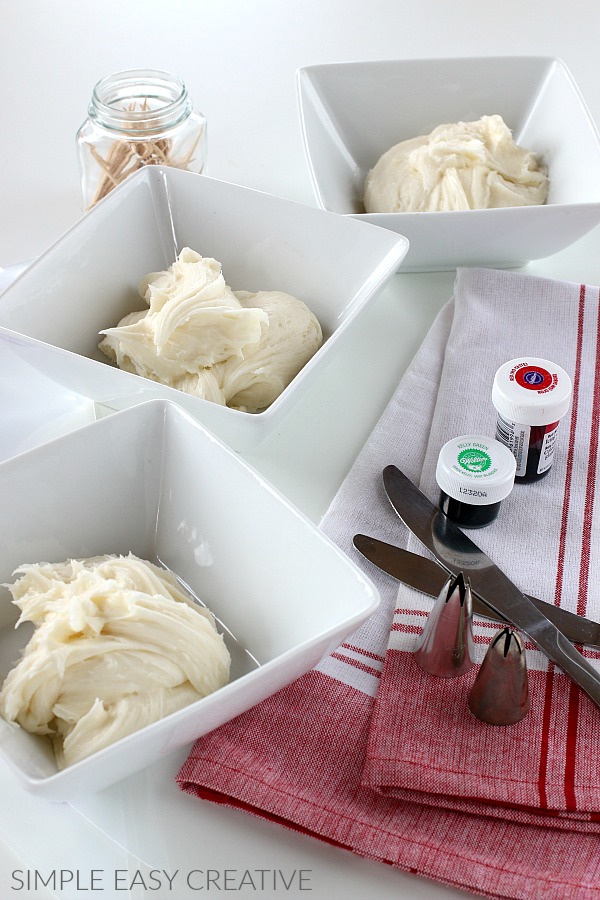 The homemade mints have only 4 ingredients – cream cheese, powdered sugar, peppermint extract and coloring. Since the mints are for Christmas, I chose red and green coloring. You can easily change the color to make them for any holiday or celebration.
Pro Tip #1: If you are using red coloring, be sure to use – no taste red, otherwise, the regular red coloring is very bitter.
Pro Tip #2: You can use any decorator tip that you like – star (open or shut) or round (small or large). I ended up not using the decorator tips in the photo because I wanted the mints to be bite size, so I used tip #199. The mints ended up being about the size of a dime.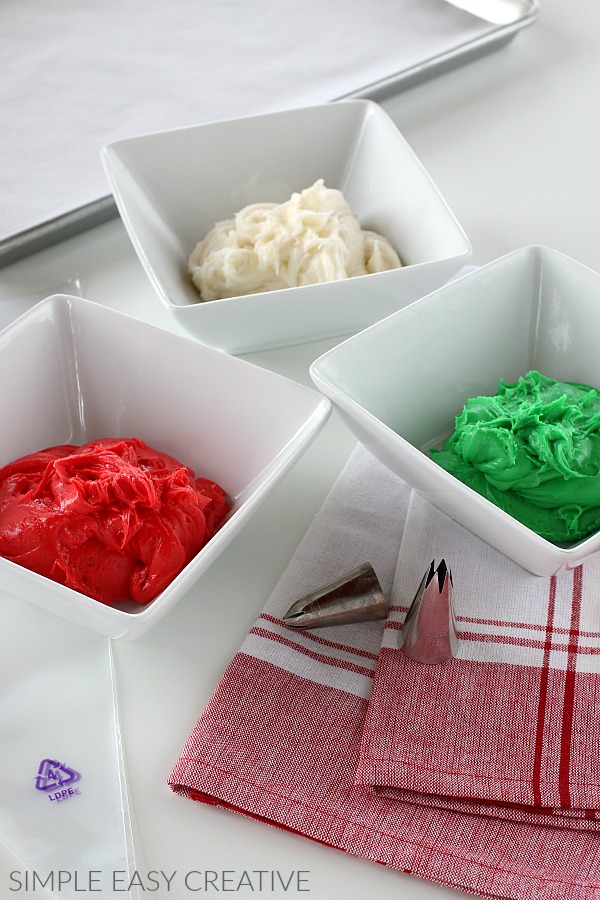 Divide the mints into three bowls, and color one with red and another with green. Be sure to mix it, until well combined and smooth.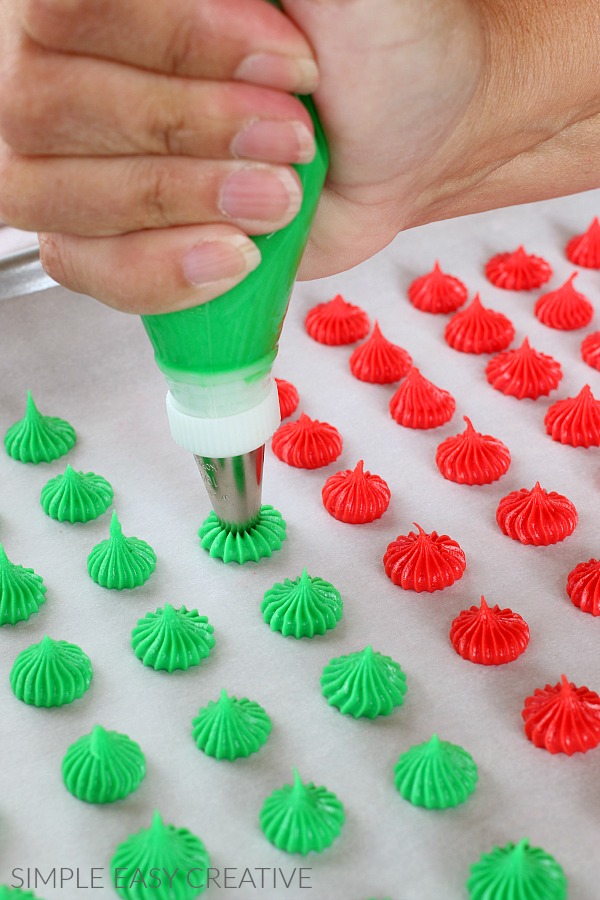 Now it's time to pipe the cream cheese mints – line a cookie sheet with parchment paper first. Then pipe on the size of mints that you want.
Pro Tip #3: The decorator tip #199 fits on a coupler. If you are using more than one color, you may want to use more than one decorator tip. I only have one and had to wash it several times in between piping the different colors.
Pro Tip #4: These Cream Cheese Mints have peppermint extract in them, but you can certainly use other flavoring if you aren't a mint fan. I will add though, the peppermint is not overwhelming in this recipe.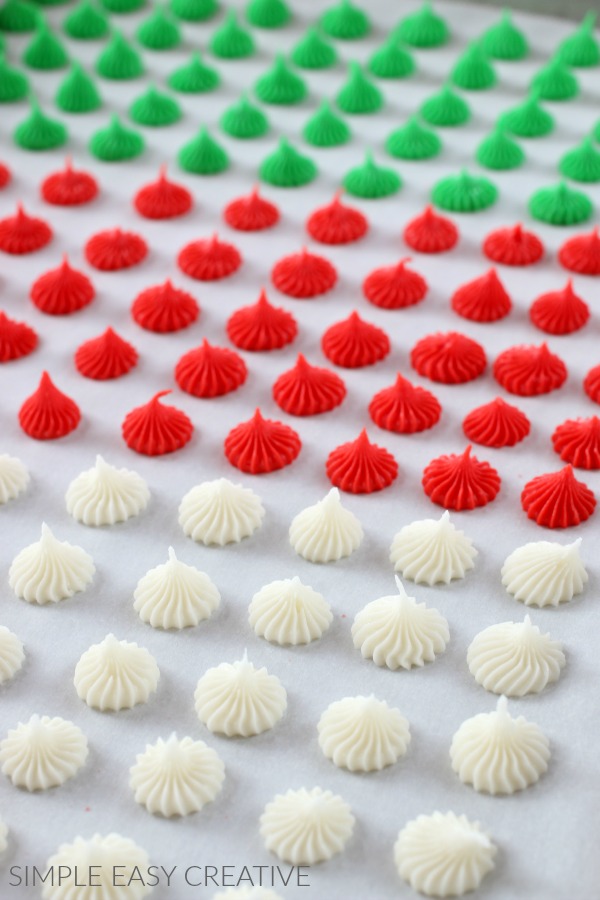 After all the mints have been piped, then it's time to let them dry on the counter for at least 4 hours or until firm. The larger the mint, the longer it will take for them to dry.
Making them at least a day ahead is best. They also keep really well in an airtight container in the refrigerator up to 1 month. You can also freeze them up to 4 months. Just be sure when you are storing them to separate the layers with parchment paper. And if you make the stars, be sure they are totally dry or the points will break off.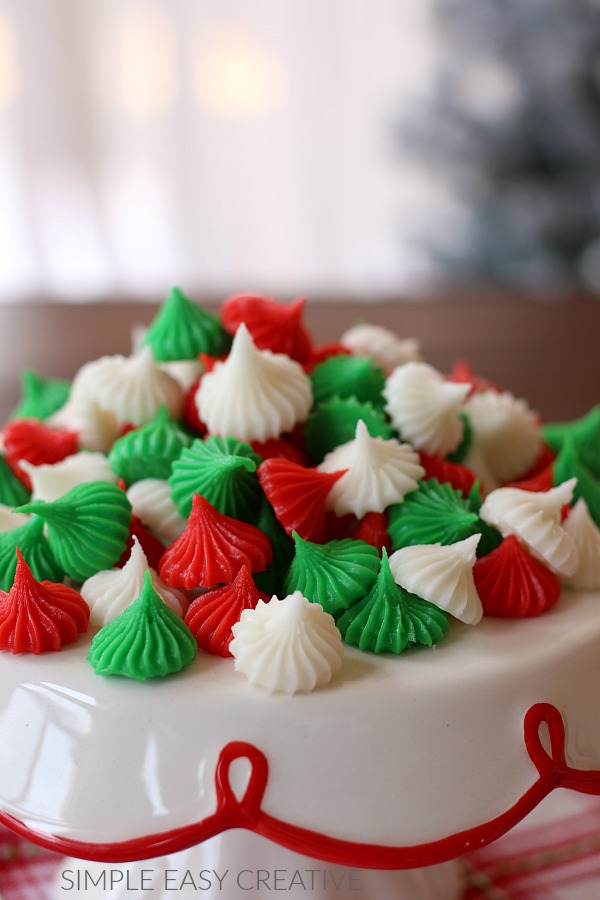 If you want the Cream Cheese Mints round, roll them into balls, then flatten with a fork. You can also roll them in powdered sugar to keep them from sticking to the fork.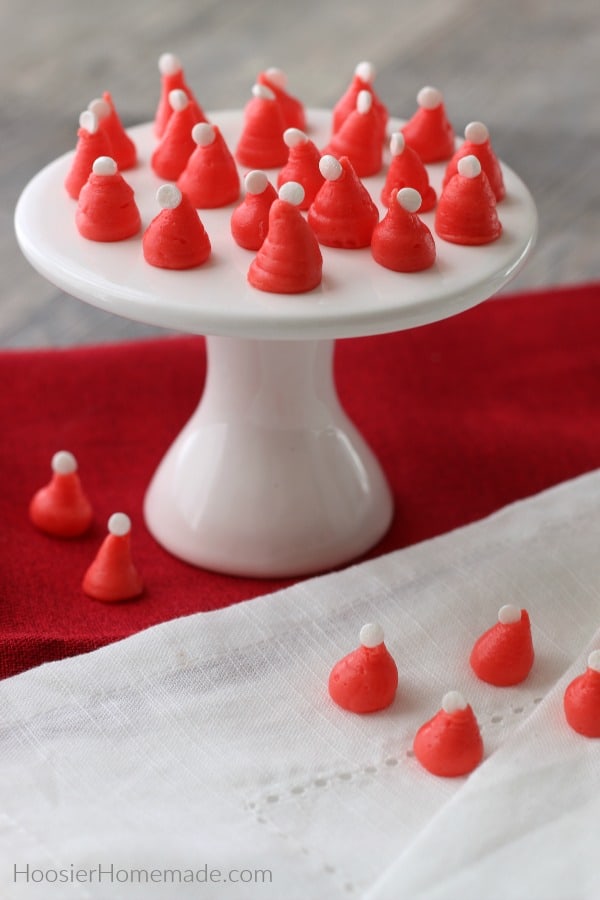 You can also make the Cream Cheese Mints into these cute little Santa Hat Mints.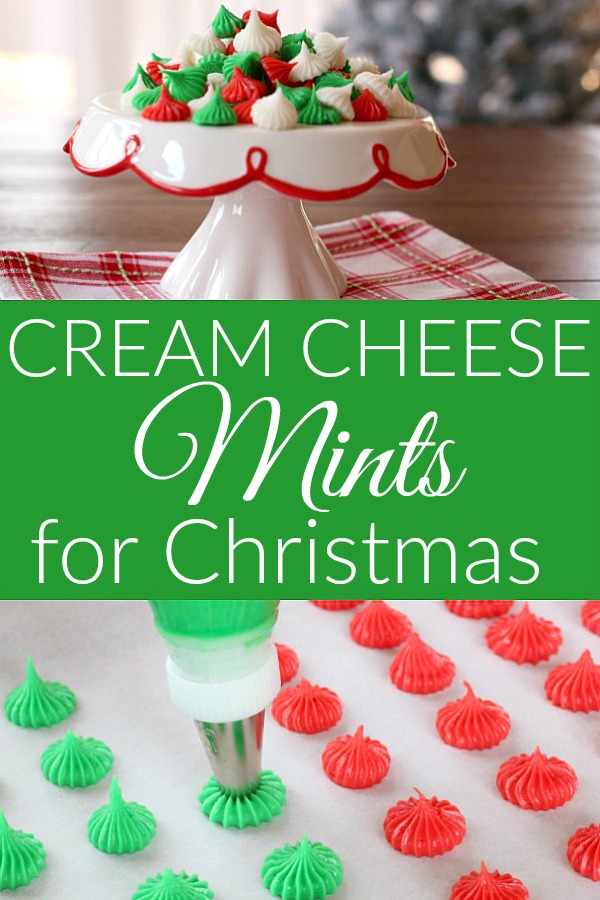 Cream Cheese Mints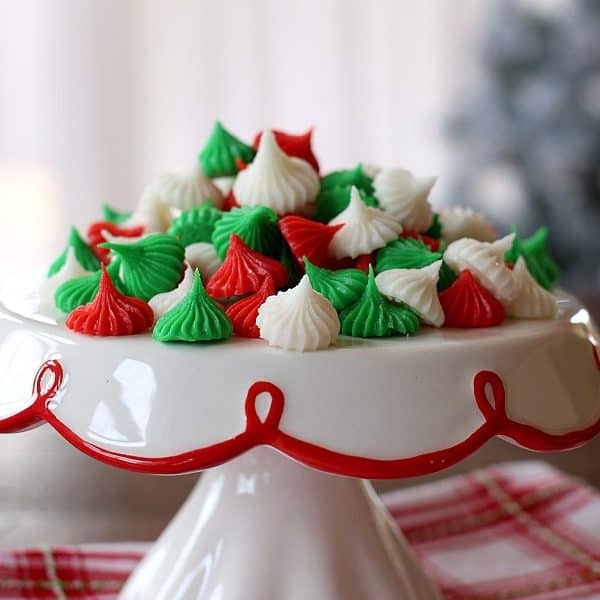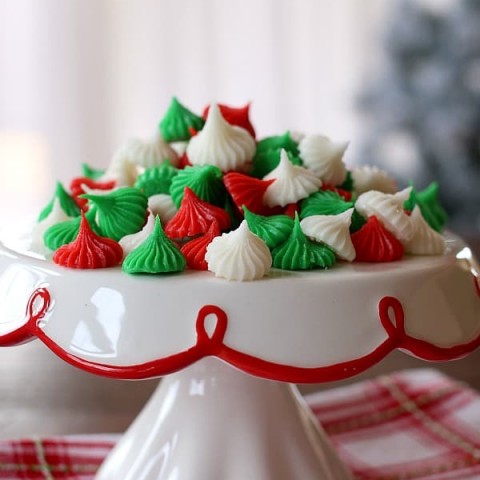 Cream Cheese Mints for Christmas
Easy to make Cream Cheese Mints, great for the holidays, or any celebration!
Ingredients
1 package (8 ounce) cream cheese, softened
5-6 cups powdered sugar
1 teaspoon peppermint extract - or other flavoring
Coloring - Gel coloring works best
Instructions
In a large mixing bowl, beat cream cheese about 2-3 minutes or until smooth
Add powdered sugar 1 cup at a time, beating after each addition. I used 5 1/2 cups, you may need a little more or a little less depending on stiffness of dough
Add peppermint extract, mix well
If you are using multiple colors, divide mint dough into bowls
Combine coloring until desired color, mixing well
Add parchment paper to cookie sheet
Add decorator tip to bag, add mint dough and pipe on mints. You can also roll the mint dough into small balls and flatten with a fork that is dipped in powdered sugar.
Let stand on counter to dry at least 3-4 hours, depending on size on cream cheese mints
Store in airtight container in refrigerator for up to 1 month, or freezer for up to 4 months
Notes
The yield amount will depend greatly on the size of the mints.