Charcuterie Board with Fruit and Vegetables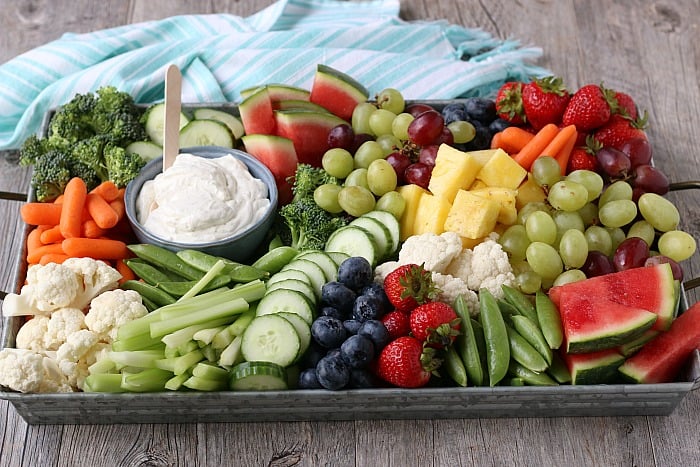 Do you need a quick and easy menu idea to add to your next party? This Charcuterie Board with Fruit and Vegetables is a fresh and full of flavor.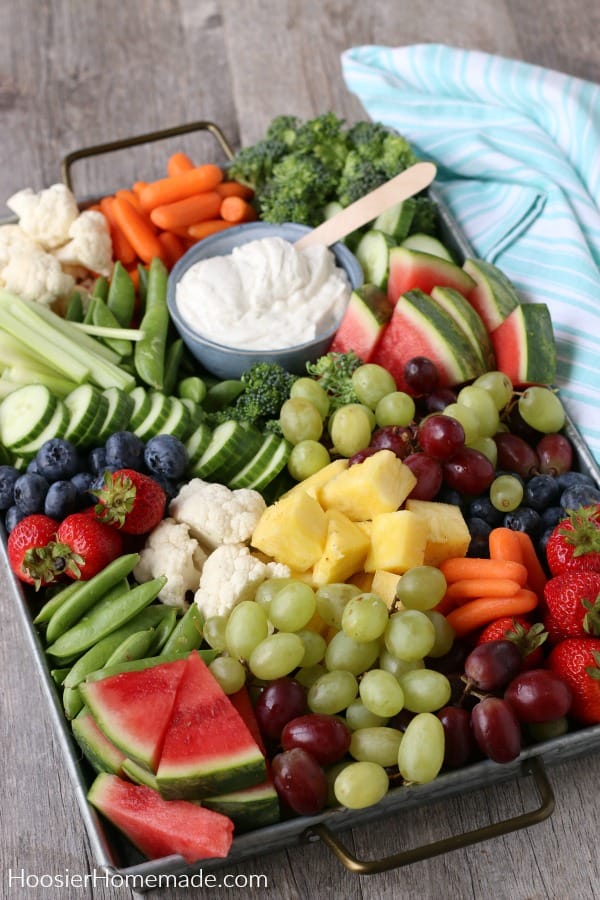 Welcome to Day 82 of the 100 Days of Homemade Holiday Inspiration! Each day we will be inspiring you with recipes, decorating ideas, crafts, homemade gift ideas and much more!
Entertaining can sometimes be a challenge, we all love to entertain, especially during the holidays but keeping it simple and easy is key! Over the years I have entertained countless times, and up until a couple years ago, I thought the party had to be extravagant – you know, enough food to feed an army, the house spotless including walls, ceilings, floors and curtains, and decorations all handmade.
Now, while I LOVE to entertain that way, I have learned that it's just not necessary. Honestly, no one will notice if your walls and ceilings are clean, or care if there are fifteen different dishes on the table to eat.
One of the things that I have quickly fallen in love with is making Charcuterie Boards. They are super fun to put together, the options are endless, they are simple to make AND look so impressive. Everyone will love them.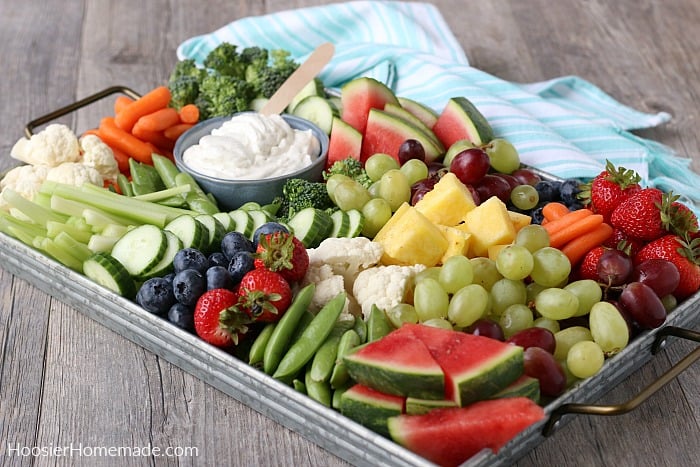 Charcuterie Board with Fruit and Vegetables
You can add whatever you like to your Charcuterie Board, here are some ideas to help –
Fruit
Watermelon
Strawberries
Grapes – red and green
Blueberries
Pineapple
Vegetables
Broccoli
Celery
Carrots
Cauliflower
Cucumbers
Pea Pods
Tips for creating a gorgeous Charcuterie Board
Choose a theme – it could be a simple as fruit and vegetables like this board, or ingredients that pair well with something you are serving – like this fun Hot Chocolate Charcuterie Board for the holidays
Choose a color – this isn't always a must, but it does make it easier, especially when you are choosing ingredients. For example, if you are making a Charcuterie Board for a Summer cookout and want it sunny and bright, choose yellow, blue and orange food to add. Or this red, white and blue Charcuterie Board is great for 4th of July.
Choose a plate or cutting board that is flat and has no sides or very low sides. I like using trays that have just a small edge to hold all the food in.
Begin with the largest pieces first, then fill in going smaller and smaller.
Add the fruit and vegetables in groups, arranging them in rows or piles.
Be sure to cut all the fruit and vegetables so that it's easy to grab what people want.
The watermelon is easy to eat if you cut it into triangles, then place them on the board with the rind facing out.
When you are adding, start with a base layer, then after the plate is full, then you can go back in and fill on top to add more height.
Here are some of my favorite Charcuterie Boards to give you even more inspiration!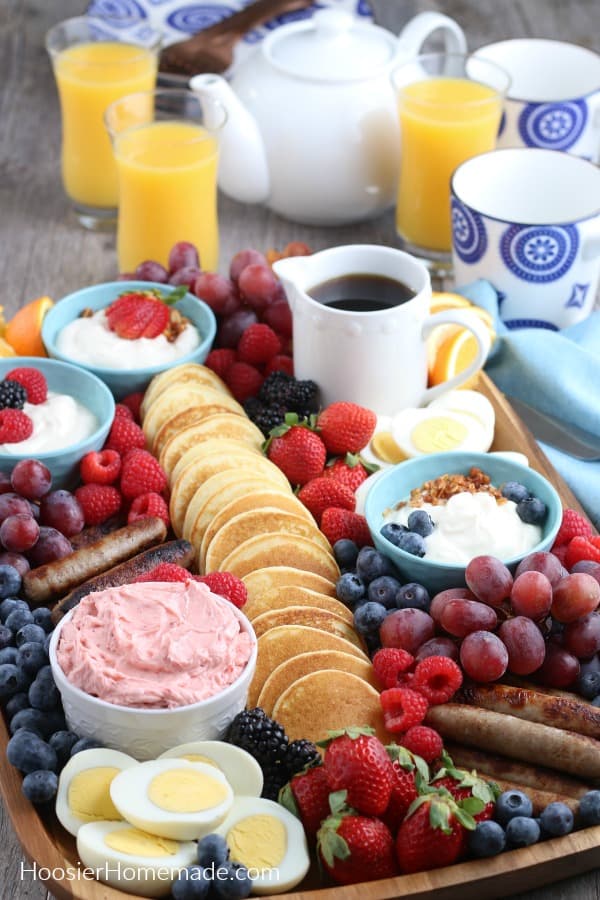 Serving a special brunch doesn't have to take a lot of time. This Breakfast Charcuterie Board is really fun to put together and always a hit with everyone.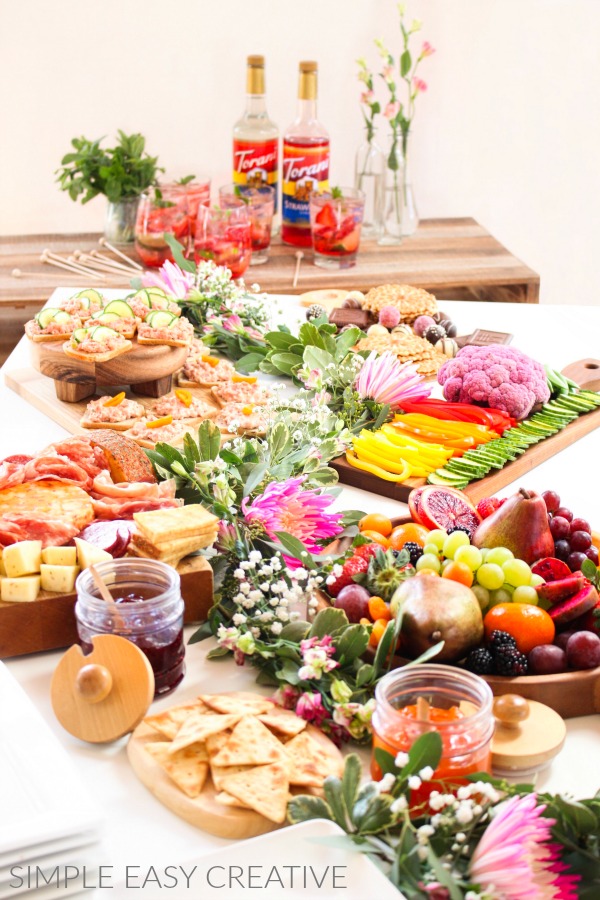 Each of these Charcuterie Boards are simple to put together and require no cooking or baking!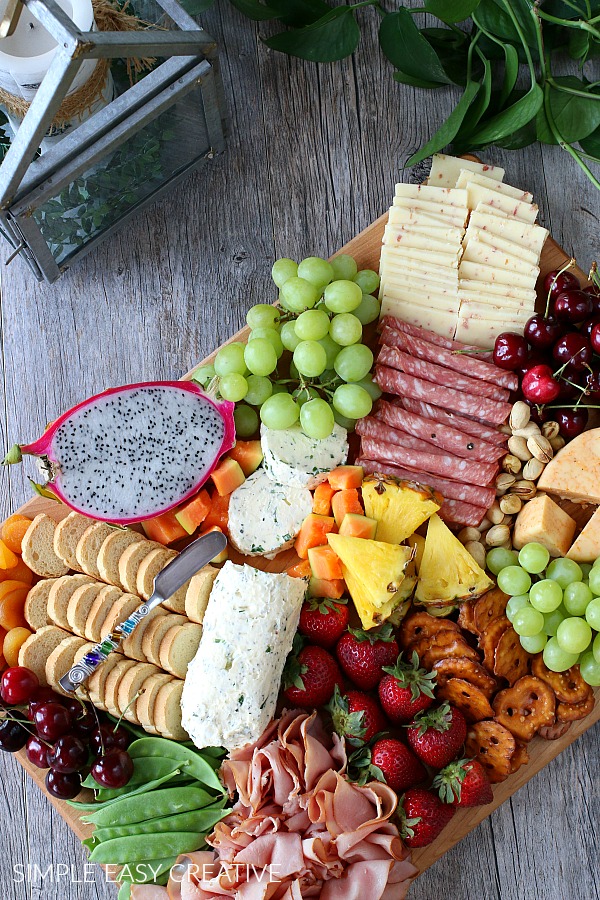 This 4 ingredient Compound Herb Butter goes together in minutes and goes great on a Charcuterie Board along with meats, cheeses, fruits, breads and more!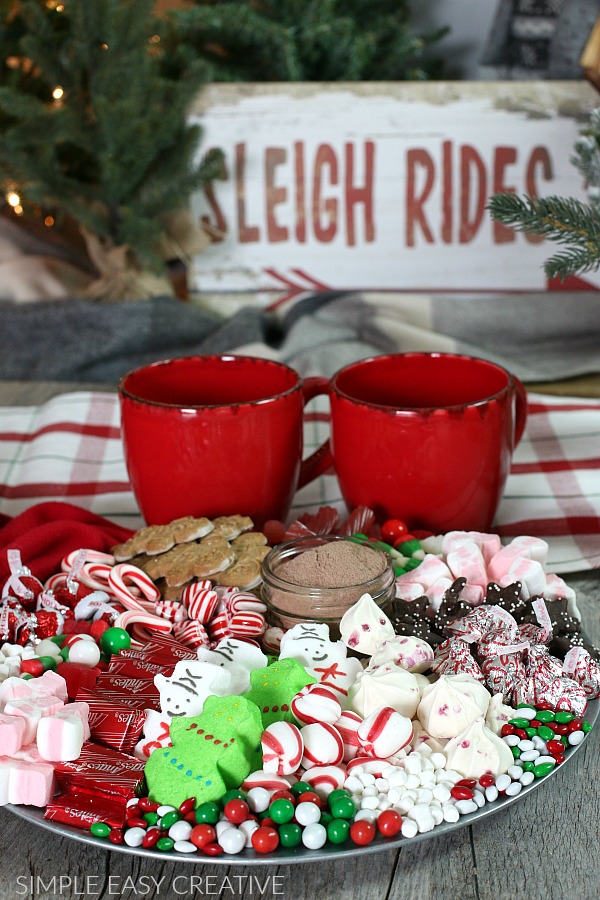 This Hot Chocolate Charcuterie Board adds creativity to your hot chocolate in a very simple and fun way! And it makes a great gift too!
Follow along with the 100 Days of Homemade Holiday Inspiration for more simple recipes, easy crafts, homemade gift ideas, decorating tips and much more!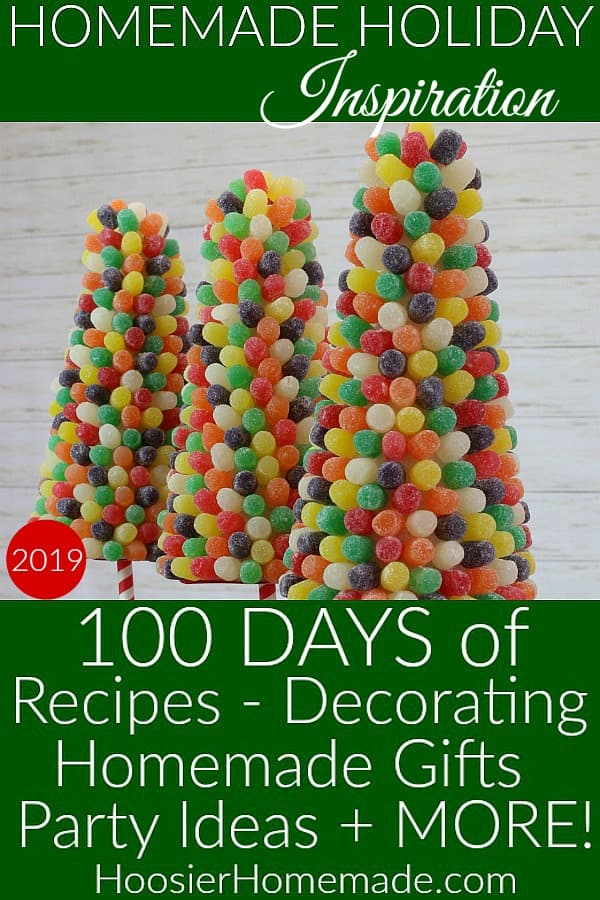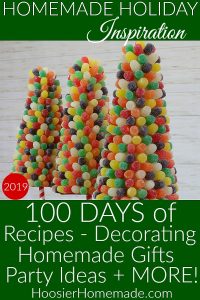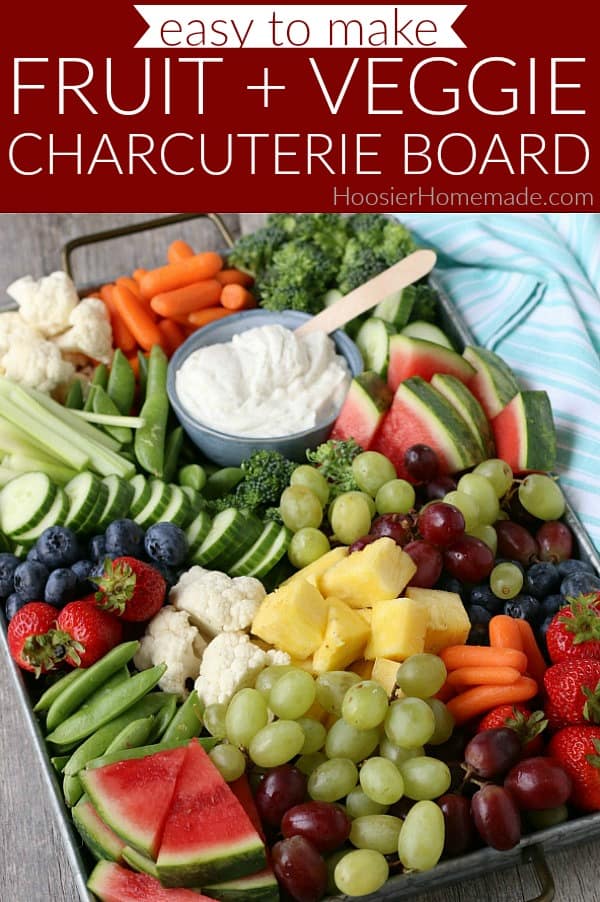 Looking for more holiday appetizers? Click on the photo for the recipe