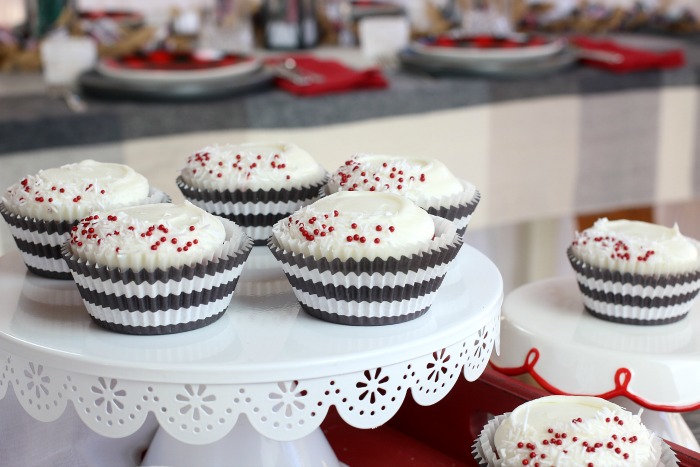 These classic Red Velvet Cupcakes are easy to make, full of flavor and have Cream Cheese Frosting that is amazing!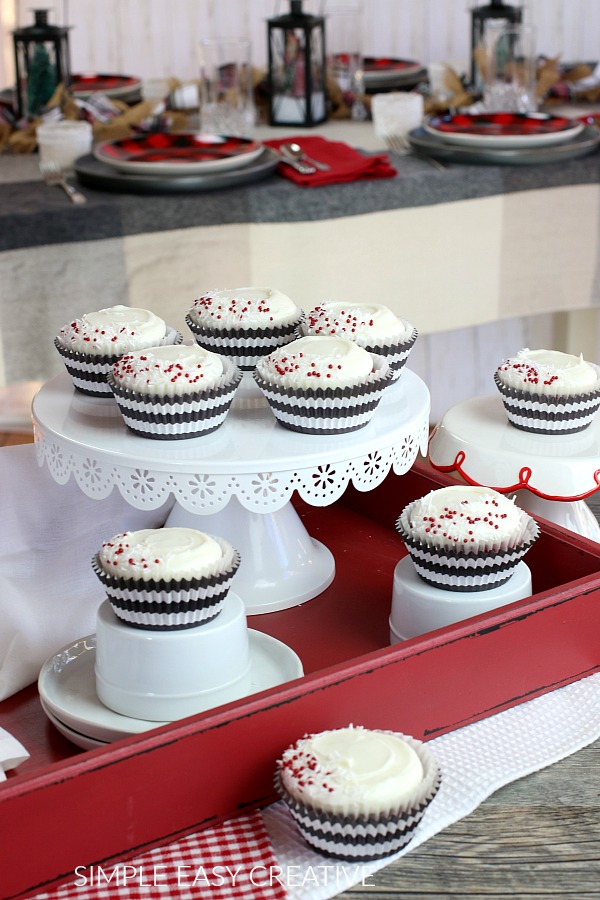 Whether you are planning a party, birthday, or just need a great dessert – this moist Red Velvet Cupcake recipe is a must make! The batter goes together quickly, and makes 32-36 cupcakes, which is great for any celebration.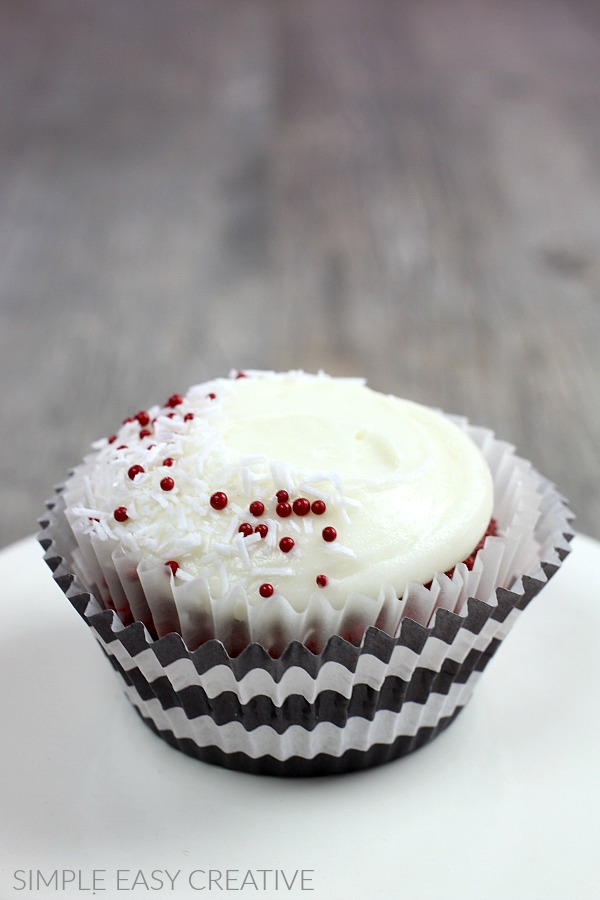 What makes a Red Velvet Cupcake special?
Taste – the Red Velvet Cupcake is smooth, moist and has a hint of chocolate flavor
Color – the color of the Red Velvet Cupcakes comes from liquid coloring, I have used gel coloring in the past, which is fine, but I do like the color that the liquid food coloring gives the cupcakes. Plus it's easier to measure and use.
Occasion – this cupcake can be served for any occasion – Christmas, Birthdays, Bridal Showers, the list goes on – it only depends on your decorations
Batter – this Red Velvet Cupcake Recipe is a bit different than most cupcake recipes, since it has vinegar in the batter. It's smooth and easy to put together.
Why add vinegar and baking soda to the batter – the combination of baking soda and vinegar is typically used as a leavening agent in a Red Velvet Cake Recipe. The cupcakes don't necessarily need the baking soda and vinegar to level them, and I have seen several good Red Velvet Cupcake Recipes that don't have the baking soda and vinegar added, however, I keep it in because I like the overall flavor of this cupcake.
Variety – the nice thing about this recipe is that it can easily be changed for the color you need – like these Pink Velvet Cupcakes or even these Green Velvet Cupcakes for St. Patrick's Day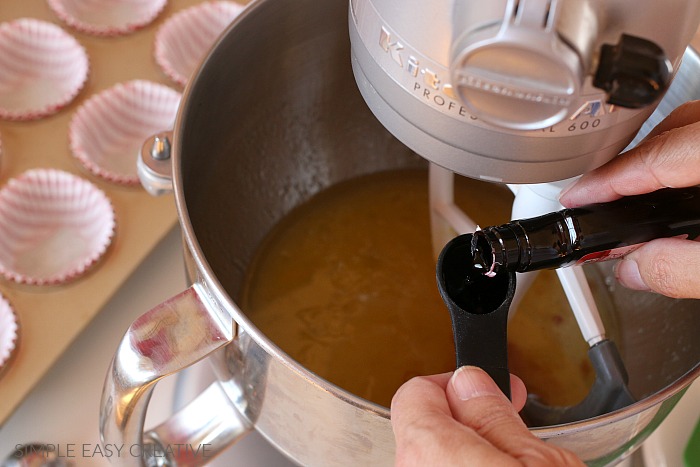 Red Velvet Cupcakes
While the oven is preheating to 350 degrees, add the cupcake liners to the pan.
Then in a small bowl, whisk together the flour, cocoa powder and salt, and set aside.
In a large mixing bowl, combine oil and sugar until well combined. Add eggs one at a time, mixing after each.
You then need to add the vanilla and red food coloring. Like I mentioned, using the liquid food coloring gives the batter a good color. You will need to buy a whole bottle of red food coloring, not the small bottles that come four colors in a package.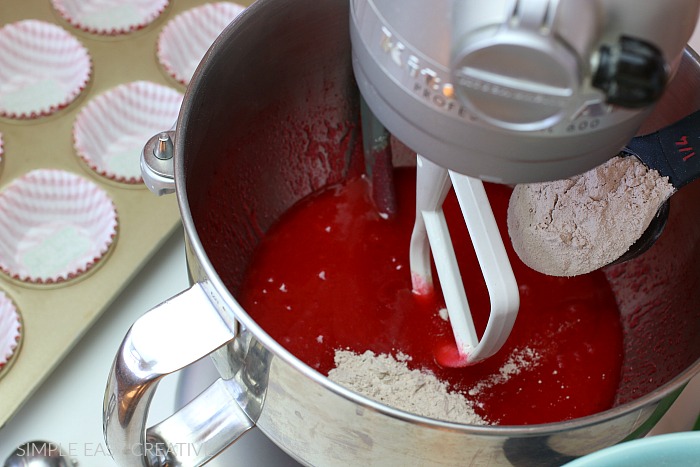 After the wet ingredients are combined, now you will need to begin adding the dry ingredients that you whisked together – flour, cocoa powder and salt.
Next add about 1/2 of the dry ingredients, then alternate with the buttermilk.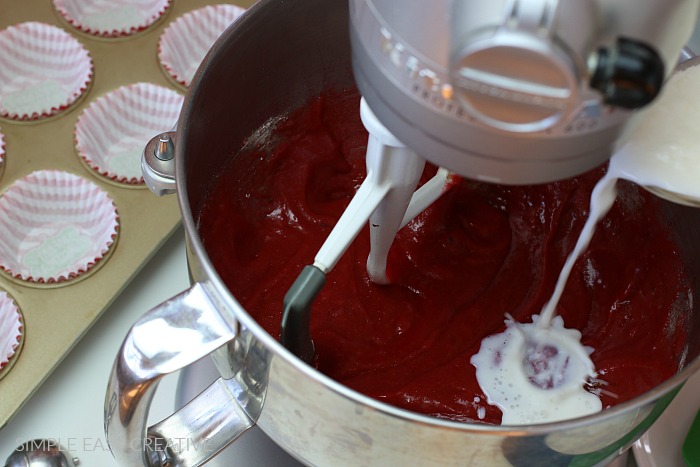 If you don't typically use Buttermilk, you can easily make it. Add about 1 teaspoon of white vinegar to a measure cup, then add regular milk (I use 2%) to the cup. Let it set for 2-4 minutes and it will look a little curdled.
And then add 1/2 of the buttermilk to the batter, and continue alternating with the flour mixture.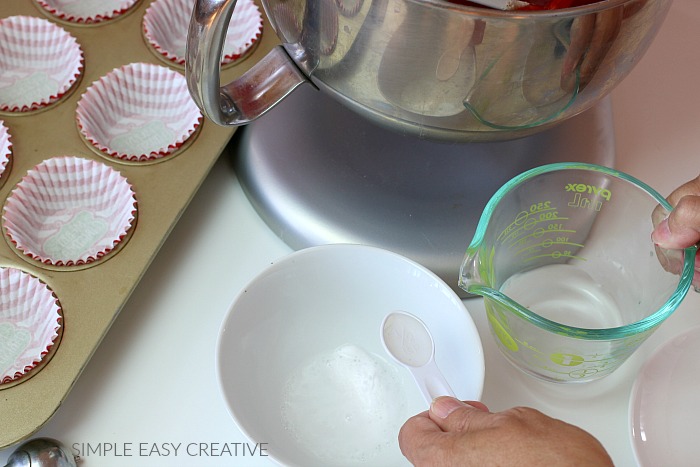 After the batter is well combined, add baking soda to a small bowl, and stir in white vinegar until the soda is dissolved.
Some Red Velvet Cupcake Recipes that I have seen don't use this method. See my notes above in #5 for the difference.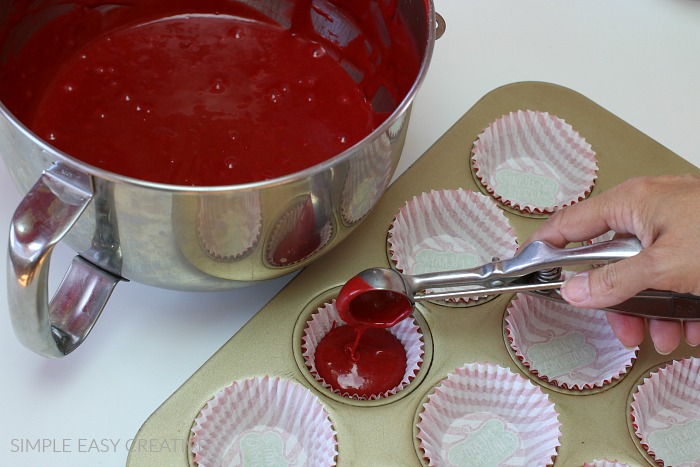 Like with all of the cupcake recipes that I make, I use a cookie dough scoop to divide the batter. The one I use holds 1.5 tablespoons of batter (or cookie dough), and I fill it really full, then add 2 scoops to each cupcake liner.
Not only does the cookie dough scoop make it really easy to add the batter, it also makes the cupcakes turn out all the same size. And they bake evenly because of that.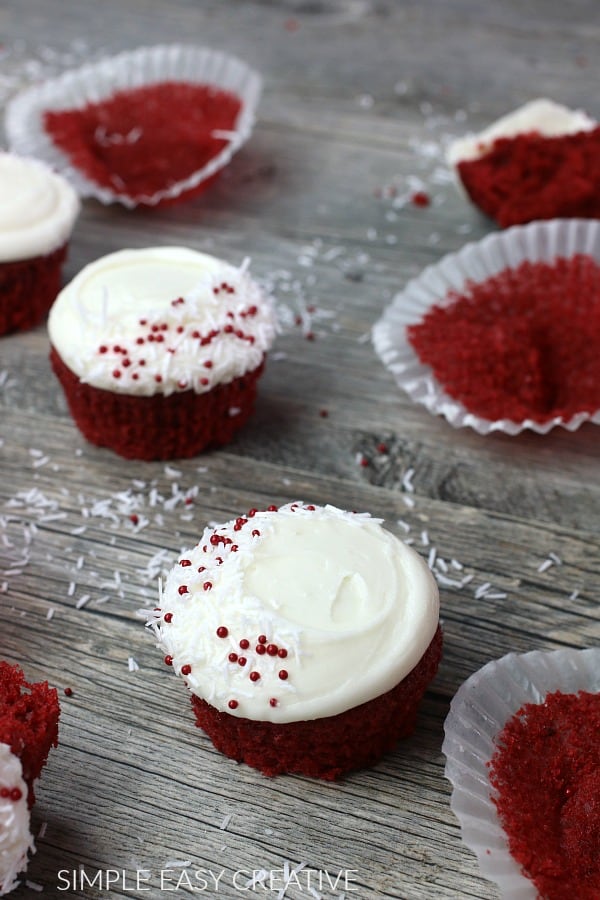 Most of the time, in my opinion, the cupcake can be made extra special with the addition of frosting. There have been a few cupcakes that I have made that really don't need frosting, although they may be considered muffins if they don't have frosting.
Typically Red Velvet Cupcakes are topped with Cream Cheese Frosting. This frosting tastes amazing but can be a bit finicky to work with if you want the frosting to stand tall as Buttercream Frosting does.
To frost these cupcakes, I fitted a decorator bag with an extra large tip (#1A), and piped on the frosting, then used an offset spatula to make the swirl on the top.
For the decorations, there is a combination of dark red nonpariels and white candy shreds, you could also use white jimmie sprinkles instead of the candy shreds.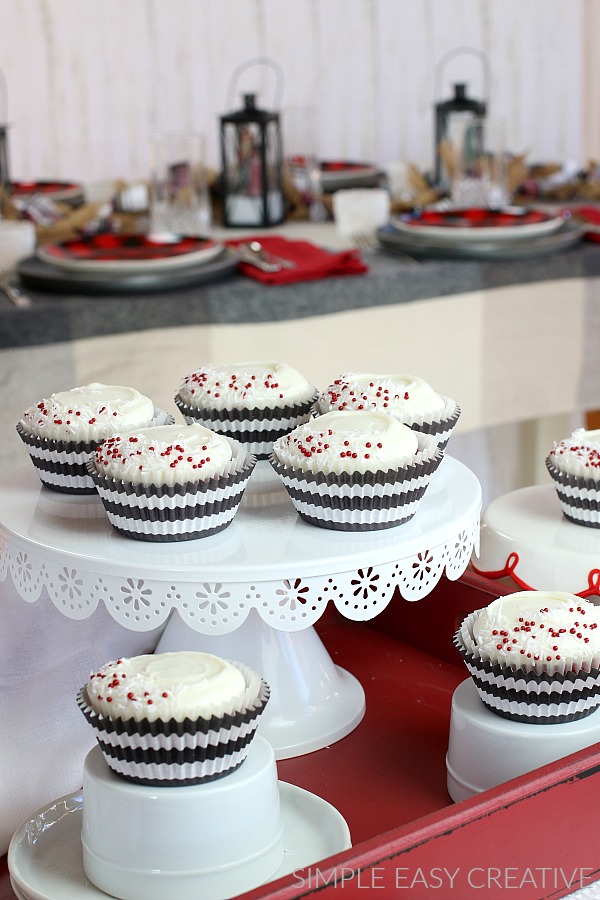 Looking for more Cupcake Recipes? Click on the photo for the recipe!
Do you LOVE baking Cupcakes? Here are some resources to help…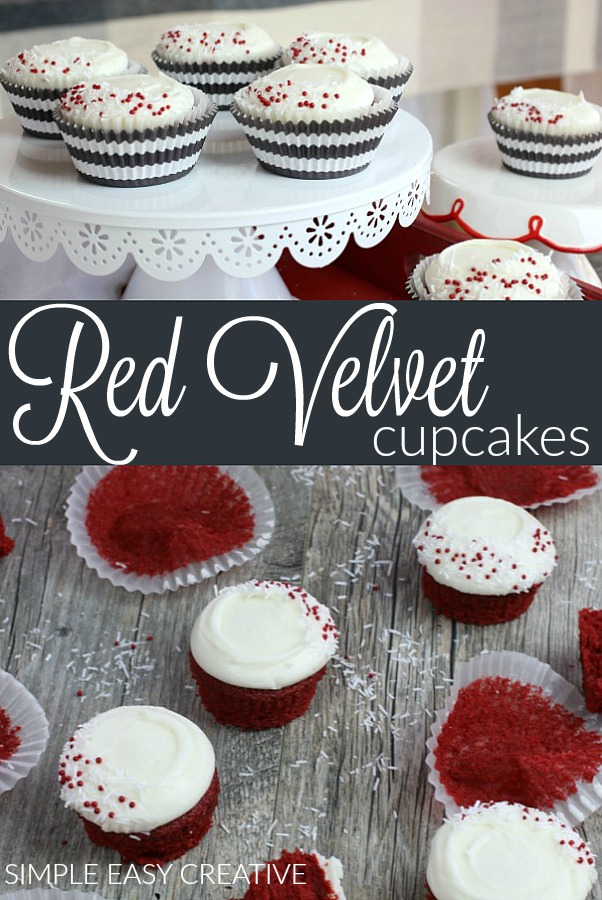 Red Velvet Cupcake Recipe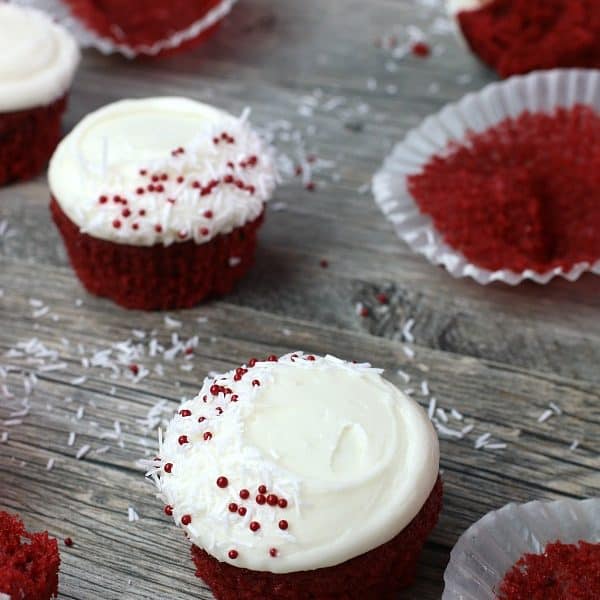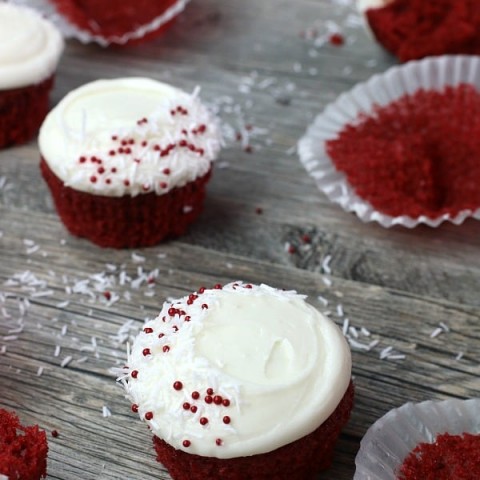 Red Velvet Cupcakes
Ingredients
2 1/2 cups Flour
2 tablespoons Cocoa Powder
1 teaspoon Salt
1 1/2 teaspoons Baking Powder
1/2 cup Butter or Margarine, softened
1 1/2 cups Sugar
2 Eggs
1/2 teaspoon Wilton No-Taste Icing Color (no-taste is important to use, because red coloring can be very bitter)
1 teaspoon Vanilla
1 cup Buttermilk
2 tablespoons Water
1 1/2 teaspoons White Vinegar
1 teaspoon Baking Soda
Instructions
Combine flour, cocoa, baking powder and salt, set aside.
In a large bowl, cream butter and sugar until light and fluffy.
Add eggs, icing color and vanilla, mix well.
Add dry ingredients, alternating with buttermilk, add water and mix well.
In a small bowl, combine vinegar and baking soda, add to cake batter.
Fill paper lined muffin tins.
Bake at 350 degrees for about 15 minutes, checking with a toothpick to make sure they are done.
Cool completely.
Nutrition Information:
Yield:

32
Serving Size:

1
Amount Per Serving:
Calories:

149
Total Fat:

5g
Saturated Fat:

3g
Trans Fat:

0g
Unsaturated Fat:

2g
Cholesterol:

26mg
Sodium:

230mg
Carbohydrates:

24g
Fiber:

0g
Sugar:

14g
Protein:

2g