These tiny Gingerbread Houses made from graham crackers sitting on top "snow" are perfect for the Holiday Season! Grab the kids, the frosting and candy and let's make some Gingerbread House Cupcakes.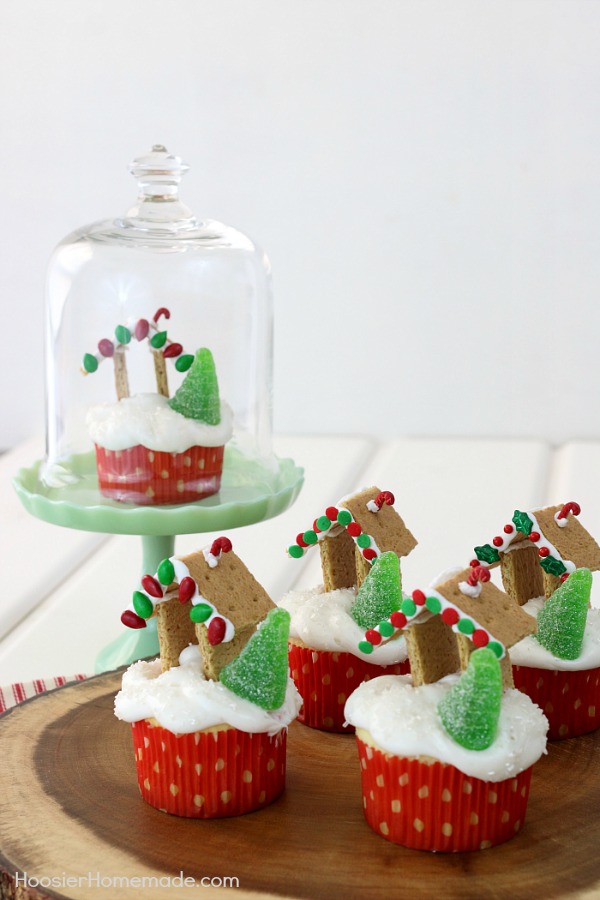 These Gingerbread Houses are perfect for cupcakes, desserts, or to put on the side of your hot cocoa mug! First, we need to bake the cupcakes. Any flavor cupcake will do, Red Velvet Cupcakes are perfect for the season, Chocolate Cupcakes   are always a hit or use your favorite cake mix and make it taste like homemade. After the cupcakes are baked and cooled, now comes the fun part – let's decorate them…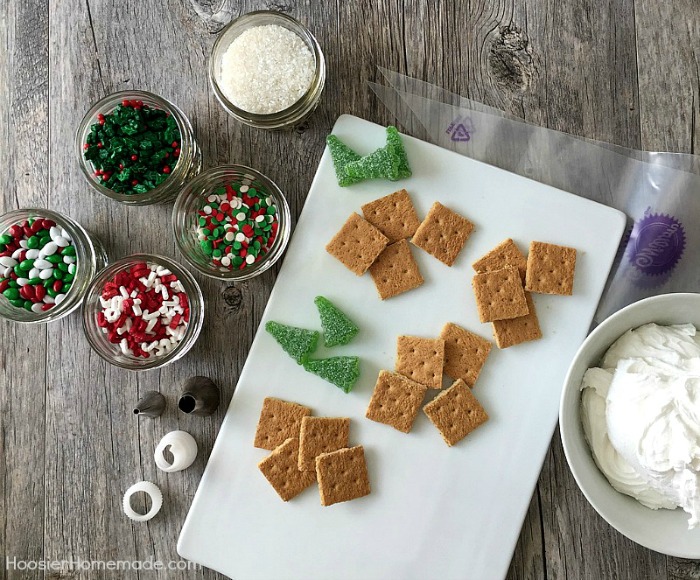 While the cupcakes are cooling, you can put together the Gingerbread Houses.
Gingerbread House Ingredients
Graham Crackers
Royal Icing – recipe below
Gingerbread House Tools
Serrated Knife
Decorator Tip #5 or small round tip
Cupcakes
Cupcakes
Vanilla Fluffy Frosting
White Sanding Sugar or Nonpariels
Decorator Bag
Decorator Tip – Large Round
Instructions for Gingerbread Houses:
Make the Royal Icing  (3 tablespoons Meringue Powder, 4 cups Powdered Sugar and 6 tablespoons warm water – beat until stiff peaks form)
Cut graham crackers into small squares – I cut the cracker on the seams and then in half
Fit the decorate bag with Tip #5 or other round tip, fill with Royal Icing
Assemble houses – "glue" together 2 pieces of graham cracker for the roof, then attach 2 pieces for the walls
Let houses set for about 1 hour or until set
Pipe icing on the front edge and add candy
Add a candy cane sprinkle for the chimney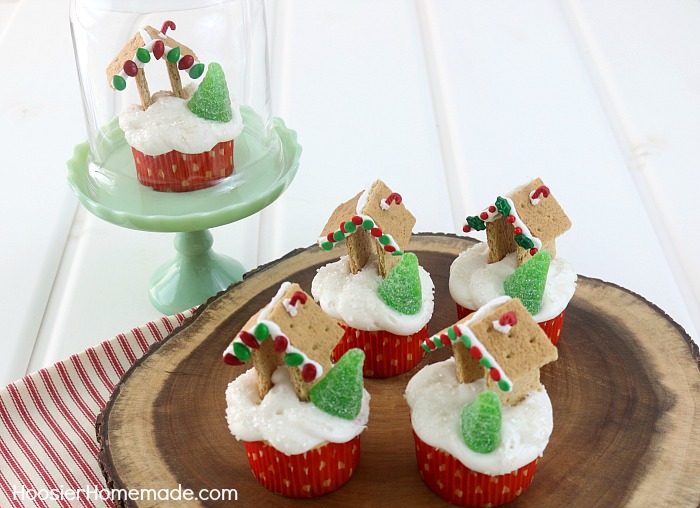 To frost the cupcakes…
Place frosting in a decorator bag
Frost cupcakes using large round tip, swirl it to look like snow
Add some white sanding sugar or nonpareils
Place house in snow
Add green gummy tree