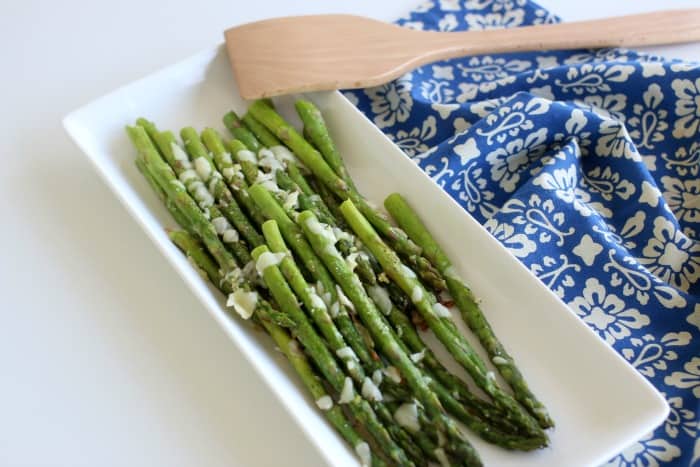 This quick and easy Baked Asparagus is a healthy side dish, ready in about 10 minutes and perfect for dinner. Be ready to cook it often because your family will be requesting it all the time.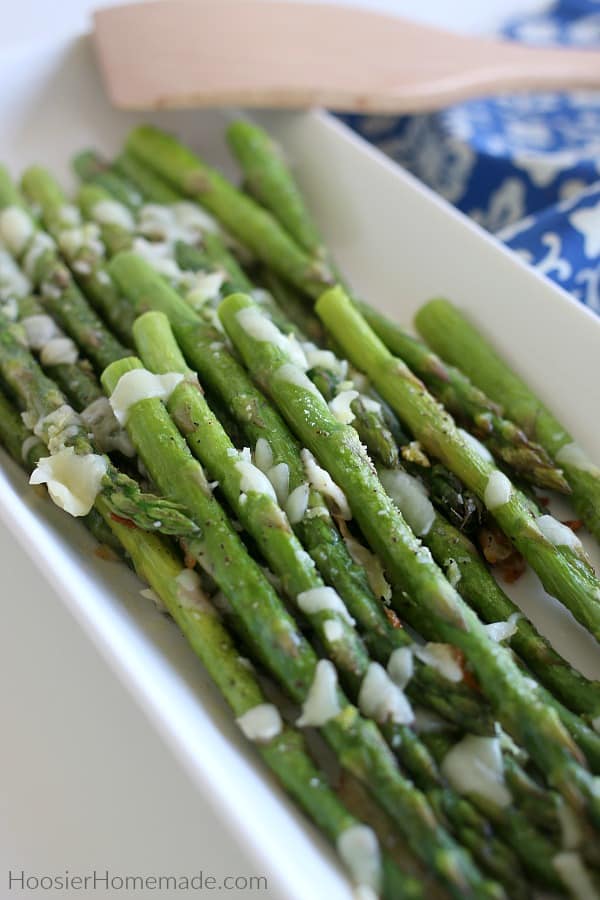 Asparagus is readily available in the grocery stores from February through June, however April is the peak season. This Baked Asparagus is a simple and quick side dish that goes with a wide variety of main dishes – chicken, hamburgers, pork chops, ham or whip up an easy lunch and eat it by itself.
Serving Asparagus is also a great option when you are hosting a larger crowd, it's quick to prepare and roast. And a little goes a long way, most people will eat about 5-6 pieces.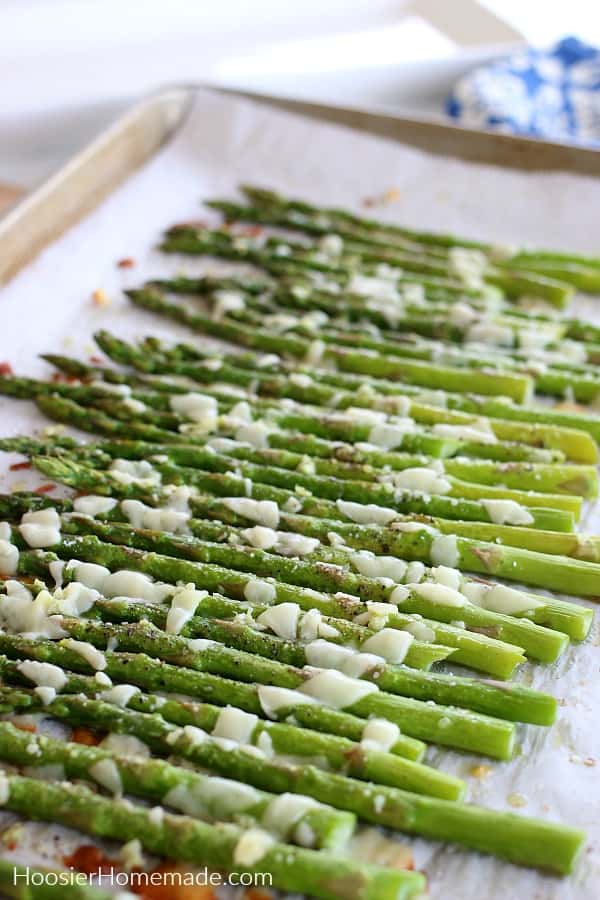 There are many ways to cook asparagus, however roasted asparagus in the oven is a favorite in our home. This Baked Asparagus recipe is also very versatile and can be changed to fit your taste. While it has the usual olive oil, salt and pepper seasonings, this recipe also includes garlic and Parmesan cheese, that can easily be left off.
When shopping for fresh asparagus, there are a few things to look for –
Color – the most common color for asparagus is green, however it is also grown in purple and white varieties. When choosing green asparagus, look for bright green stalks.
Size – typically the thinner the asparagus stalks the tender it will be. Just make sure the stalks are firm and not flexible, if they are, that means the asparagus is old.
Buds – be sure the tips or buds of the asparagus are firm and not wilted. The tips have the most flavor, so you want to be sure they are fresh.
Now, if you happen to be a gardener, growing your own Asparagus is super easy. It's actually a rare vegetable that is a perennial. My Dad used to have a large Asparagus patch, so every Spring we would enjoy the asparagus my Mom would cook and put in different recipes.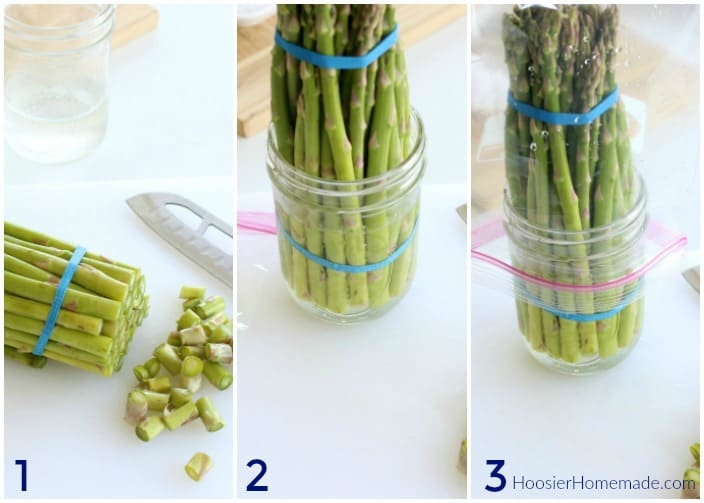 How to Store Fresh Asparagus
Asparagus is one of those vegetables that is best when used right away, however sometimes that just isn't possible and you need to store it for a day or two.
Cut a small amount off of the end of the stalks
Add cold water to a mason jar with a wide lid or other jar that is large enough to hold the asparagus. Place asparagus down into the water
Cover loosely with a resealable bag
Asparagus is healthy and a great choice for Spring, however unlike Roasted Vegetables, it's a vegetable that often gets overlooked. It can used in many different recipes like Asparagus Soup, add asparagus to pasta like this Ham and Asparagus Lemon Cream Pasta, or for a change of pace, cook it in the Air Fryer.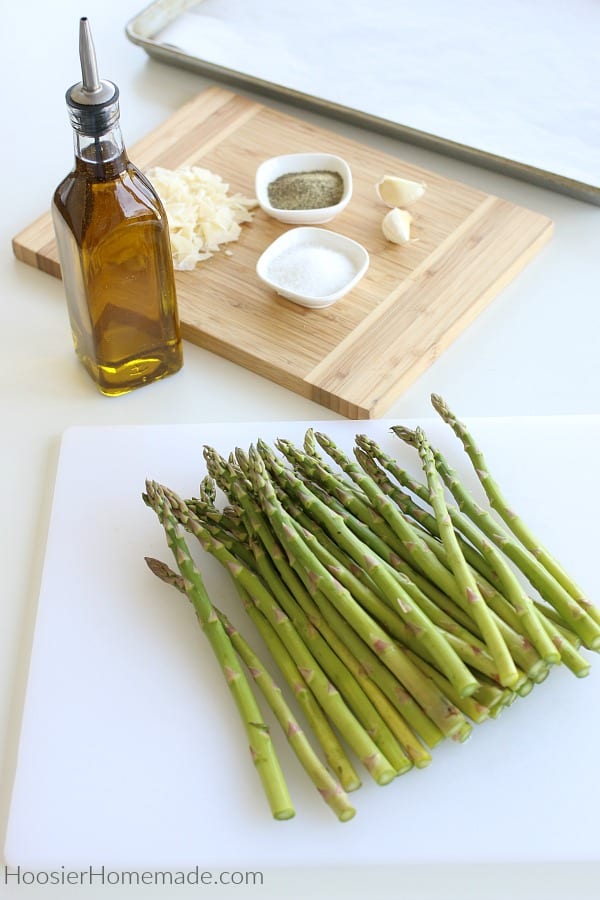 Baked Asparagus
Ingredients
Asparagus – the bundles will vary in size and weight, typically the bundle will have 1 pound
Olive Oil
Kosher Salt – I like using salt that has a little larger texture to it
Black Pepper
Garlic – depending on your taste and the size of the clove, you will need 1-2 cloves
Parmesan Cheese – this time I used shaved however shredded works just as well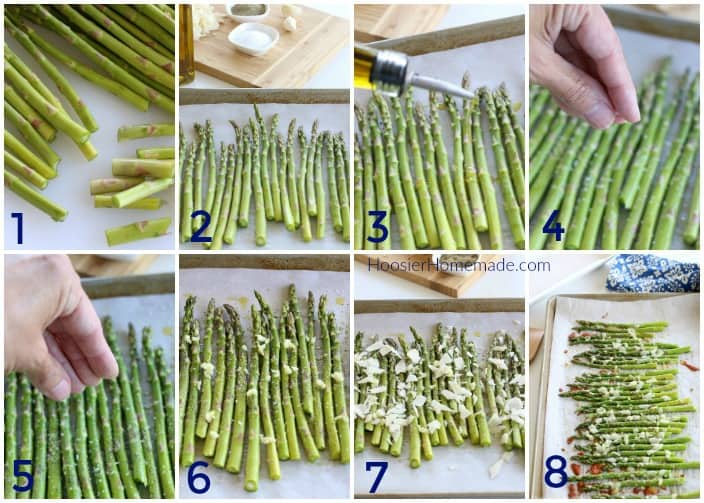 How to Make Baked Asparagus
Snap off the ends of the stalks of asparagus
Line a cookie sheet or tray with parchment paper or foil for easy clean up. Lay asparagus in single layer on the sheet.
Drizzle with Olive Oil. Roll asparagus to coat well.
Sprinkle with salt
Sprinkle with pepper
Mince garlic and spread evenly over asparagus
Sprinkle with cheese
Bake asparagus at 400 degrees F for 8-10 minutes or until cheese is melted and asparagus is done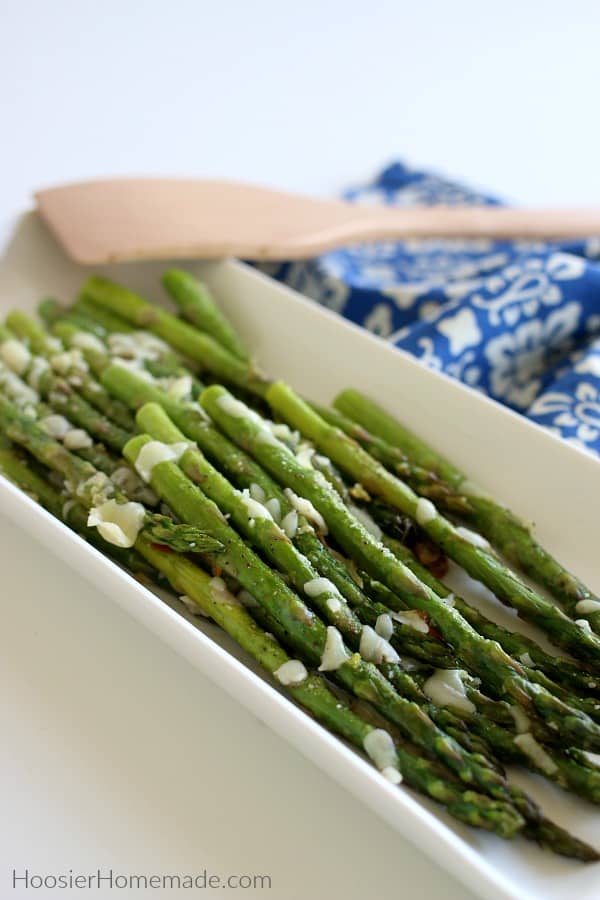 Looking for more fresh ingredient side dishes? Click on the photo for the recipe –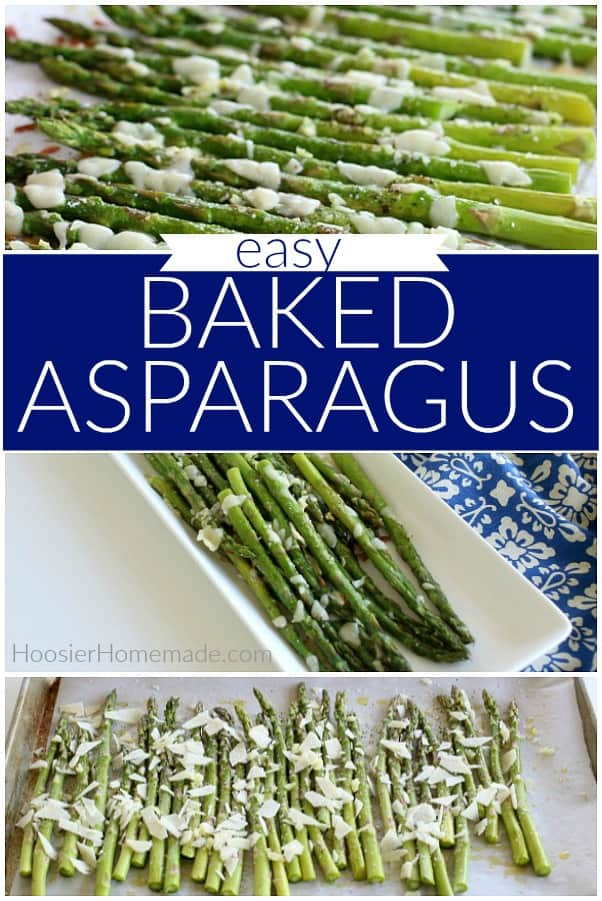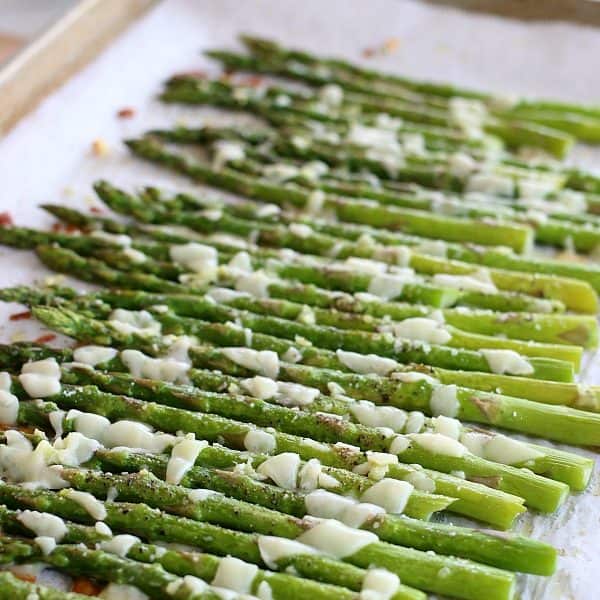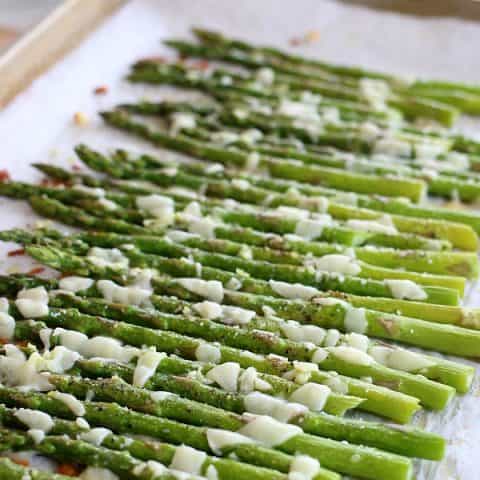 Baked Asparagus
Serve this Baked Asparagus as a quick side dish.
Ingredients
1 pound fresh asparagus
Olive Oil - drizzle about 1-2 tablespoons
Kosher Salt, to taste
Black Pepper, to taste
1-2 cloves garlic, minced, depending on size
Parmesan Cheese, sliced or shredded - about 1/4 cup
Instructions
Add parchment paper or foil to cookie sheet or tray
Clean asparagus by snapping the bottom end off by hand
Lay asparagus in a single layer on the cookie sheet
Drizzle with Olive Oil, roll asparagus to coat
Sprinkle with salt and pepper
Spread minced garlic evenly over asparagus
Sprinkle with cheese
Bake for 8-10 minutes or until cheese is melted and asparagus is done
Serve immediately
Store leftovers in refrigerator