It is time to discuss a question I have pondered over the years. Strawberry Pretzel Salad : is it a salad or a dessert?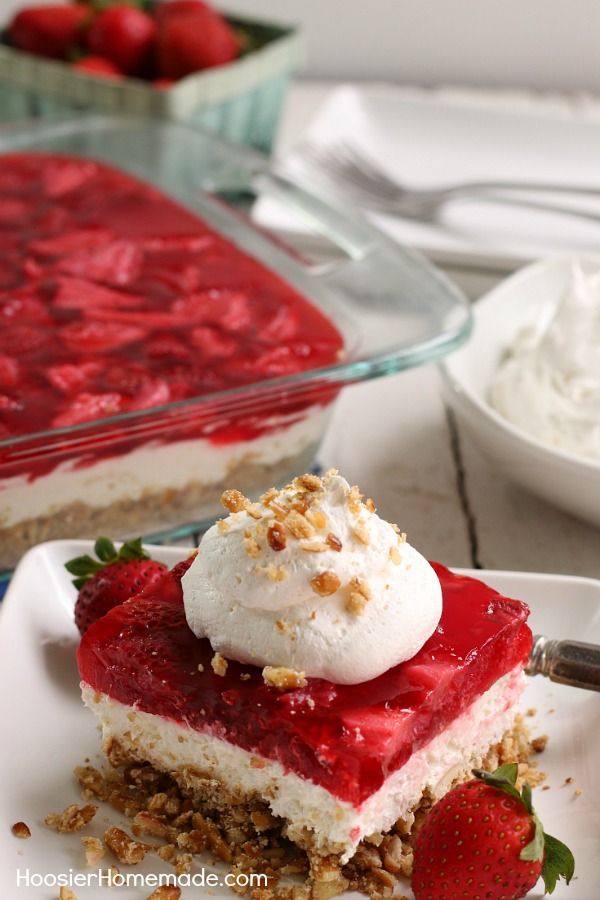 Growing up, my mom made the best Strawberry Pretzel Salad- I tweaked her original recipe to make this one! It was one of my favorite desserts- yes we ate it after the main meal! I don't know if anyone would argue that this is a salad- there is no leafy greens and it has Truvia, cream cheese, and Jello in it. What kind of meal starter would that be? And who came up with the name of this dessert?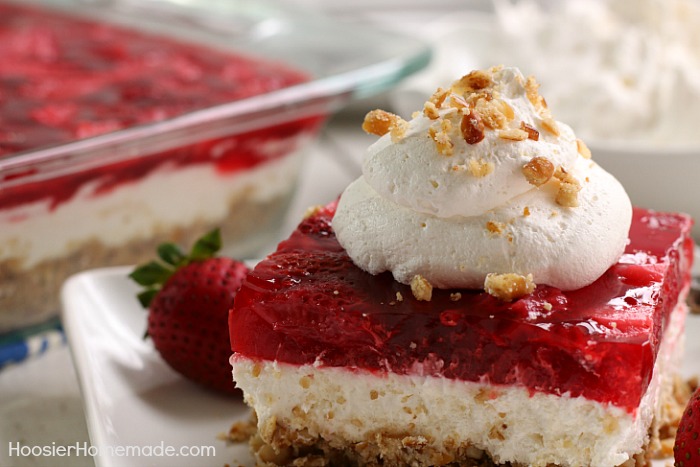 I love a dessert that has a salty bite to it- and the pretzel crust of this strawberry pretzel salad definitely makes this a favorite. I have been trying to stick with fruity desserts this summer- they just seem lighter!- and lighten them up a bit more with Truvia Spoonable. The banana split sundaes and lemon cheesecake muffins are my favorite so far!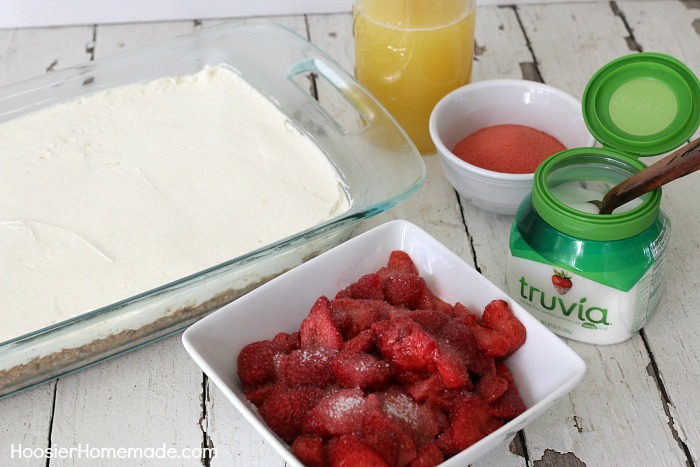 The spoonable Truvia really helps the strawberries break down and sweeten them up. My other tip? Using pineapple juice instead of water to dissolve the gelatin! It just adds another layer of flavor to this already flavor packed dessert! I think that's why I love it so much- salty from the pretzel, creamy from the cream cheese filling, and tangy from the Jello! All the different textures go well together, too.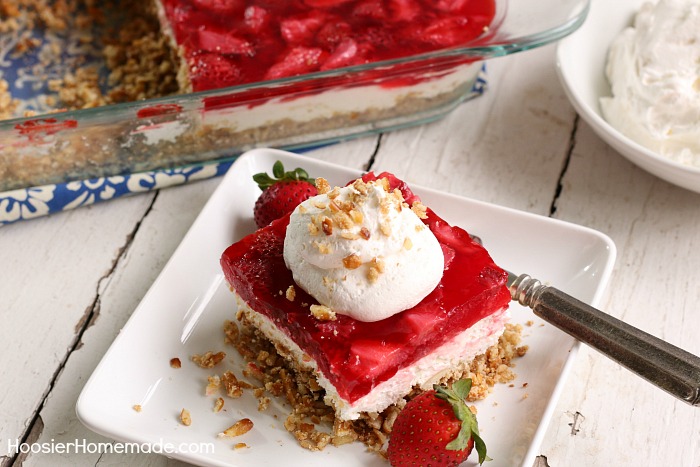 Do you agree that Strawberry Pretzel Salad is, in fact, a dessert? What is your favorite recipe from a family member?
Print
Strawberry Pretzel Salad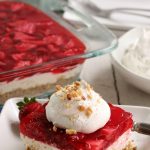 Author:
Prep Time:

20 minutes

Cook Time:

10 minutes

Total Time:

30 minutes

Category:

Salad or Dessert
Ingredients
Crust
6 cups pretzel, crushed – measure pretzels then crush in food processor or resealable bag
1 1/2 cups (3 sticks) butter
2 tablespoon Truvia
Filling
1 1/2 packages (from 2 – 8 oz blocks) Cream Cheese, softened
1/2 cup Truvia
1 (8 oz) container whipped topping, thawed
Jello
2 cups pineapple juice
2 cups (16 oz) frozen strawberries, thawed and sliced
2 small (3 oz) boxes strawberry jello – can use sugar free is desired
1 tablespoon Truvia
Instructions
Crust
Lightly spray 13 x 9 baking pan with non-stick cooking spray
Preheat oven to 350 degrees
Crush pretzels in food processor or use a resealable bag and rolling pin to crush
Pour pretzels into large bowl
Sprinkle with Truvia
Melt butter and mix with pretzels and sugar until well combine
Spread into baking pan and press firmly
Bake for 10 minutes at 350 degrees or until lightly golden
Cool complete
Filling
Mix cream cheese and Truvia until smooth
Mix in whipped topping until smooth
Spread over crust
Refrigerate at least 1 hour or until set
Jello
Slice strawberries, add to bowl and sprinkle with Truvia
Add pineapple juice to small saucepan on stove and heat to boiling over medium low heat, stirring occasionally
Add jello to large bowl
Add pineapple juice and stir until dissolved, about 2-3 minutes
Cool to room temperature about 15 minutes
Stir in strawberries
Carefully pour or spoon over filling, spread out strawberries if necessary
Refrigerate at least 3 hours or until set
Slice and serve, store leftovers in fridge
Follow Truvia on Pinterest, Facebook, Twitter and You Tube