It is time to discuss a question I have pondered over the years. Strawberry Pretzel Salad : is it a salad or a dessert? This classic traditional recipe is a must make for any occasion!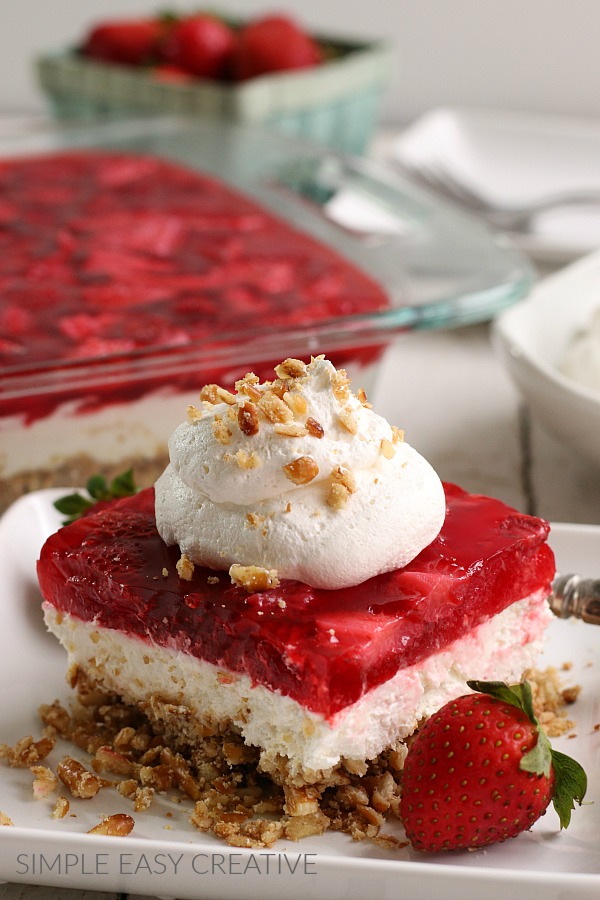 Growing up, my mom made the best Strawberry Pretzel Salad- I tweaked her original recipe to make this one! It was one of my favorite desserts- yes we ate it after the main meal!
I don't know if anyone would argue that this is a salad- there are no leafy greens and it has pretzels, cream cheese, and Jello in it. What kind of meal starter would that be? And who came up with the name of this dessert?
The combination of salty, sweet and tart makes this dessert a family favorite!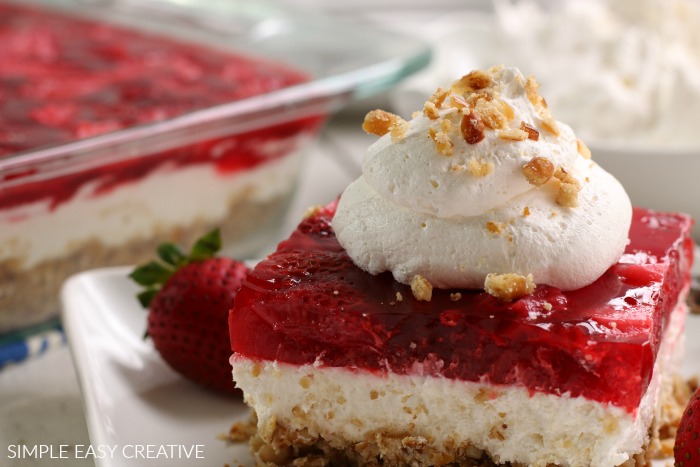 I love a dessert that has a salty bite to it- and the pretzel crust of this strawberry pretzel salad definitely makes this a favorite anytime I take it to a party or cookout!
This layered strawberry dessert is easy to make, and has 3 layers to it – the pretzel crust, the cream cheese filling and the strawberry jello.
Baker's Tip #1: This salad (dessert) can be made ahead of time which makes it super easy for parties, cookouts or reunions.
Baker's Tip #2: Use pineapple juice instead of water to dissolve the gelatin
Baker's Tip #3: Be sure to have extra whipping cream or whipped topping to serve the Strawberry Pretzel Salad with.
Baker's Tip #4: Reserve a small amount of the crust to sprinkle on top of the whipping cream, if you like
Baker's Tip #5: Cool Whip – I would suggest using the whipped topping in the recipe and not substituting it. The ingredient provides a stability when mixed with the cream cheese that is important.
Baker's Tip #6: Fruit – you can easily substitute the strawberries for another frozen fruit like raspberries if you would like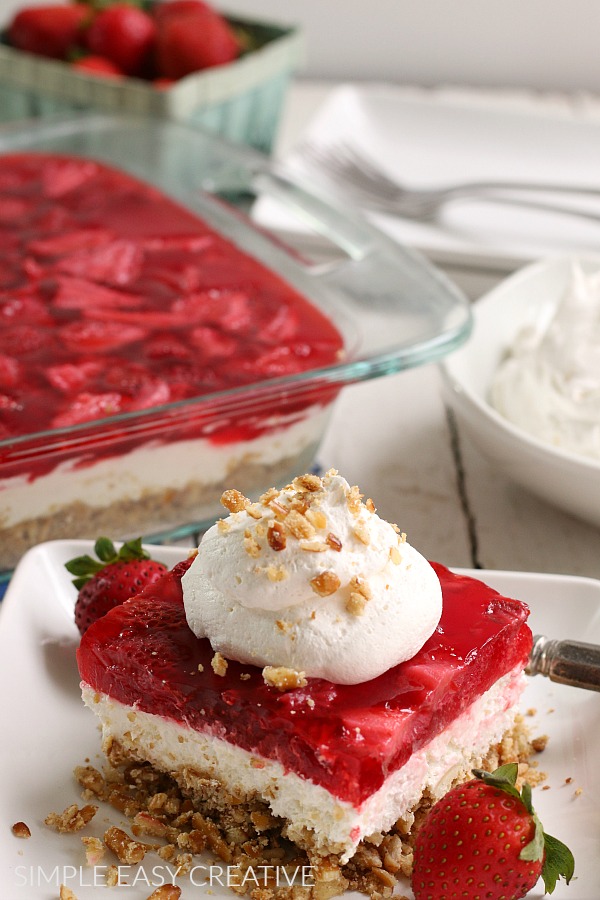 Do you agree that Strawberry Pretzel Salad is, in fact, a dessert? What is your favorite recipe from a family member?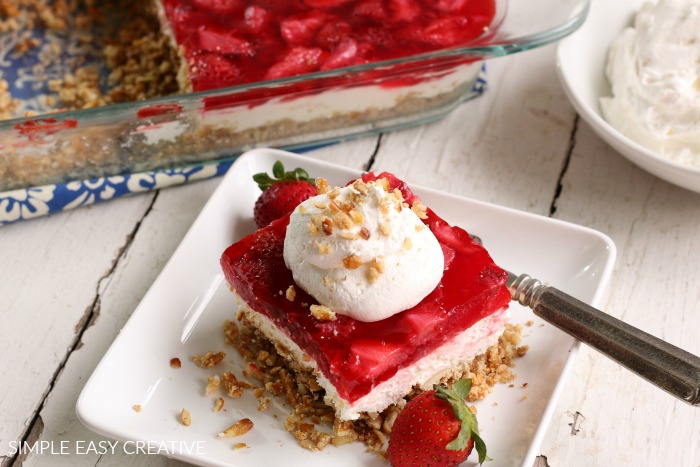 Looking for more classic old fashioned recipes? Click on the photo for the recipe.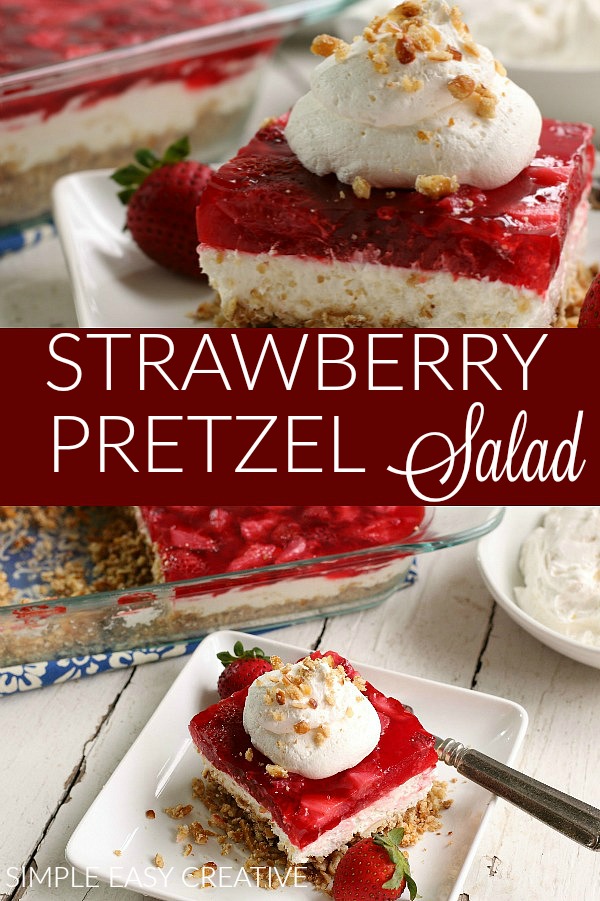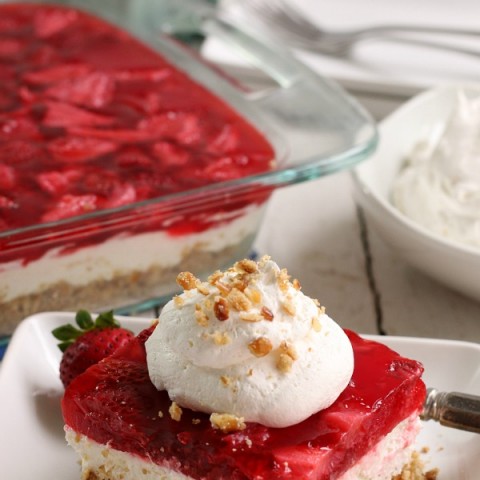 Strawberry Pretzel Salad
This easy to make salad is perfect for parties, cookouts or potlucks!
Ingredients
Crust
6 cups pretzel, crushed - measure pretzels then crush in food processor or resealable bag
1 1/2 cups (3 sticks) butter
4 tablespoons  sugar
Filling
1 1/2 packages (from 2 - 8 oz blocks) Cream Cheese, softened
1 cup sugar
1 (8 oz) container whipped topping, thawed
Jello
2 cups pineapple juice
2 cups (16 oz) frozen strawberries, thawed and sliced
2 small (3 oz) boxes strawberry jello - can use sugar free is desired
2 tablespoons sugar
Instructions
Crust
Lightly spray 13 x 9 baking pan with non-stick cooking spray
Preheat oven to 350 degrees
Crush pretzels in food processor or use a resealable bag and rolling pin to crush
Pour pretzels into large bowl
Sprinkle with sugar
Melt butter and mix with pretzels and sugar until well combine
Spread into baking pan and press firmly
Bake for 10 minutes at 350 degrees or until lightly golden
Cool complete
Filling
Mix cream cheese and sugar until smooth
Mix in whipped topping until smooth
Spread over crust
Refrigerate at least 1 hour or until set
Jello
Slice strawberries, add to bowl and sprinkle with sugar
Add pineapple juice to small saucepan on stove and heat to boiling over medium low heat, stirring occasionally
Add jello to large bowl
Add pineapple juice and stir until dissolved, about 2-3 minutes
Cool to room temperature about 15 minutes
Stir in strawberries
Carefully pour or spoon over filling, spread out strawberries if necessary
Refrigerate at least 3 hours or until set
Slice and serve, store leftovers in fridge