How to Decorate a Store Bought Cake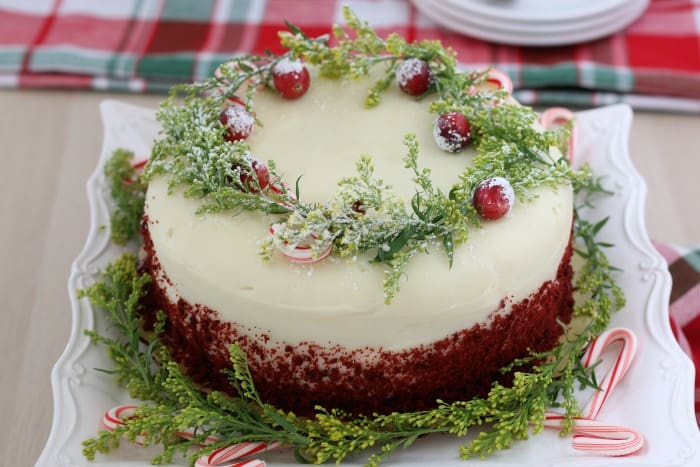 Learn how to decorate a store bought cake with these easy to follow steps. Turn an ordinary store bought cake into a gorgeous cake to serve to guests or take to a party.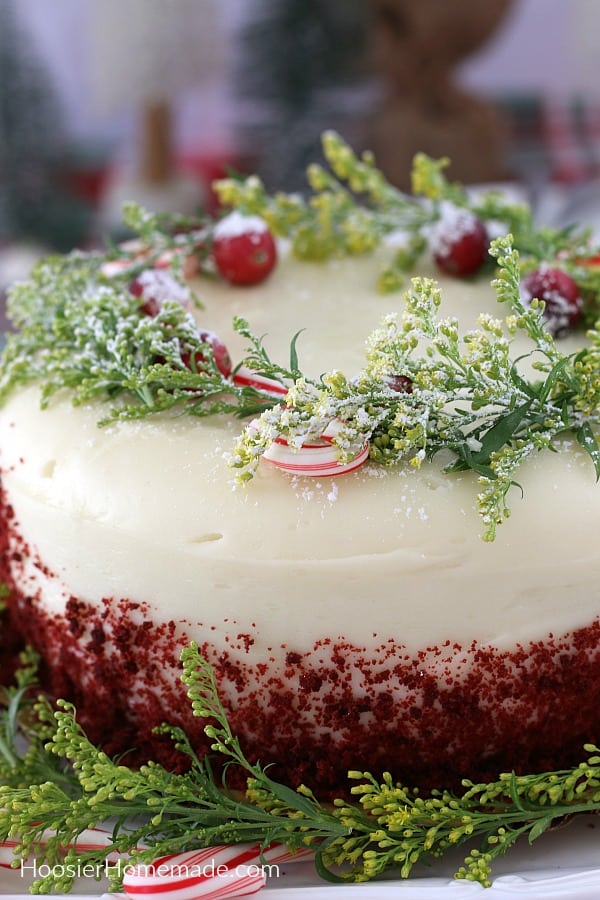 Welcome to Day 16 of the 100 Days of Homemade Holiday Inspiration! Each day we will be inspiring you with recipes, decorating ideas, crafts, homemade gift ideas and much more!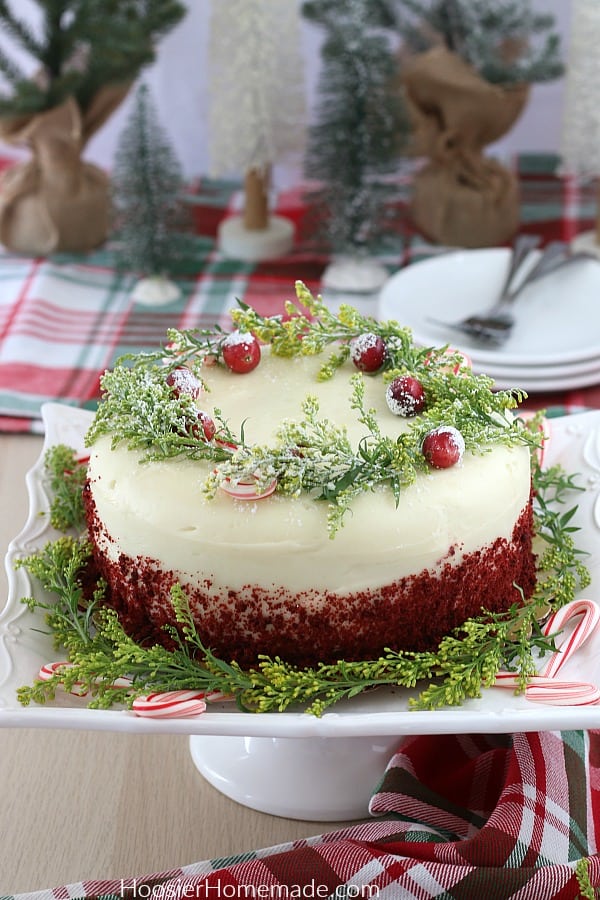 If you have been around here for any amount of time, you know that we like keeping it simple BUT we also love to be creative while cutting down on time.
Have you ever been super busy and just thought – I'll just run to the store and buy something instead of making it?
And then you think – oh but I really want it to look spectacular! YES and YES!
Today you will learn how to take an ordinary store bought cake, and with just a handful of simple ingredients and supplies, you can turn it into a gorgeous cake that everyone will think you spent hours and hours on.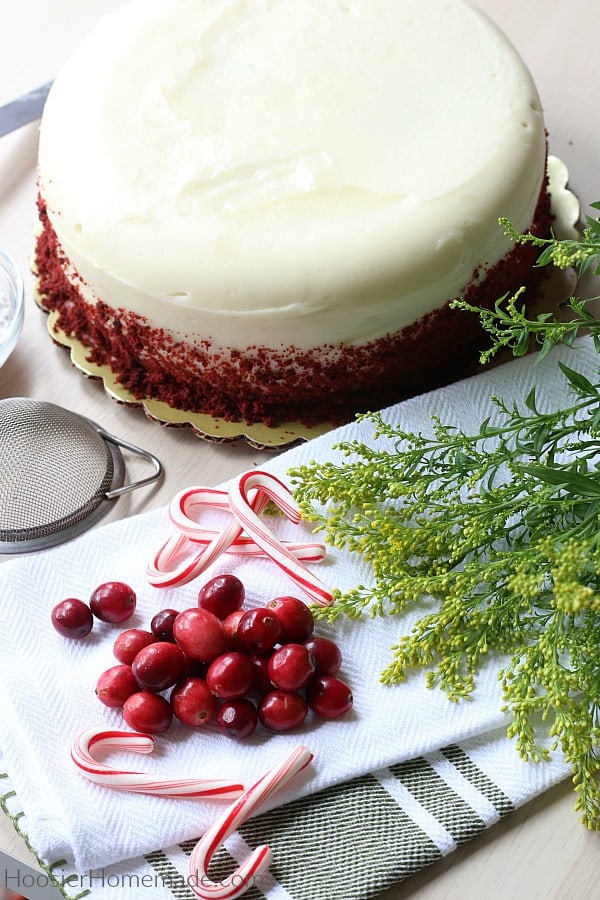 How to Decorate a Store Bought Cake
Ingredients and Supplies
Cake – or other dessert of your choice. I used a Red Velvet Cake that I found in the bakery freezer section at my local grocery store.
Greens – any kind will work. Sometimes you can find bundles of only greens in the floral department, I didn't see any this time, so I bought a small bouquet
Cranberries – or fruit of your choice. Small pieces work best though.
Mini Candy Canes – again, you can easily swap these for whatever you like. For this Christmas cake, the candy canes worked great.
Powdered Sugar
Kitchen Essentials Needed
Small Sifter to use for Powdered Sugar
Offset spatula – optional, if you need to smooth any frosting
Scissors – to cut greens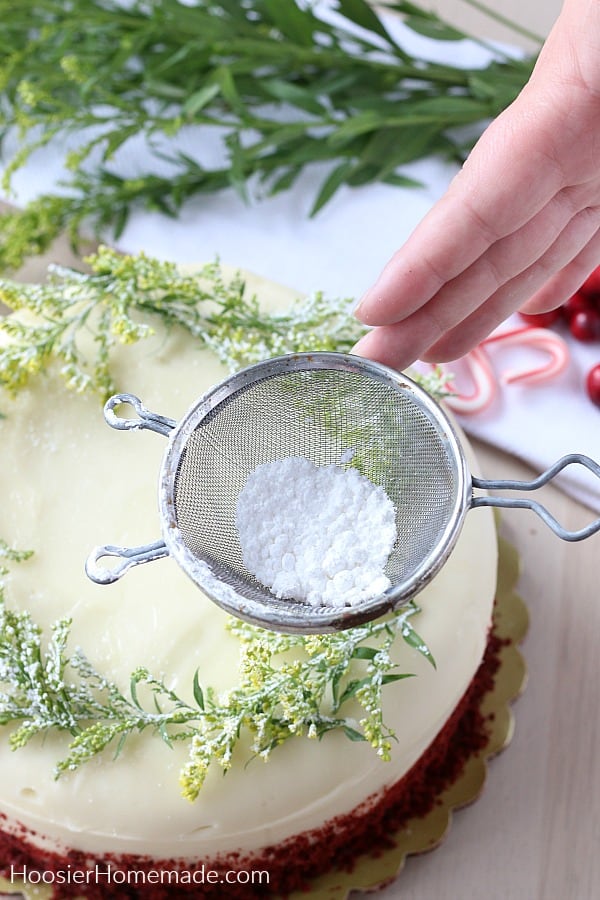 To decorate the cake, you will add layers of each ingredient.
Begin with the greens, cut them into small pieces and add several pieces on top of the cake to form a circle
Then add smaller pieces on top to fill in the circle
Dust with powdered sugar. Note: You can also dust the pieces of greens with powdered sugar before laying them onto the cake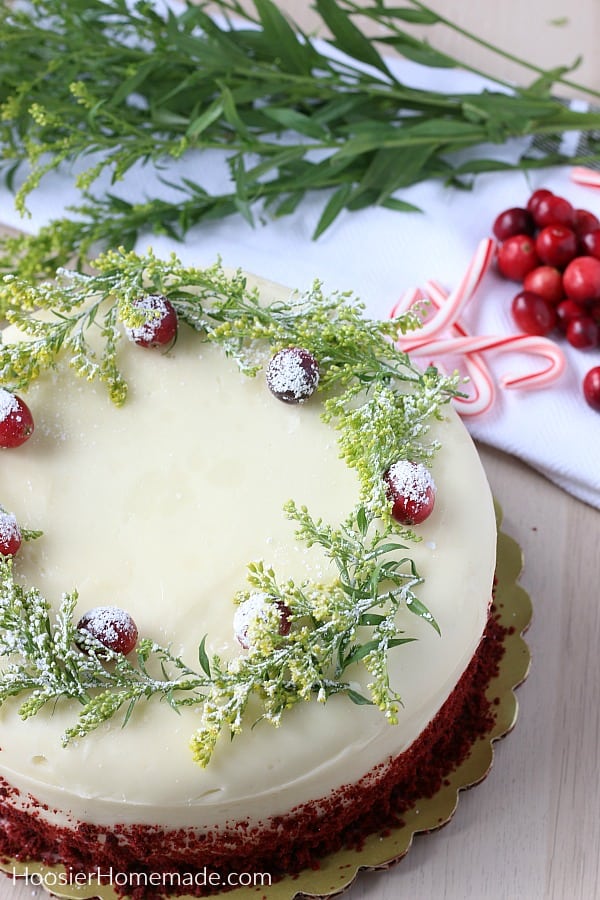 Next comes the cranberries
Dust the cranberries (or other fruit) with the powdered sugar
Lay them onto the cake, tucking them slightly under the greens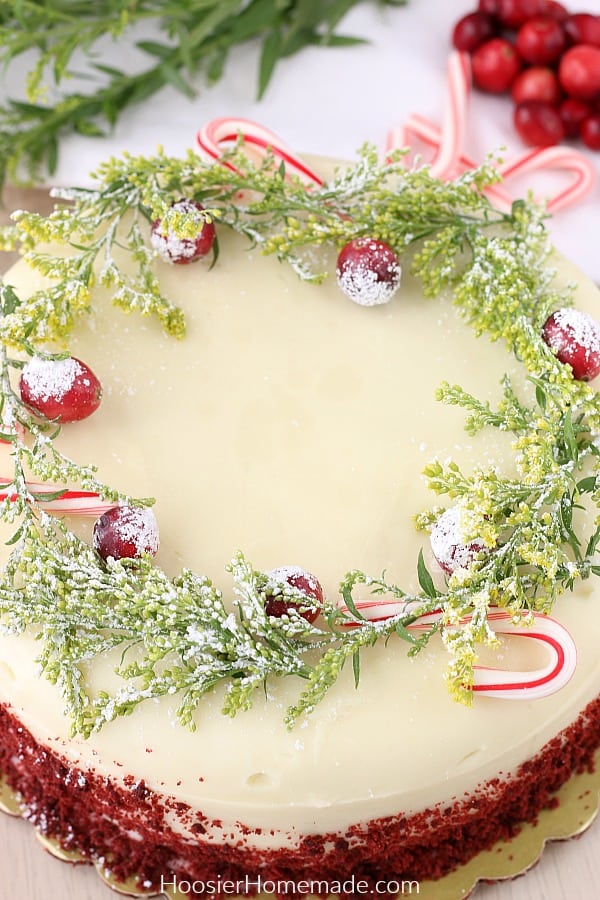 And last are the candy canes
Tuck the mini candy canes under the greens. Add as many as you like.
To finish the cake –
Place the decorated cake onto a cake stand, if you like. If you are transporting it, you may want to wait and put it on a cake stand later.
You can use any leftover greens, cranberries or candy canes to decorate around the base of the cake, if you like.
Follow along with the 100 Days of Homemade Holiday Inspiration for more simple recipes, easy crafts, homemade gift ideas, decorating tips and much more!