Chocolate Fondue Recipe for Christmas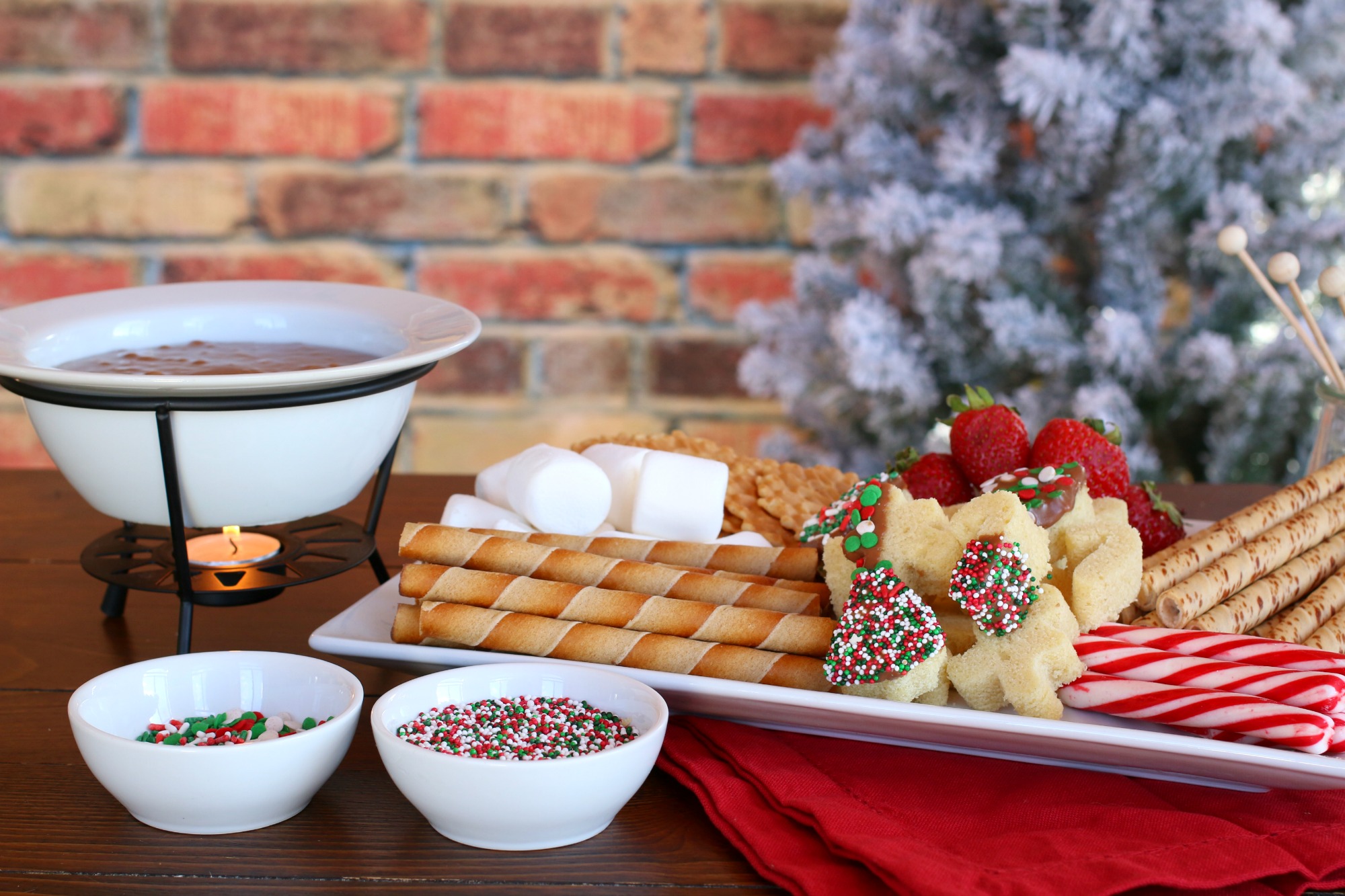 This Chocolate Fondue Recipe takes only 2 ingredients and is ready to serve in about 10 minutes! For Christmas, let's add some fun chocolate fondue dippers made from pound cake, plus peppermint sticks, cookie sticks, strawberries and marshmallows.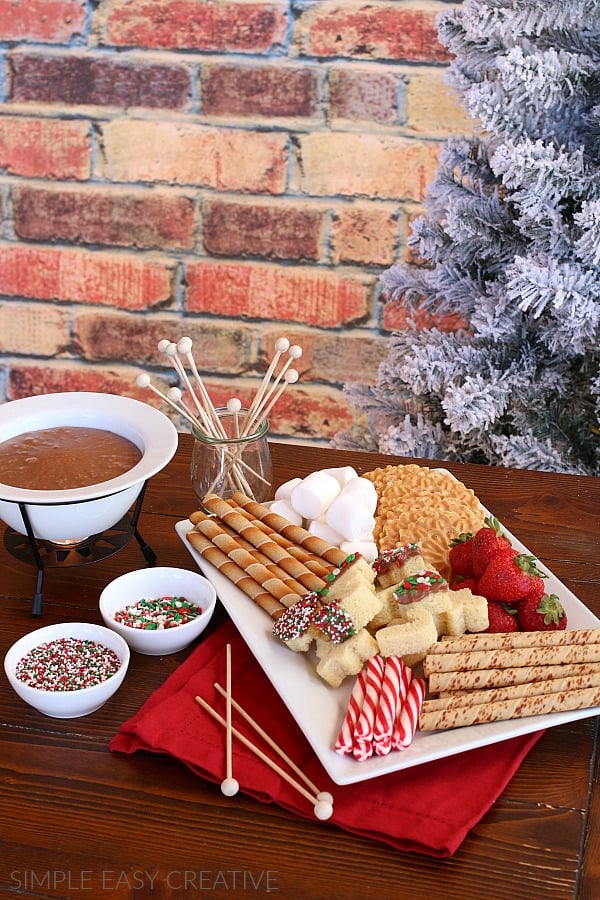 I love hosting parties during the holidays, but I have to be honest, I keep it super simple! I have learned over the years, that guests enjoy the party more if the hostess isn't stressed out or exhausted by the time the party starts.
This Chocolate Fondue couldn't be any easier! All you need are two ingredients – sweetened condensed milk and chocolate chips.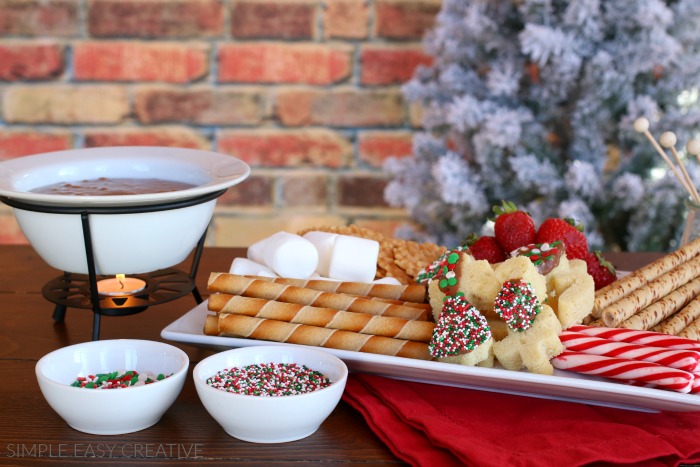 How to make Chocolate Fondue
Ingredients:
1 can Sweetened Condensed Milk
1 1/2 cups Chocolate Chips
Instructions:
Add both ingredients to a small saucepan and heat over medium heat, stirring constantly until smooth. This will take about 5 minutes.
Transfer chocolate fondue to a fondue pot or bowl for serving
Cook's Tip #1: Have all your chocolate fondue dippers ready and on the plate, because the fondue will cook quickly.
Cook's Tip #2: It's best to serve the fondue in a fondue pot to keep it warm and smooth, but it's not totally necessary. You may need to reheat the chocolate fondue in the microwave if you are using a bowl to serve.
Cook's tip #3: To store the chocolate fondue, transfer to airtight container or mason jar with lid. Store in the refrigerator up to 1 week.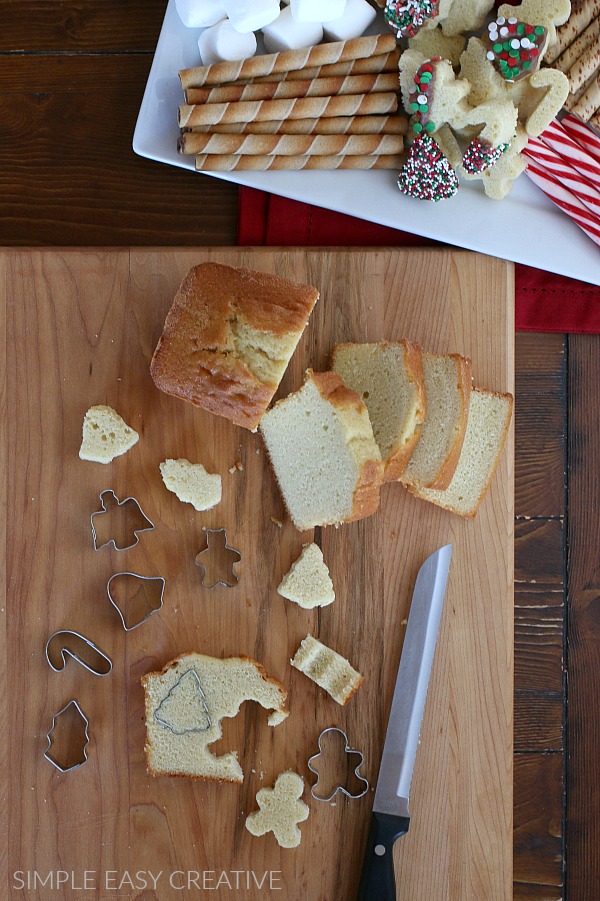 Pound Cake is great as a chocolate fondue dipper! For Christmas, we used mini cookie cutters to cut the cake into shapes. It's easier to cut the shapes if the pound cake starts out frozen, and then is slightly thawed.
Chocolate Fondue Dippers
Supplies:
Pound Cake – frozen store bought is easiest to use, but you can also make your own
Serrated Knife
Instructions:
Slice the pound cake about 1/2 inch thick
Use the cookie cutters to cut shapes
Place on the plate with the other chocolate fondue dippers
The cookies cutters could easily be changed for a different holiday.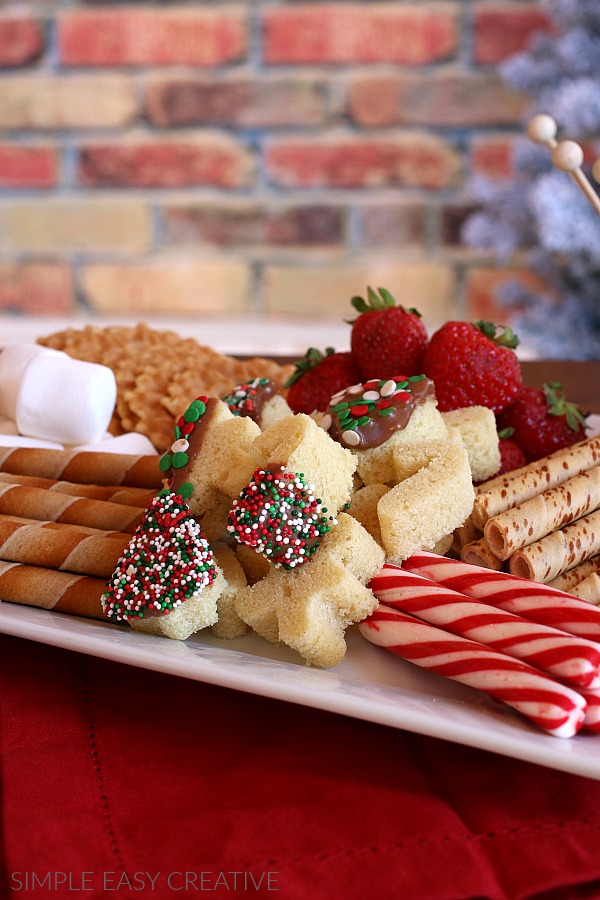 For even more fun, you can add sprinkles to the pound cake Chocolate Fondue Dippers! We also served – cookie sticks, peppermint sticks, marshmallows, Pizzelle cookies, and strawberries.
You can also serve other fruit, or cookies.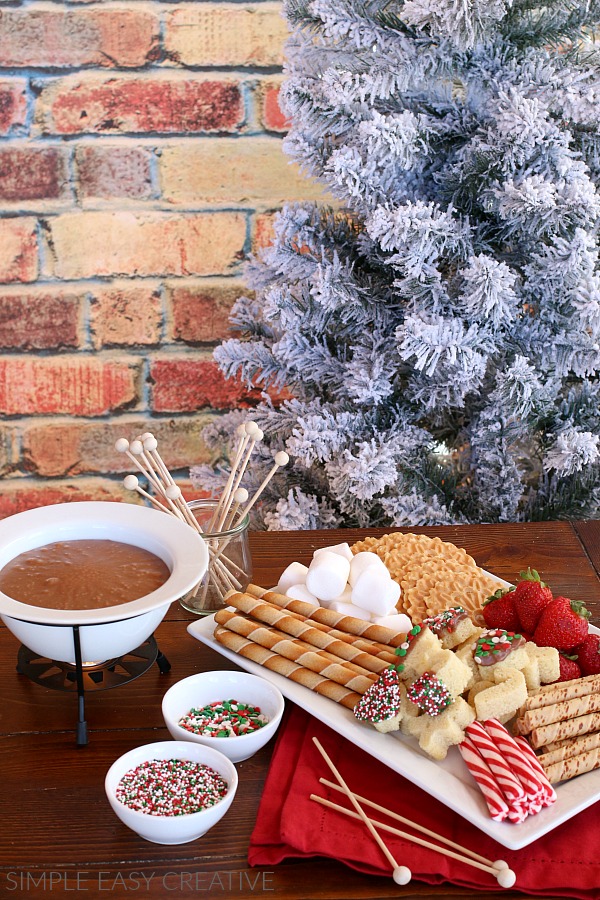 This Easy Chocolate Fondue Recipe also makes a great gift for the holidays! Add some of the dippers to a basket, then add the chocolate sauce to a mason jar and add to the basket!
I bet there are a lot of people on the Christmas list that would love this Chocolate Fondue! You could even add a fondue pot they could serve the chocolate fondue in.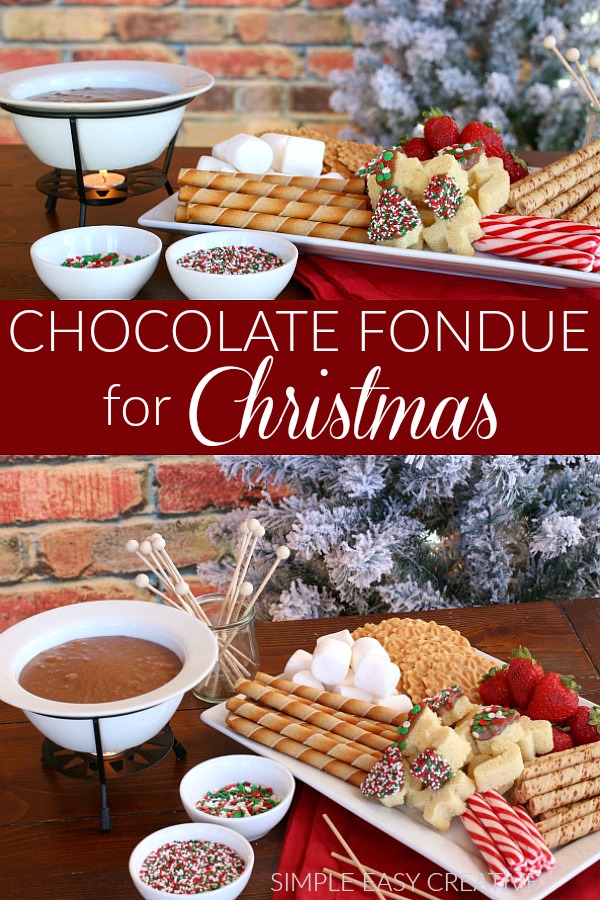 Planning a party? You may also like these Party Recipes!
Click on the photo for the recipe.
Chocolate Fondue Recipe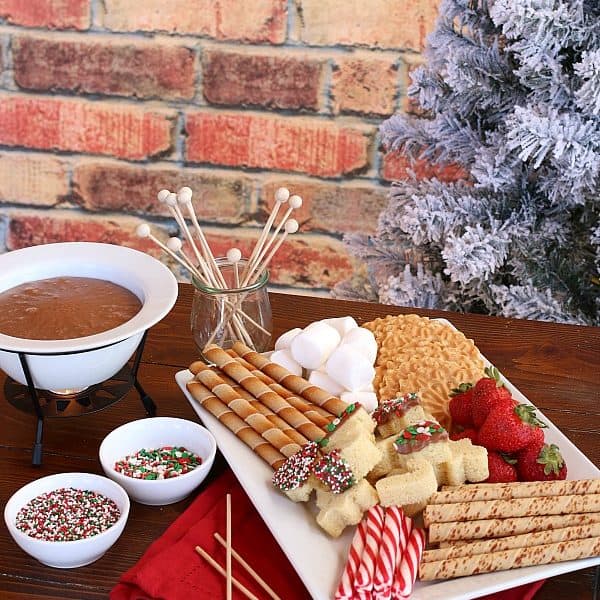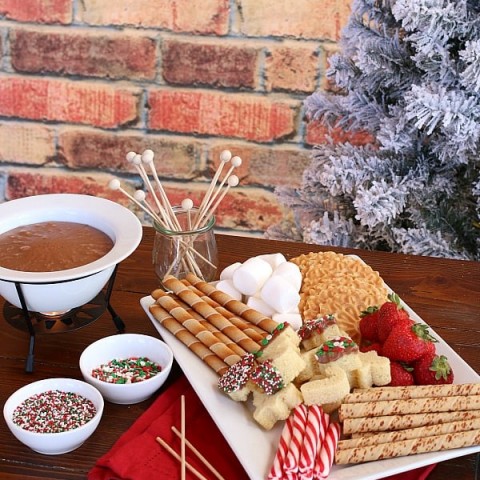 Chocolate Fondue Recipe
This Chocolate Fondue Recipe takes only 2 ingredients and about 10 minutes total to make! Serve with fun Chocolate Fondue Dippers for Christmas!
Ingredients
1 can (14 oz) Sweetened Condensed Milk
1 1/2 cups Chocolate Chips - milk or semi-sweet
Instructions
Combine both ingredients in a small saucepan on the stove
Stir and cook over medium-low heat until chocolate is melted and mixture is smooth
Transfer chocolate to Fondue Pot or serving bowl
For Christmas - serve with Pound Cake cut with cookie cutters, Peppermint Sticks, Cookie Sticks, Strawberries or other fruit