Just because it's getting warmer outside doesn't mean you have to sacrifice dessert! These Summer Desserts are perfect! Whether you need easy Summer Desserts, Recipes, No Bake, Summer Cupcakes, 4th of July Desserts or if you are feeding crowd – we have you covered in this round up of 36 must have dessert recipes!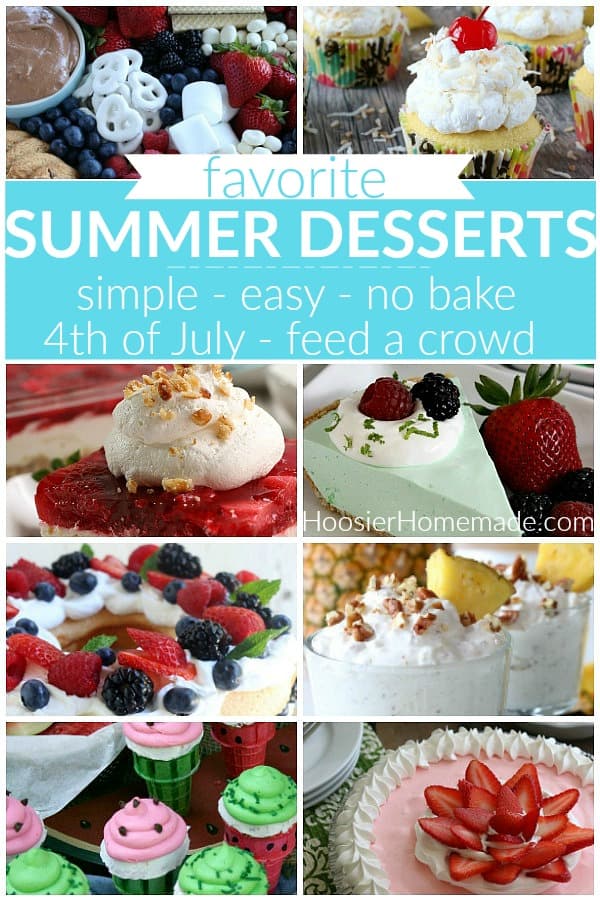 I'm not sure about you, but baking all the different desserts for Summer is just plain fun! With berries and all the fresh ingredients, you can make an ordinary dessert look so impressive.
With all the parties, potlucks, family reunions and backyard BBQ's to host and attend, you will surely need a delicious dessert to serve!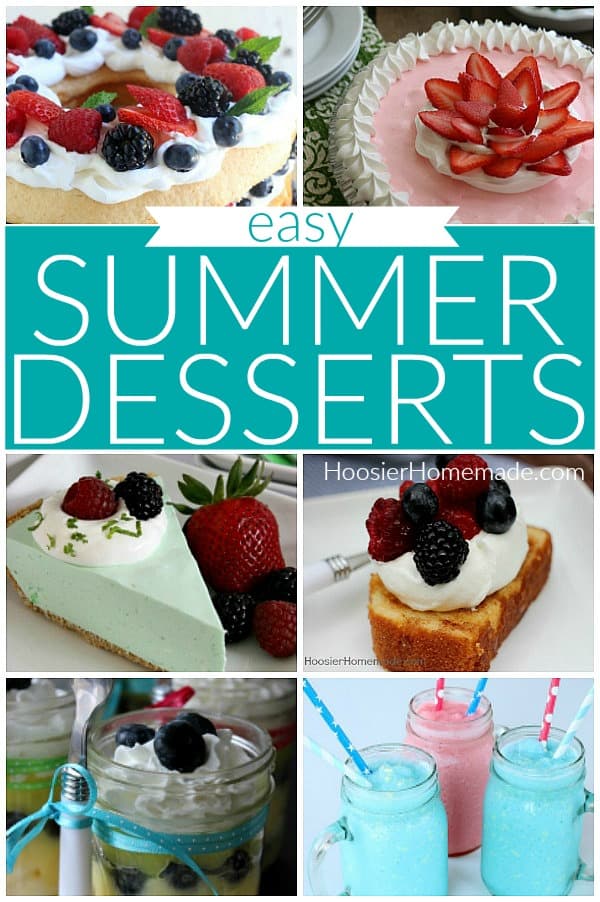 Easy Summer Desserts
Who wants to be stuck in the kitchen when we can be at the pool? These easy Summer Desserts are crowd favorites and go together in minutes.
This showstopping Angel Food Cake with Berries takes ONLY 15 minutes to put together! WOW your guests with this amazing and delicious 4th of July Cake Idea or serve for any occasion!
Only 4 ingredients are all you need for this delicious Strawberry Cream Pie. The pie is special enough for holidays yet easy enough for weeknight dessert.
Perfect for potlucks – easy enough for weeknight dinner at home – and elegant enough to serve at a dinner party, this Summer Lime Pie starts with Jello and has extra flavor with freshly squeezed lime juice and the zest of the lime.
When time is short, but you need a delicious dessert to serve to family, friends or guests, look no further than your freezer. This Grilled Pound Cake goes together in minutes, yet looks impressive.
Serving dessert in a jar is not only fun but it's really quick and easy too! The flavor options are endless as well! This Lemon Blueberry Angel Food Cake in a Jar is a crowd pleaser!
These Slushies with Ice Cream are a perfect afternoon treat by the pool, during Game Night and they make a fun and easy weeknight treat. The flavor options are endless, and the addition of Ice Cream makes them even better. They go together in minutes and cost about $1 for the whole pitcher full.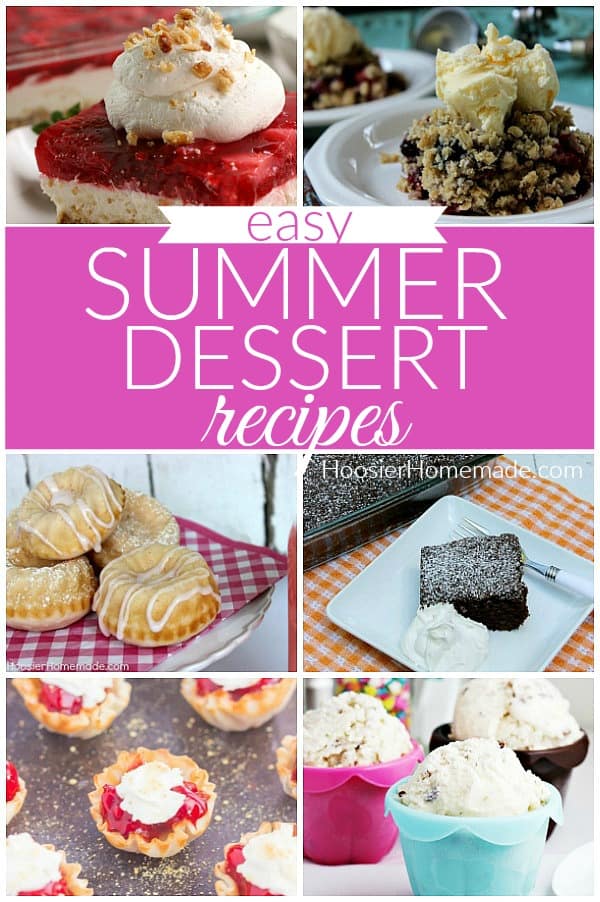 Summer Desserts Recipe
Looking for a recipe? These Summer Dessert Recipes scream summertime!
It is time to discuss a question I have pondered over the years. Strawberry Pretzel Salad: is it a salad or a dessert? This classic traditional recipe is a must make for any occasion!
This Simple Berry Cobbler starts with frozen fruit, but you could certainly use fresh if you want. It's also exactly what the title says…simple. It went together in about 3 minutes, into the oven and done by the time dinner was over.
Starting with a white cake mix and adding a burst of flavor with Pink Lemonade concentrate and drink mix, this Pink Lemonade Pound Cake is super easy to make.
It's rather rare that I bake a cake during the Summer, I typically stick to baking cupcakes and no bake treats that don't take long to make or heat up the kitchen. But one exception is this Chocolate Zucchini Cake; super moist from the zucchini, filled with a little crunch from the nuts and a luscious chocolate flavor that can't be beat!
These Cherry Pie Bites from Pumpkin 'n Spice have only two ingredients and no oven required. Top them with whipped cream and a sprinkle of crushed graham crackers if you like.
Homemade Ice Cream is always a treat! Home Cooking Memories teaches you how to make ice cream in a can. I bet the kids will love that!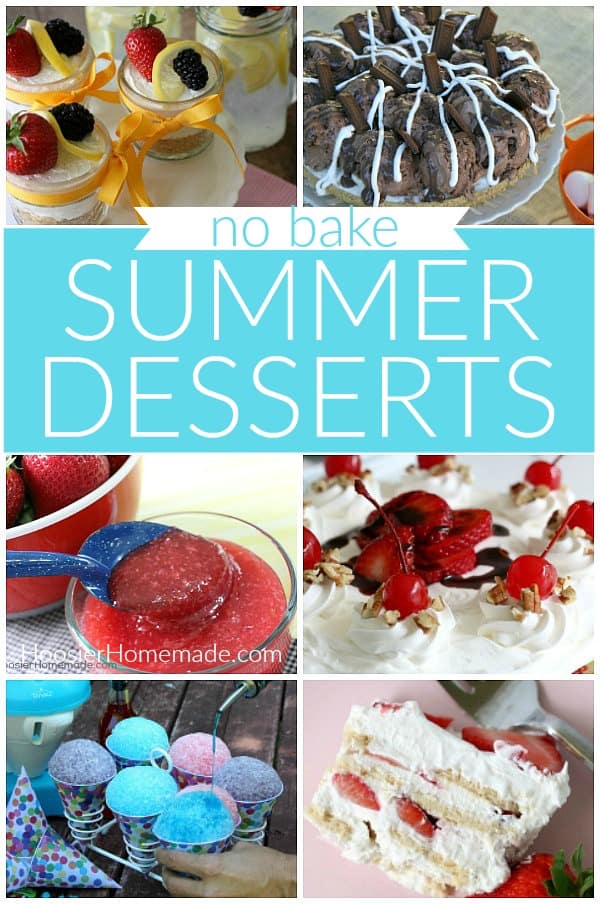 No Bake Summer Desserts
No need to heat up the house! These No Bake Summer Desserts go together quickly and are delicious.
These Lemon Berry Cheesecakes are light and refreshing with lemon and strawberry flavor, graham cracker crust and topped with fresh berries.
This S'mores Ice Cream Pie gives you all the flavor of your favorite treat, but in a cool, easy to make dessert!
Perfect for Strawberry Pie, Cheesecake, spoon over ice cream, or Tarts, this Homemade Strawberry Glaze is a must make! You can even put it on brownies or cake!
This no bake pie is perfect for all your Summer parties, potlucks and cookouts, but easy enough for a weeknight treat! Banana Split Pie – layers of Bananas, Pineapple, Strawberries, Pudding and Pecans, then topped with whip cream, maraschino cherries, chocolate sauce and more pecans.
All you need are two ingredients plus ice and water for this Snow Cone Syrup.
An easy version of Strawberry Shortcake, this Icebox Cake from Chocolate with Grace has only three ingredients.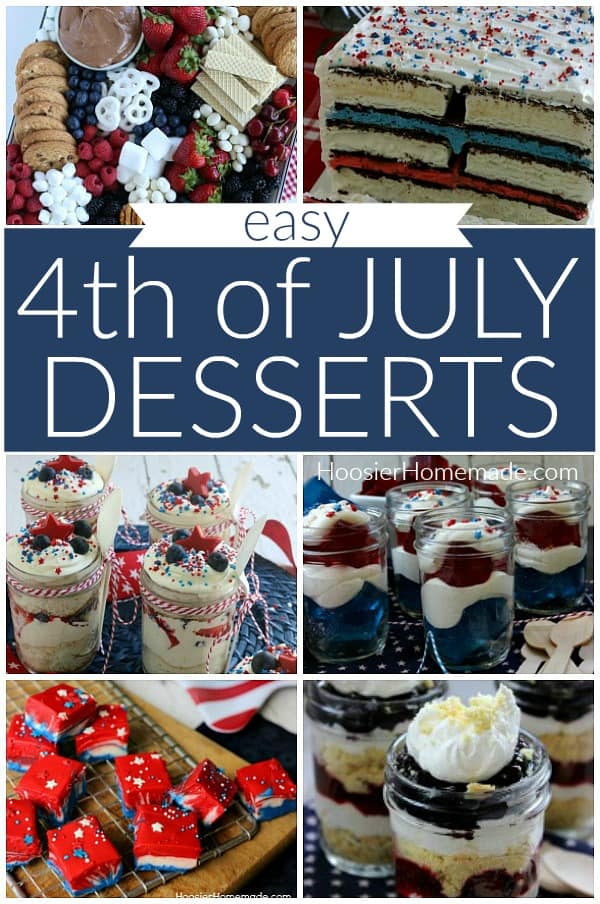 4th of July Desserts
It wouldn't be Summer without 4th of July parties! Add one (or more) of these 4th of July Desserts to your menu!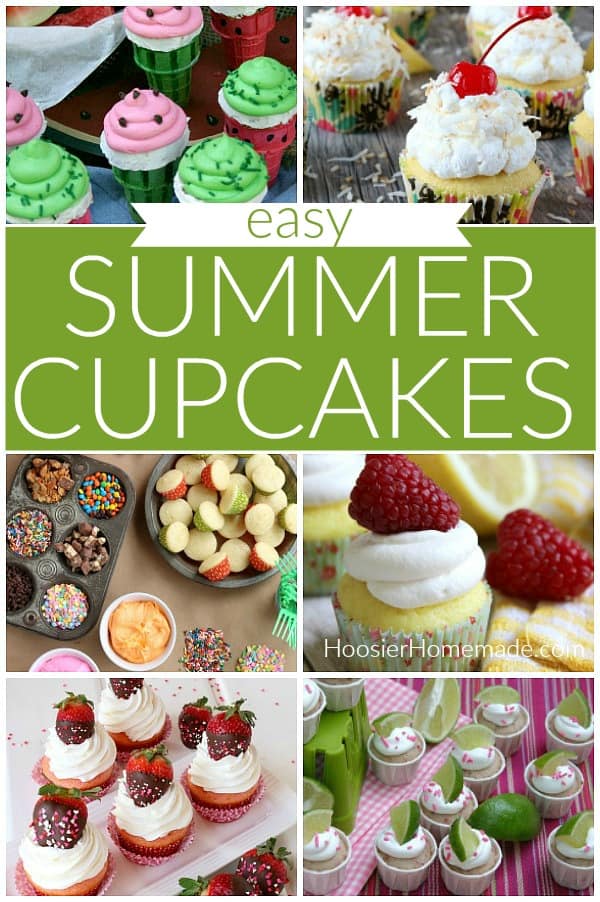 Summer Cupcakes
Cupcakes are always great for parties! Whip a batch of these delicious Summer Cupcakes and everyone will love it!
These Watermelon Cupcake Cones are as fun to make as they are to eat. Watermelon flavored cupcakes are baked right in colorful, pink and green Ice Cream Cones and frosted to look like a slice of Watermelon.
These easy to make Pina Colada Cupcakes start with a boxed cake mix, but are packed with flavor! The recipe can also be made into a Pina Colada Cake.
Whether you are throwing a birthday bash, dinner party or just a treat by the pool, this Cupcake Fondue is fun for the little ones as well as adults!
Lemon and Raspberry are a perfect combination for Summer! These light and refreshing tasting Lemon Raspberry Cupcakes go together in snap.
These Strawberry Cupcakes filled with Strawberry Glaze, frosted with Marshmallow Frosting and topped with a Chocolate Covered Strawberry.
These Strawberry Margarita Cupcake Bites might be tiny, but they are packed with flavor…Classic Lime Margarita mix and chopped strawberries are mixed into a white cake mix and topped with a dollop of Cool Whip to keep them light for the Summer heat. A sprinkle of pink jimmies and a wedge of lime finish them off.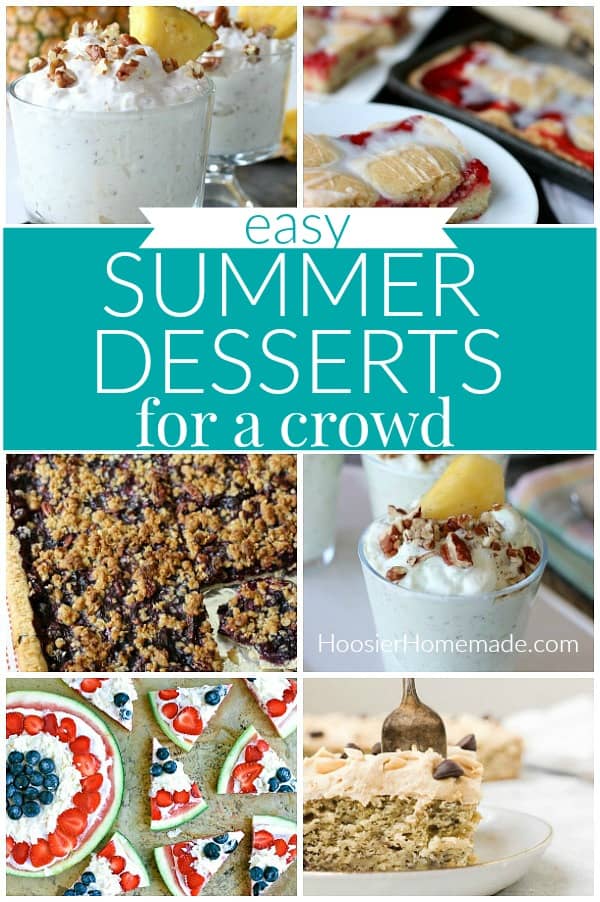 Summer Desserts for a Crowd
Are you heading to or hosting a potluck, family reunion or party? These Summer Desserts for a Crowd are perfect!