Homemade Strawberry Glaze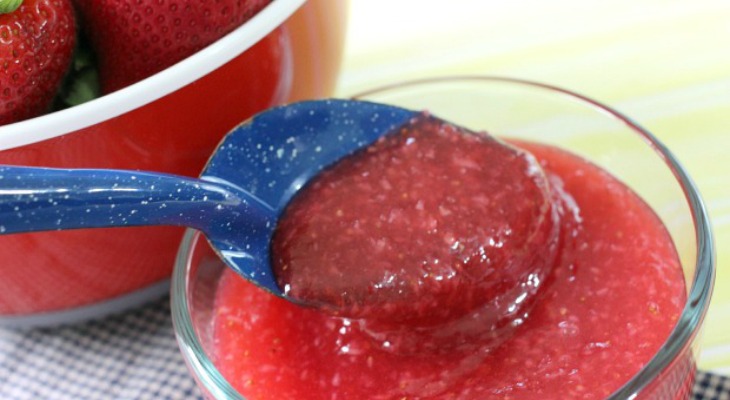 Perfect for Strawberry Pie, Cheesecake, spoon over ice cream, or Tarts, this Homemade Strawberry Glaze is a must make! You can even put it on brownies or cake!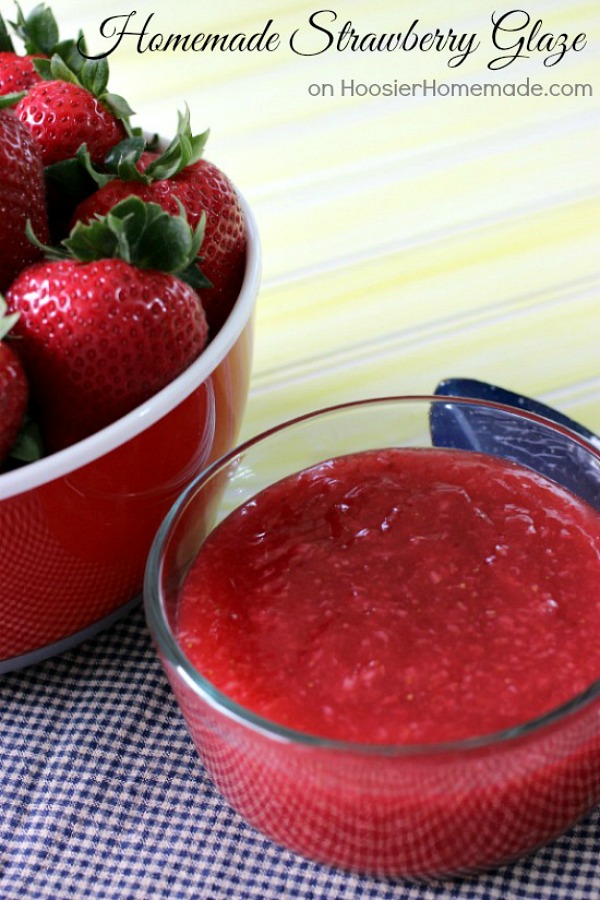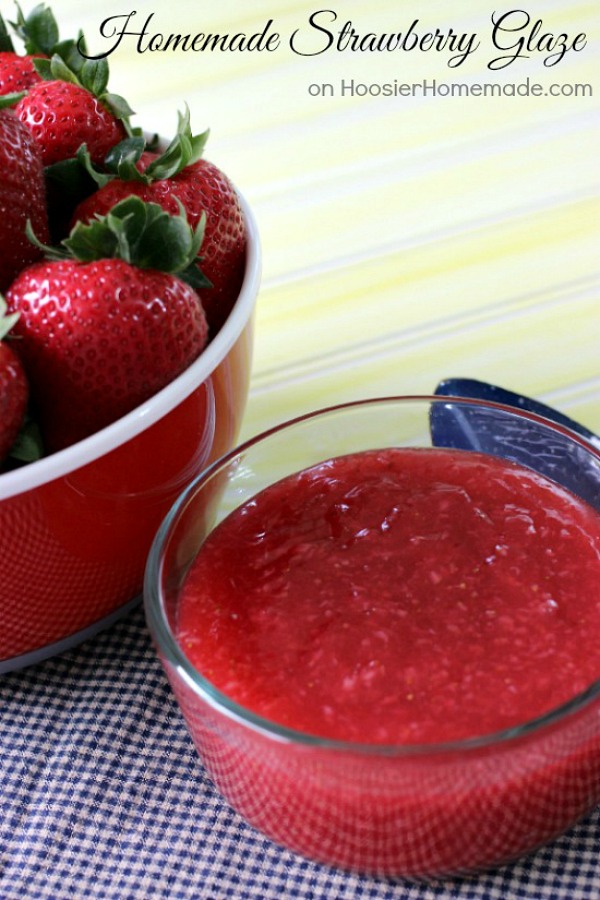 Strawberries are my favorite fruit, not only because they are delicious, but they are also so versatile. There are endless desserts you can make with them! And they are also perfect on salads too. Recently, after I made this Homemade Strawberry Glaze to go on top of the Chocolate Chip Strawberry Pizza, I knew it was a recipe to keep around. The recipe goes together quickly and can be used on a variety of your baked treats.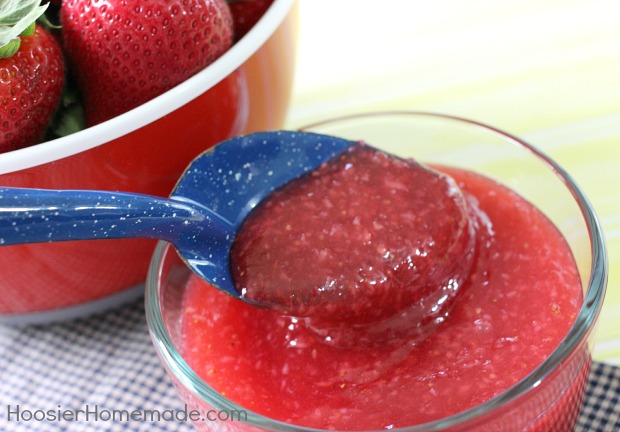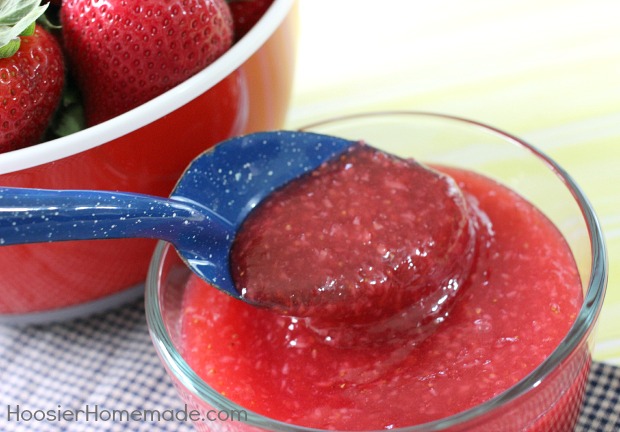 Depending on how chunky you want your glaze, and how you plan on using it, you can put it through a sieve or the food processor. We used the food processor because it was quicker, and it worked great. Just make sure you do this after the mixture is cooked and put together.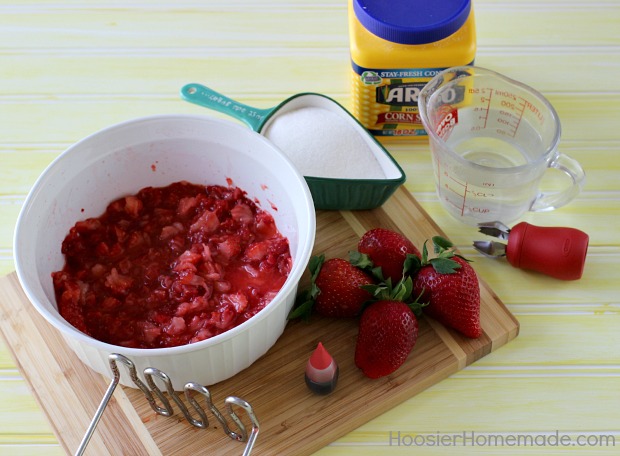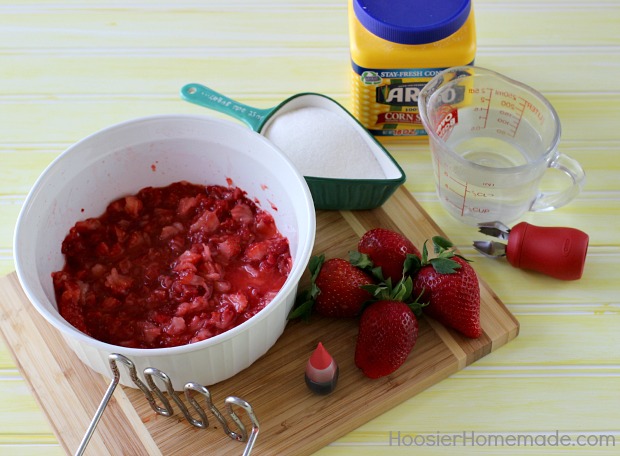 With just a few simple ingredients, you can make your own Homemade Strawberry Glaze. First, you will need Strawberries (of course), then cornstarch for thickening, sugar for flavor, water to thin it a bit, and the food coloring is optional (I used it).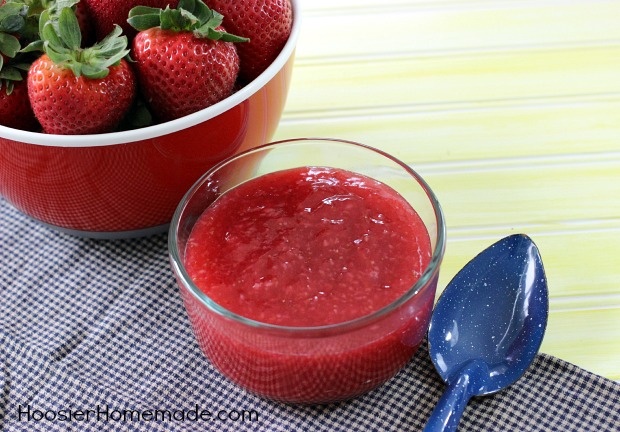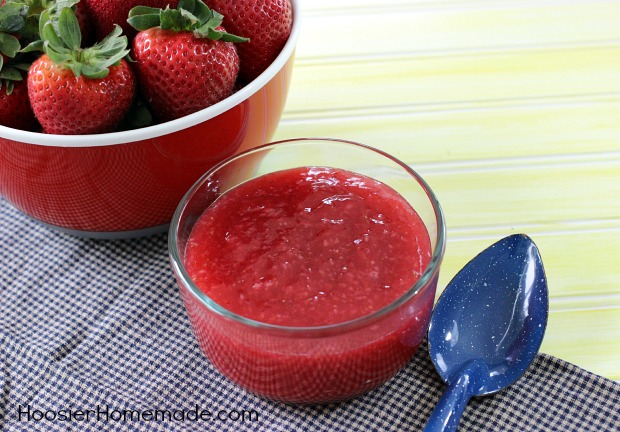 You can use this Homemade Strawberry Glaze on these desserts…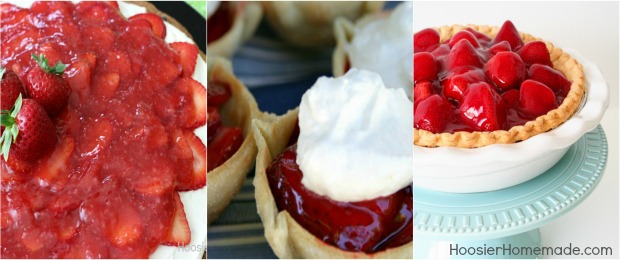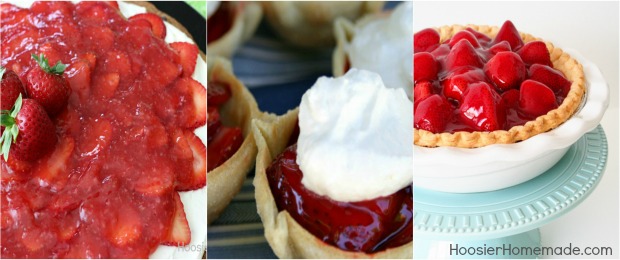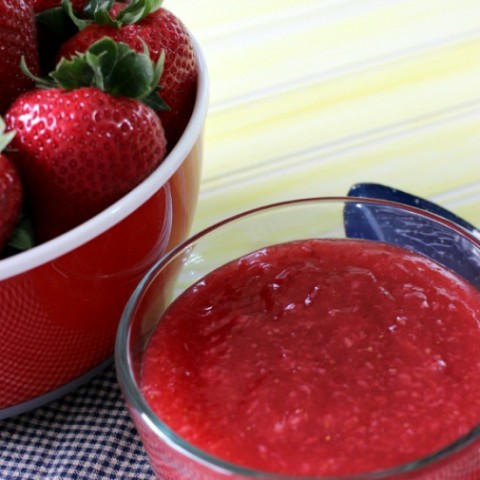 Homemade Strawberry Glaze
Yield: 2 cups

Prep Time: 10 minutes

Cook Time: 3 minutes

Total Time: 13 minutes

This Strawberry Glaze is perfect for Pie, Ice Cream, Cheesecake and more. Recipe on HoosierHomemade.com
Ingredients
1 cup fresh Strawberries, cleaned and mashed
1 cup sugar
3 tablespoons cornstarch
3/4 cup water
Few drops Red Food Coloring, optional
Instructions
Mash the Strawberries and set aside
In a saucepan, combine sugar and cornstarch
Stir in water and mashed berries
Bring to a boil, stirring constantly
Stir in food coloring if desired
Cook and stir 3 minutes until thick
Remove from heat and transfer to bowl, cool 10-15 minutes
If strawberries are not smooth, you can either put them through a sieve and smash them or use the food processor.
Nutrition Information:
Yield: 16 Serving Size: 1
Amount Per Serving: Calories: 58Total Fat: 0gSaturated Fat: 0gTrans Fat: 0gUnsaturated Fat: 0gCholesterol: 0mgSodium: 1mgCarbohydrates: 15gFiber: 0gSugar: 13gProtein: 0g

Where would you use this glaze? Do you make any other flavors?
Affiliate links used.