4th of July Treat: Jello Parfaits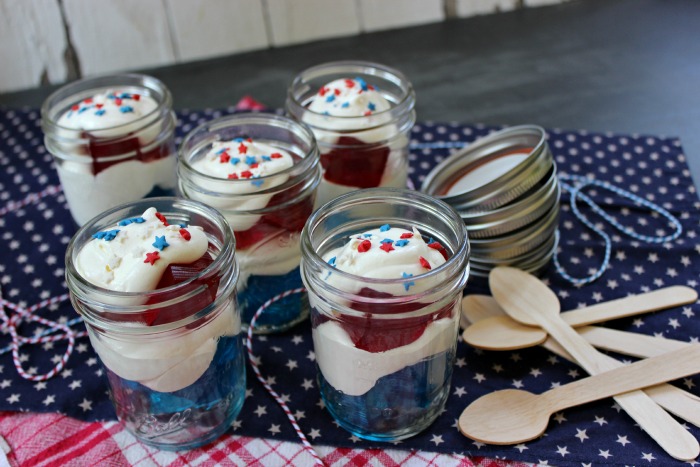 Using a simple ingredient like Jell-O and turning it into an impressive looking dessert is easy with these 4th of July Jell-O Parfaits. You can layer them into mason jars, seal them up and have a fun treat to take along to your 4th of July Parties, Cookouts and Potlucks.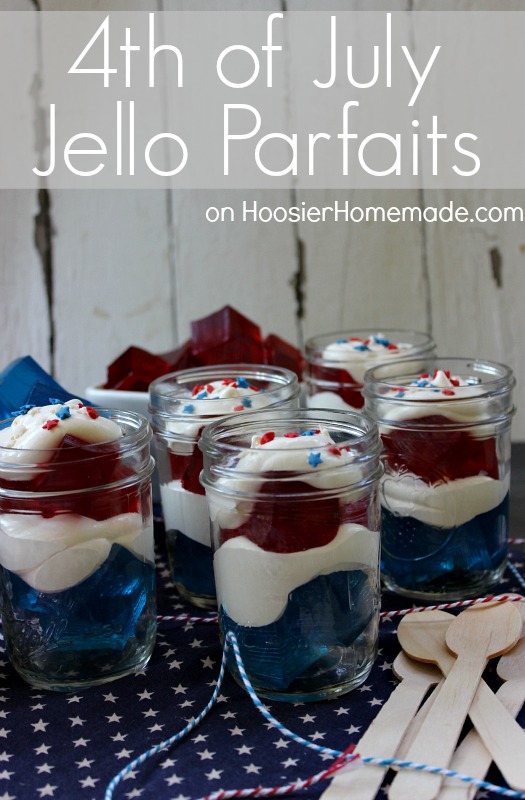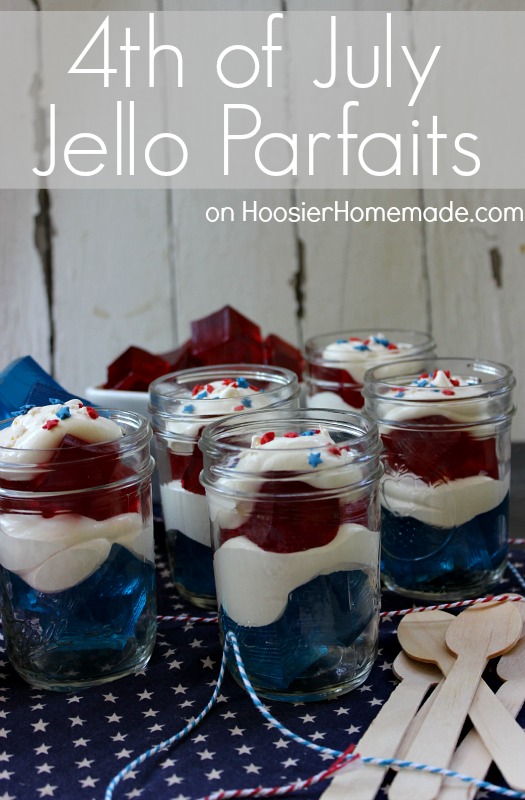 4th of July is one of my favorite holidays! Our town hosts a huge parade and fireworks, with several events leading up to the big day. Potlucks and picnics also play a big part in the holiday fun, and of course the delicious Picnic Food is always top on everyone's list.
One of the reasons I love this holiday so much are all the 4th of July Desserts and Recipes; from fun Fourth of July Cupcakes, to No Bake Dessert, to Dessert to take to a Potluck, and everything in between. And these Jello Parfaits are super easy, just by taking an ordinary recipe for finger JELL-O, making it with Cherry and Berry Blue JELL-O, adding COOL WHIP whipped topping and layering it in small pint jars, adds a special festive touch to this dessert.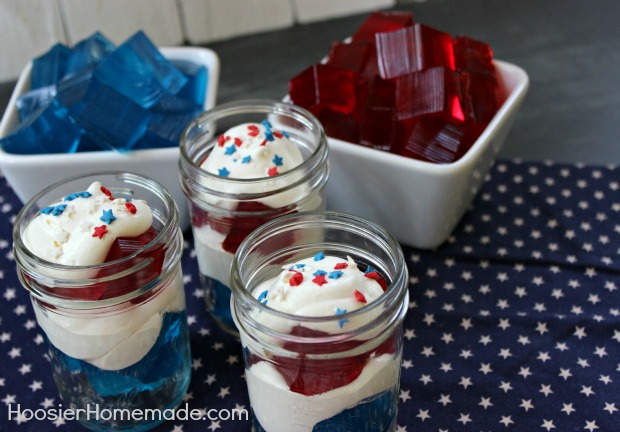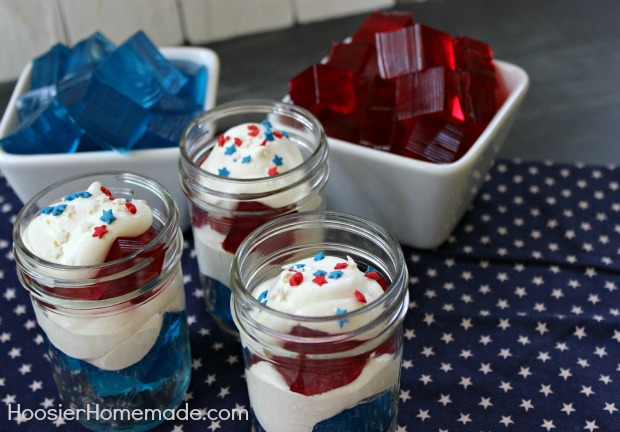 There isn't a man, women or child that I know that doesn't love JELL-O, especially when it's served in a fun way. The recipe for finger JELL-O is one that I have served for many, many years to my children. Their classmates would love when I brought in some for the class parties. There are lots of different flavors of JELL-O for you to enjoy for any holiday.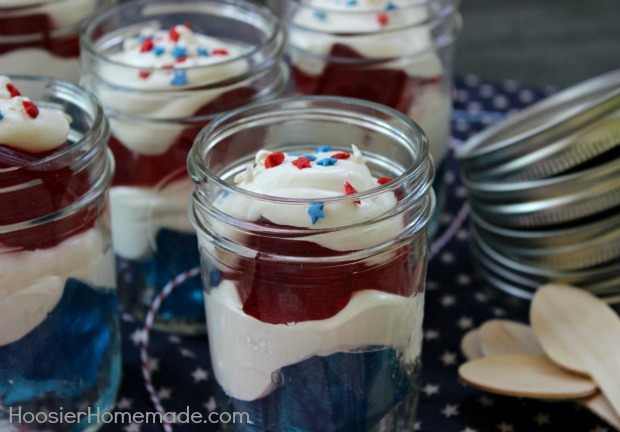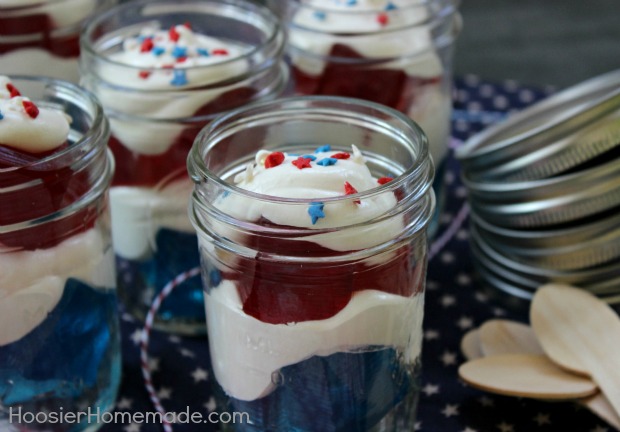 You can serve them straight from the jar, or add the lid and pack them in the cooler for your Potluck or Picnic. Either way, these 4th of July JELL-O Parfaits are sure to be a hit with your family and friends.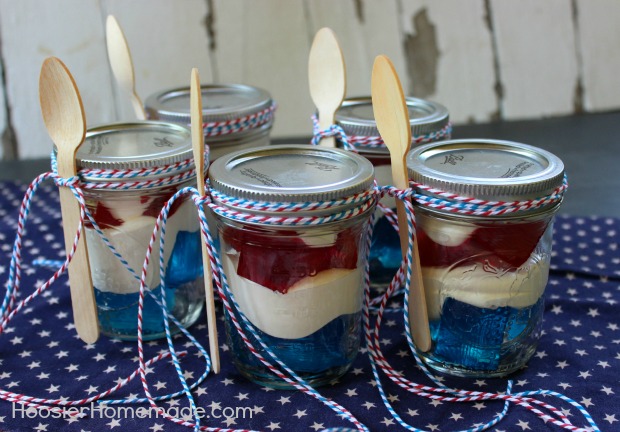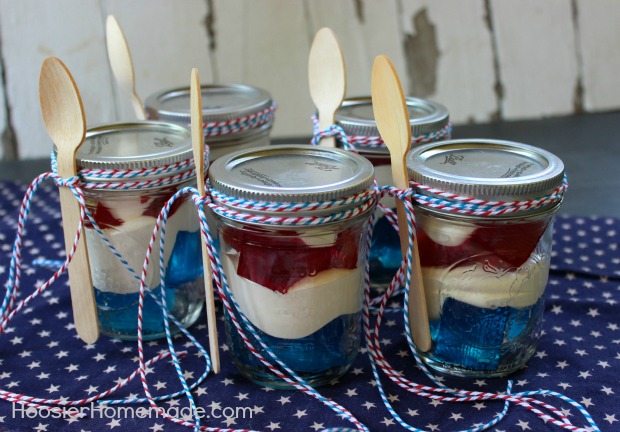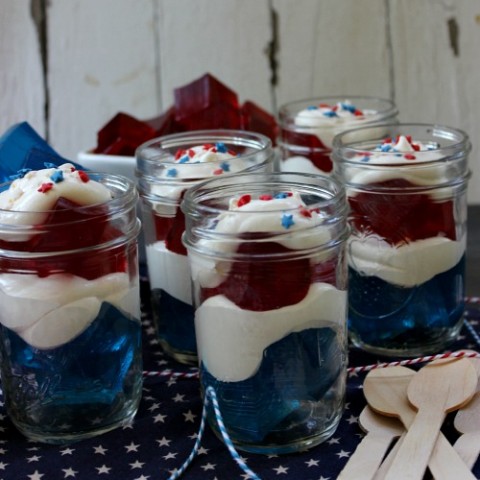 4th of July Treat: Jello Parfaits
Prep Time: 20 minutes

Total Time: 20 minutes

Simple, yet impressive - JELL-O Parfaits served in a jar. Recipe from HoosierHomemade.com
Ingredients
3 small boxes (3 oz size) Cherry JELL-O
3 small boxes (3 oz size) Berry Blue JELL-O
8 envelopes unflavored gelatin
9 cups boiling water, divided
2 tubs (8 oz) COOL WHIP whipped topping, thawed
4th of July Sprinkles, optional
Supplies
2 – 8×8 inch pans
10 small jars
Resealable bag or Decorator Bag
Bakers Twine in red and blue
Small spoons
Instructions
In a medium bowl, combine 3 boxes of Cherry JELL-O and 4 envelopes unflavored gelatin
Add 4 1/2 cups boiling water and stir 2-3 minutes or until completely dissolved
Pour into pan and place in refrigerator for 4-5 hours or until firm
Repeat with Berry Blue JELL-O
After JELL-O is set, cut into small squares
Add a few pieces of blue JELL-O to the bottom of each jar
Add COOL WHIP whipped topping to a resealable bag and pipe into jar on top of JELL-O
Top with a few pieces of cherry JELL-O
Add more COOL WHIP whipped topping and sprinkles if desired
To serve in jars, add the lid and tie with Baker's Twine, add the small spoon
Notes
Recipe makes enough for 10 jars with about 1/2 a pan of JELL-O left over, if you need to fill more jars, just increase the amount of COOL WHIP whipped topping.