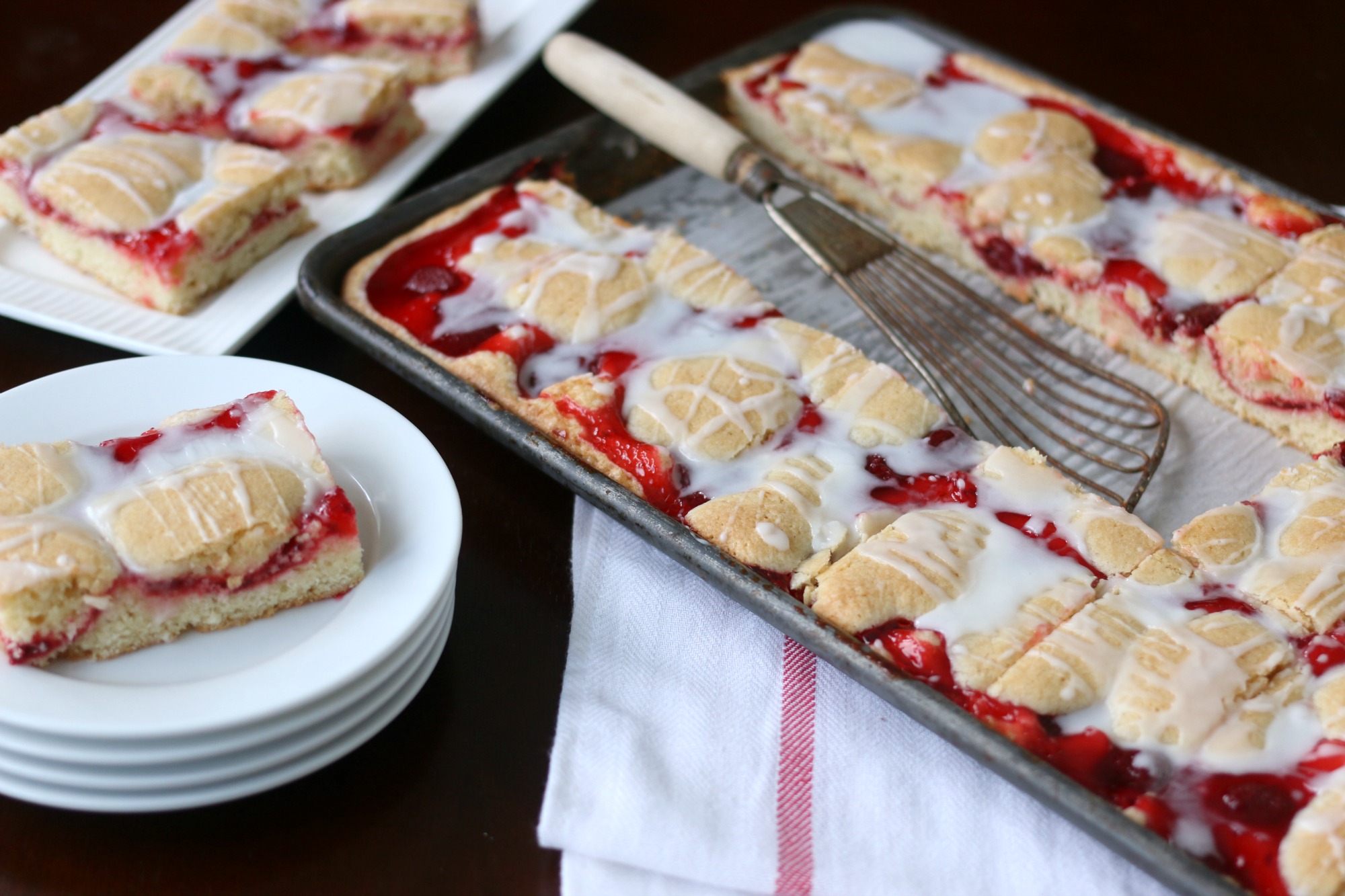 There is something about the sweet taste of strawberry in your mouth. It's one of nature's finest gifts to us. When picked at just the right time, strawberries make the perfect addition to any recipe, especially these Strawberry Cobbler Bars. With these bars in your hand, you will not only be the hero of your home, but perhaps the person of the year.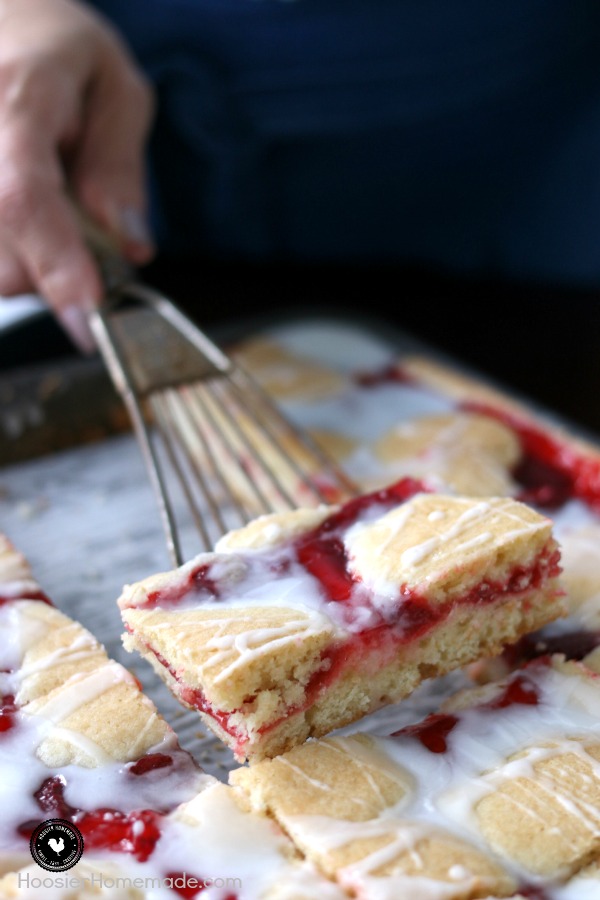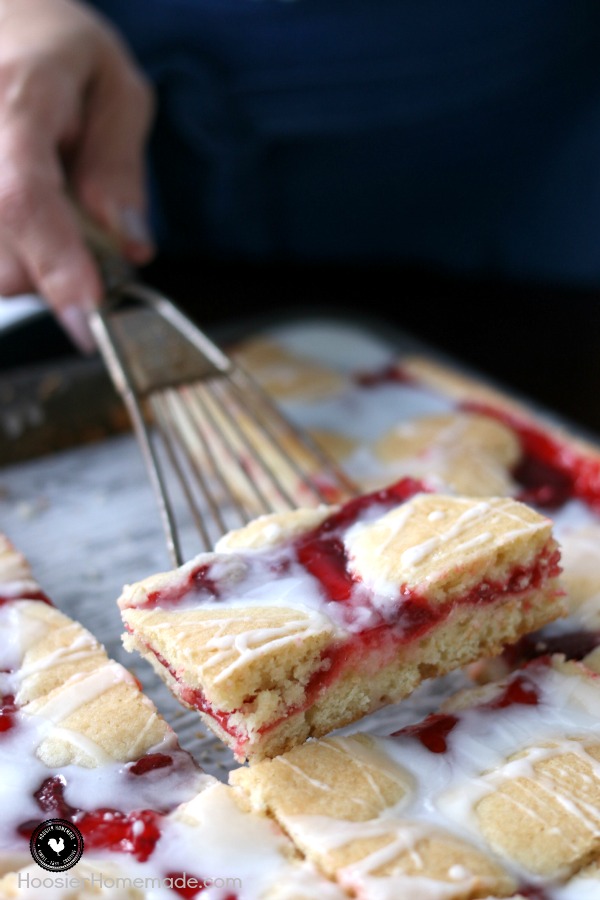 Cobbler is not a new dish to the party, people have been making them for years. They are oftentimes the favorite of the party and your dish always leaves empty. These Strawberry Cobbler Bars are a new twist on a classic favorite.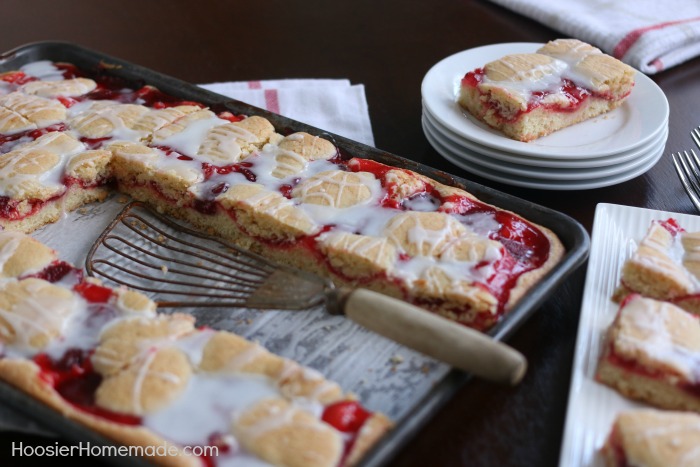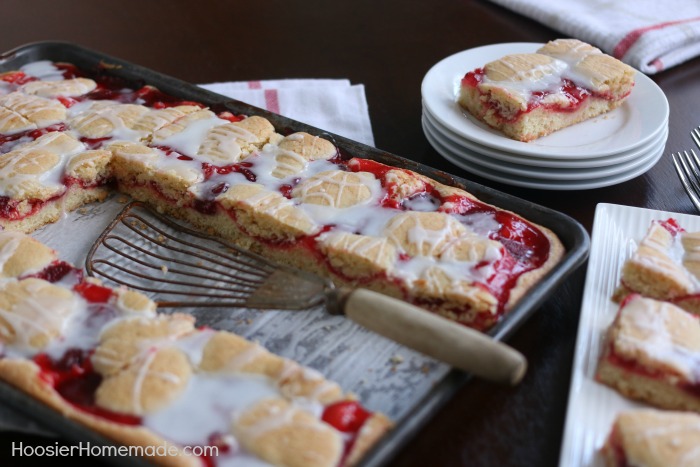 If you're looking for that "wow factor" for a company party or a family get together, these Strawberry Cobbler Bars are sure to be the life of the party. You can pair this with your favorite ice cream, you should know that adding warm cobbler to ice cream is always a favorite around here.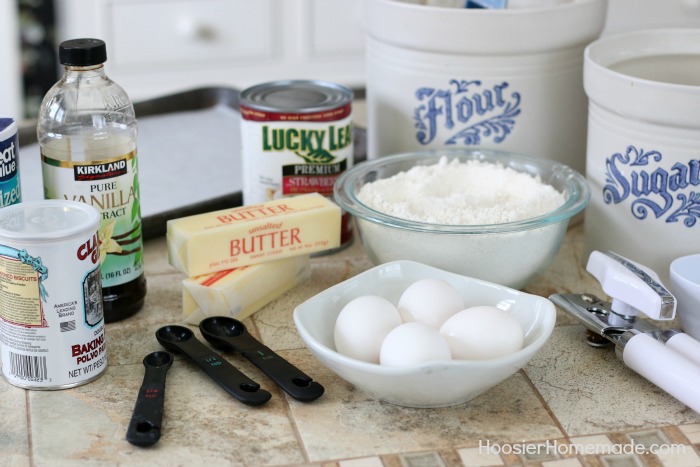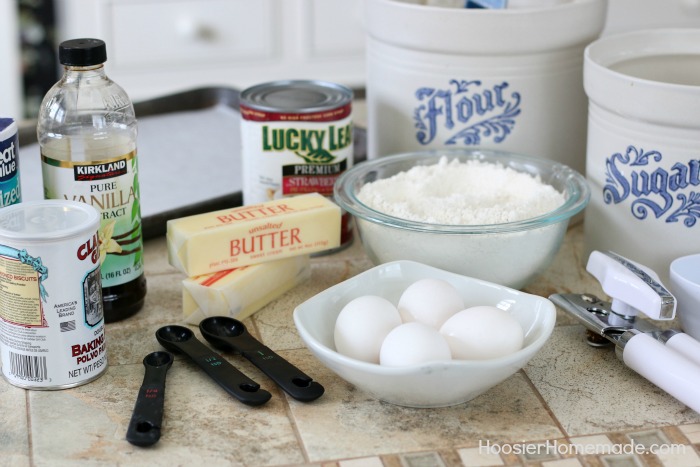 Basic ingredients help bring these Strawberry Cobbler Bars to life. You may not believe your own eyes, when you're able to transform simple items like butter, eggs, and vanilla extract to life. Not only will you love this recipe, but your friends, family, and neighbors will ask you to re-make it. It's sure to leave one delicious ever-lasing impression on them.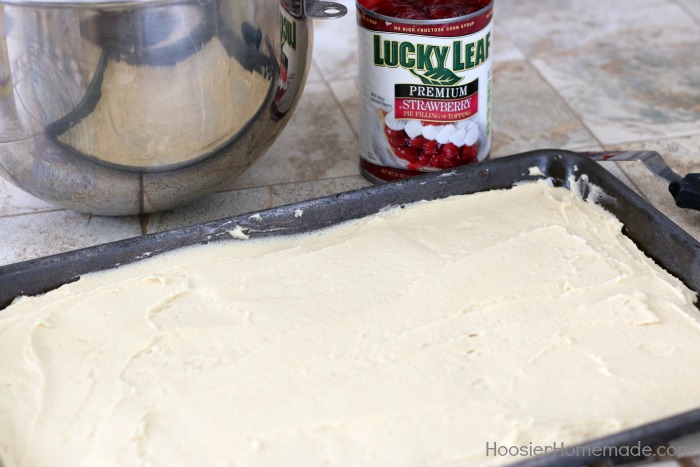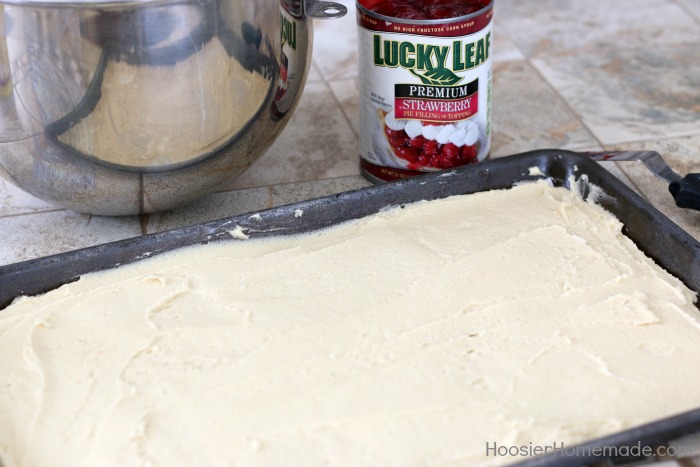 The base is similar to most cookie dough recipes. You begin with creaming the butter and sugar, adding the eggs one at a time, then the vanilla. Then the dry ingredients are combined and incorporated into the creamed mixture. To make the cookie base, spread 3 coups of the dough evenly into a 15x10x1 baking sheet.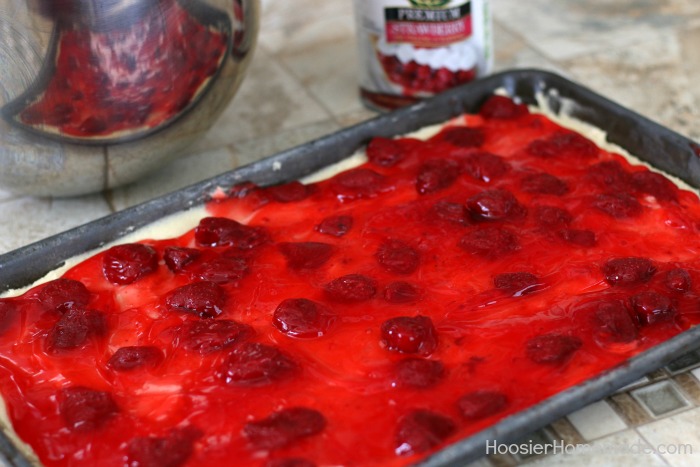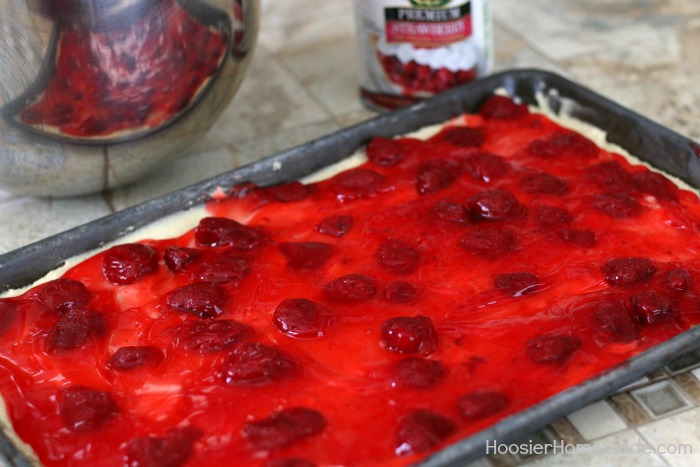 Now it's time for the Lucky Leaf Strawberry Fruit Filling. There are a variety of flavors to choose from, you can easily change the flavor of these Strawberry Cobbler Bars.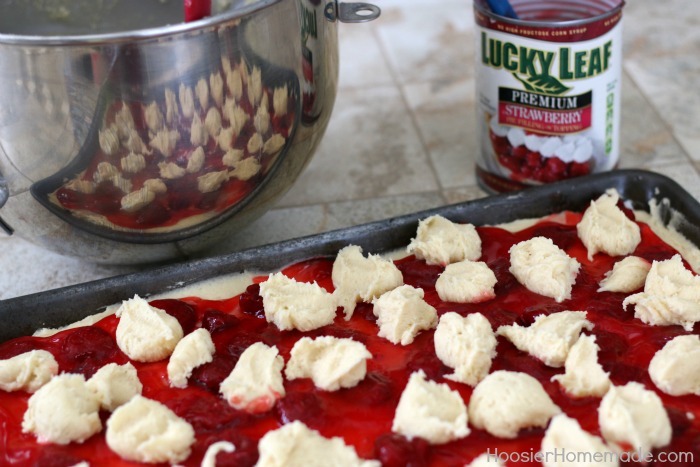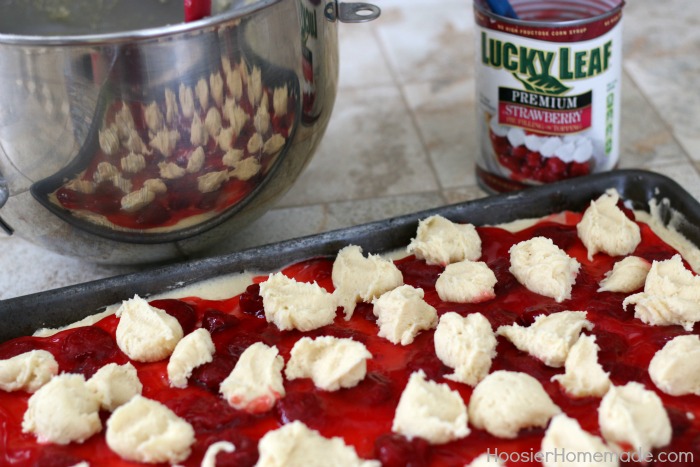 On top of the fruit filling, add the rest of the dough. Don't worry if it's not perfect, it will all bake together.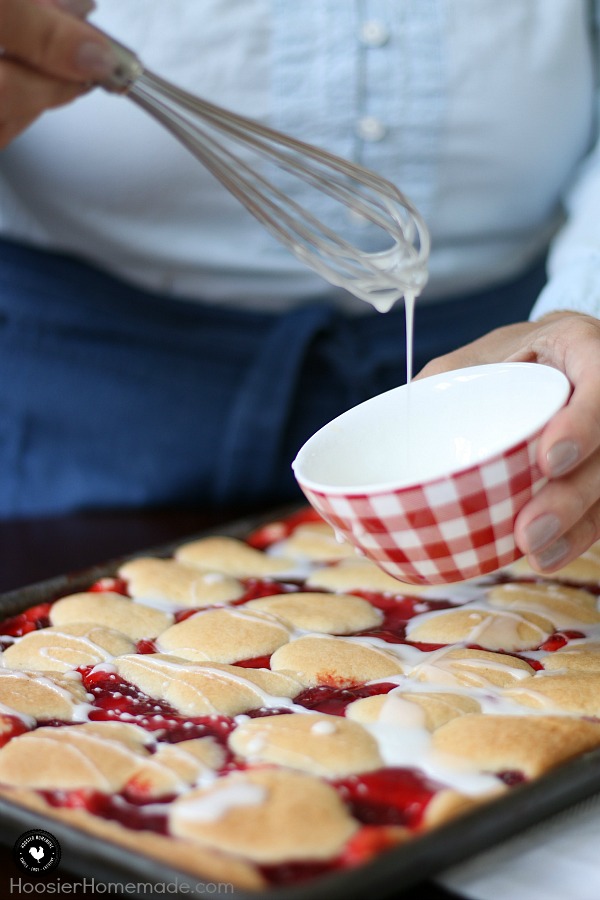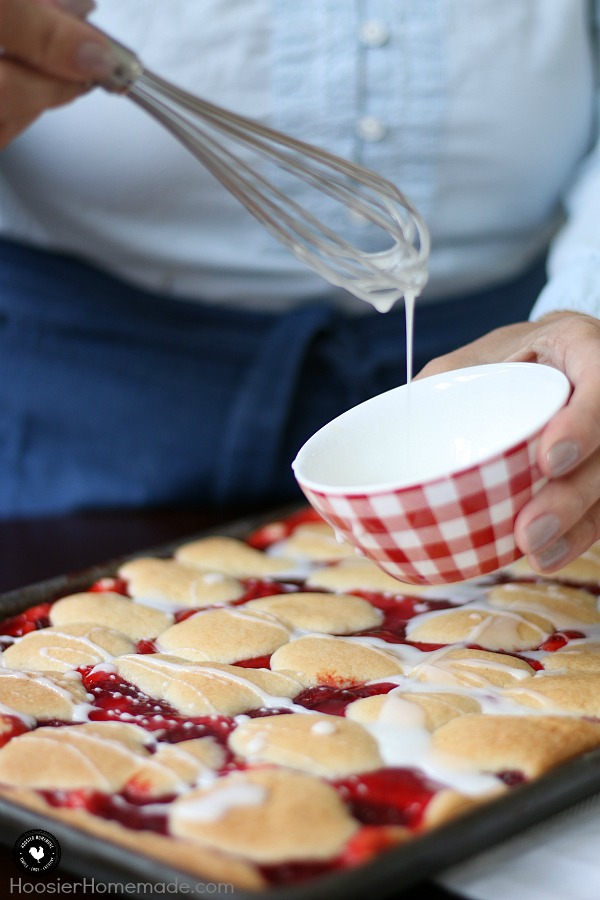 After the bars are baked and cooled, then you can add a simple glaze to the top. The ooey gooey deliciousness of the glaze is something you'll want to try as soon as the Strawberry Cobbler Bars make their way out of the oven. Be careful though, you don't want to burn your tongue, you'll need every last one of your tastebuds to dive into this divine dish once cooled a bit.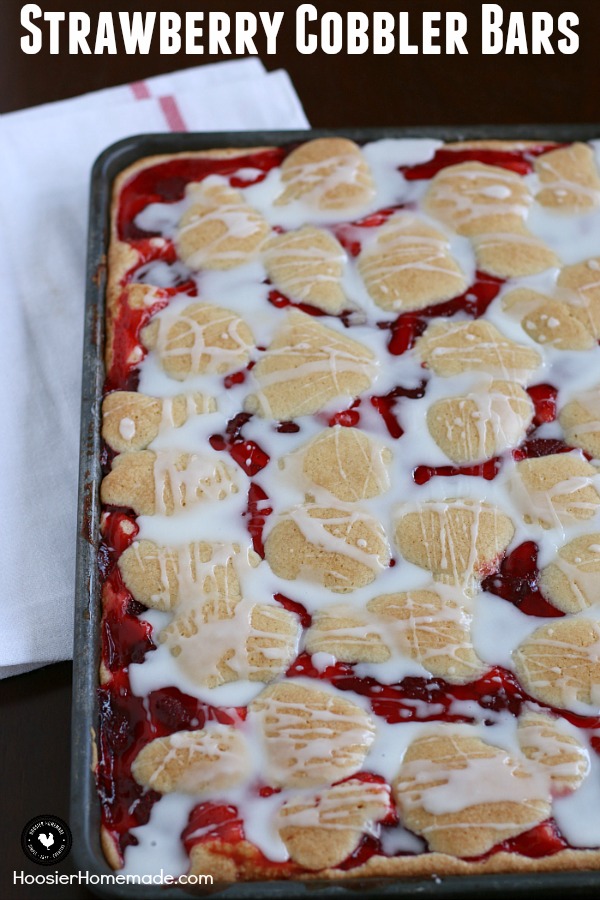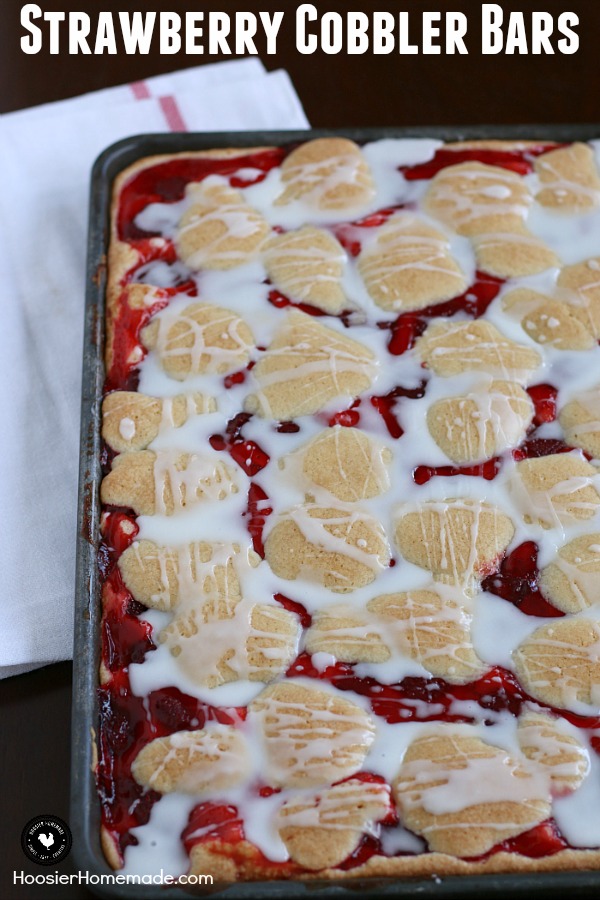 As you can see and hopefully-soon-smell, Strawberry Cobbler Bars are amazing from the inside out. Every bite that you take is one that you will want to soon remember again.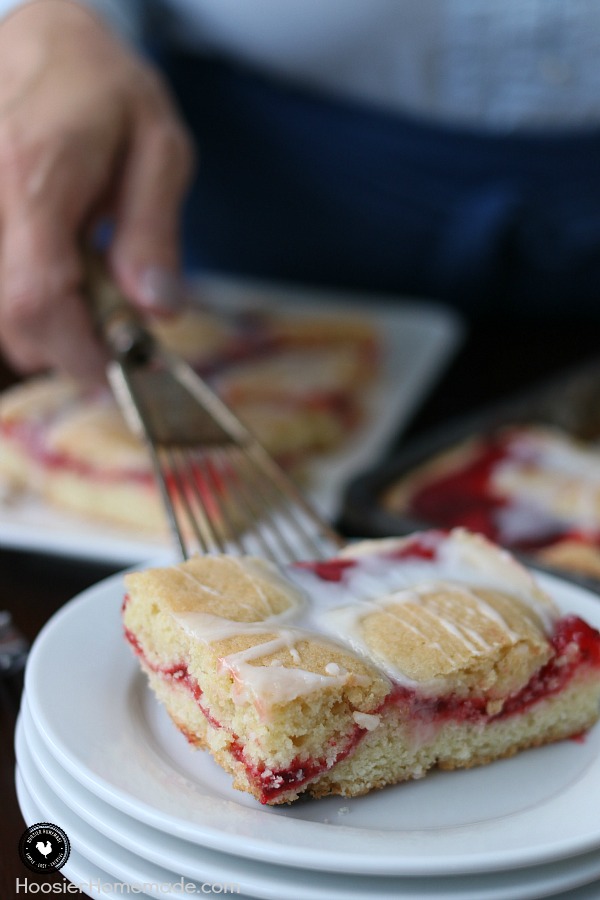 Now, stop what you're doing and head to the kitchen to make these right now. This is not a decision you will ever regret making.
Or here are several of my favorites using Lucky Leaf Pie Filling…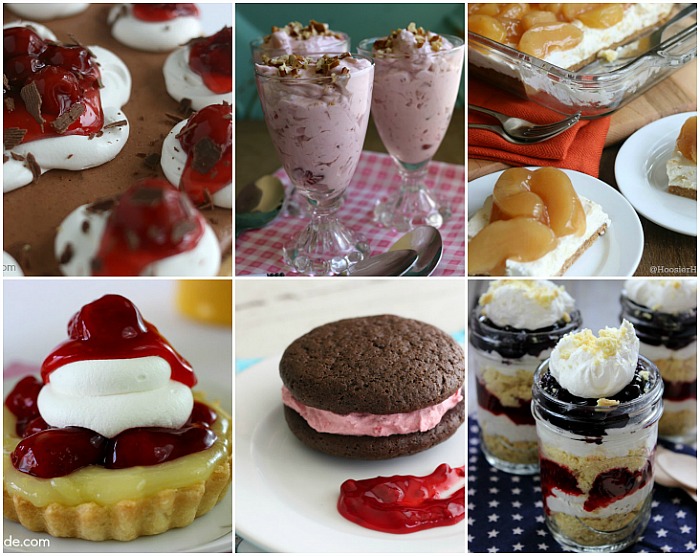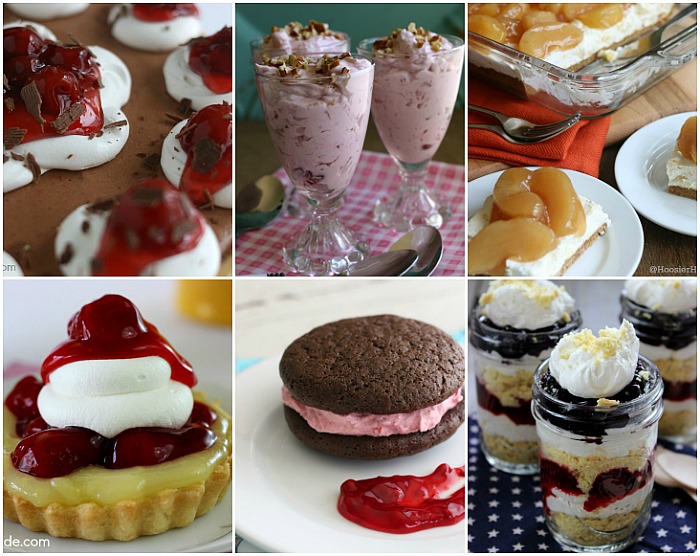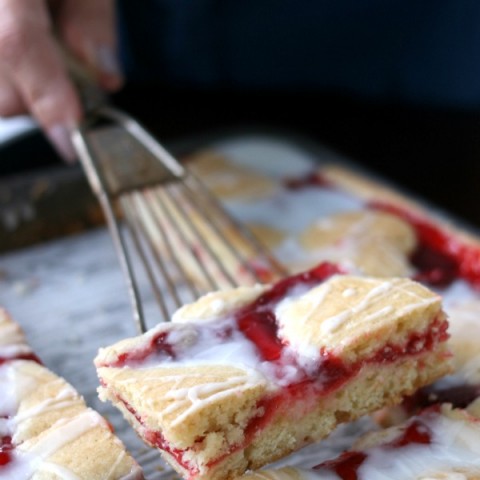 Strawberry Cobbler Bars
These Strawberry Cobbler Bars will knock your socks OFF! They are super simple to make and taste amazing! Serve them for any occasion, take them to a potluck or easy enough for a weeknight dessert!
Ingredients
Cookies
1 cup butter, softened
1 3/4 cups white granulated sugar
4 eggs, room temperature
1 teaspoon pure vanilla extract
3 cups all-purpose flour
1 1/2 teaspoons baking powder
1/4 teaspoon salt
1 can Lucky Leaf strawberry pie filling
Glaze
1/2 cup powdered sugar
1 tablespoon milk or cream
1/4 teaspoon vanilla extract
Instructions
Preheat oven to 350 degrees
Spray 15x10x1 baking pan with non-stick cooking spray
In a large bowl, cream butter and sugar
Add eggs, one at a time, beating well after each addition
Stir in vanilla
In a small bowl, combine flour, baking powder and salt
Add to creamed mixture
Spread 3 cups of dough into baking pan
Spread pie filling over batter evenly
Drop remaining batter by teaspoon over the top
Bake for 30 – 35 minutes or until a toothpick inserted in the center comes out clean
Cool on rack
Combine ingredients for Glaze - NOTE: if you add the vanilla the glaze is a bit darker, if you want the glaze to be bright white, use clear vanilla extract
Drizzle over bars
Cut and serve
Store leftovers in air tight container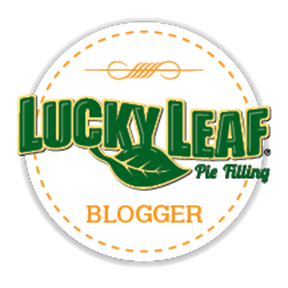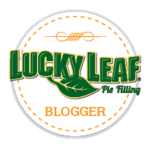 For more recipes, visit Lucky Leaf, follow them on Facebook, Pinterest or Twitter.