4th of July Dessert: White Chocolate Fudge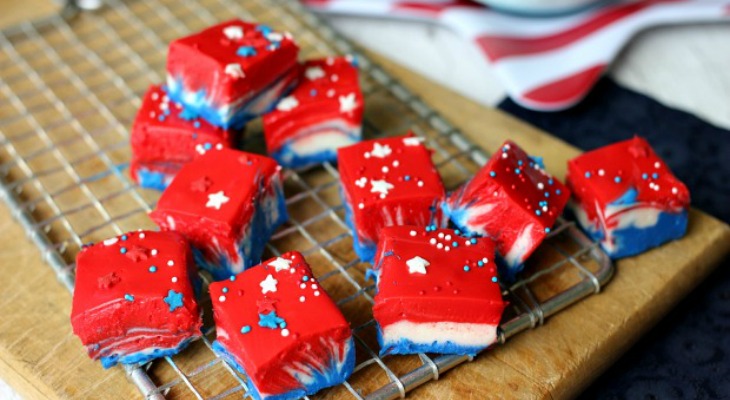 Whip up this Patriotic White Chocolate Fudge with simple ingredients in about 10 minutes and add a festive touch to your 4th of July Dessert. It's so easy and fun to make that the whole family can do it together as you get ready to celebrate July 4th.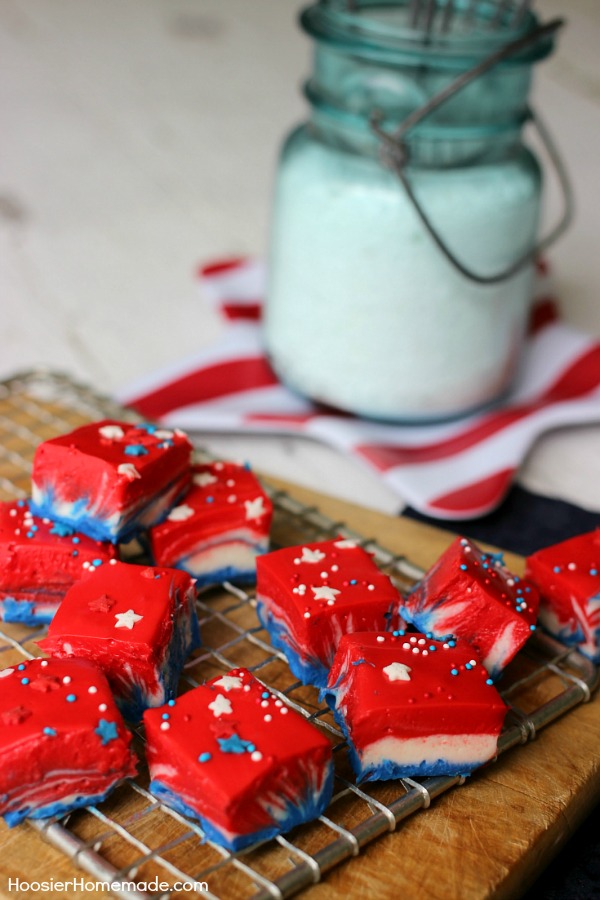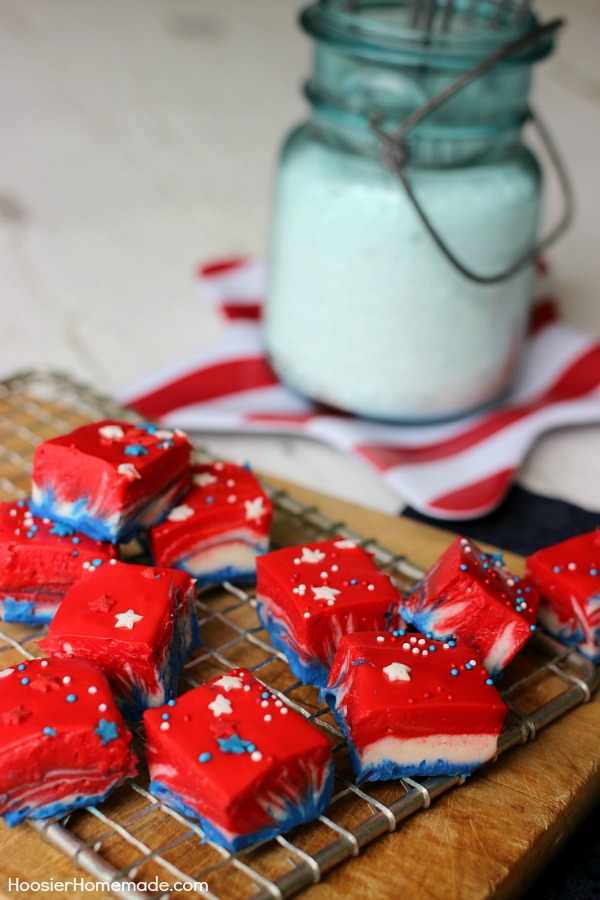 4th of July is one of my favorite holidays, right behind Christmas. I'm not really sure why though, I think it's because of the traditions we have. Our town holds a huge Parade every year and the Governor even names our city the "Capital for the Day." And there are the Picnics and Potlucks that are always fun, and ending the day with spectacular Fireworks is always memorable.
For a few years now, we have been talking about going on vacation over the Fourth of July Holiday, but somehow we just keep coming back to staying home and enjoying our traditional day. One of the traditions that I love is baking fun Red, White and Blue Desserts, and this Patriotic White Chocolate Fudge is easy to make and goes together in a snap.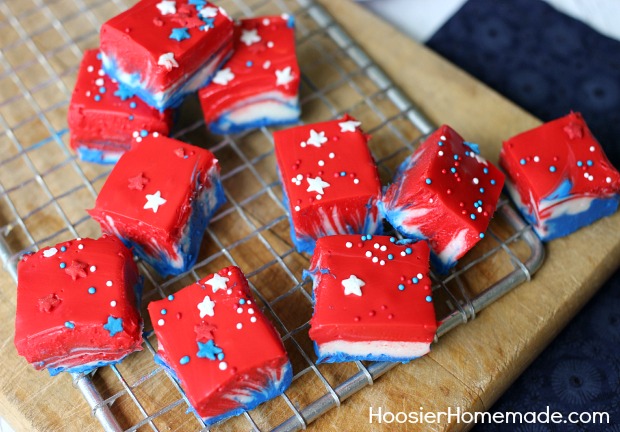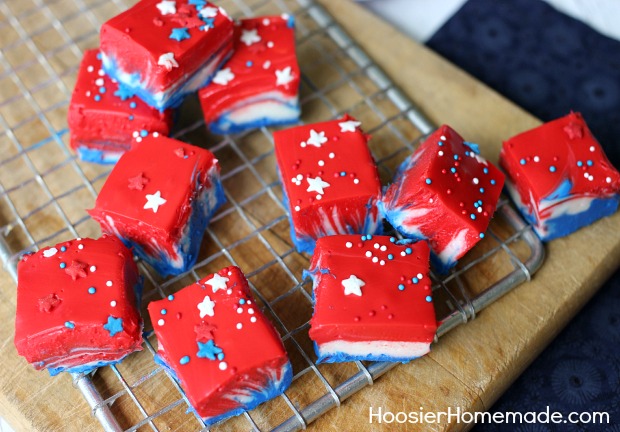 Fudge, in my opinion, can be really rich and sweet. So I always make mine with Truvia Baking Blend. It's a sugar substitute blend of zero-calorie Truvia natural sweetener and sugar then packaged in a product that's designed for easy, at-home baking. It also can be substituted for sugar in any recipe by simply using half as much Truvia Baking Blend as you would sugar.
I first used the Truvia Baking Blend in the Cotton Candy Fudge I shared last Summer, and then in the Cherry Vanilla Fudge. The best thing about this recipe, besides being really easy, is that you can easily change the flavors and colors to whatever holiday or special occasion you are baking for.
If you want to use regular sugar, you need to double the amount in the recipe. So this recipe calls for 1/2 cup Truvia, you will need 1 cup of sugar.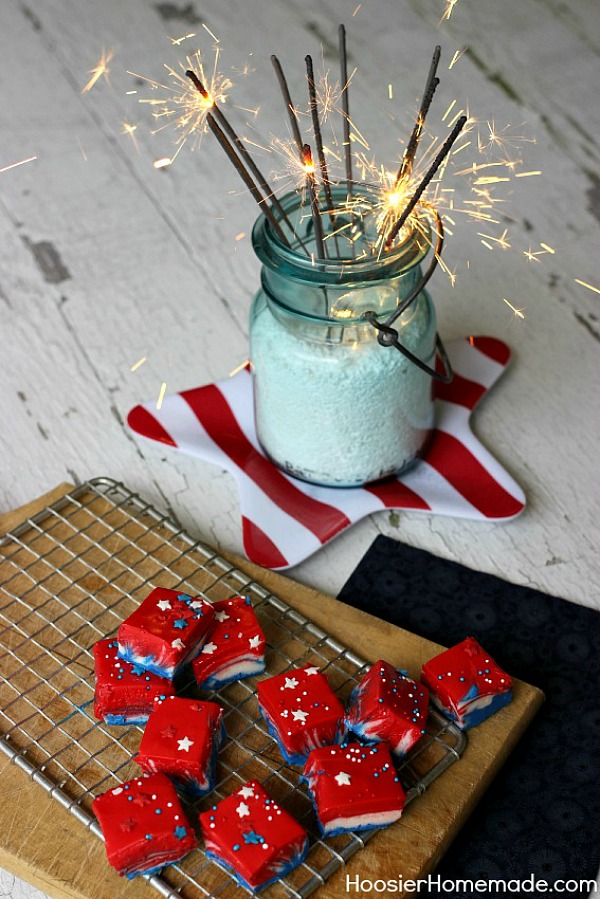 To make the Red, White and Blue Fudge, you will need to start with the basic White Chocolate Fudge recipe – a mixture of Truvia Baking Blend, butter, heavy cream and salt is cooked on the stovetop. Then the hot mixture is poured over Marshmallow Fluff and White Chocolate Chips, and mixed until smooth. Then divide the mixture into 3 bowls and use gel paste coloring to get the red and blue.
After adding the blue fudge mixture to the pan and topping it with white, I decided it would be a little easier and look pretty cool to just swirl the colors together. After all 3 colors were added to the pan, run an offset spatula under hot water, shake off the excess water and swirl the fudge by run the spatula back and forth through the fudge several times each way. Then a few sprinkles to add a little fun to this 4th of July Dessert.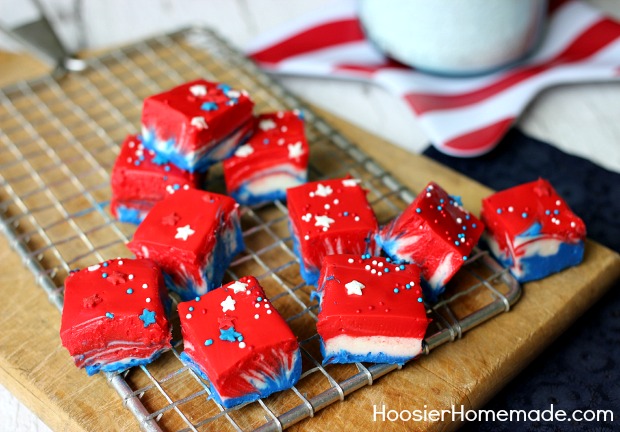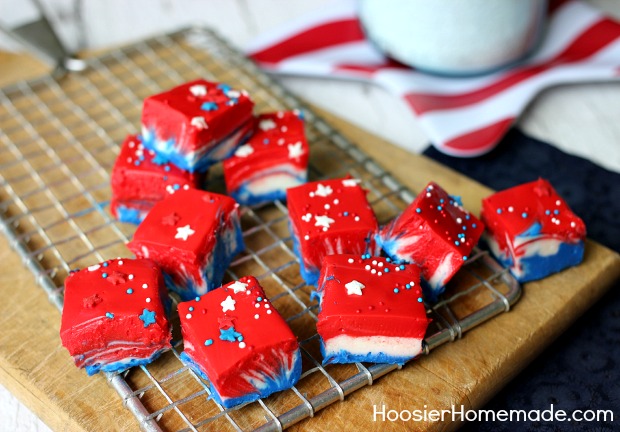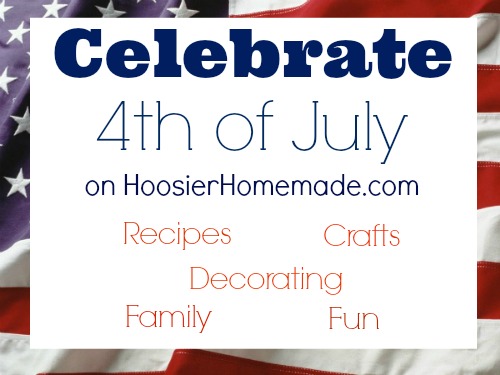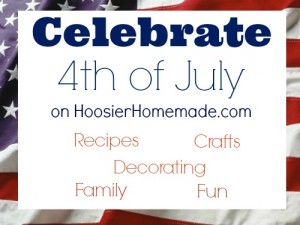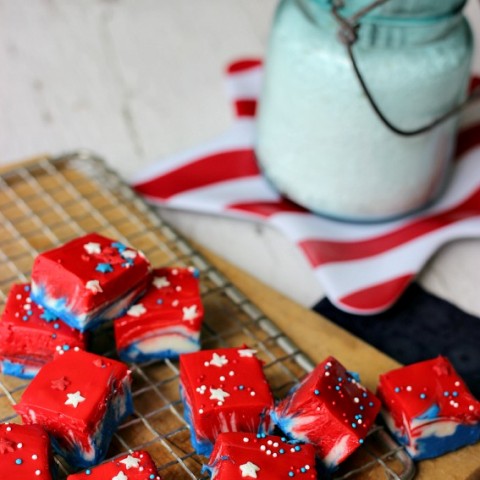 White Chocolate Fudge
Yield: 55-65

Prep Time: 15 minutes

Cook Time: 5 minutes

Total Time: 20 minutes

Add a little sparkle to your 4th of July Holiday with this fun to make White Chocolate Fudge.
Ingredients
1 container (7 oz) Marshmallow Fluff
2 1/2 cups white chocolate chips
3/4 cup butter, unsalted
1/2 cup Truvia Baking Blend
3/4 cup heavy whipping cream
Pinch of Salt
Coloring - Red and Blue (or color of your choice)
Instructions
Prepare 9 inch square pan with parchment paper or wax paper
In a large mixing bowl, add the marshmallow fluff and white chocolate chips
In a medium saucepan, combine butter, Truvia Baking Blend, heavy cream and salt
Bring to a boil, stirring constantly and boil for 5 minutes, continuing to stir
Carefully pour into large mixing bowl and beat until smooth
Divide mixture into 3 bowls, color red and blue if desired
Add each color to the pan, spread evenly with offset spatula
To swirl, run offset spatula under hot water, shake off excess water and swirl fudge by pulling spatula back and forth through fudge
Sprinkle immediately with festive sprinkles if desired
Place in fridge to set at least 2 hours or overnight
Cut into small squares to serve
Notes
This recipe will work with any color.