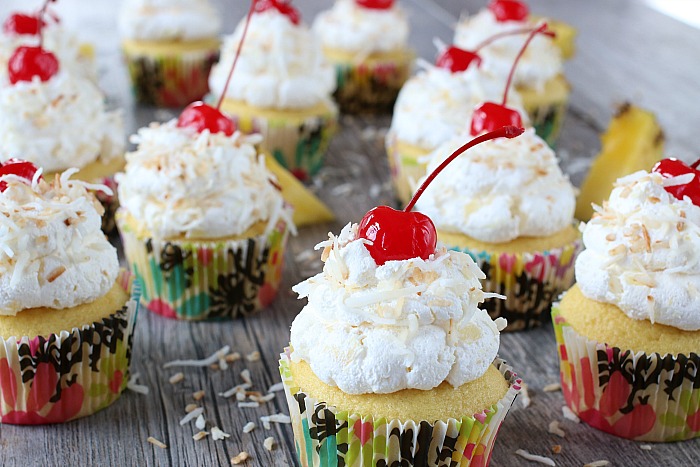 These easy to make Pina Colada Cupcakes start with a boxed cake mix, but are packed with flavor! The recipe can also be made into a Pina Colada Cake.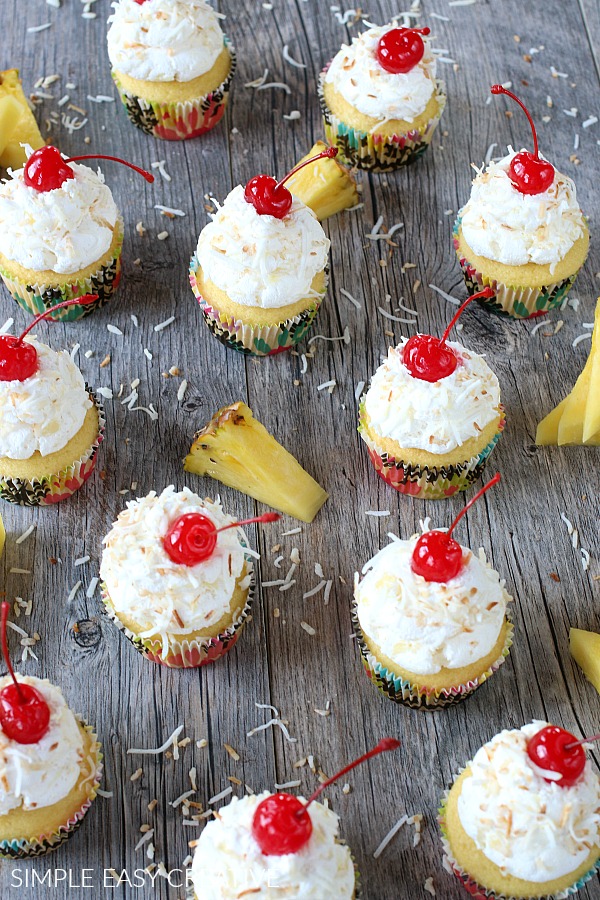 Are you a coconut lover? I think most people have a strong feeling either way.
Me? I'm not a fan. But I LOVED these Pina Colada Cupcakes!
The recipe comes from an old church cookbook that my mother-in-law gave me years ago. You know those are the best recipes of all time! The original recipe in the cookbook is for a Pina Colada Cake, but I decided to adapt it a bit for cupcakes.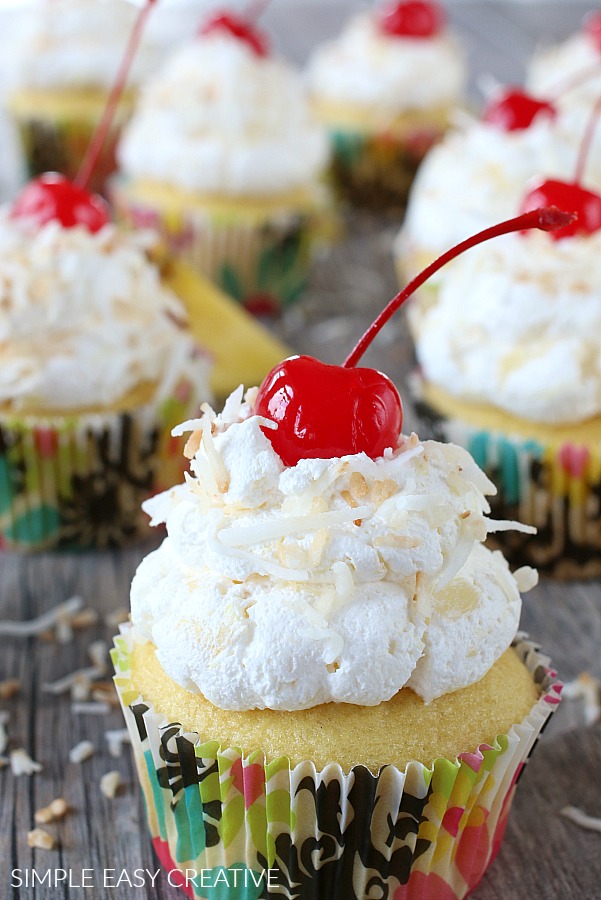 The recipe starts with a boxed yellow cake mix, and baked with the ingredients on the box.
And then the magic happens – a combination of sweetened condensed milk and cream of coconut is poured into holes made in the cupcakes while they are warm. Then into the fridge they go to chill.
Then the frosting – oh my! I could eat it with a spoon! A tub of whipped topping is mixed with a small (8 oz) can of crushed pineapple, then frosted with a decorator bag fitted with an extra large tip.
To send the cupcakes over the top – they get a sprinkle of toasted coconut and a maraschino cherry.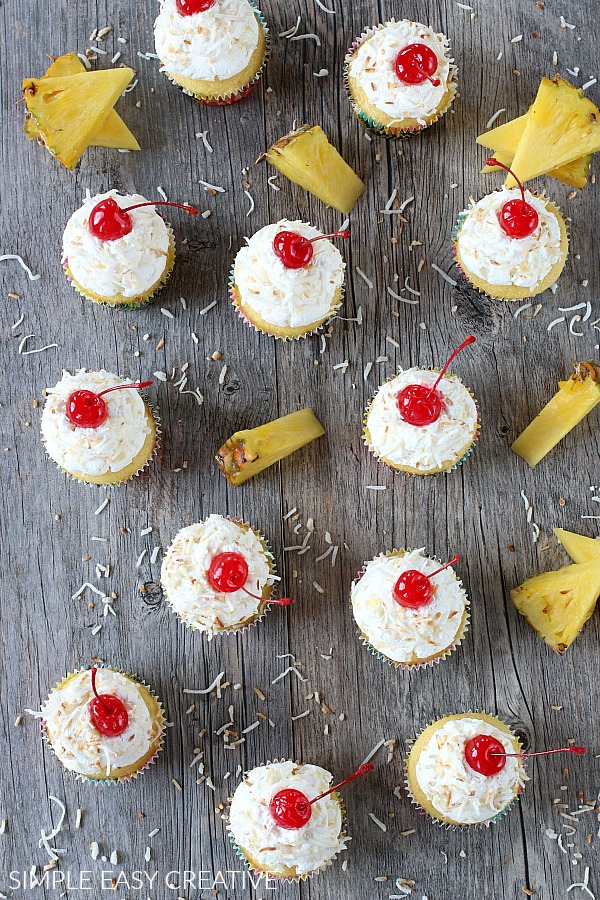 Summer is filled with lots of parties, cookouts and family reunions – whip up a batch and see how fast they disappear!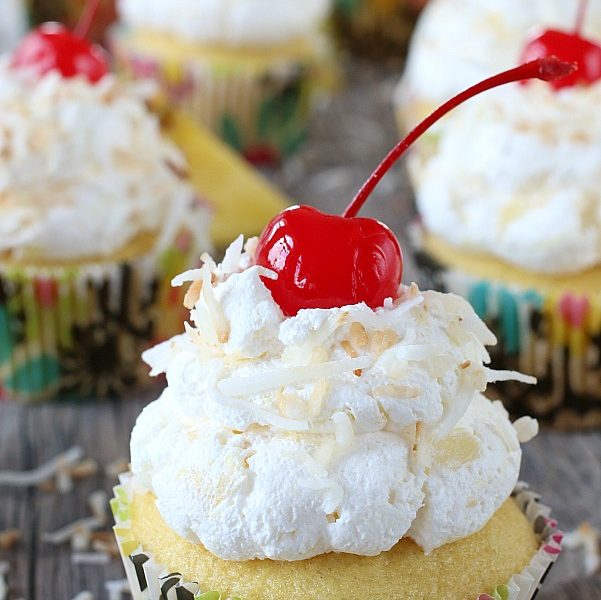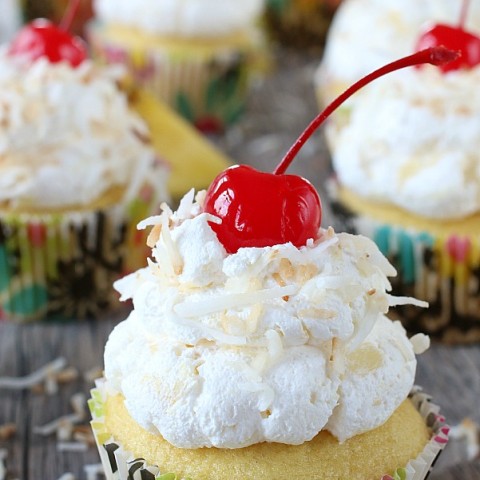 Pina Colada Cupcakes
Start with a cake mix for these easy to make Pina Colada Cupcakes
Ingredients
Yellow Cake Mix plus ingredients on box
1 can (14 oz) Sweetened Condensed Milk
1 can (8 oz) Cream of Coconut Mix - found in the alcoholic beverage section
1 (8 oz) container of whipped topping, thawed
1 (8 oz) can crushed pineapple, drained well
Sweetened Coconut, toasted, optional
Maraschino Cherries with Stems, optional
Extra Tools:
Wooden skewer or straw to poke holes in cupcakes
Instructions
Bake cupcakes according to directions on box
While the cupcakes are baking, combine sweetened condensed milk and cream of coconut mix in a small bowl until well blended.
While cupcakes are hot, poke holes with skewer or straw, be sure holes are large enough to let the liquid in but not too big or too much liquid will pool at the bottom of the liner.
Carefully, slowly pour milk mixture over cupcakes a little at a time, letting it soak in between additions. There may be some leftover.
Place cupcakes in refrigerator until chilled.
Combine whipped topping with crushed pineapple
Add frosting to decorator bag fitted with tip
Chill frosting while toasting coconut
Toasted Coconut (optional) - add coconut to dry pan on stove and toast until lightly golden brown, about 3-5 minutes.
After cupcakes and frosting are chilled, remove from fridge and pipe on frosting.
Sprinkle with toasted coconut and add a cherry
Store in refrigerator until ready to serve (can leave out 1 hour or so for a party)
Store leftovers in refrigerator
Notes
This recipe can also be made into a Pina Colada Cake.
You may have some milk mixture leftover.