With the beginning of Summer just weeks away, it's time to start planning for those parties, cookouts, holidays and celebrations that we all love during this time of year. These Watermelon Cupcake Cones are as fun to make as they are to eat. Watermelon flavored cupcakes are baked right in colorful, pink and green Ice Cream Cones and frosted to look like a slice of Watermelon.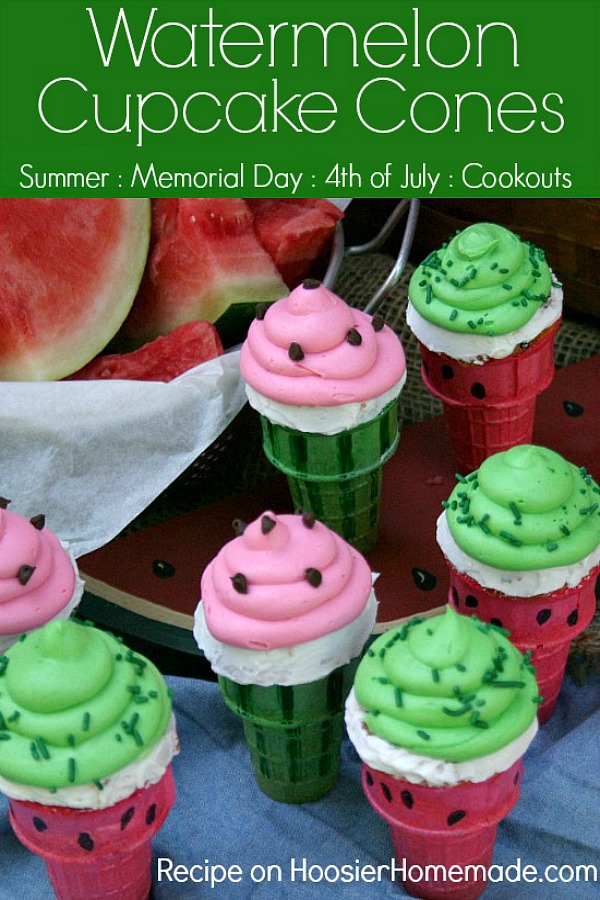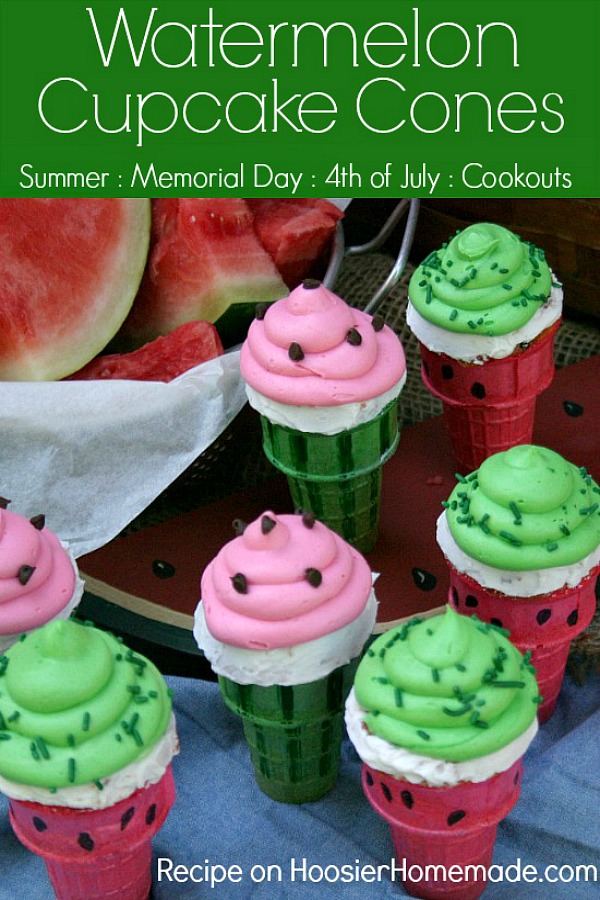 Happy Cupcake Tuesday! I'm so excited you are here! Looking for a cupcake recipe? Be sure to check out the Cupcake Heaven page, there are over 300 cupcake recipes and decorating ideas!
Enjoying a delicious Summer time meal with friends and family is one of my favorite things! Gathering on the deck, grilling our dinner and a fun dessert is perfect this time of year. I remember my Dad growing wonderful looking watermelons in his garden, and although I don't really like to eat watermelon, I do like watermelon flavor…I know, it's strange.
So these Watermelon Cupcakes are perfect for those evenings on the deck with friends, to take to a potluck or cookout, celebrate Memorial Day or Fourth of July, or they even make a fun treat to bake with the kiddos.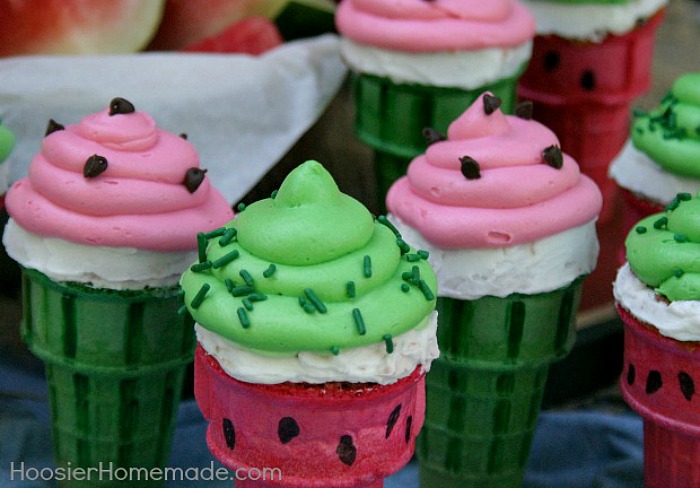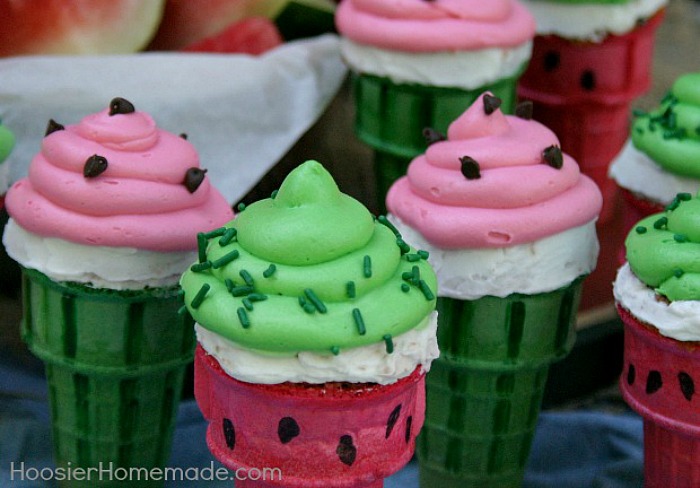 Beginning with a Watermelon Cupcake recipe, the batter is baked right in the Ice Cream Cones. You can find the pink and green cones, then using a Food Writer, the stripes are simply drawn on the green cones and the seeds on the pink cones.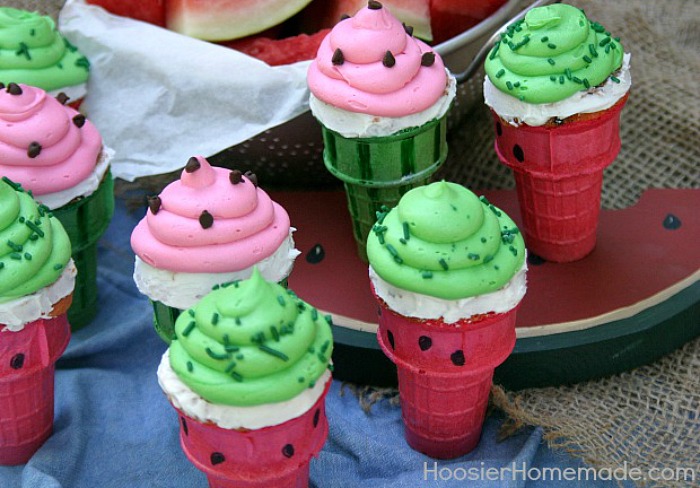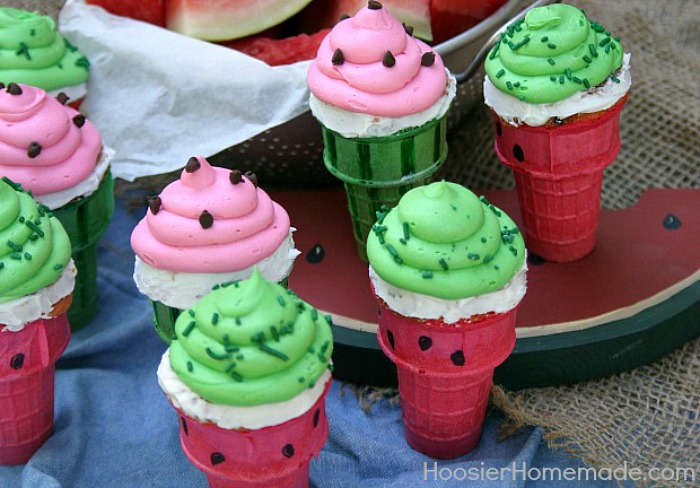 Watermelon Cupcake Cone Supplies
Watermelon cake batter (recipe below)
Pink and Green Ice Cream Cones
Food Writers – green and black
White, pink and green frosting
Mini Chocolate Chips for seeds
Green Jimmies
Decorator bag fitted with a #1M Round tip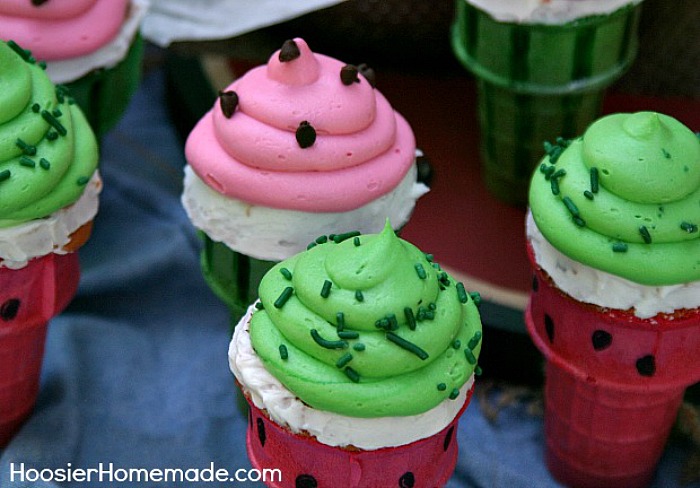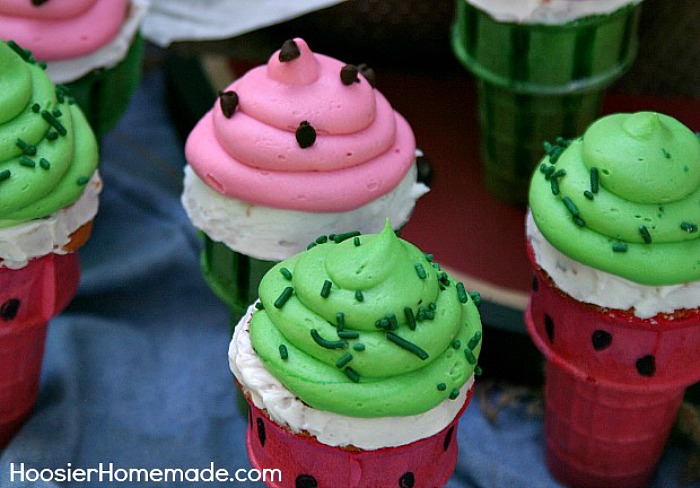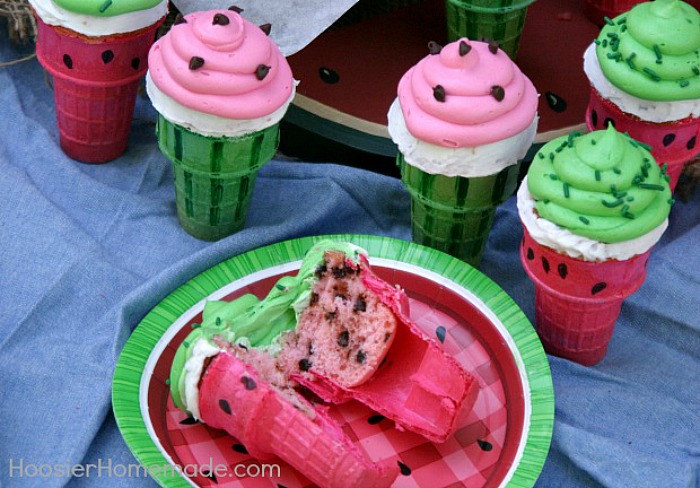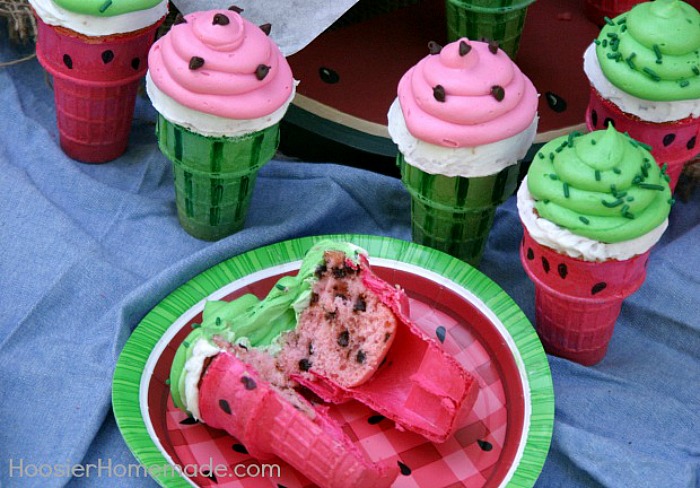 The Watermelon cake batter, made with watermelon jello for flavoring, is baked right in the cones. Learn how to bake them upside down…it's really easy!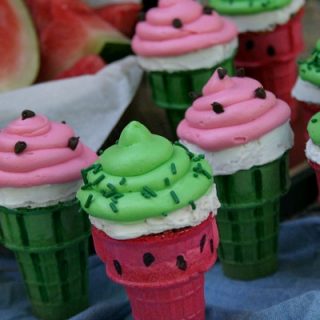 Watermelon Cupcake Cones
Watermelon flavored Cupcakes baked right in the Ice Cream Cones, makes a fun treat for Summer time!
Ingredients
Cupcakes
1 box white cake mix
4 eggs
1 cup buttermilk {splash of vinegar in a measuring cup, fill with milk and let set a couple minutes}
1/3 cup oil
1 small box watermelon jello
1 cup mini chocolate chips
Cones
Pink and Green Ice Cream Cones {available at Walmart or Kroger}
Frosting - white, pink and green
Mini Chocolate Chips
Green Jimmies
Decorator Bag fitted with #1M round tip
Instructions
Cupcakes
Mix together cake mix, eggs, buttermilk, oil and jello. Fold in chocolate chips
Spray a cupcake pan with non-stick cooking spray
Divide batter, about 1/4 cup each.
Place Ice Cream Cone on top of batter, upside down
Bake for about 10-12 minutes
Note: you may need to straighten the cones, part of the way through baking
Cones
After the cones are cool, use a Food Writer to draw the stripes and seeds on
Color frosting pink and green, and fill a decorator bag
Using an offset spatula, add white frosting around the edge
Pipe on pink and green frosting
Add chocolate chips for seeds and green Jimmies for rind
Watermelon Ice Cream Cone inspiration from Party Pinching