Smores Dip for a Dessert Charcuterie Board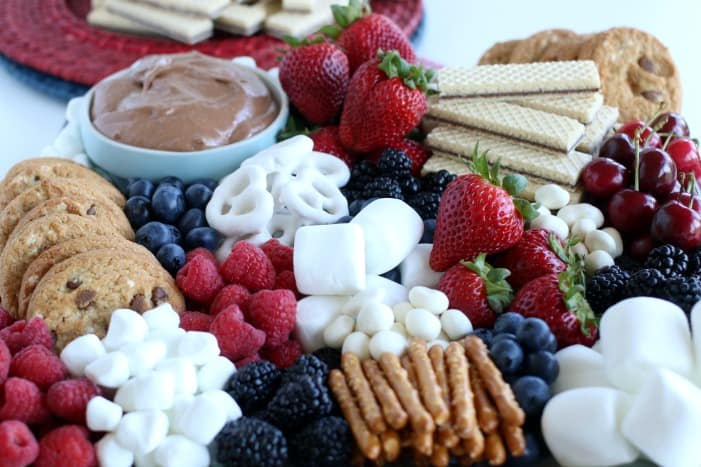 This S'mores Dip has only three ingredients and goes together in minutes! It's the perfect snack when you don't want to roast marshmallows or have the mess of S'mores, great for parties, movie night or backyard cookouts.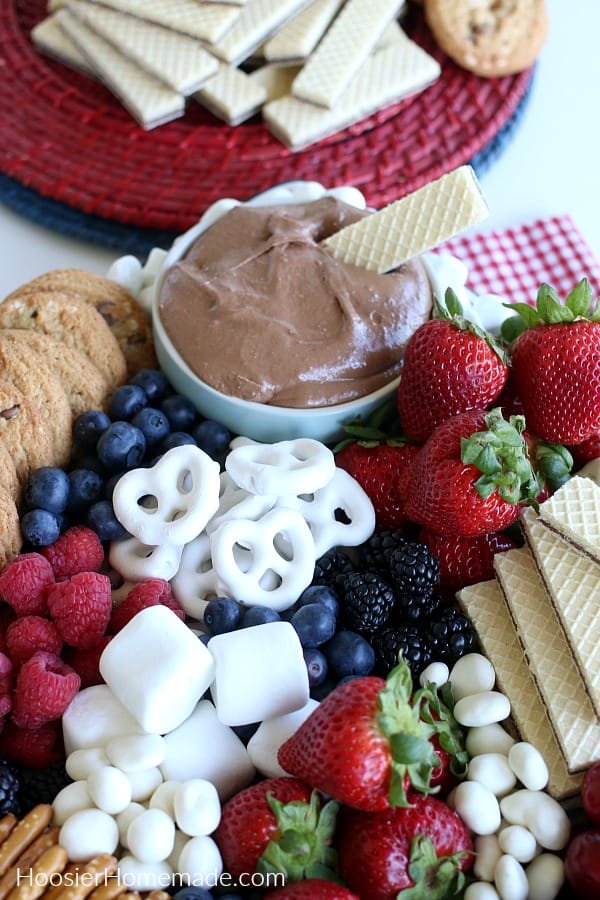 This recipe is brought to you by Voortman Bakery. As always, the opinions are my own.
The unofficial start to Summer – Memorial Day – is right around the corner. There will be cookouts, parties, celebrations and honoring those that have served our country.
Our friends at Voortman Bakery have two new cookies to celebrate Summer – S'mores Wafers and S'mores Cookies. All of their cookies and wafers are made with real ingredients – yes those that you can actually pronounce. The S'mores Wafers have the traditional light flaky layers of all their wafers, and are baked with real cocoa. The S'mores Cookies have little pieces of chocolate and marshmallows in them.
And all of the Voortman Bakery products are made with no artificial colors or flavors AND no high-fructose corn syrup.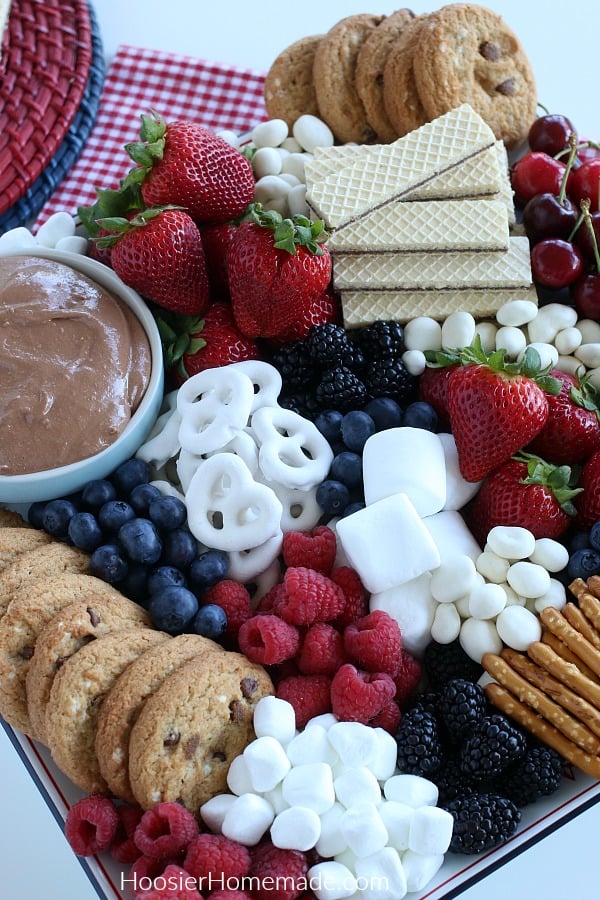 Not only is this S'mores Dip quickly going to become your go-to Summer recipe for parties, it goes together so quickly you will want to make it every weekend.
S'mores Dip – Frequently Asked Questions
Do I need to cook this S'mores Dip?
No, this S'mores Dip has only 3 ingredients, goes together in minutes and is no bake.
Can I serve it immediately?
Yes, the dip can be made and served right away, or you can keep it in the refrigerator until you are ready to serve.
How long does the S'mores Dip keep?
You can keep this dip in the refrigerator in an airtight container for up to 7 days.
Do I need to use Hot Fudge Sauce or Chocolate Syrup?
You definitely need to use Hot Fudge Sauce, like you would add to ice cream. Chocolate syrup is a different consistency.
How many does this S'mores Dip Recipe serve?
This recipe makes a good amount. Dips are hard to determine, because some people will take a small amount, while others will take more. I would say an average would be 8 servings.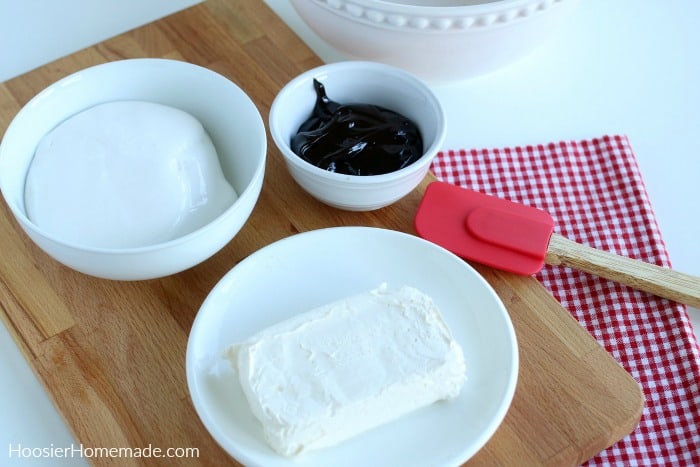 S'mores Dip
Ingredients
Cream Cheese – be sure it's nice and soft. If you forget to take it out of the refrigerator early enough, you can soften the cream cheese in the microwave for about 20 seconds, but be careful not to overheat it and begin to cook it
Marshmallow Creme – you can find this online or near the marshmallows in the baking aisle
Hot Fudge Sauce – homemade or store bought is fine – be sure this is fudge sauce (like for ice cream) and not syrup (like for milk)
Kitchen Essentials Needed
Large Mixing Bowl
Mixer – or you can stir together by hand
Spatula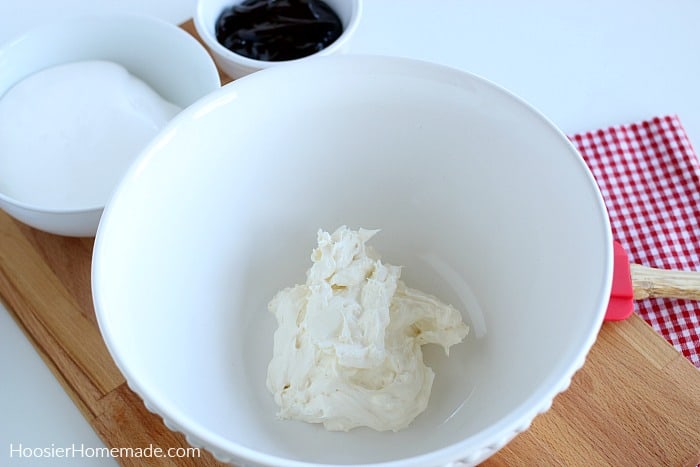 How to make S'mores Dip
Step 1:
Beat the cream cheese until fluff and smooth. Using an electric mixer is easiest, but you can also mix by hand.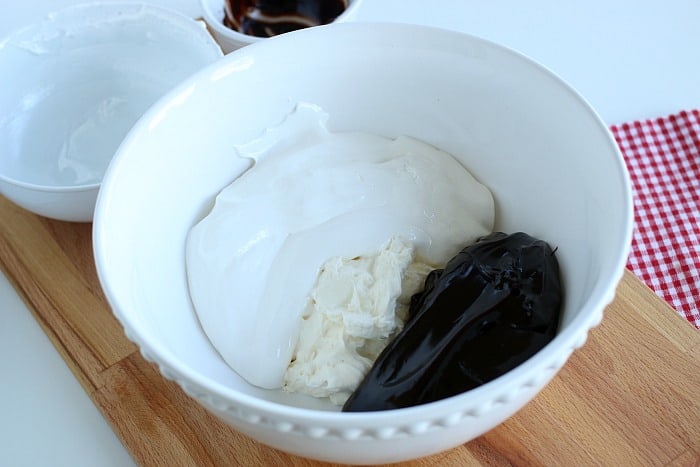 Step 2:
Add the marshmallow creme and hot fudge sauce to the bowl
Tip for removing the Marshmallow Creme from the container – put it in the microwave for 20-30 seconds, it will slightly heat up enough to easily remove with a spatula.
Tip for Hot Fudge Sauce – heat in the microwave for 20-30 seconds and spoon it from the jar.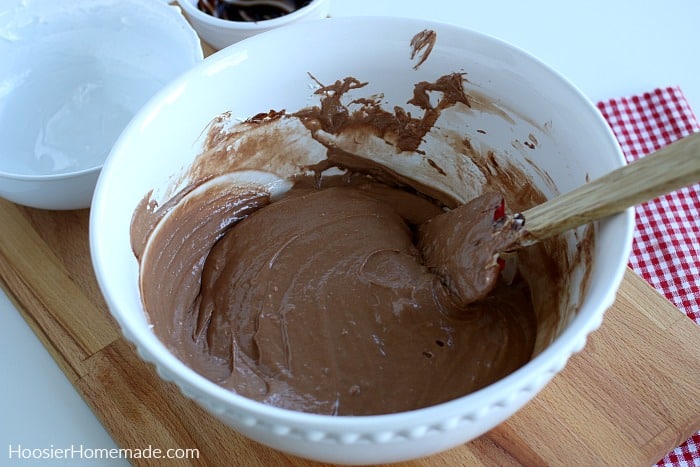 Step 3:
Mix ingredients together until completely combined and smooth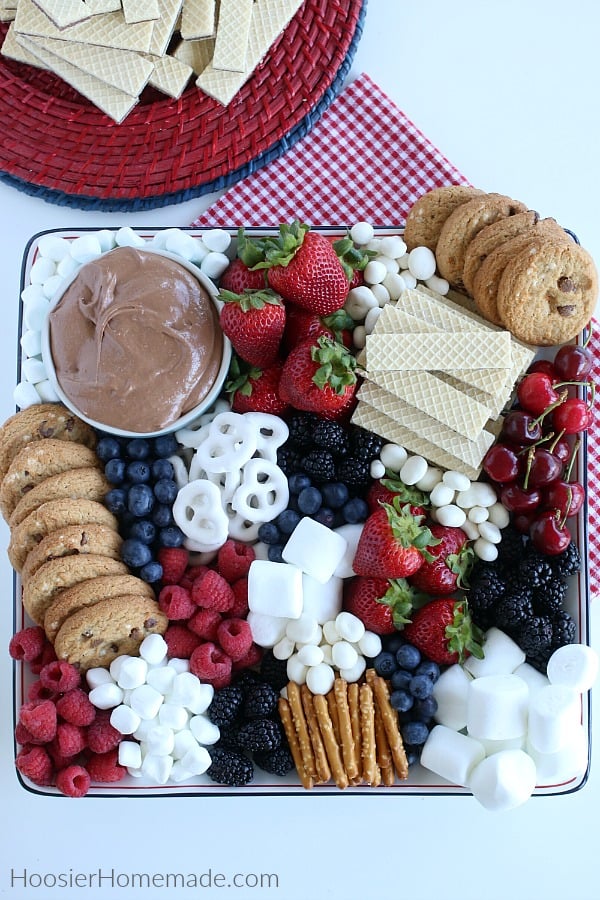 After the S'mores Dip is ready, it time to put together the Dessert Board. There are endless options for this fun Patriotic Dessert. Here is what I added –
Patriotic Dessert Board
Voortman Bakery S'mores Wafers
Voortman Bakery S'mores Cookies
Fruit – Strawberries, Raspberries, Blackberries, Blueberries and Cherries
Marshmallows – mini and regular size
Pretzels
Yogurt Raisins
Yogurt Pretzels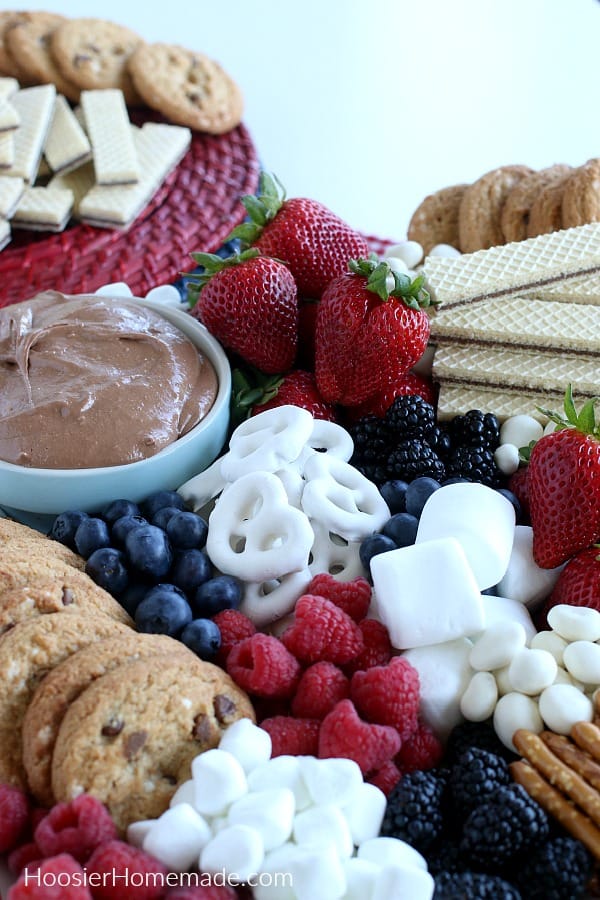 To create the Charcuterie Dessert Board, begin by placing the bowl of S'mores Dip on the plate. Then add the larger items first, like the Smores Cookies and Wafers. Now add the medium items, and then the smaller ones.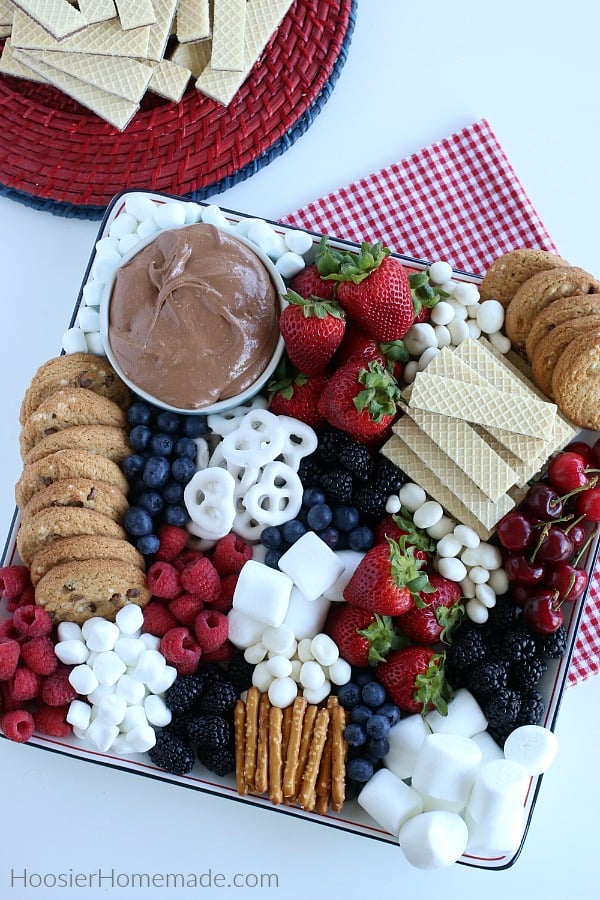 Charcuterie Dessert Board – Frequently Asked Questions
How can I make a dessert board look full?
My #1 tip for creating a Charcuterie Board is to add a single layer of all the items, then go back in and add more on top until the tray looks nice and full. You can easily add small items around the edges and in any holes that you see.
How much food do I need to create a Charcuterie Board?
The amount will totally depend on the size of your tray, plate or cutting board. I also tend to overbuy the ingredients. But to give you an example – for this board I used – 1 package each of S'mores Wafers and Smores Cookies from Voortmans, a full (small) container of Red Raspberries, about 12 large strawberries, 1/2 (small) container each of Blackberries and Blueberries. And a small handful of cherries.
A big handful of both mini and regular size marshmallows. A small handful of pretzel rods. A big handful each of yogurt pretzels and yogurt raisins.
What kind of food can I add?
Really, the sky is the limit when creating your board. I like to keep a theme when I make my Charcuterie Boards, I just find it to be easier. This board is Patriotic for Memorial Day or 4th of July celebrations.
You could also make the S'mores Dip and have the S'mores Wafers, S'mores Cookies and all the ingredients that go with S'mores like marshmallows and chocolate bars.
Sweet or Savory – what is the best?
I think this will depend on what you are serving the board for. I enjoy adding different meats and cheeses to a Charcuterie Board, but I have to admit, a fun Dessert Board is my favorite to create and also serve.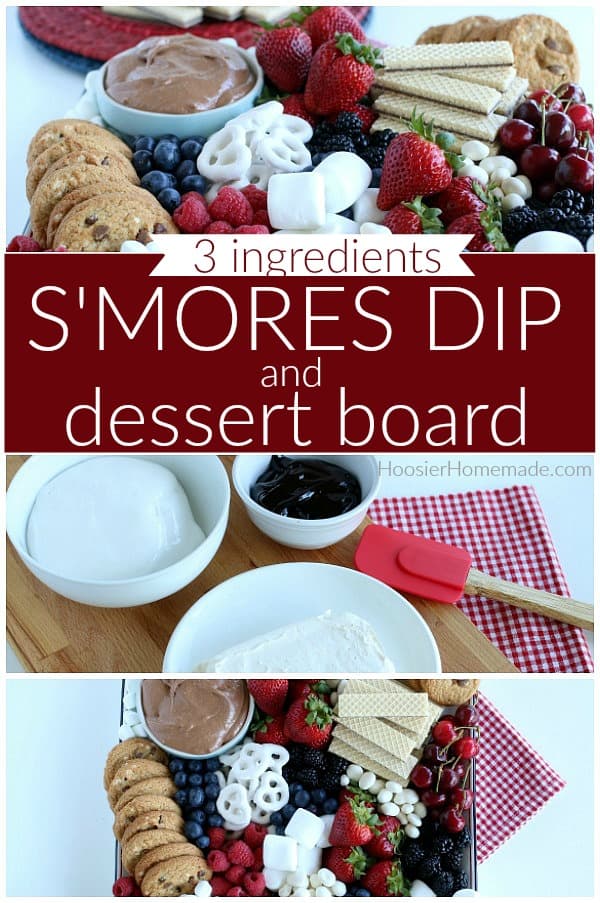 You may also like these recipes using Voortman Bakery cookies –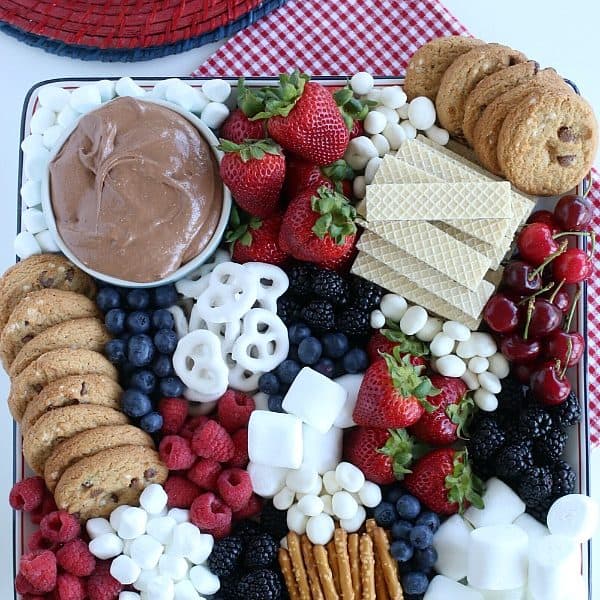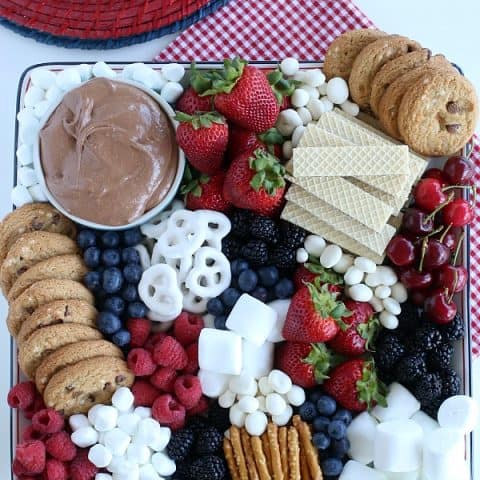 Smores Dip
Easy to make S'mores Dip is perfect for parties, movie night, backyard cookouts and more!
Ingredients
1 (8 oz) package Cream Cheese, softened
1 (7 oz) container Marshmallow Creme
1 cup Hot Fudge Sauce
Instructions
In a large mixing bowl, beat Cream Cheese until fluffy and smooth
Add Marshmallow Creme and Hot Fudge Sauce
Beat until completely combined and smooth
Serve immediately or store in refrigerator until ready to serve
Store leftovers in refrigerator
Notes
Serve with - cookies, fruit, marshmallows, pretzels and more
Store in fridge up to 7 days
Can be made ahead