Lemon Blueberry Angel Food Cake in a Jar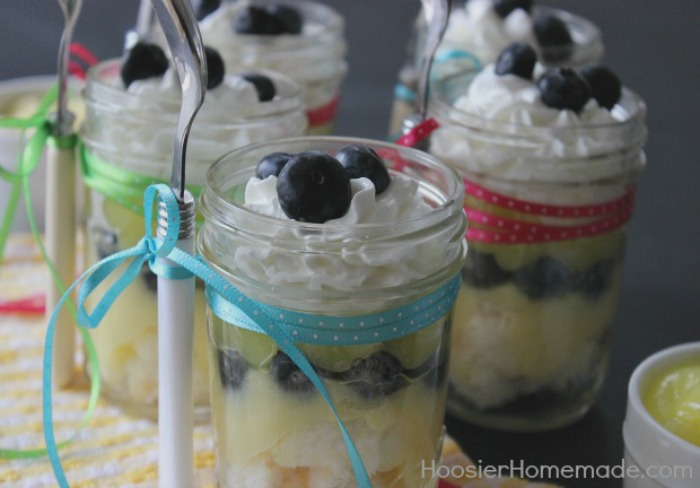 The birds are singing, the flowers are peaking their heads out of the cold soil, and it's time to start baking Spring Desserts! With Easter right around the corner, it's time to get those lists made of dessert you want to share with your family and friends! One of the top desserts should be this Lemon Blueberry Angel Food Cake in a Jar!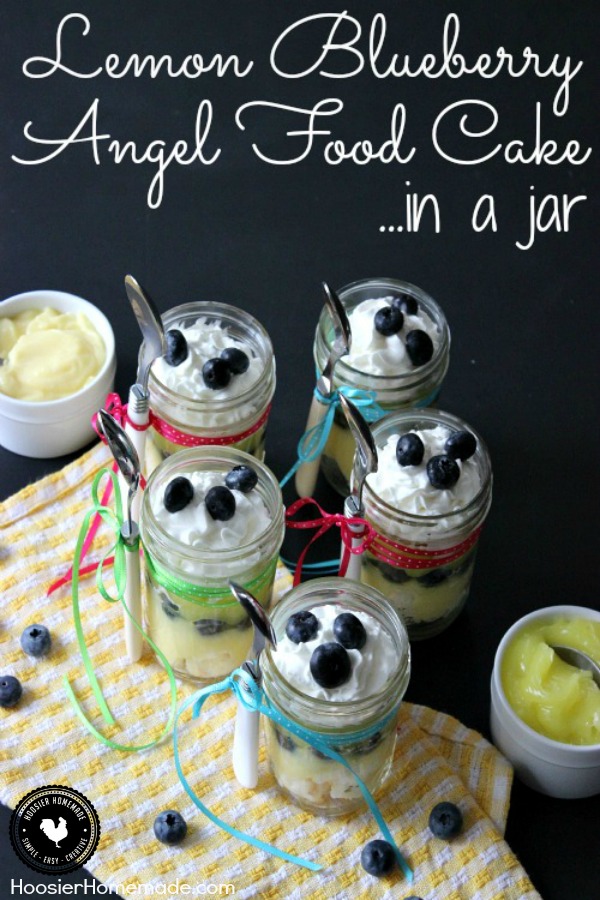 Serving dessert in a jar is not only fun but it's really quick and easy too! The flavor options are endless as well!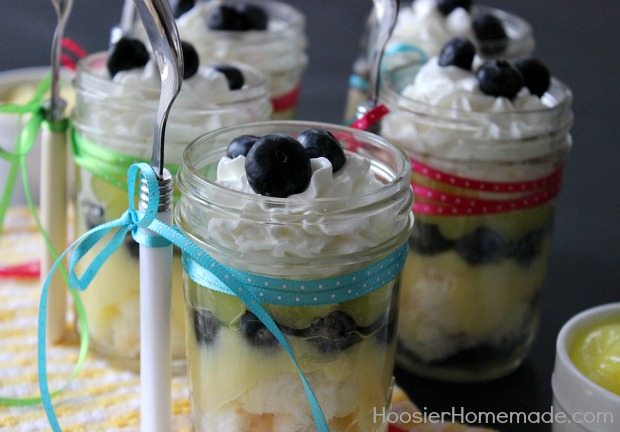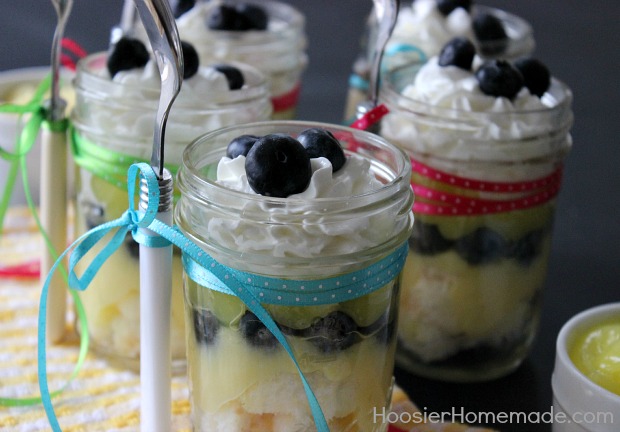 Let's start with the Angel Food Cake, while I have a wonderful recipe passed on from a favorite Aunt for a homemade Angel Food Cake, this time I used a box mix. They are super easy and only need water added. You can bake Angel Food Cake in a variety of pans, the best though is a round tube pan made especially for Angel Food Cakes. You could also go the super easy route and pick one up at the bakery.
Then I added a layer of Jell-O vanilla pudding, just a box of instant is fine. A layer of fresh blueberries were added and then a thick layer of Comstock Lemon Creme Pie Filling.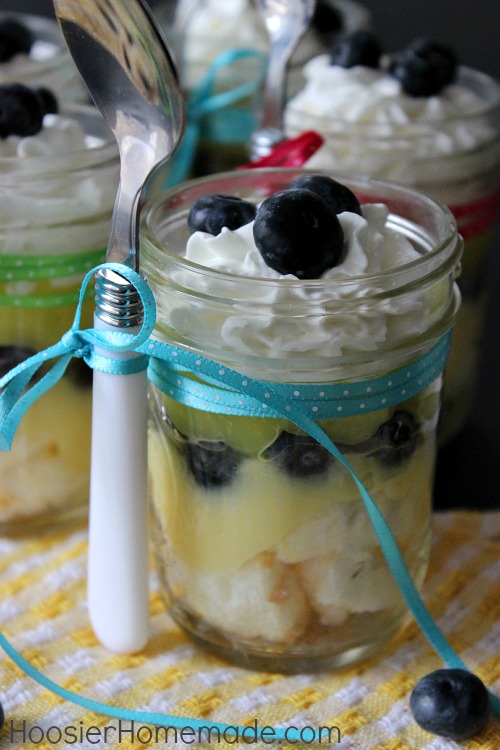 And to finish them off, Reddi-Wip or other whipped topping and a few more fresh blueberries. It doesn't get any easier than that!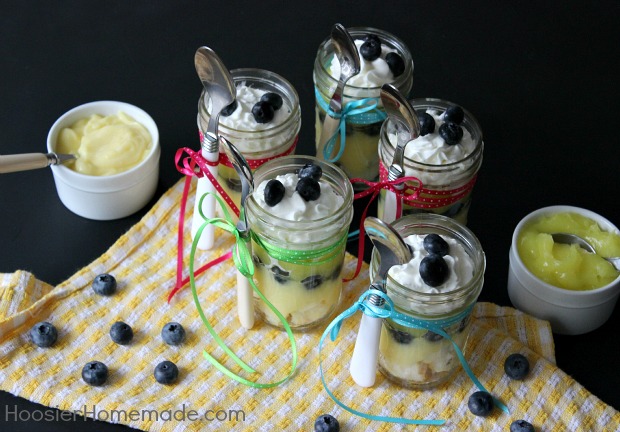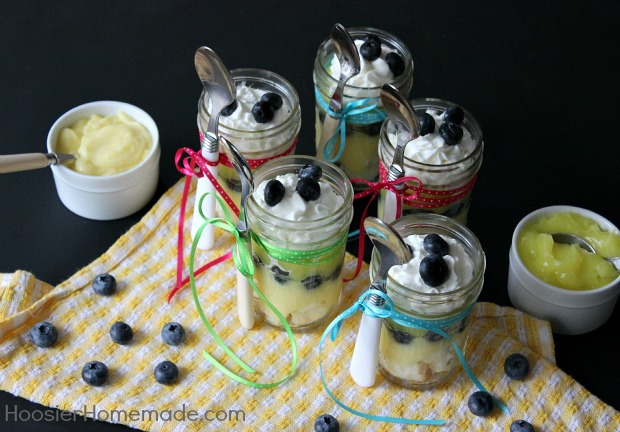 I used half-pint size jars. If you are giving them as a gift, leave some room at the top, like I did, to add the lid. Tie with a pretty ribbon and add a spoon.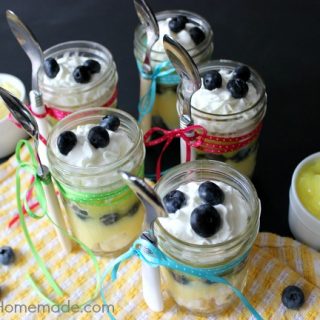 Lemon Blueberry Angel Food Cake in a Jar
Delicious flavors of Spring are combined in these easy to make dessert jars. Recipe from HoosierHomemade.com
Ingredients
1 Duncan Hines Angel Food Cake plus water according to directions on the box
1 can Comstock Lemon Creme Pie Filling
1 small box instant Jell-O vanilla pudding
2 cups milk
1 can Reddi-Wip
Fresh Blueberries
Instructions
Bake and cool Angel Food Cake following the directions on the box
While the cake is baking, mix the pudding and milk and place in fridge to set
After the cake is cooled, cut into bite size pieces and add about 6-8 pieces to each jar
Add pudding to a decorator bag or resealable bag
Add pie filling to another bag
Pipe pudding on top of cake, add blueberries and then pie filling
Top with Reddi-Wip and fresh blueberries
Notes
This recipe will fill about 6-8 jars, depending on the size of the jar. You will also have about half of the cake leftover.