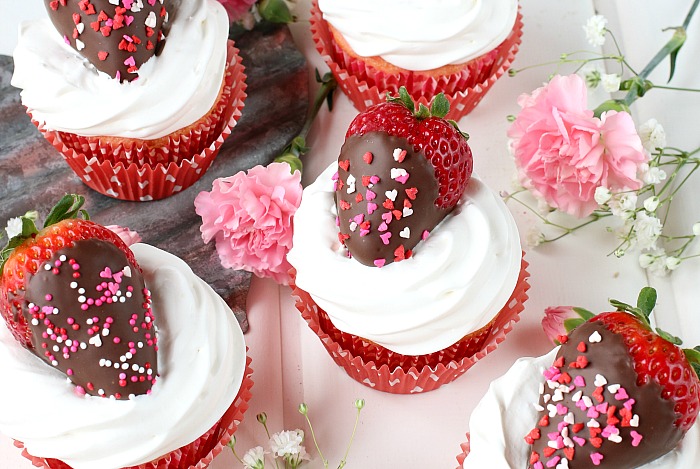 These Strawberry Cupcakes filled with Strawberry Glaze, frosted with Marshmallow Frosting and topped with a Chocolate Covered Strawberry are perfect for Valentine's Day, birthdays or any occasion.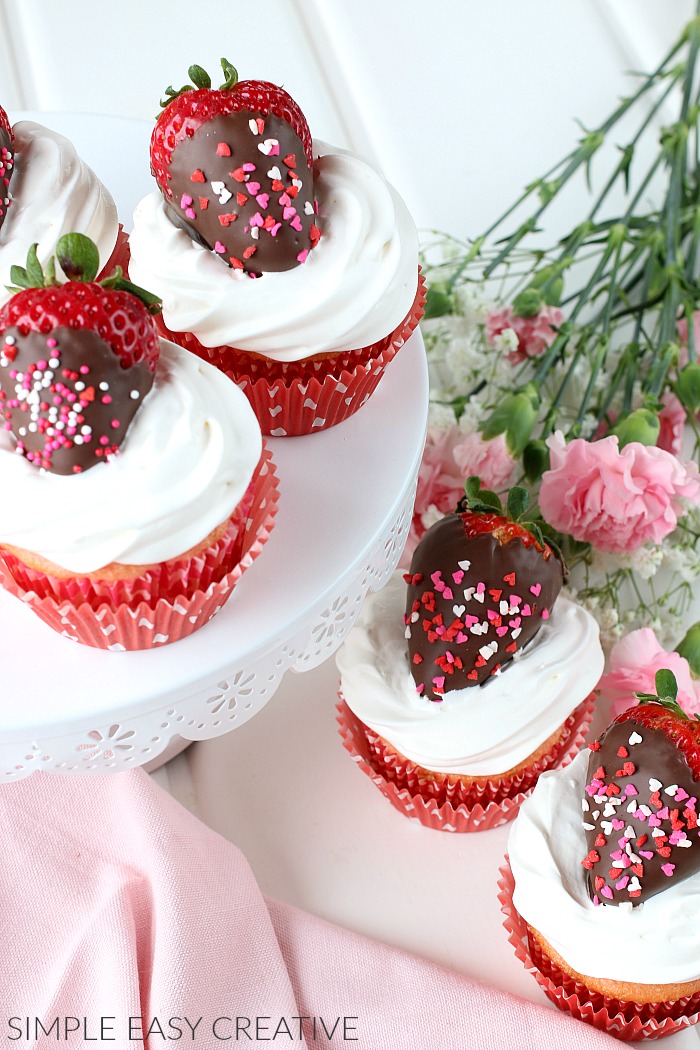 There aren't too many desserts better for Valentine's Day then cupcakes! Especially when they are simple and pretty – or is that pretty simple? These Strawberry Cupcakes begin with a cake mix, then they get doctored up to taste more like homemade.
After they are baked and cooled, it's time to add the strawberry glaze. I used my versatile recipe that takes only 4 ingredients and about 10 minutes to make. Add the Strawberry Glaze to a decorator bag fitted with a round tip. I used tip #2A. You can learn how to easily fill cupcakes in several ways.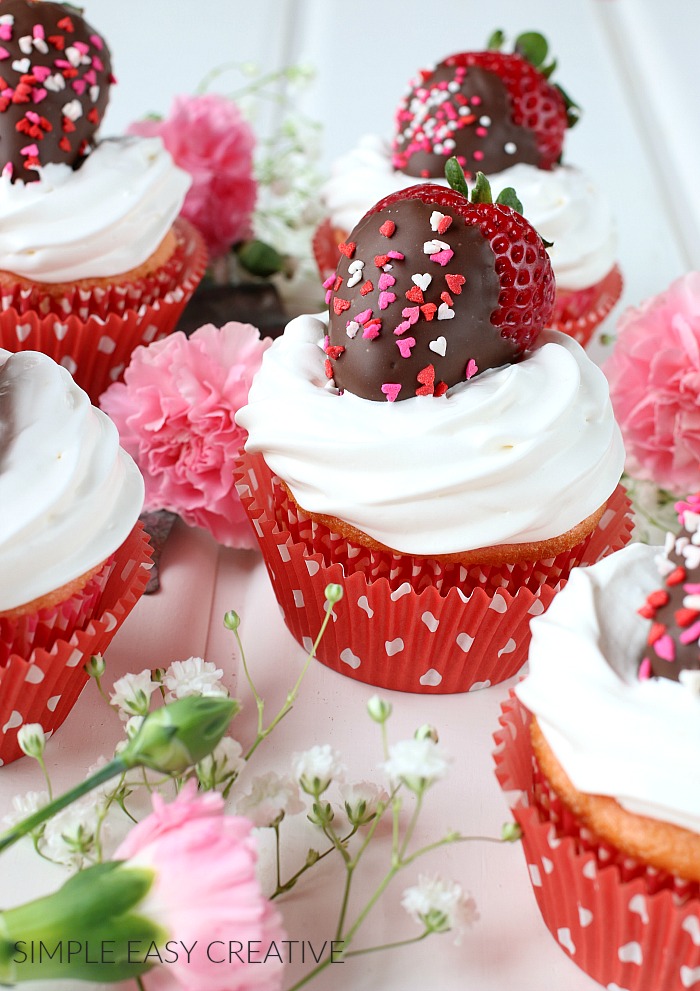 This time, I simply pushed the tip into the cupcake and gently squeezed the glaze into the cupcake until it came out the top a bit. You can watch the video to see how I filled the cupcakes!
Then it's time to frost the cupcakes. The Marshmallow Frosting is one of my favorites when I want a light fluffy frosting. It's only 2 ingredients – whipped topping and marshmallow creme.
Add the thawed whipped topping to a large bowl and then add 1/4 cup of marshmallow creme. Stir gently until well combined. To easily get the marshmallow creme out of the jar, heat in the microwave about 15 seconds.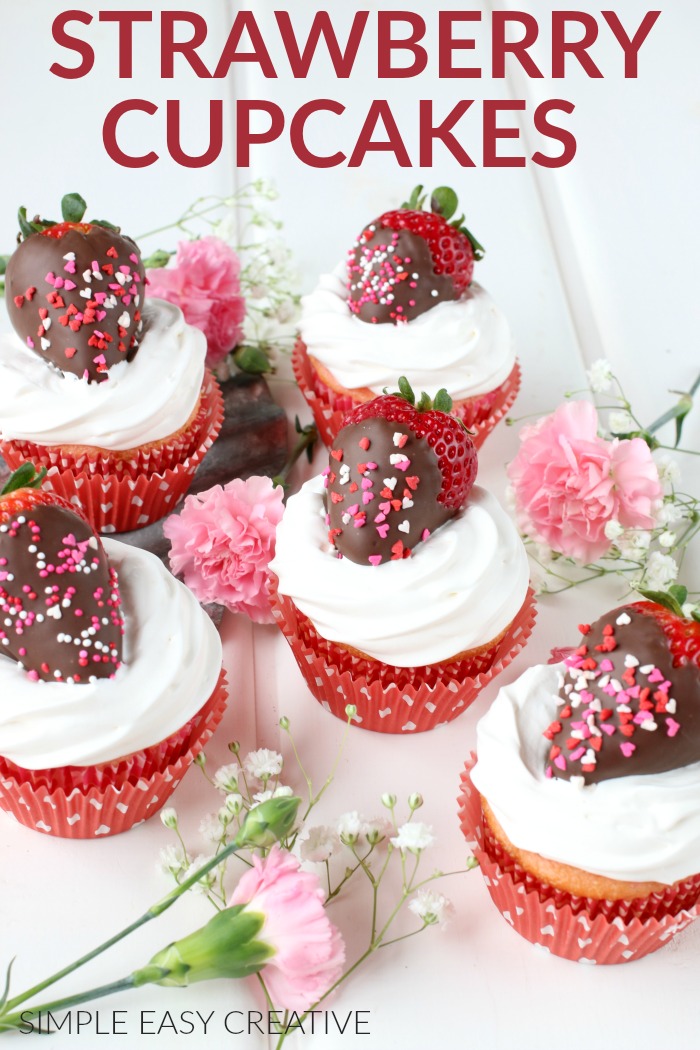 Now it's time to add the Chocolate Covered Strawberries. You will want to make these a little ahead so they can sit and harden, it doesn't take too long. You can coat the strawberries while the cupcakes are baking.
I have found that Almond Bark is the best choice when coating fruit, you can find it in the baking aisle near the chocolate chips.
For 3 blocks of almond bark – heat the chocolate in the microwave for 1 minute, stir, then continue heating 10-20 seconds at a time, stirring after each heating until the chocolate is almost melted. Then remove from the microwave and stir until smooth.
Dip strawberries in melted chocolate and immediately add sprinkles, if you like. Place on parchment paper or wax paper until set, about 10 minutes.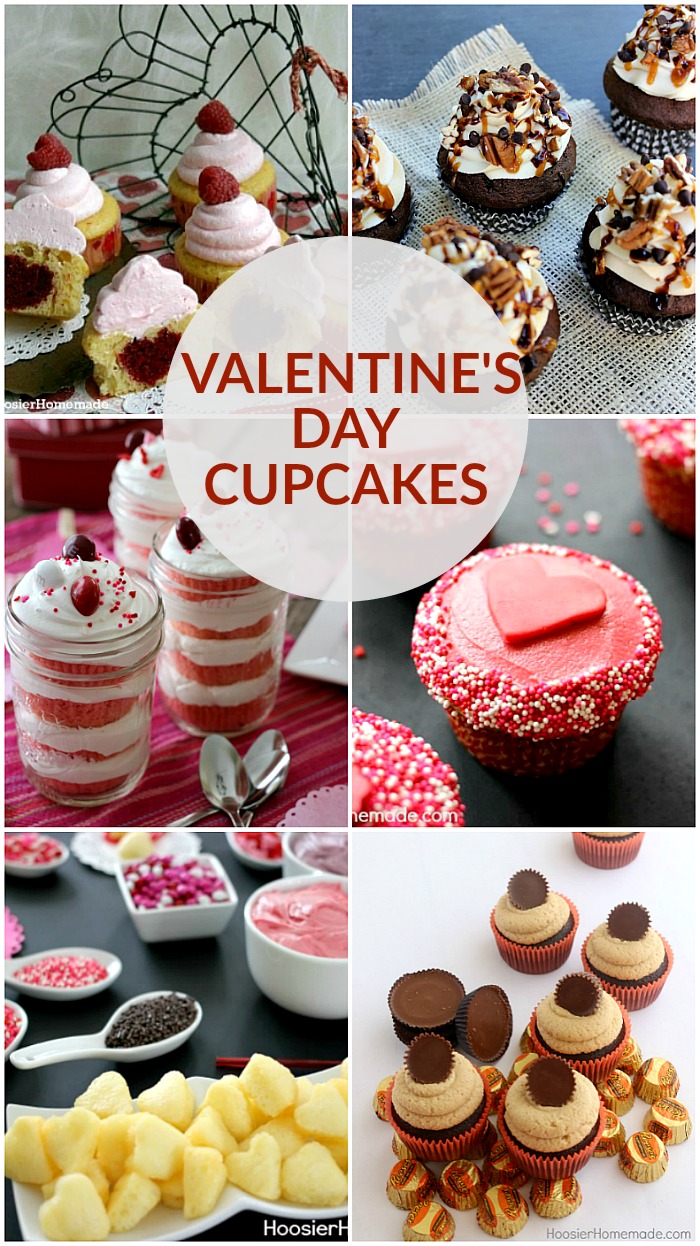 You may also like these Valentine's Day Cupcakes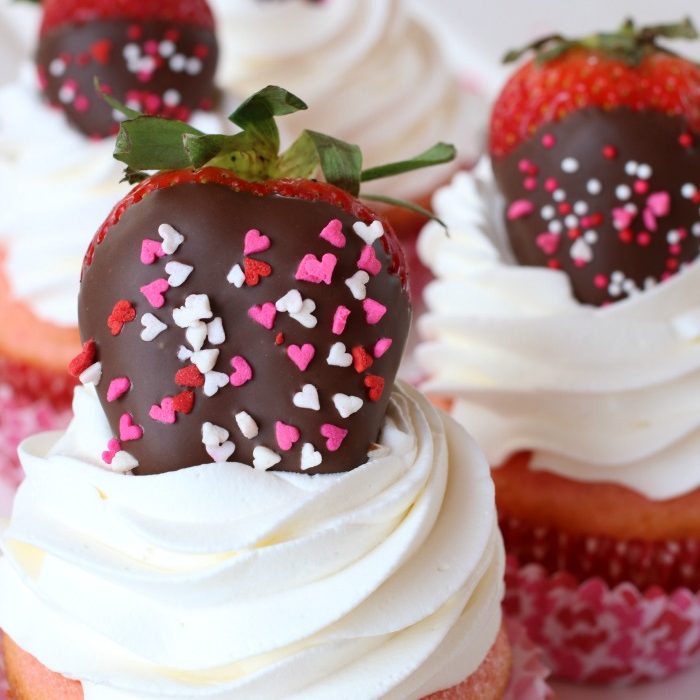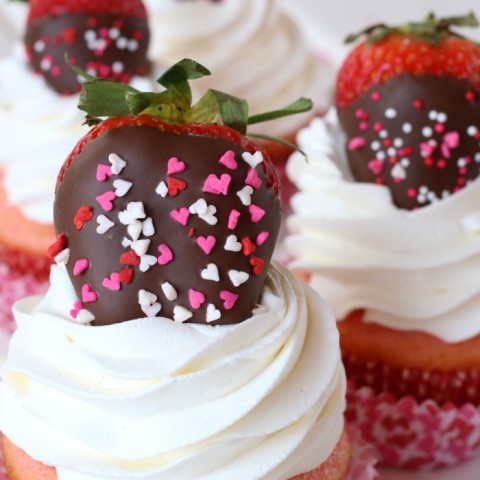 Strawberry Cupcakes
Strawberry Cupcakes filled with Strawberry Glaze, frosted with Marshmallow Frosting and topped with a Chocolate Covered Strawberry
Ingredients
Cupcakes
1 strawberry cake mix
4 eggs, room temperature
1 cup buttermilk (splash of vinegar in a measuring cup, fill with milk and let set a couple minutes)
1/3 cup oil
Marshmallow Frosting
1 (8oz) tub whipped topping, thawed
1/4 cup marshmallow creme
Chocolate Covered Strawberries
Almond Bark
Strawberries
Sprinkles, if desired
Instructions
Cupcakes
Preheat oven to 350 degrees and place liners in cupcake pan
Combine all ingredients until smooth
Fill cupcake liners using a cookie dough scoop
Bake for 15-20 minutes or until a toothpick inserted in the center comes out clean
Cool completely
Chocolate Covered Strawberries
While the cupcakes are baking and cooling, you can get the chocolate strawberries ready
Lay parchment or wax paper on the counter
Place 3 blocks of Almond Bark in a microwave safe bowl
Heat for 1 minute, stir, continue to heat 10-20 seconds
Remove from microwave just before the chocolate is completely melted, stir until smooth
Dip strawberry in chocolate, immediately add sprinkles if desired
Place on parchment paper until set, about 10 minutes
Strawberry Glaze - Recipe HERE
Add glaze to decorator bag fitted with round tip (I used #2A)
Gently push tip into cupcake and squeeze glaze into cupcake until glaze begins to come out of top of cupcake
Frosting
Add whipped topping to large bowl
Heat marshmallow creme in microwave about 15 seconds - this makes it easier to remove from the jar
Add 1/4 cup of marshmallow creme to whipped topping, stirring gently until smooth
To frost - add frosting to decorator bag fitted with a tip (I used 1M star tip), frost cupcake and add chocolate covered strawberry
Store in fridge until ready to serve