Whip up this easy Fry Sauce in minutes. Of course it's great for french fries, but it's also delicious on burgers, hot dogs, pretty much anything you would add ketchup to.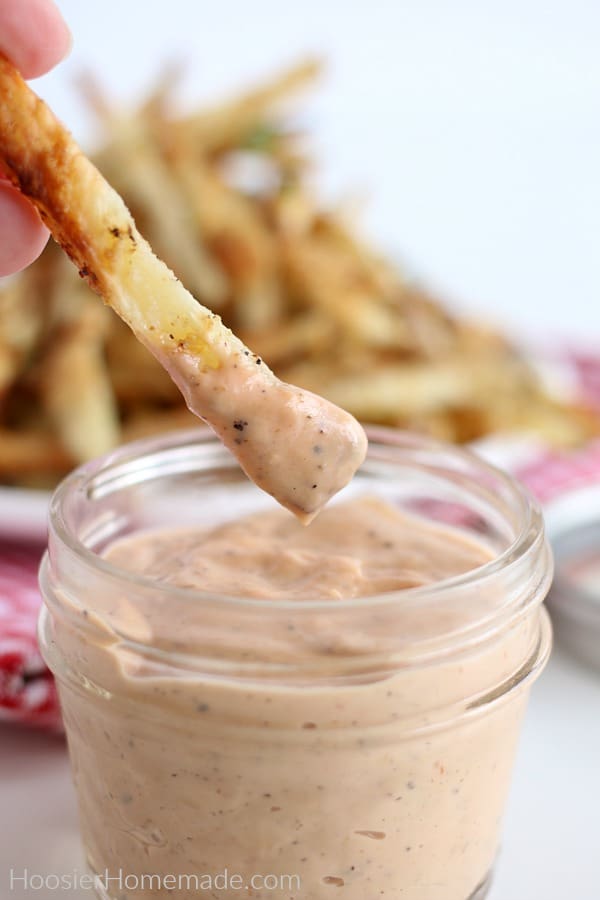 There's something about having a delicious dipping sauce to go along side a big pile of french fries. All you need are a handful of ingredients that you probably have in your refrigerator and pantry and a couple minutes to put together this fry sauce.
Although it's called "fry sauce" you can also (and should) use this sauce as a condiment for all your burgers, hot dogs, chicken and more! With Summer coming, this fry sauce recipe will be a great addition to all your backyard BBQ's.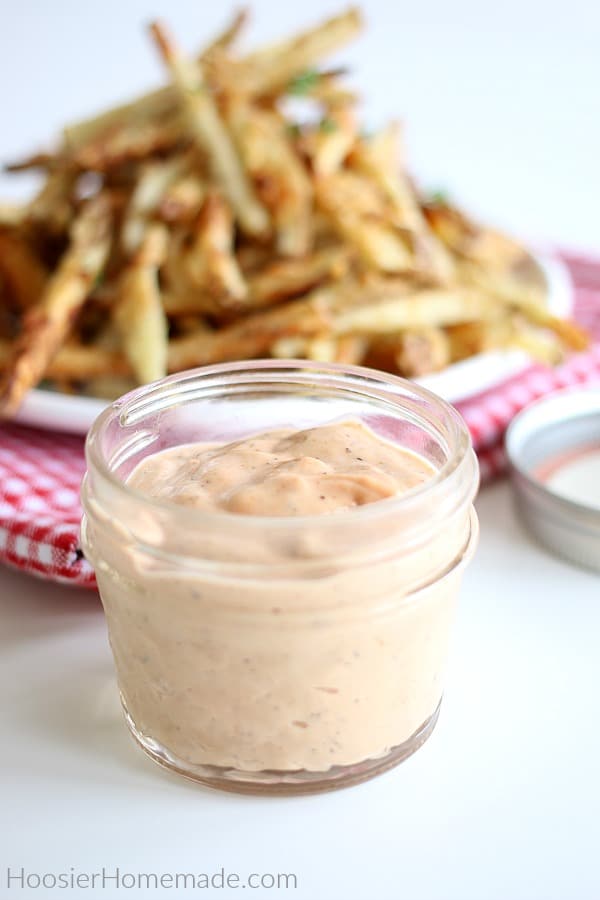 What is Fry Sauce? Frequently Asked Questions
Why is this sauce better than just mixing ketchup and mayonnaise together?
Fry Sauce has more flavoring added like onion powder, salt and pepper.
Is Fry Sauce like Comeback Sauce?
Yes it is, although Comeback Sauce has a little more spice to it. Comeback Sauce is originally a southern dipping sauce made with chili sauce and served with fried foods.
Can I buy Fry Sauce at the grocery store?
The nice thing about making your own Sauce is that you can add or take-away ingredients that you want. If you like your sauce a bit more spicy you can add more seasoning, Worcestershire Sauce or Chili Sauce. However, yes, you can purchase a version of Fry Sauce at the grocery store, it's called Mayochup Saucy Sauce and made by Heinz. I have not tried the Heinz brand, but I will mention that there is high fructose corn syrup in the ingredient list, which is actually also in bottled ketchup.
What else can I add to the Fry Sauce Recipe?
There are many many versions of Fry Sauce. This recipe is a basic recipe that we like, however you can easily add whatever seasoning you like. I have also seen recipes that add Pickle Juice, Mustard, Vinegar or Sugar.
What can I serve with this Dipping Sauce besides French Fries?
The options are really endless of food that you can serve with this Sauce. It's great on burgers, hot dogs and chicken. You can also serve it as a dipping sauce with onion rings, fried pickles, fried okra, green tomatoes or zucchini.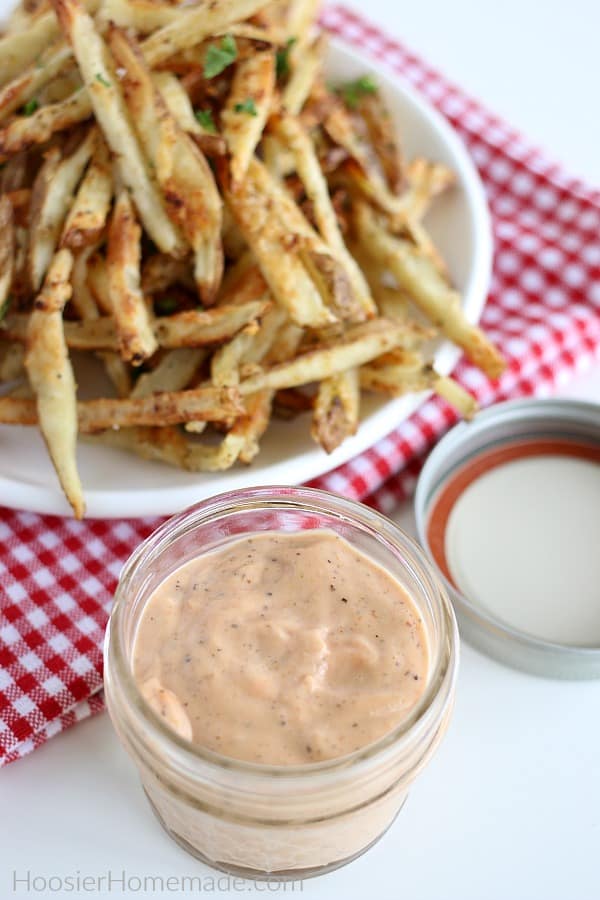 Fry Sauce
Ingredients
Mayonnaise
Ketchup
Salt
Pepper
Onion Powder
Kitchen Essentials Needed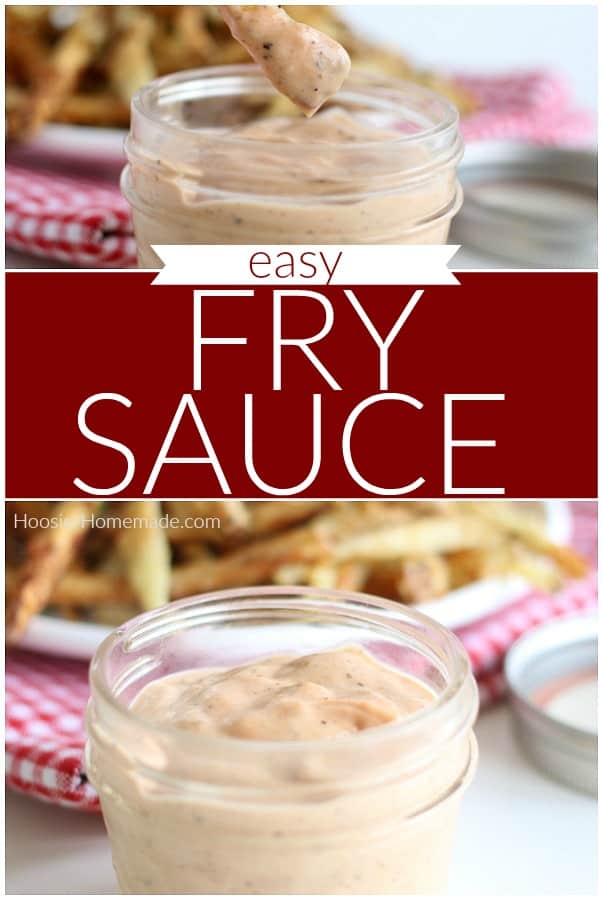 Add this dipping sauce to these delicious recipes –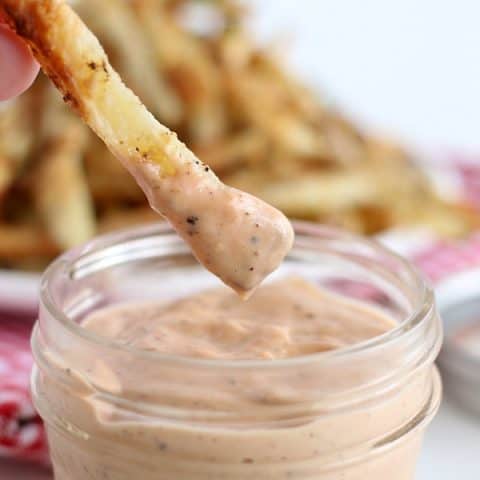 Fry Sauce
Fry Sauce for fries, onion rings, burgers, hot dogs and more.
Ingredients
1/2 cup Mayonnaise
1/4 cup Ketchup
1/4 teaspoon Salt
1/4 teaspoon Pepper
1/4 teaspoon Onion Powder
Instructions
Mix all ingredients together in a bowl until well combined and smooth
Serve with fries, onion rings, burgers, hot dogs and more
Store leftovers in covered container in refrigerator