Is it hot where you are? I'm guessing it is! I'm certainly not complaining, because I really do love Summer, but the heat makes it a little difficult to continue our love for baking! So what's the next best thing? No-Bake Summer Treats and these Frozen Watermelon Pops are sure to be a hit!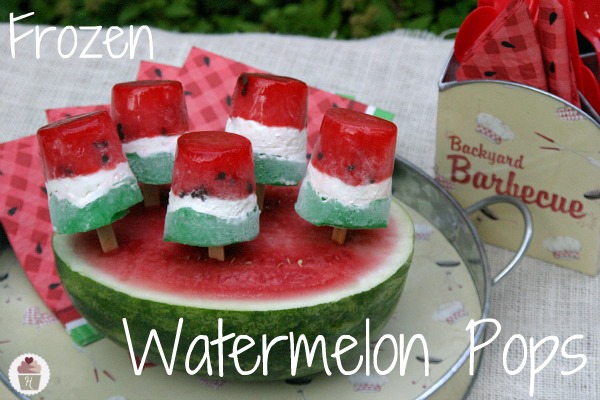 With a little supervision, even the kiddos can make these Watermelon Pops. A cool and creamy center in sandwiched between red and green Jell-O and layered in a paper cup to make the Pops a must have delicious treat.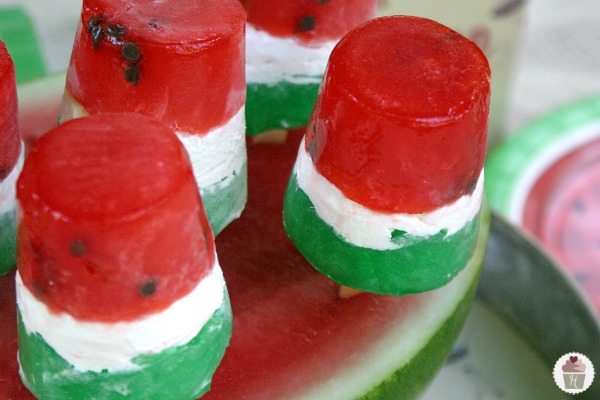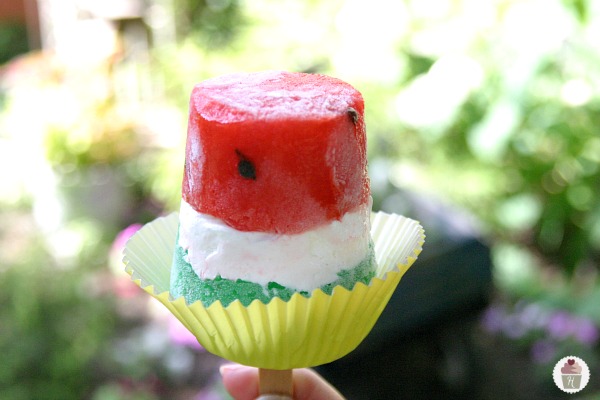 In case you have little hands, and if your weather is like ours, you will want to place a cupcake liner on the bottom of your Watermelon Pop…it works perfectly to keep hands clean.
I've rounded up a few of my favorite No-Bake Summer Treats for you too!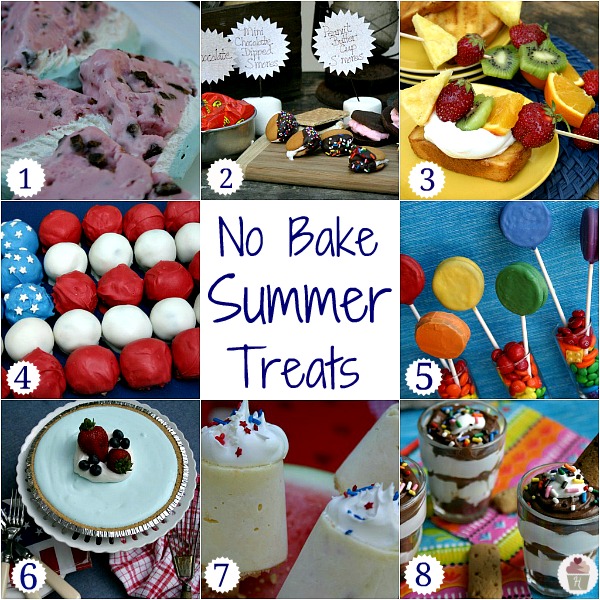 No-Bake Summer Treats
Print
Frozen Watermelon Pops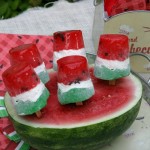 Cool and creamy treat for a hot Summer day! Recipe from HoosierHomemade.com. Adapted from Kraft
Prep Time:

20 minutes

Total Time:

20 minutes
Ingredients
1 cup sugar, divided in thirds
1 pkg. (3 oz.) Jell-O Lime Flavor Gelatin
2 cups boiling water, divided
Ice cubes
1 cup cold water, divided in half
1 pkg. (3 oz.) Jell-O Strawberry Flavor Gelatin
3 tablespoons miniature semi-sweet chocolate chips
1/2 pkg. (4 oz.) Cream Cheese, softened
1-1/2 cups COOL WHIP Whipped Topping, thawed
Instructions
In a medium bowl, combine 1/3 cup sugar and lime gelatin.
Add 1 cup boiling water, stir until dissolved, about 2 minutes
In a measuring cup, add 1/2 cup cold water and enough ice cubes to measure 3/4 cup
Add to lime gelatin, and stir. Remove any remaining ice cube pieces.
Refrigerate for 25 minutes
In a medium bowl, combine 1/3 cup sugar and strawberry gelatin.
Add 1 cup boiling water, stir until dissolved, about 2 minutes
In a measuring cup, add 1/2 cup cold water and enough ice cubes to measure 3/4 cup
Add to strawberry gelatin, and stir. Remove any remaining ice cube pieces.
Divide strawberry gelatin into a paper cup {3 or 5 oz} and freeze for 20 minutes
Stir in 1/2 teaspoon chocolate chips into each cup
In a medium bowl, beat the softened cream cheese and remaining 1/3 cup sugar until smooth, fold in Cool Whip
Spread over strawberry mixture
Add a layer of lime gelatin
Cover cup with plastic wrap and insert a wooden popsicle stick into the center
Freeze until firm, about 3-4 hours
Notes
Prep time does not include freezing time
Linking to…Sundae Scoop Party