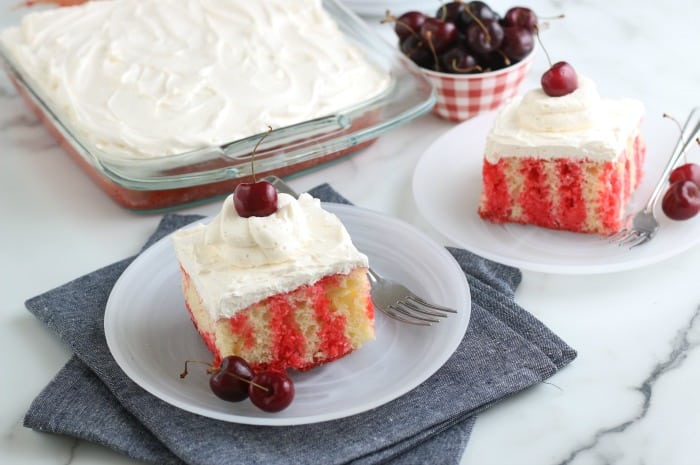 Poke Cake is one of the easiest cakes you will ever bake, with the endless option of flavor combinations, you will never grow tired of them. This Cherry Poke Cake is light and refreshing, and is perfect for your Spring celebration!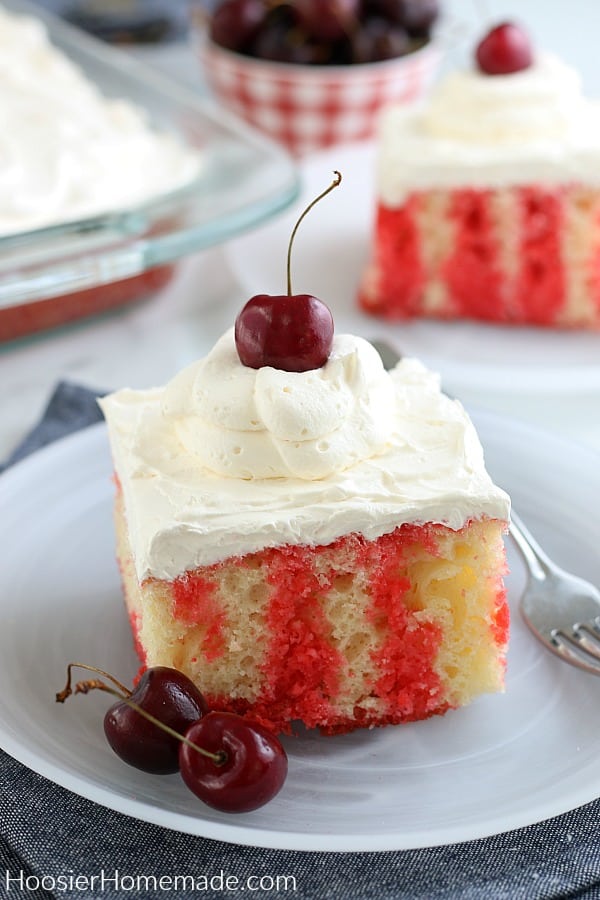 It's been quite a while that I've made a cake, typically I bake Cupcakes or single desserts like Mini Cheesecakes, but with so many celebrations coming up soon – Mother's Day, Graduations, Potlucks, Spring Parties and more – I just knew you would love the recipe for a delicious Cherry Poke Cake. Okay, well, yes let me be honest, I wanted it too. But can you blame me? I mean what could be better than Cherry and gelatin together?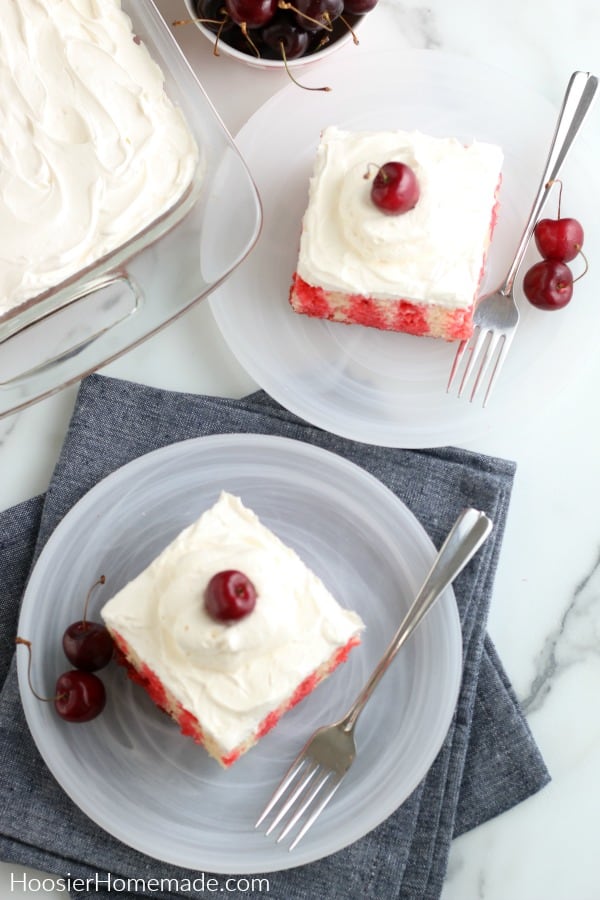 This luscious Cherry Poke Cake starts with a white cake mix, in addition to the normal ingredients you add to a cake mix – eggs, water or milk, and oil. I added some Almond Extract for flavoring. Almonds have a light, fresh flavor that just screams Spring to me. While the cake is wonderful, it's really the frosting that is heavenly, a mixture of Marshmallow Fluff, Cool Whip whipped topping and a little more Almond Extract adds to the lightness of the cake.
Then to make the cake even more special, I added a sprinkle of sliced almonds. The light, sophisticated taste is the perfect complement to this Cherry Poke Cake, bringing out the almond flavor even more. Indeed this cake will turn heads when you present it on the table.
Poke Cake
Ingredients
White Cake Mix
Almond Extract – you can also use Vanilla Extract if you like, however we like the freshness of almond extract for this recipe
Cherry Gelatin
Water
Frosting
Whipped Topping – you can also use heavy whipping cream if you like
Marshmallow Cream
Almond Extract
Kitchen Essentials Needed
Large Mixing Bowl
Rubber Spatula
Wooden Skewer
13×9 Cake Pan
How to Make Cherry Poke Cake
Preheat oven to 350 degrees and coat a 13×9 baking dish with cooking spray

Combine cake mix, eggs, water, oil and almond extract until smooth

Spread evenly into baking dish, bake for about 25 minutes or until a toothpick inserted in the center comes out clean

Remove from oven and let cool for 15 minutes

Combine Jell-O and boiling water and stir about 2 minutes until dissolved, add cold water

Using a wooden skewer or large fork, poke holes into cake about every 1/2 inch

Carefully pour gelatin over the cake

Place in refrigerator at least 3 hours or overnight
Frosting
In a mixing bowl, combine all ingredients and mix until fluffy

Spread over cake


Store in fridge until ready to serve

Store leftovers in fridge covered with plastic wrap
Cherry Poke Cake-Frequently Asked Questions
How do I make my cake more moist?
If you want to to make your cake more moist, then just add an extra egg to the cake mix. The yolks add more fat, which helps make the cake more dense and hold moisture.
What are the cake holes for?
The holes allow us to add in liquid, in this case gelatin, to make every bite pop with more flavor.
How long do these cherry almond poke cakes last?
If you put the cake in an airtight container, it will last about five days. If you refrigerate it, it will last twice that long.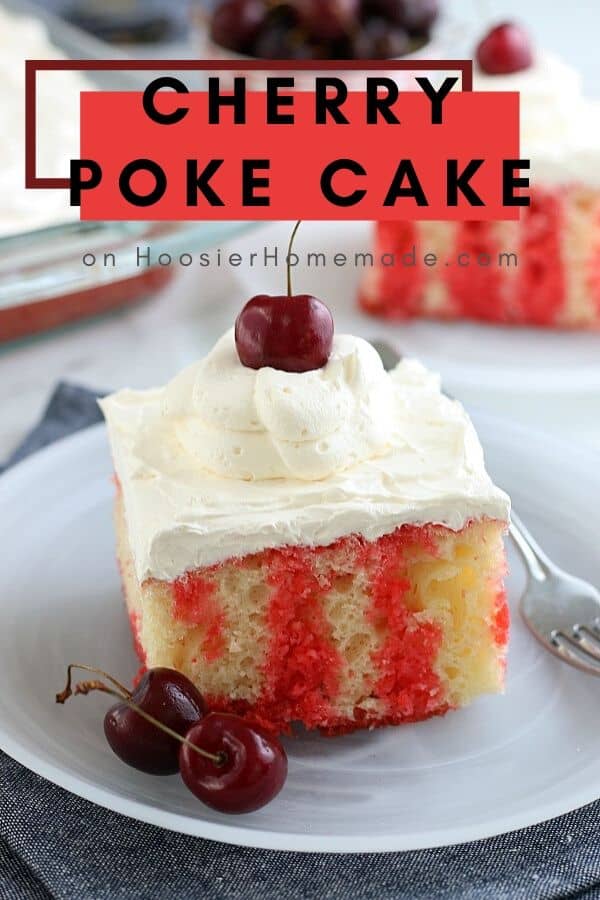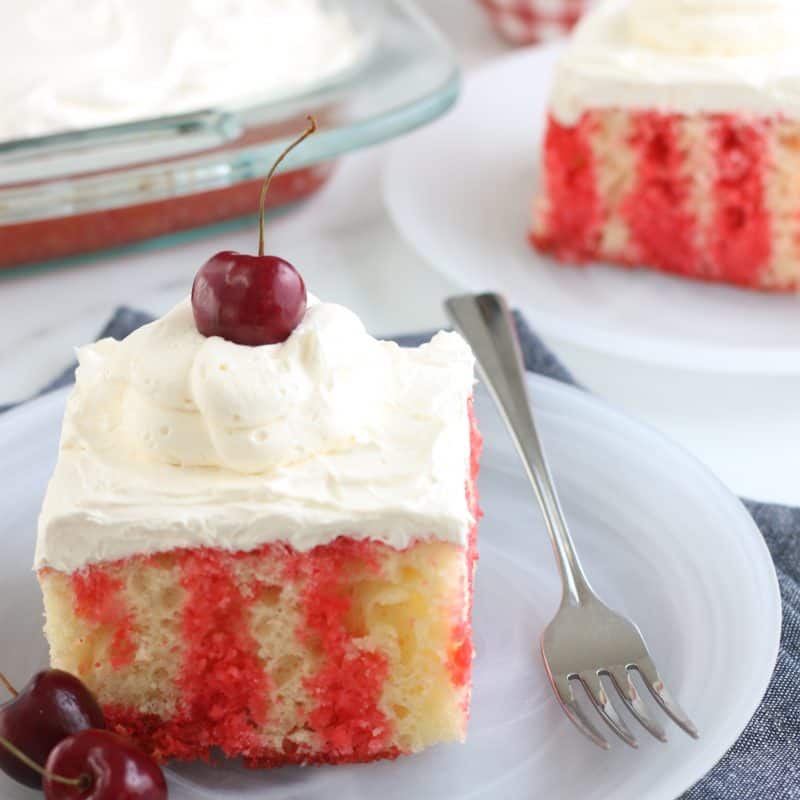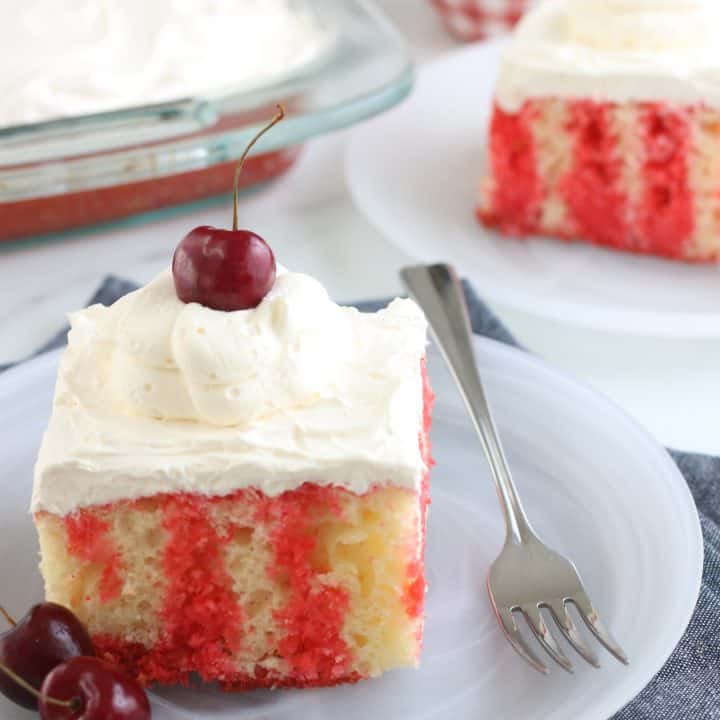 Cherry Poke Cake
Refreshing and light Spring dessert. Recipe on HoosierHomemade.com
Ingredients
1 white cake mix
Ingredients on box
1 teaspoon Almond Extract
1 small box Cherry Jell-O
1 cup boiling water
1/2 cup cold water
Frosting
1 8 oz. tub Cool Whip frozen whipped topping, thawed
1/2 cup Marshmallow Fluff
1 teaspoon Almond Extract
Topping
Instructions
Preheat oven to 350 degrees and coat a 13x9 baking dish with cooking spray
Combine cake mix, eggs, water, oil and almond extract until smooth
Spread evenly into baking dish, bake for about 25 minutes or until a toothpick inserted in the center comes out clean
Remove from oven and let cool for 15 minutes
Combine Jell-O and boiling water and stir about 2 minutes until dissolved, add cold water
Using a wooden skewer or large fork, poke holes into cake about every 1/2 inch
Carefully pour Jell-O over the cake
Place in refrigerator at least 3 hours or overnight
Frosting
In a mixing bowl, combine all ingredients and mix until fluffy
Spread over cake and sprinkle with almonds
Store in fridge until ready to serve
Store leftovers in fridge covered with plastic wrap
Notes
Cake can be made a few days ahead, keep covered or in airtight container