I scream…you scream…we all scream for ice cream! I know you have all heard that little jingle, you can thank me later for putting it into your head! When I was much younger, I was spend days planning parties, whether they were to celebrate a birthday or a holiday, I felt like every detail had to be perfect, worked on for days and there had to be lots and lots of food.
While I still love everything to be perfect, I've come to the realization that easy is better for everyone, you and your guests. And that not every party needs to have lots of different food.
So when we were asked to put together a Summer party, we were super excited. The ideas are endless during the Summer, whether you are hosting a backyard cook out, a potluck for a family reunion or this easy Ice Cream Party it is always fun!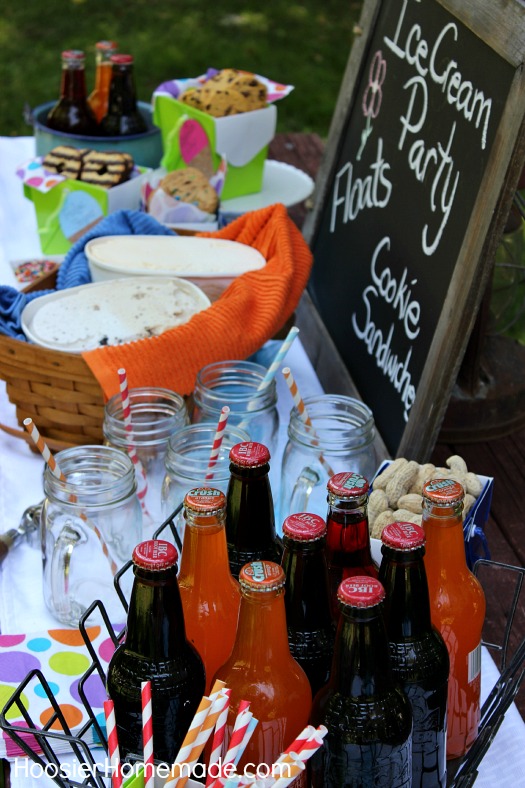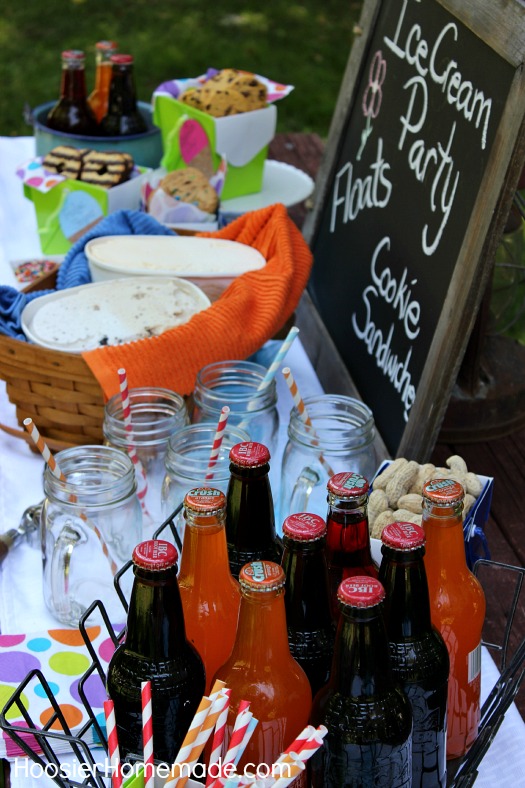 Although the Ice Cream Party only has 2 treats – floats and ice cream sandwiches – it is filled with lots of fun, bright colors and you can put it together quickly, even if you have people just drop by to visit!
And did you know? July is National Ice Cream Month…how fun!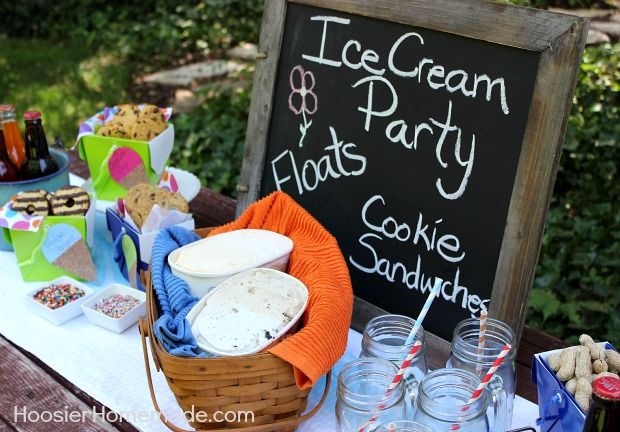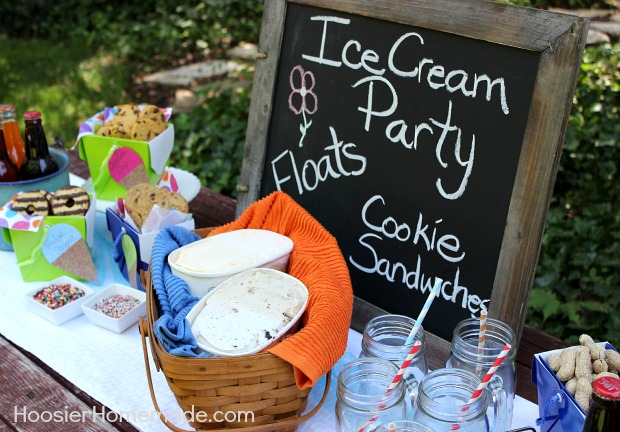 We began with a few supplies we had on hand. The white table cloth and the blue tulle down the center were left from the Summer Cook out we shared last week. And everything came from Walmart.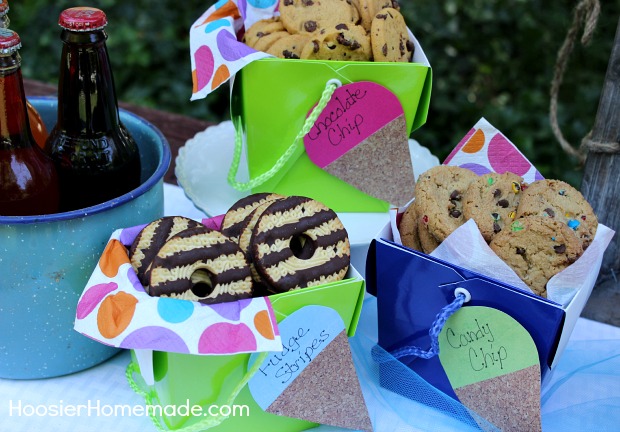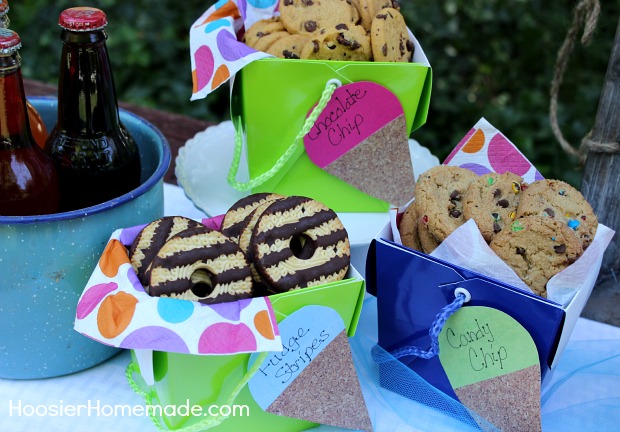 The fun Treat Boxes, that we found in the party section, are lined with a fun polka dot napkin, also from the party section and filled with store bought cookies.  We used Great Value brand chocolate chip and chocolate chip with candy cookies, and Keebler Fudge Stripe cookies.
The tags are just hand made from scraps of paper I had. The bottom is cut into a triangle, and the ice cream part is more paper just attached to the bottom and cut into a semi circle. Then I wrote the names of the cookies on them.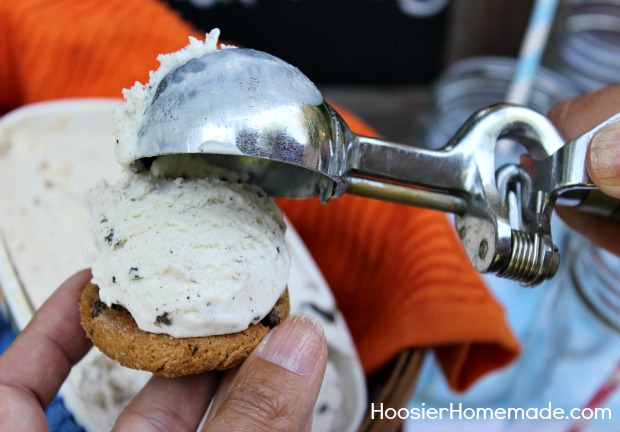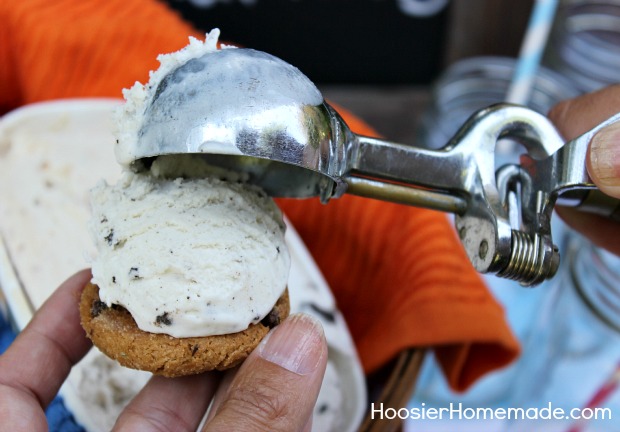 A big scoop of ice cream is placed on the cookie. We found a tub of Great Value brand ice cream that has 2 different kinds in it – Peanut Butter Cup and Cookies & Cream, my boys were in heaven!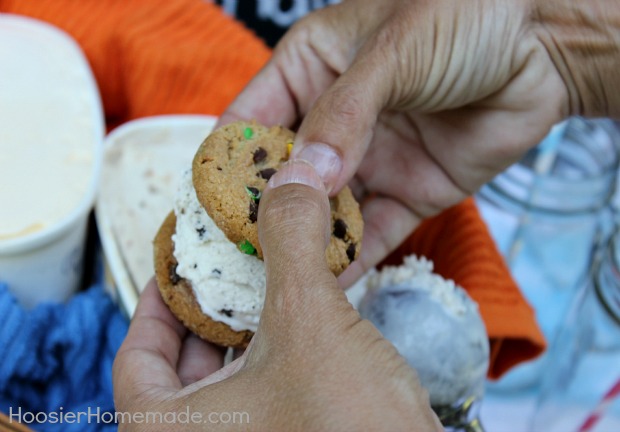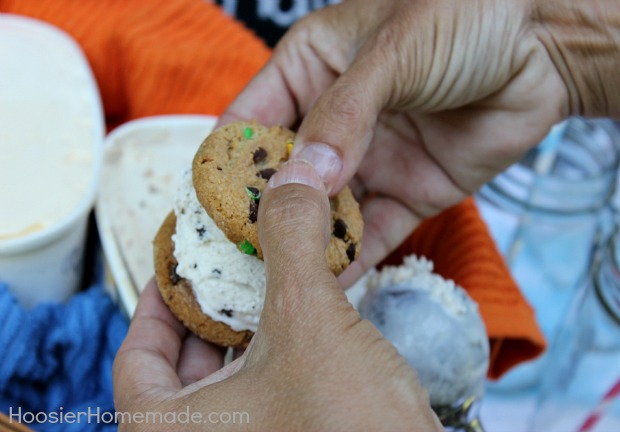 Topped with another cookie…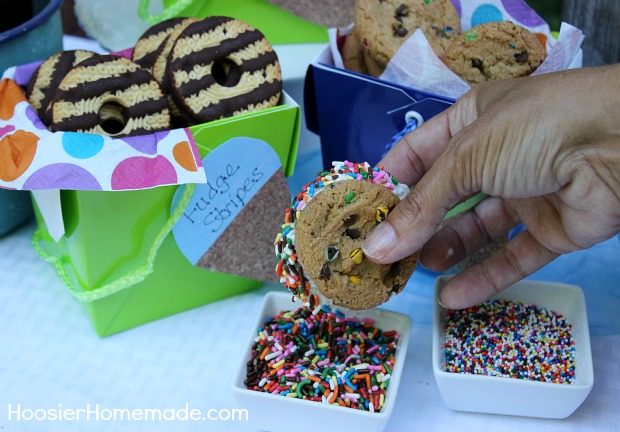 and dipped in sprinkles! Everyone loves sprinkles and it just isn't a party without them!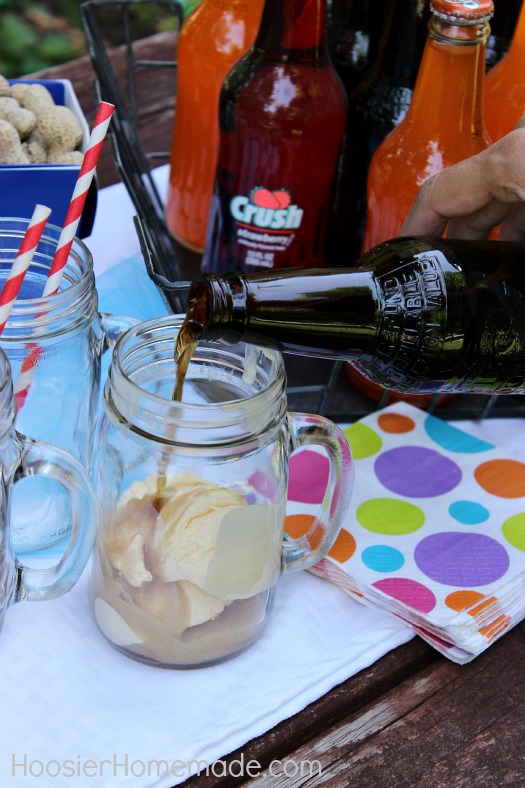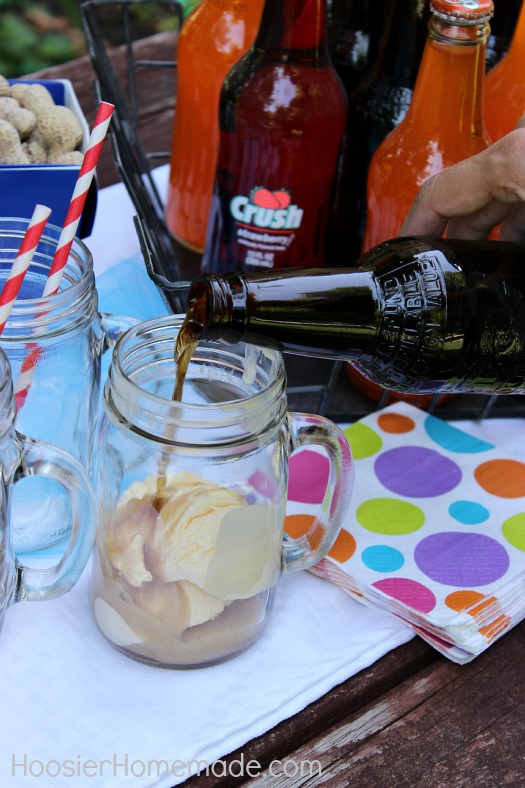 Serving up even more fun, we have Ice Cream Floats!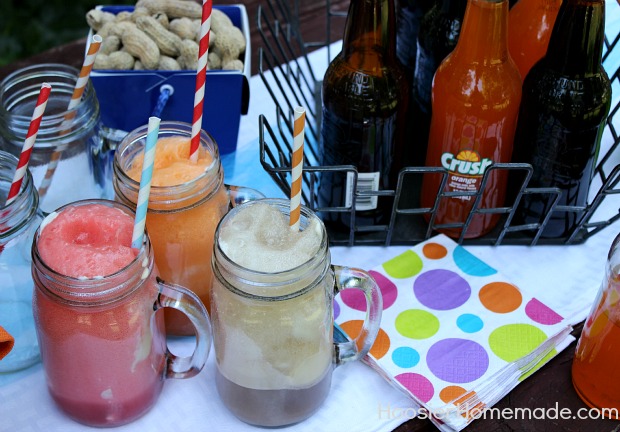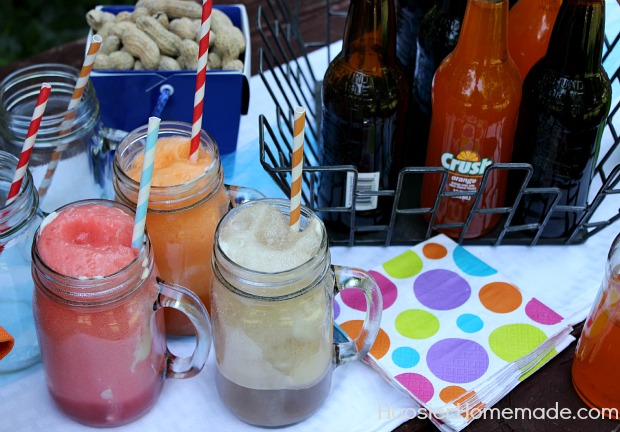 And in 3 fun flavors – IBC Rootbeer, Orange and Strawberry Crush – and in great nostalgic bottles.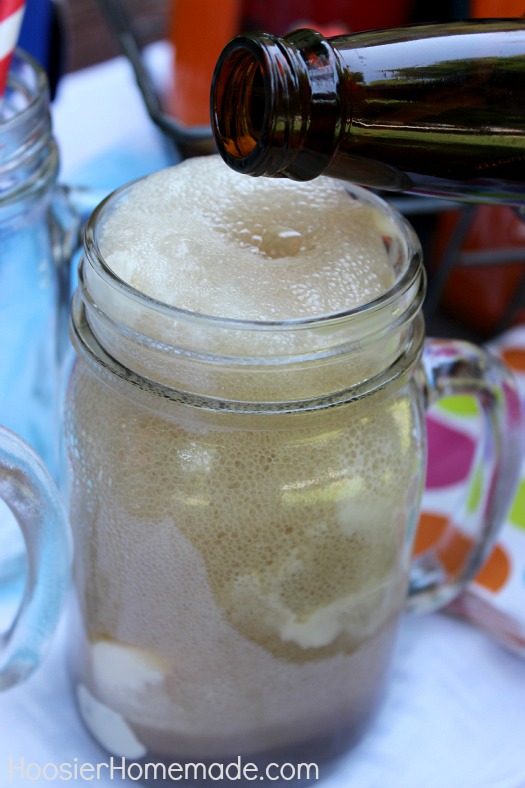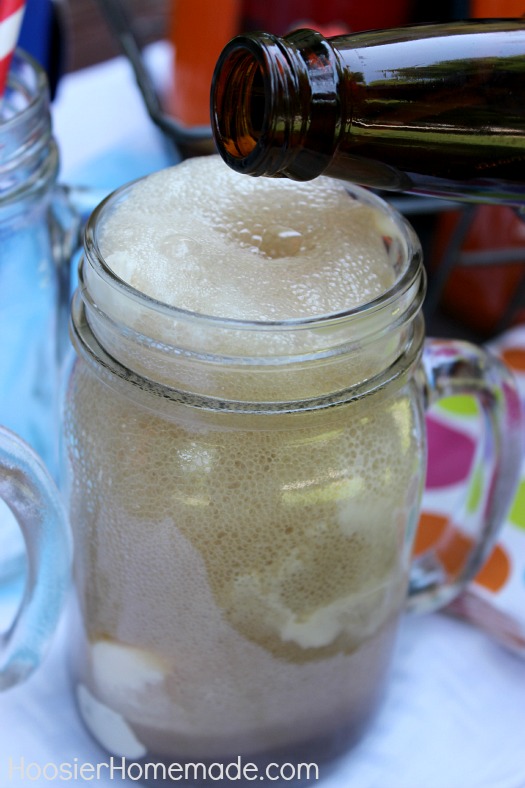 The mugs are from the housewares department at Walmart, and they were less than $1. Fill the mug with Great Value Vanilla Ice Cream and top it off with your favorite soda!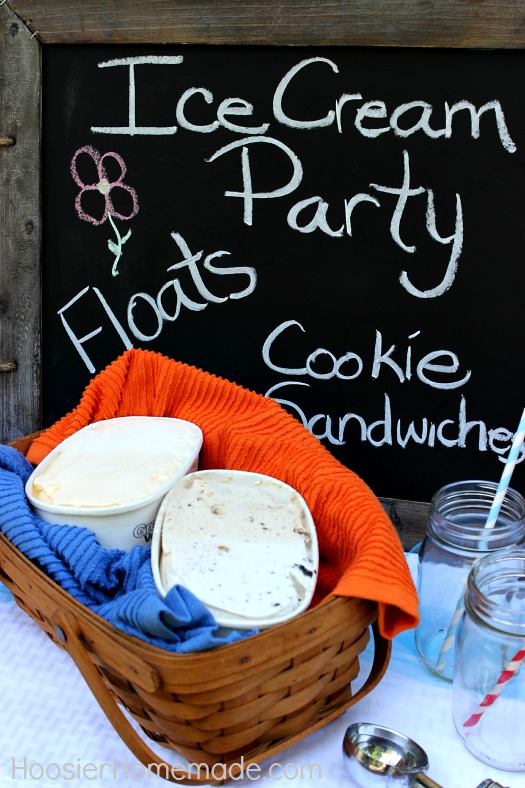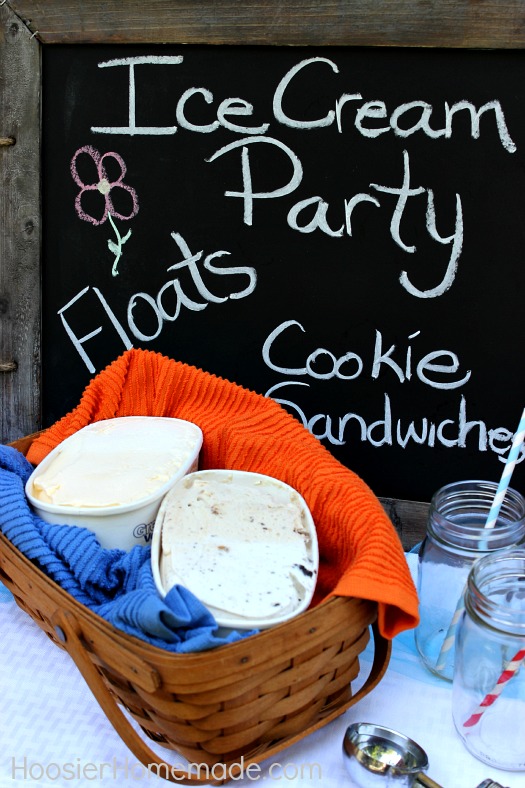 And of course, welcoming our guests is a fun chalkboard. Here is a little trick – wrap your chalk is a damp cloth and let it set a few minutes, then wipe the chalkboard down with the damp cloth and write on it immediately. The writing will be nice and clear.
We nestled the ice cream tubs in a basket with bar towels (also left from our Summer Cook out), to keep them insulated as long as possible.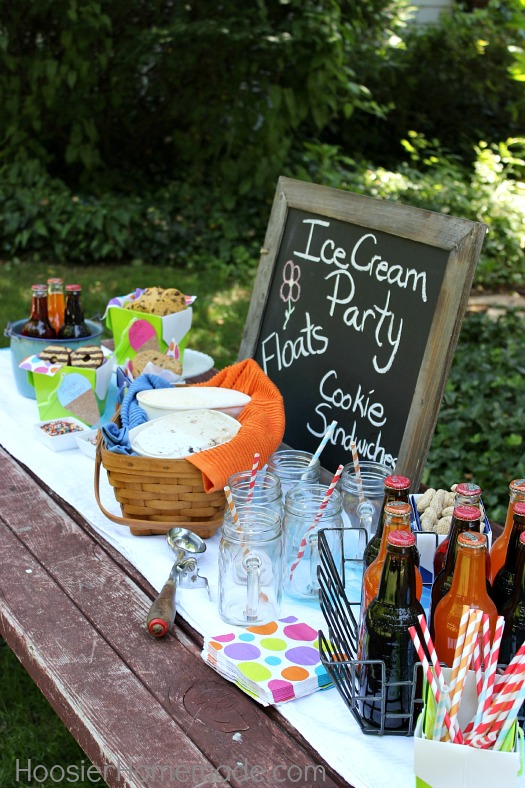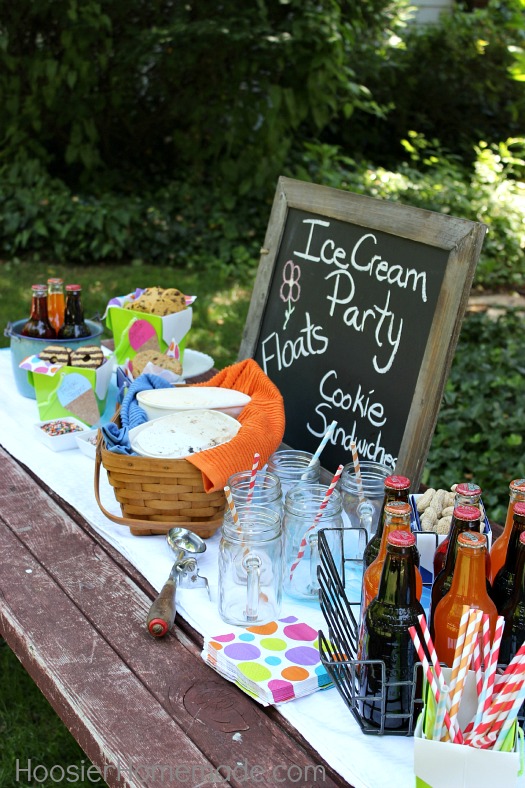 Ice Cream Party Re-cap
Ice Cream – your favorite – we used vanilla and a tub with both peanut butter cup and cookies & cream

Cookies – your favorite – we used chocolate chip, chocolate chip with candy and fudge stripe
Sprinkles – found in the baking aisle
Soda – we used IBC Rootbeer, Orange and Strawberry Crush
Treat Boxes – found in the Party Section at Walmart
Napkins – found in the Party Section
Mugs – found in the housewares department for under $1
Straws – found in the housewares department
What is your favorite type of Summer Party?