When I think of summer time, I think of S'mores- sitting around a campfire with friends and family, watching the lightning bugs, and even having a camp out- these are all the simple pleasures of summer! When I make s'mores I like to get creative. Recently, we had a BBQ and I taught some new friends How to Make S'mores– the crazy way!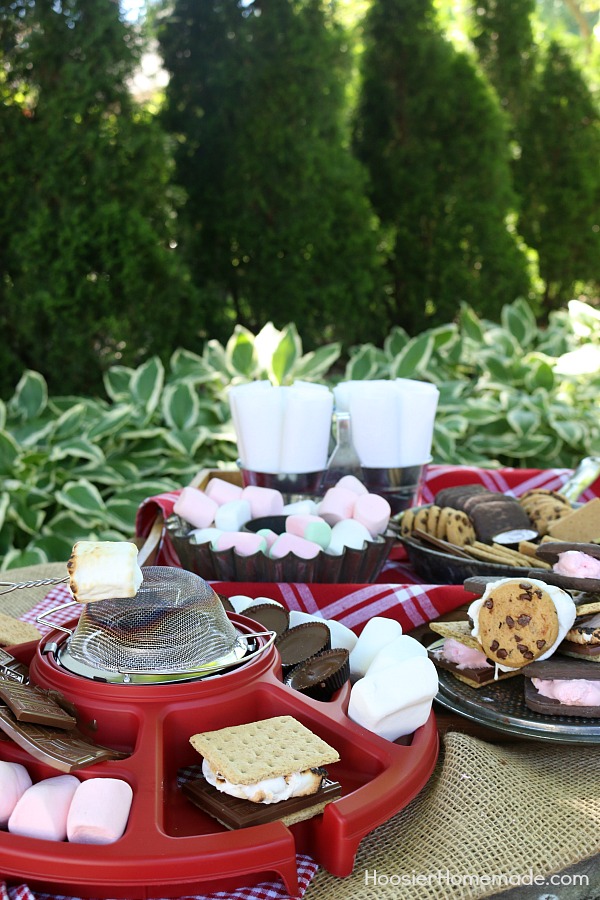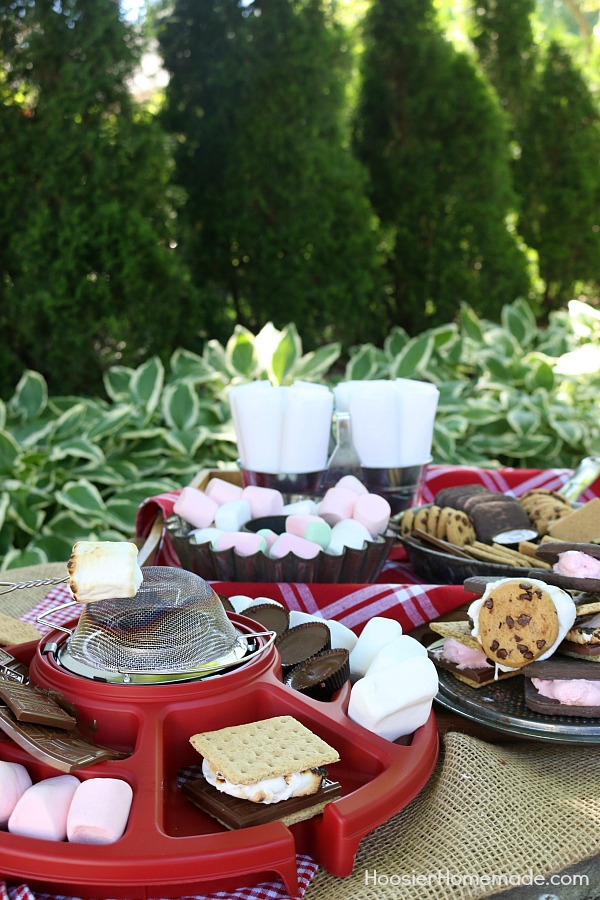 When I was planning our BBQ, I knew I wanted to make s'mores. But I also knew that I didn't really want to lug the fire pit out, make sure we had enough wood, tend to the fire, and keep all the little hands away. Sometimes, that is just such a hassle! So, I picked up a Sterno Family Fun S'mores maker- and it worked great! I think my very favorite part is you can use it inside or outside! Can you imagine making s'mores when it is snowing? Dream come true!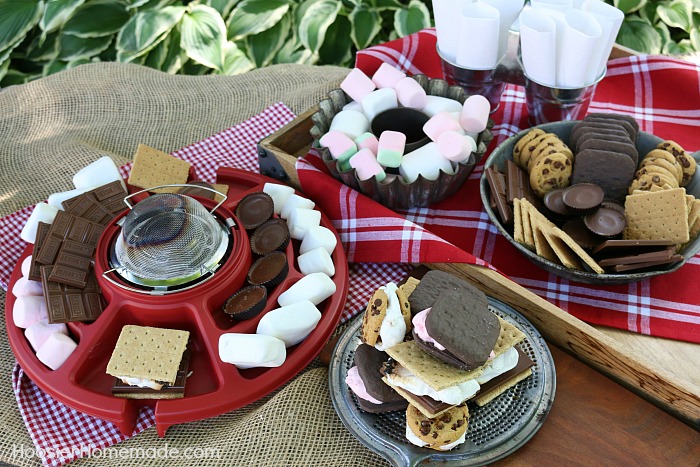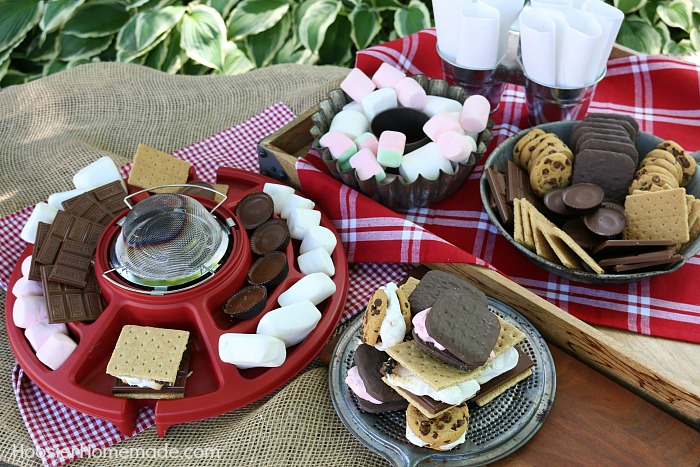 The Family Fun S'mores Maker comes with this nifty tray to lay out all of your ingredients. It also has a roasting screen so you don't burn your marshmallows- perfect for the kids. I loved the little shelf where you could lay down your s'more ingredients to put the marshmallow on- no more asking someone else to hold it for you! The kit also comes with 2 roasting forks.
Everyone knows that a s'more is made of three parts: graham cracker outside, chocolate and marshmallow inside. Those are great and all, but we were ready to get creative! We had three options for the outside- graham crackers, chocolate covered graham crackers, and chocolate chip cookies.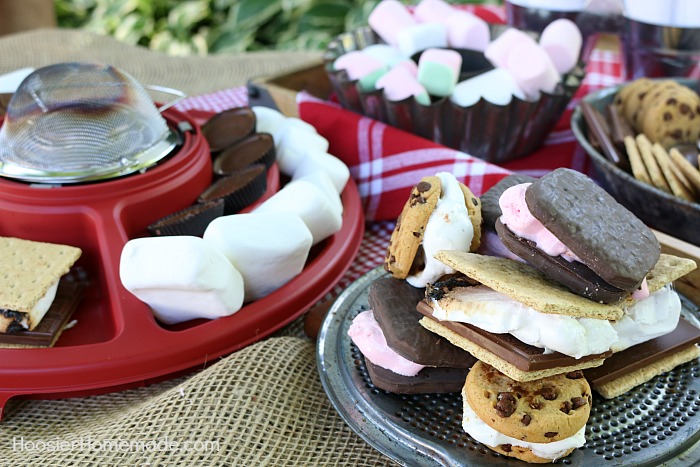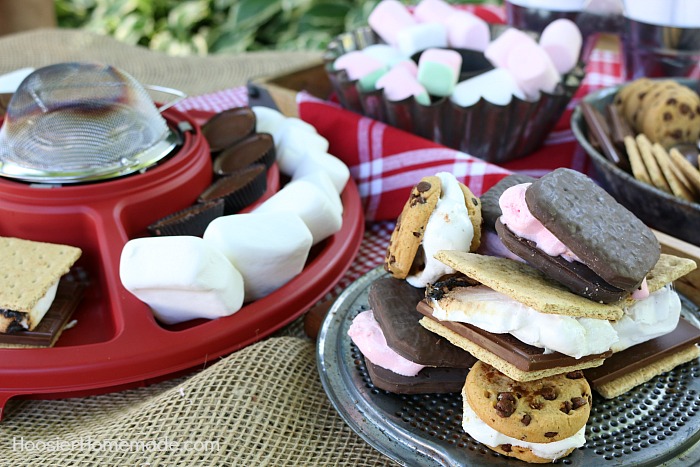 Next the insides! We used all types of marshmallows: jumbo, square, pink, watermelon, and regular. And we had regular chocolate bars and Reese's cups for the chocolate portion. So many combinations!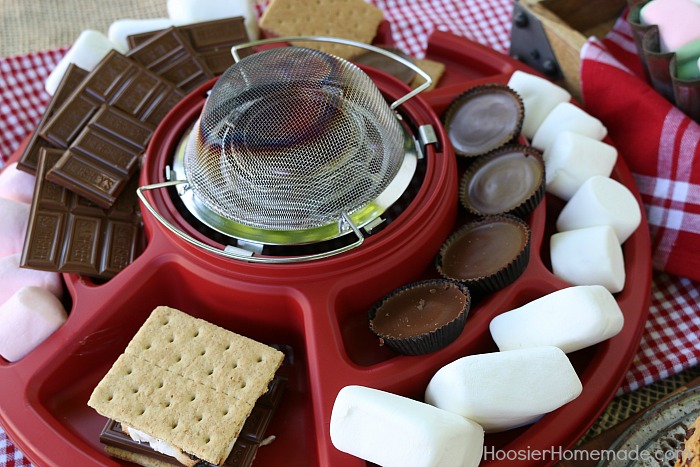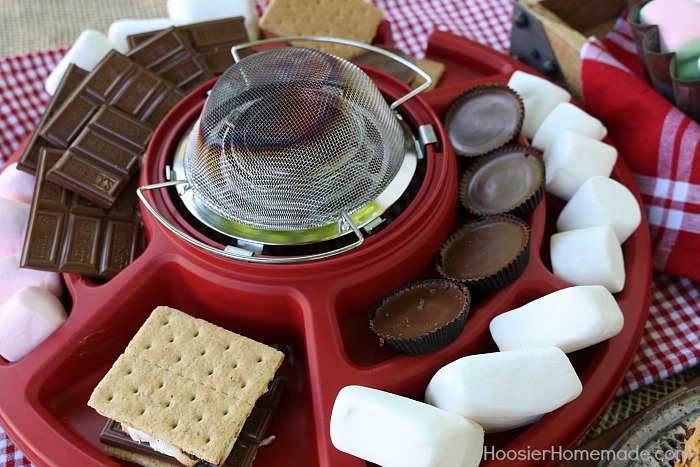 First, choose your marshmallow. My favorite was the square ones- since they are flatter, they seem to get gooey all the way through and they smoosh better. That was another great thing about using the Sterno instead of an open flame.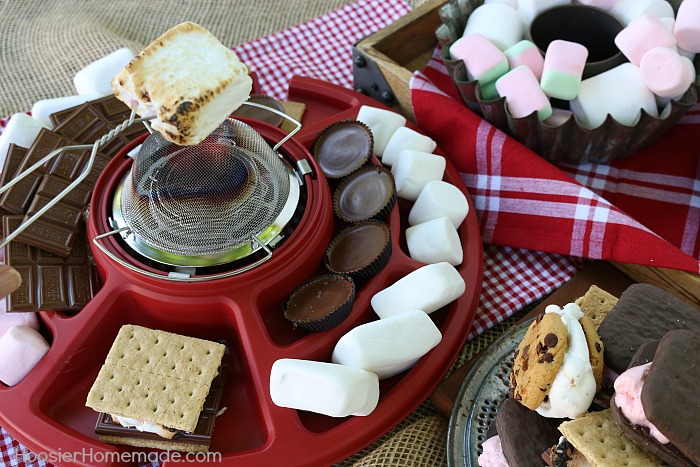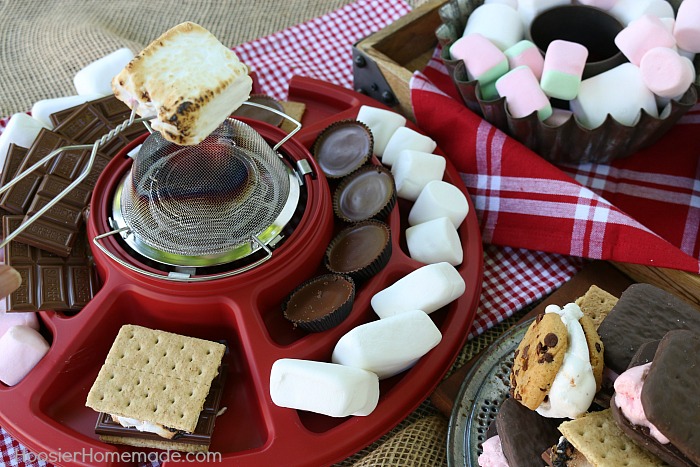 Then, make all the combinations you can think of! The most decadent? Chocolate chip cookie, square marshmallow and Reese's cup. Oh my goodness, it was heaven in a s'more! My other favorite was a regular s'more, but with the chocolate covered graham crackers!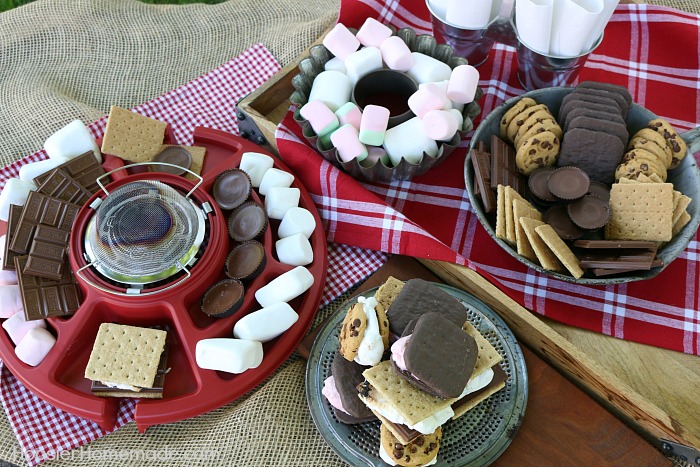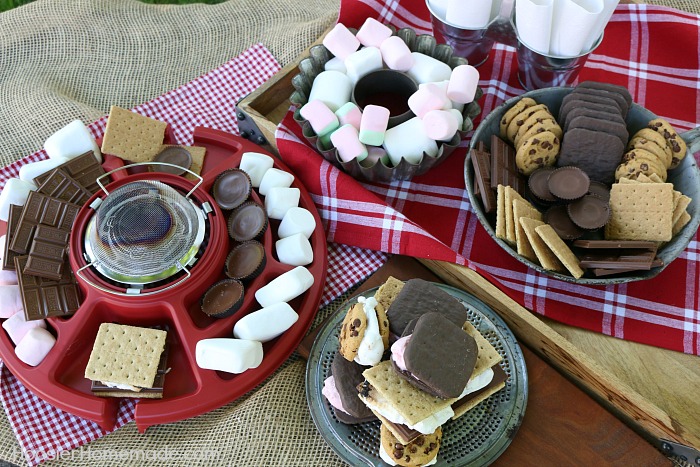 We all decided that for our next BBQ, we were going to have a competition! Each guest will bring one extra ingredient and then create their favorite combination. Then, we will each try a bite of every s'more and have a secret vote! With all that s'more eating, maybe we should skip dinner!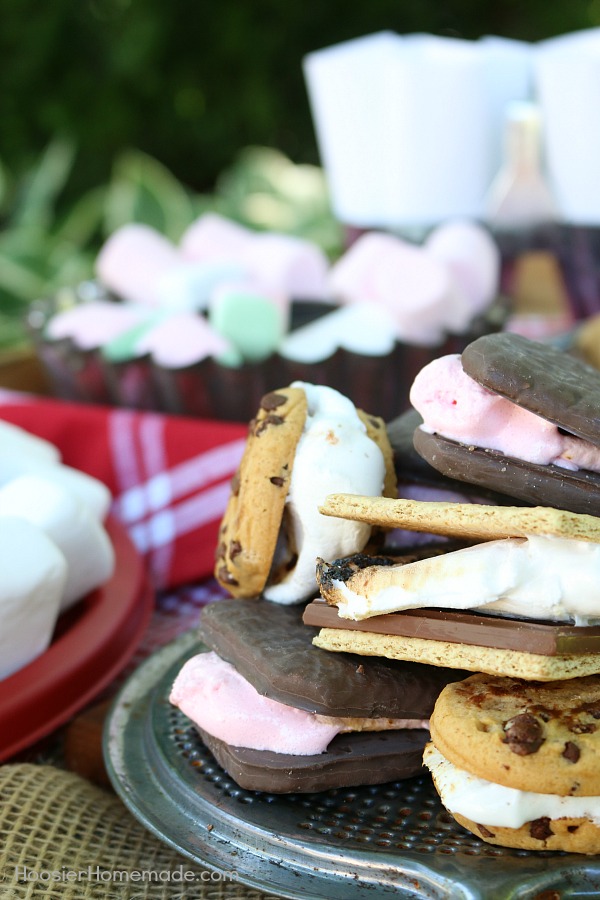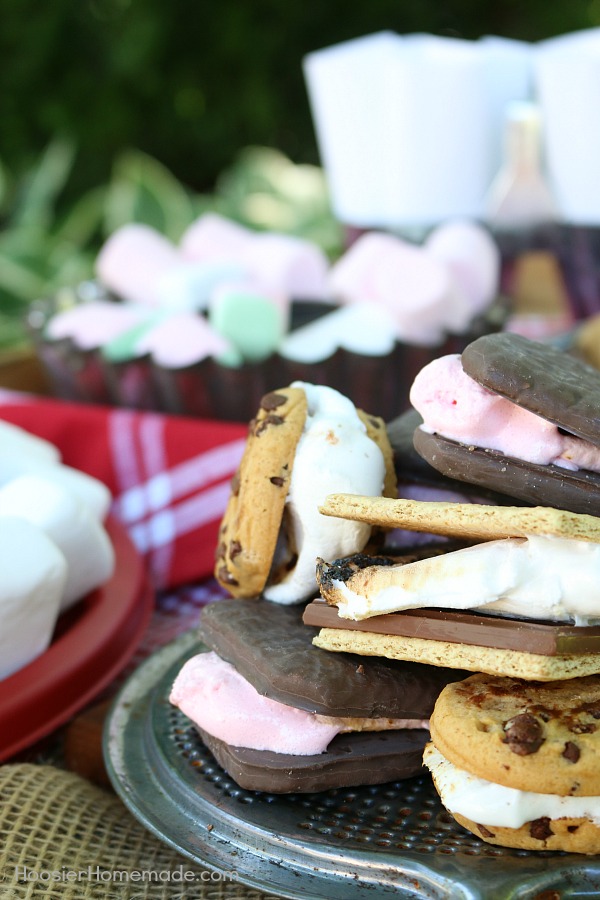 Here are some other ingredients we wanted to try:
Outsides: Cinnamon Graham Crackers, Peanut Butter Cookies, Snickerdoodles
For the chocolate: Peppermint Patties, Mint Chocolate, Salted Caramel
Add ons: jams and jellies, strawberries, bananas, Nutella, nuts, and toasted coconut
The options are limitless! We even started to dream up savory s'mores! Think about this- roast some tomatoes over the Sterno and put them on crusty bread with mozzarella-  Caprese  s'more! We could have a whole dinner around our Sterno Family Fun S'mores Maker!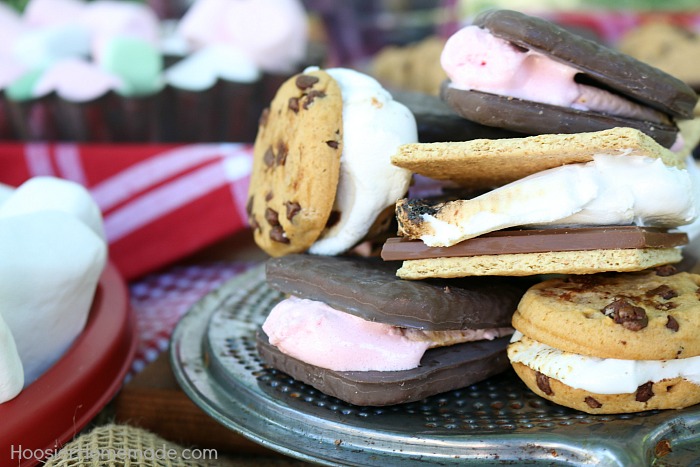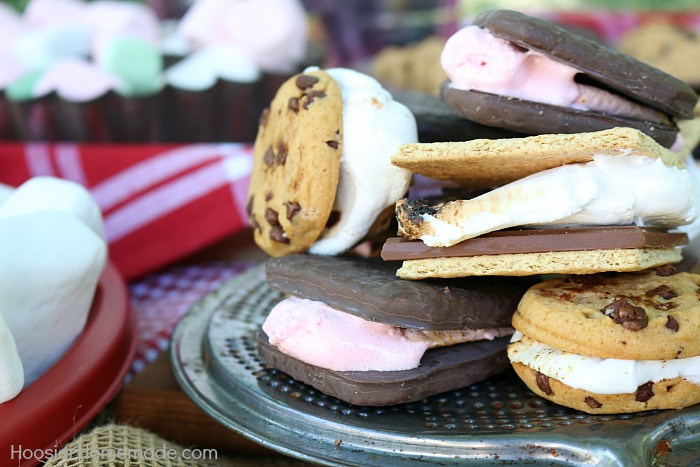 What are your favorite s'mores recipes? Do you love s'mores but not the hassle of the fire? Are you ready to win a Family Fun S'mores Maker? I have 5 that we are giving away!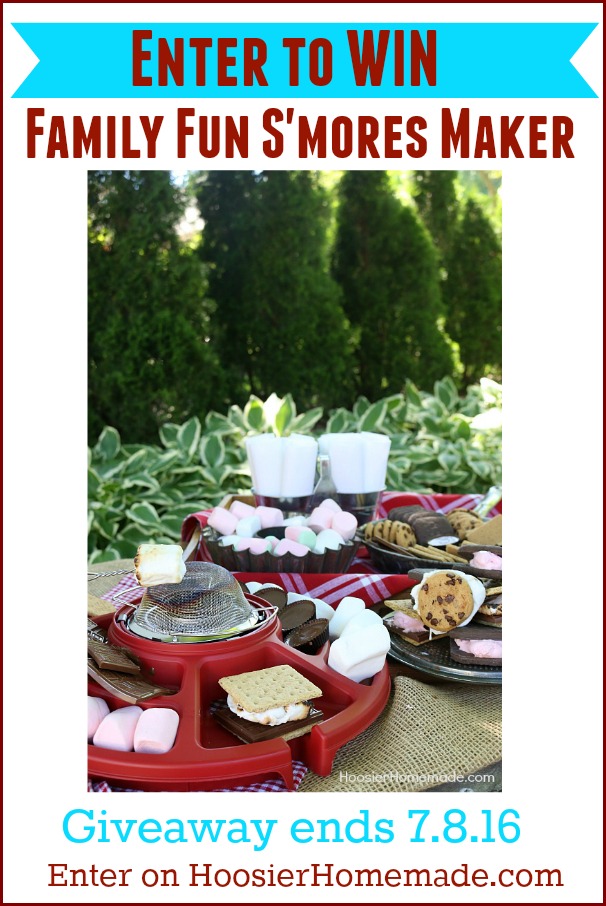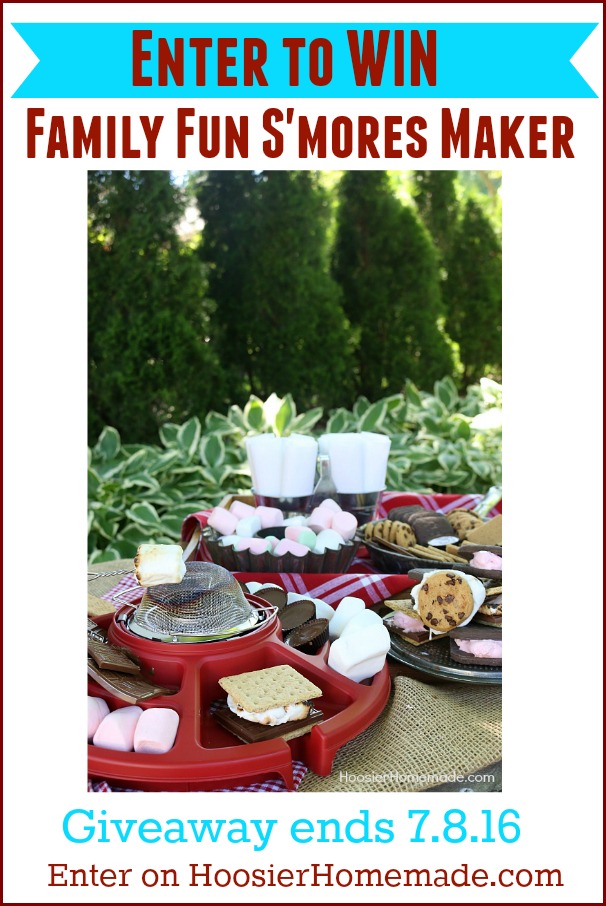 Visit the Sterno Family website for more information and for inspiration. They are social too – follow them on Pinterest, Facebook, Instagram, Twitter and You Tube.