These No Bake Strawberry Cheesecakes are super simple with only 3 ingredients for the filling plus the graham cracker crust. Topped with fresh Blueberries and Strawberries they make a perfect Fourth of July Dessert.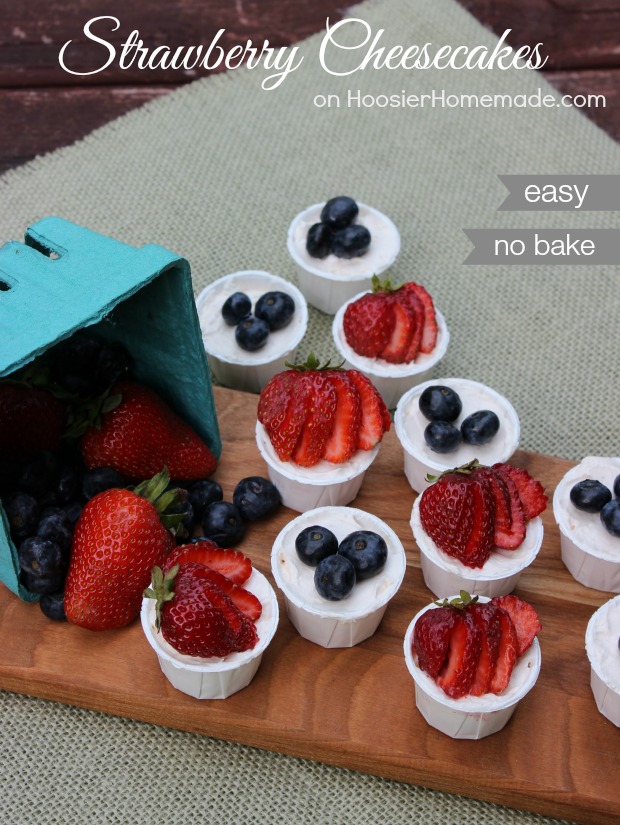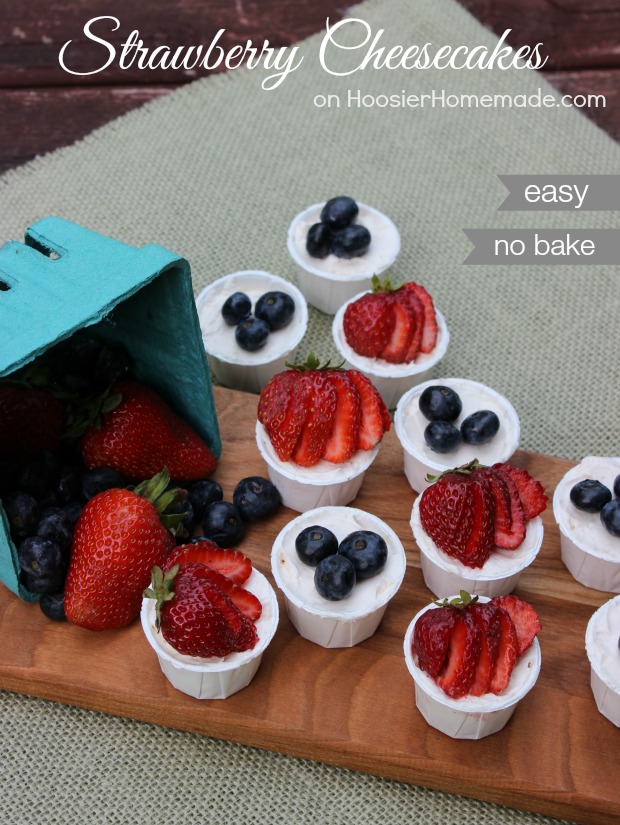 Who wants to spend all day in the hot kitchen creating amazing, delicious treats?
Raising hand…nope not me!
While I love to bake, during the heat of Summer, it's simply not top on my list. And really, I'd rather be at the beach.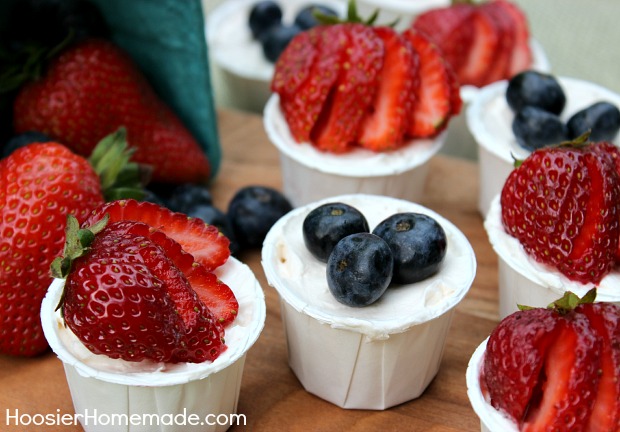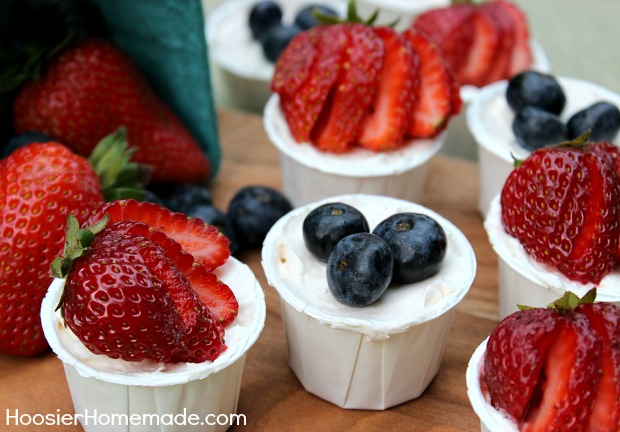 I first fell in love with this recipe when I made Cotton Candy Mini Cheesecakes. And truth be told…I'm not a cheesecake fan nor do I love cream cheese – but I love these cheesecakes.
This time around, instead of adding the tutti-fruiti flavoring for Cotton Candy, I simply changed the flavor to strawberry. The flavor options are endless…lemon, strawberry, raspberry, lime and the list goes on and on! And the toppings are endless. Adding fresh strawberries and blueberries on top makes these Strawberry Cheesecakes a fun and easy Fourth of July Dessert. They can be made up the day ahead, stored in the fridge and topped with the fresh fruit right before serving.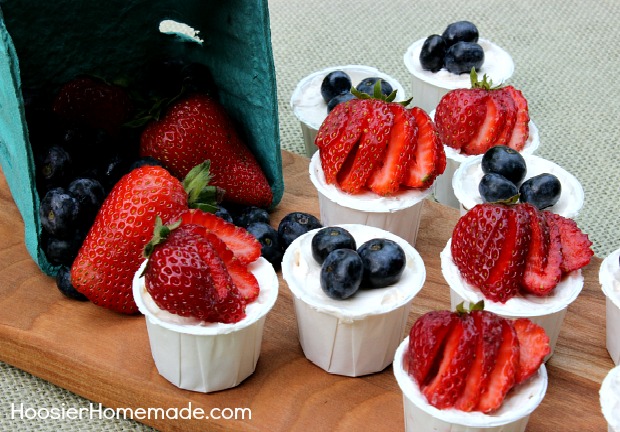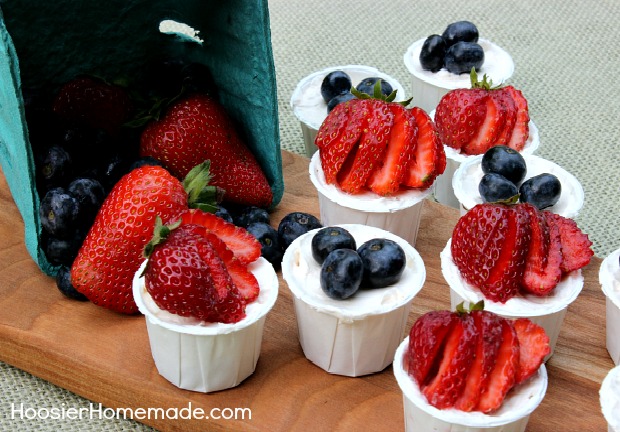 The size of container you use is up to you. I used paper nut cups this time, you can also use regular cupcake liners or a graham cracker crust, really any size works.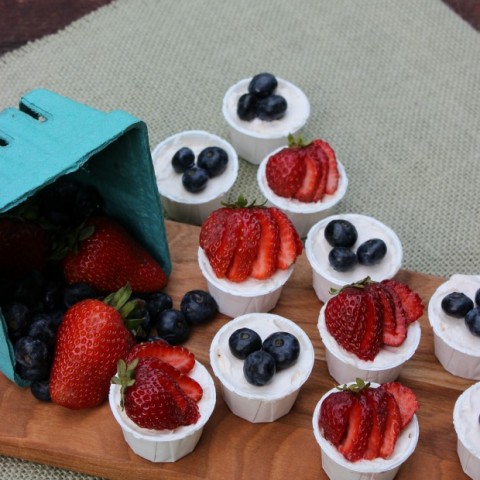 No Bake Strawberry Cheesecakes
Mini Cheesecakes with Strawberry flavoring and fresh fruit topping. Recipe on HoosierHomemade.com
Ingredients
1 package (8 oz) Cream Cheese, softened
1/3 cup sugar
1 tub (8 oz) COOL WHIP Whipped Topping, thawed
1 sleeve of graham crackers, crushed
1/4 cup butter, melted
2 teaspoons Strawberry flavoring – available in the baking aisle
Instructions
In a large bowl, cream together the cream cheese and sugar until well blended.
Stir in COOL WHIP until smooth
Add flavoring a little at a time
Crush graham crackers in a resealable bag with a rolling pin
Melt butter in microwave and add to graham cracker crumbs, stir well. Mixture should hold together, add more butter if needed.
Spoon graham cracker mixture into liners and press down with the back of the spoon. Add about 1-2 tablespoons per liner depending on the size
Spoon in cheesecake filling, smooth with back of spoon
Place in fridge to set about 3 hours
Add fruit just before serving
Store leftovers in fridge
Notes
Total times includes chilling. This recipe can be made in any size pans, mini cupcake liners, regular cupcake liners, cheesecake pan, etc. Servings will depend on size of container