You knew I couldn't let the 4th of July Holiday go by without sharing some Easy No Bake Treats with you. I've gathered up some of my favorite desserts, came up with a few new ones, added some Free Printables and pulled it all together in a 4th of July Dessert Bar!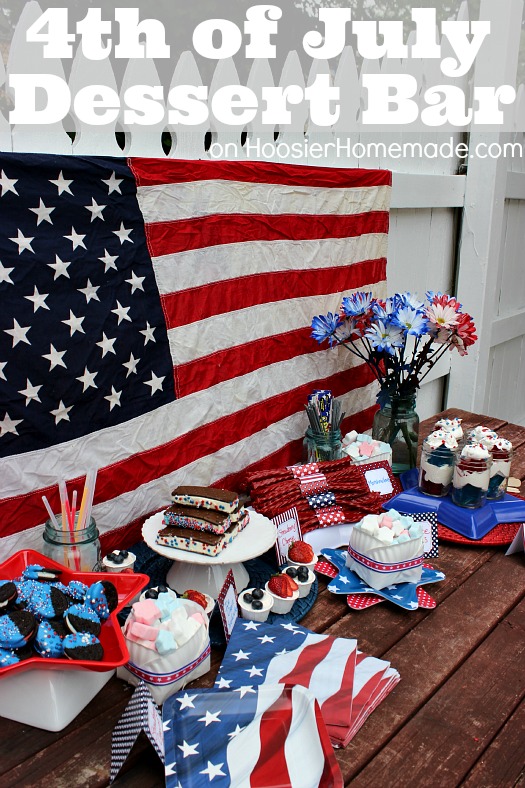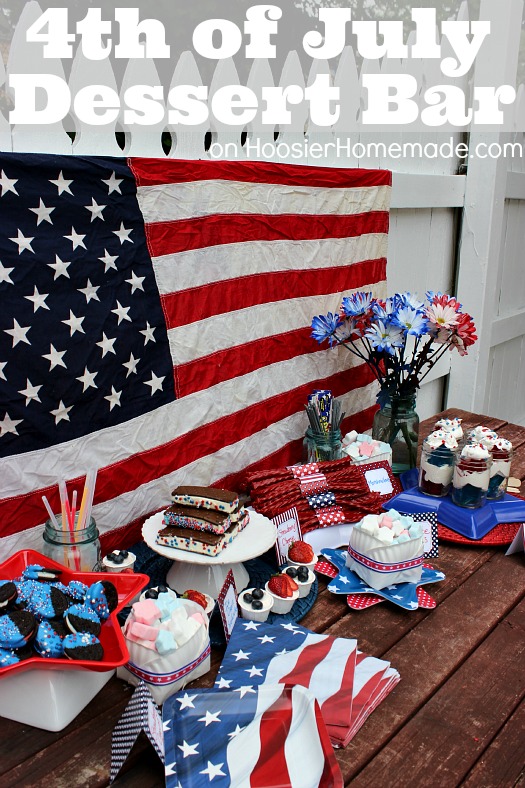 Super fun + super easy! Let's get started…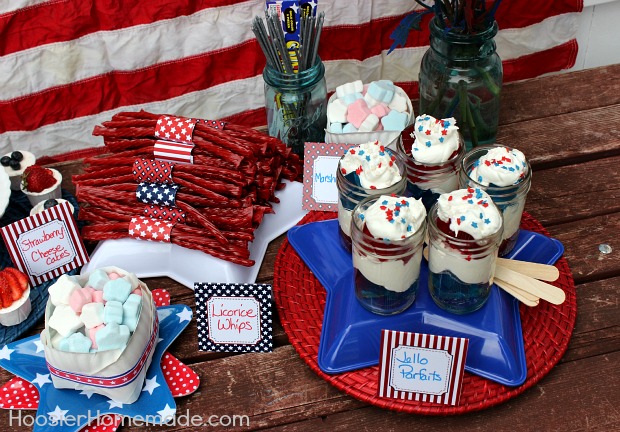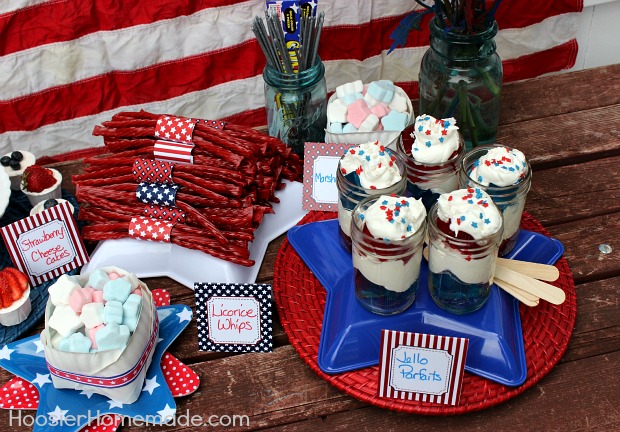 We found everything we needed at Walmart. First up, on one end of the table are the 4th of July Jello Parfaits, you can find the recipe here. An aqua mason jar holds red and blue daisies from the Floral Department at Walmart, at $3.88 they add a nice splash of color.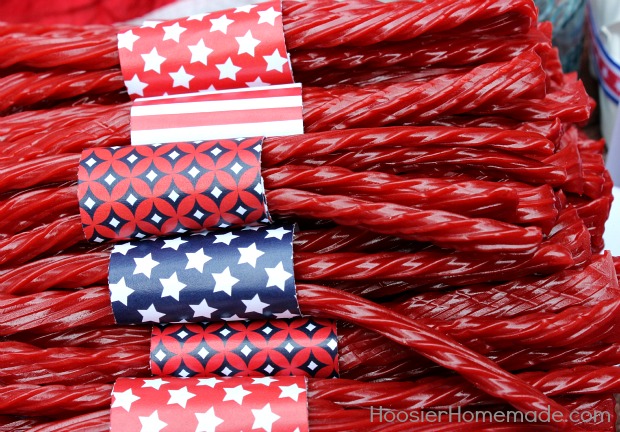 The red licorice is wrapped in the same Printable Wrappers we used on the Hot Dog Bar. These would also be a fun treat to pack for the parade or fireworks.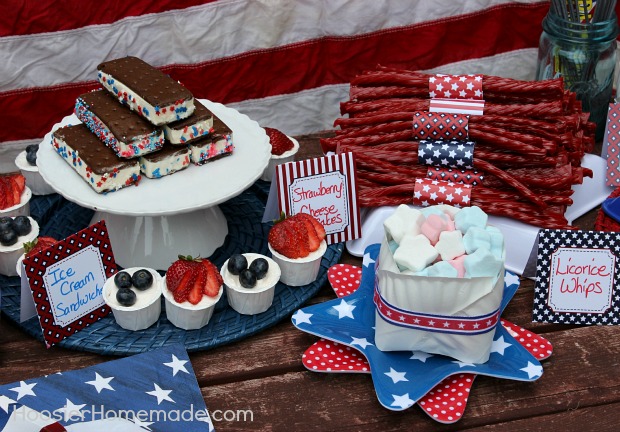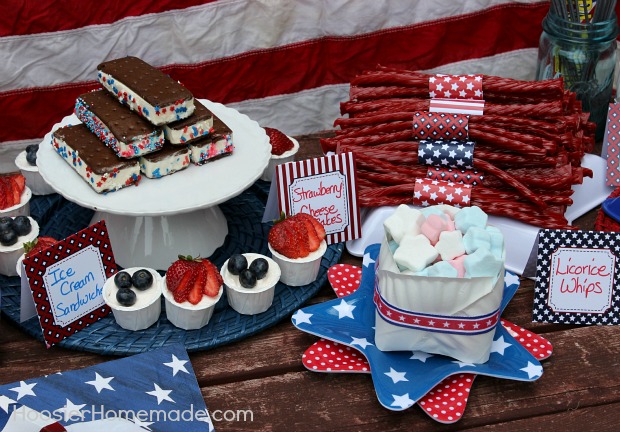 In the center of the table, there are Paper Plate Bowls filled with star shaped marshmallows. And behind them Mini Ice Cream Sandwiches with festive sprinkles and No Bake Strawberry Cheesecakes with fresh fruit.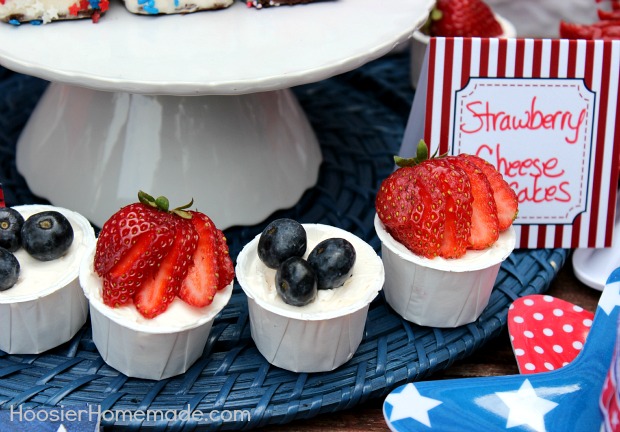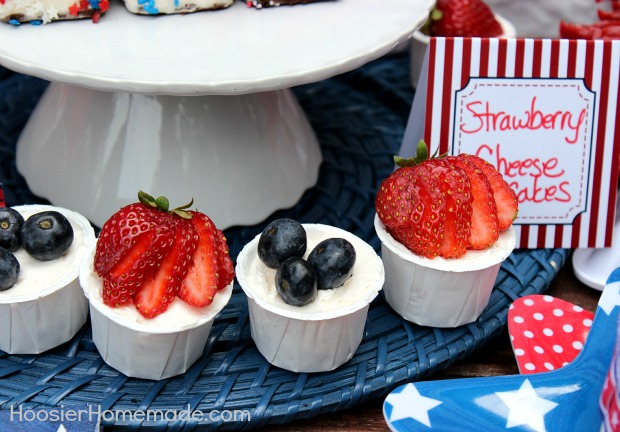 The No Bake Strawberry Cheesecakes are the same recipe that I used on the Cotton Candy Cheesecakes, I simply substituted strawberry flavoring for the Tutti-Fruiti.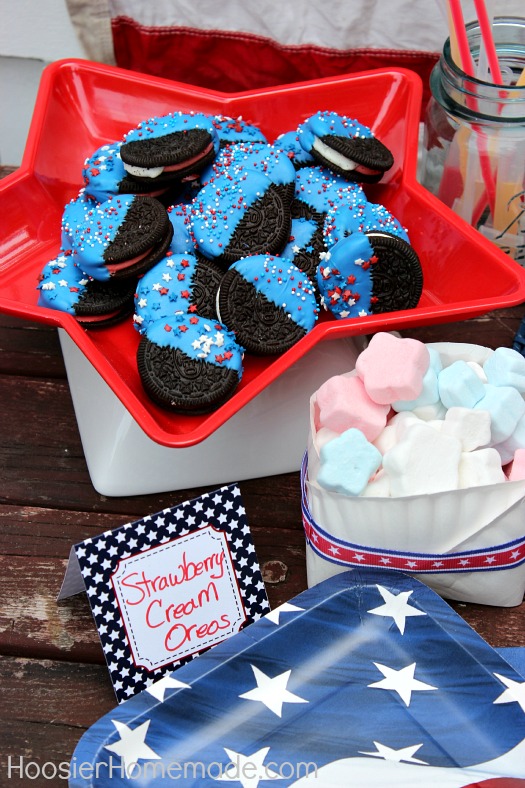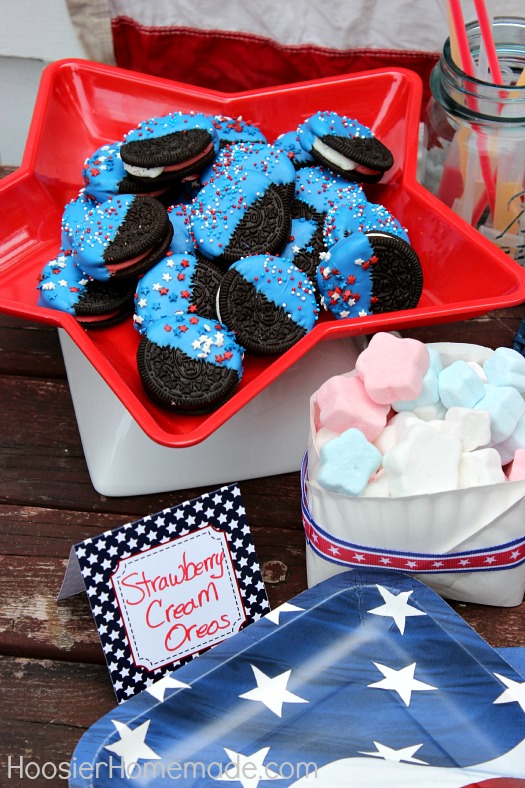 The Strawberry Cream Oreos are dipped in blue candy melts. I found Wilton light blue candy melts in the Party Section at Walmart and then added a bit a Wilton Candy Coloring to make it a bit darker. It's important to buy the candy coloring, if you use regular gel or food coloring in the candy melts they will seize up.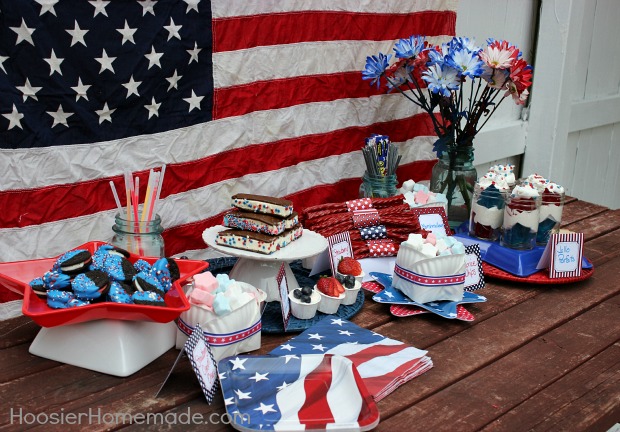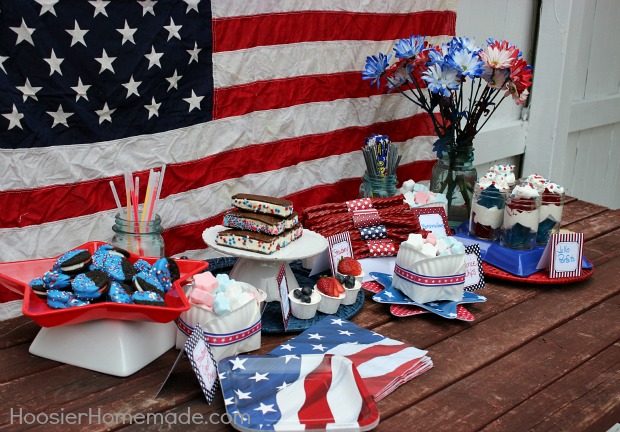 I know you want to recreate this fun 4th of July Dessert Bar, so here is everything I used…
4th of July Dessert Bar
Patriotic Oreos
Oreos – any flavor – I used the Strawberry Cream because they have red and white filling making them festive for the 4th.

Blue Candy Melts
Wilton Candy Coloring
Sprinkles
Instructions
In a microwave safe bowl, heat candy melts about 2 minutes, stir and then heat 20-30 seconds, stirring until completely melted

Add a very small amount of Candy Coloring and stir well until you get the desired color
Dip half of Oreo cookie into candy melts and immediately add sprinkles
Place on wax paper to set
Patriotic Ice Cream Sandwiches
Mini Ice Cream Sandwiches – only $2.97 at Walmart

Sprinkles
Instructions
Dip edge of sandwich lightly into water and then add sprinkles

Return to freezer until ready to serve
No Bake Strawberry Cheesecake
Paper Plate Bowls
Fill with Star Shaped Marshmallows found in the baking aisle
Licorice
Red Whip Licorice – found in the candy aisle – $1.88 each

Print out the wrappers, wrap around licorice and secure with tape
4th of July Jello Parfaits
Extras
4th of July Flag Paper Plates and Napkins – found near the seasonal items – $1.47 each

Flowers from the Floral Department at Walmart – $3.88 each
Glow Necklaces and Glow Sticks – less than $3 each
Sparklers – $2 for 6 boxes
All of the dishes I displayed the food on were ones that I already had
4th of July Dessert Bar Printables

A special Thank You to Charlotte from The Paper Cupcake for designing the printables!!