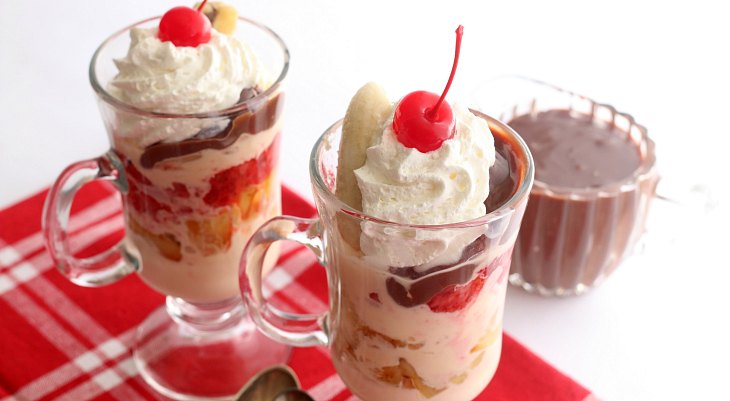 Banana splits are such a classic and iconic dessert, but these Banana Split Sundaes take it to a whole new level! With grilled fruit and layered ice cream , this sundae will be your new favorite way to enjoy a banana split!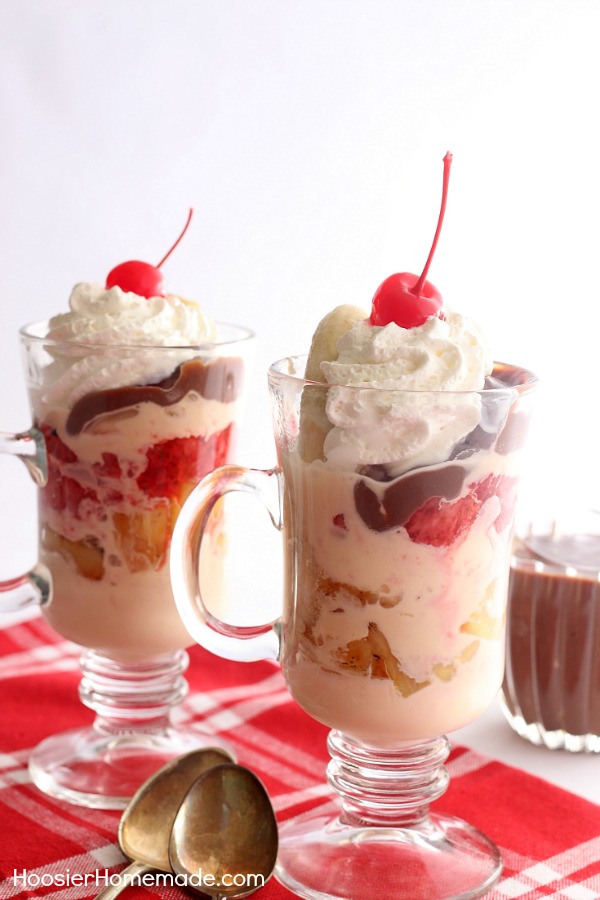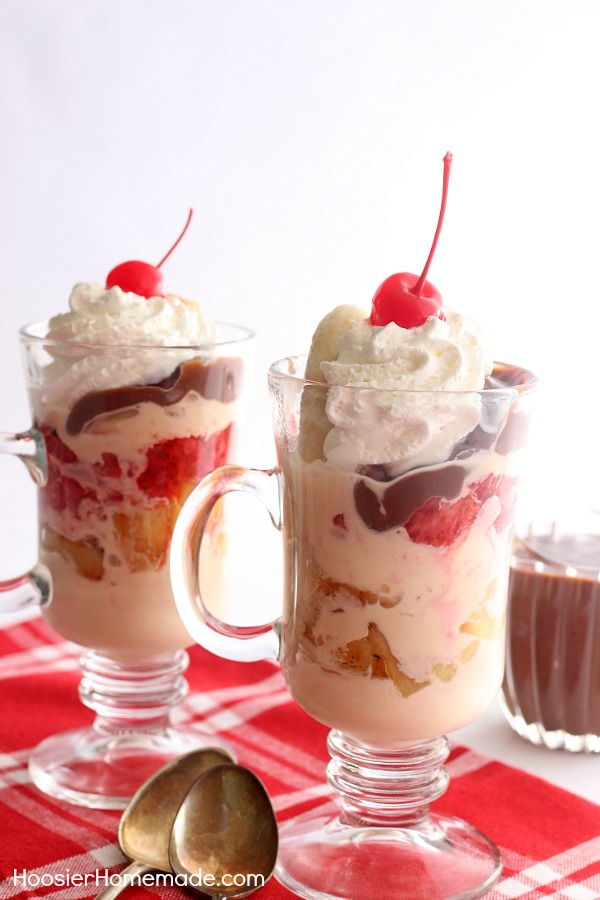 Growing up, my mom used to make banana splits as a special treat. I hadn't had one in forever, so I decided to put my spin on the recipe. I have learned over the years that trying to make something like mom did doesn't really work- it is never just right! But putting my own spin on the recipe is so much fun!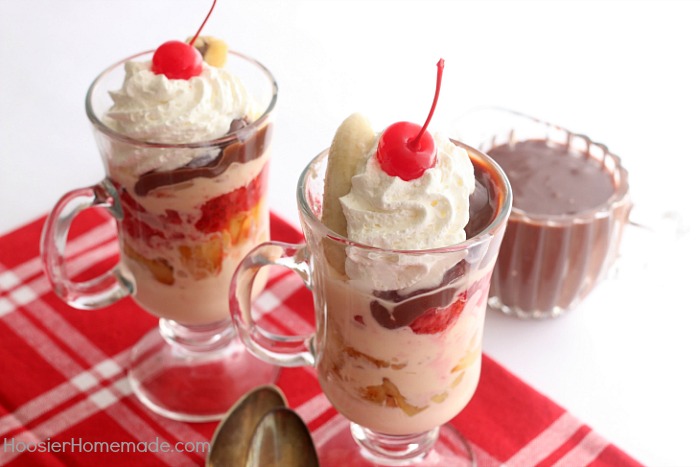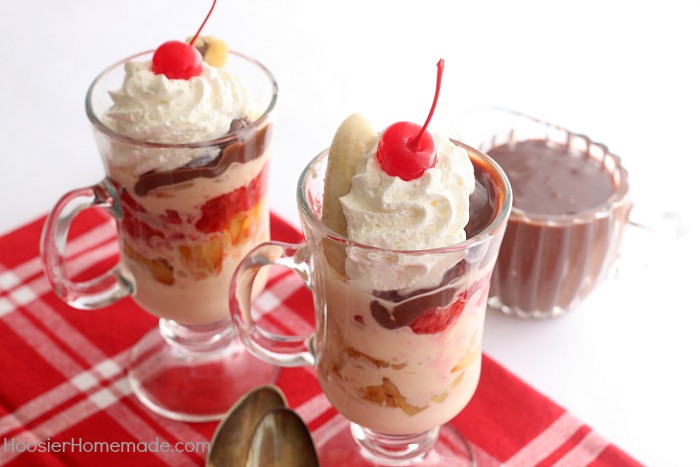 Sundae glasses are always so much easier to eat out of for me- much less spilling happens! Maybe I am just messy, but this was my first change, making a banana split into a banana split sundae!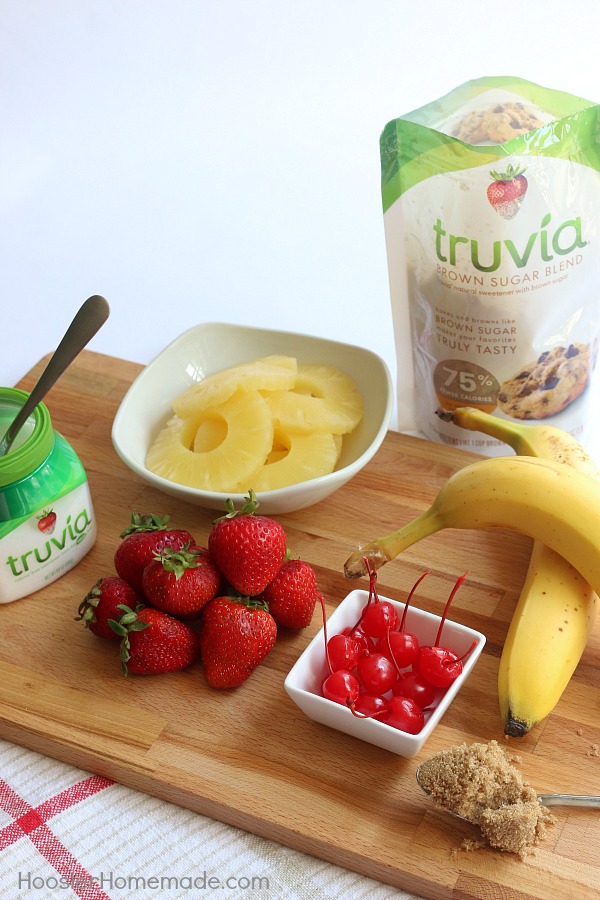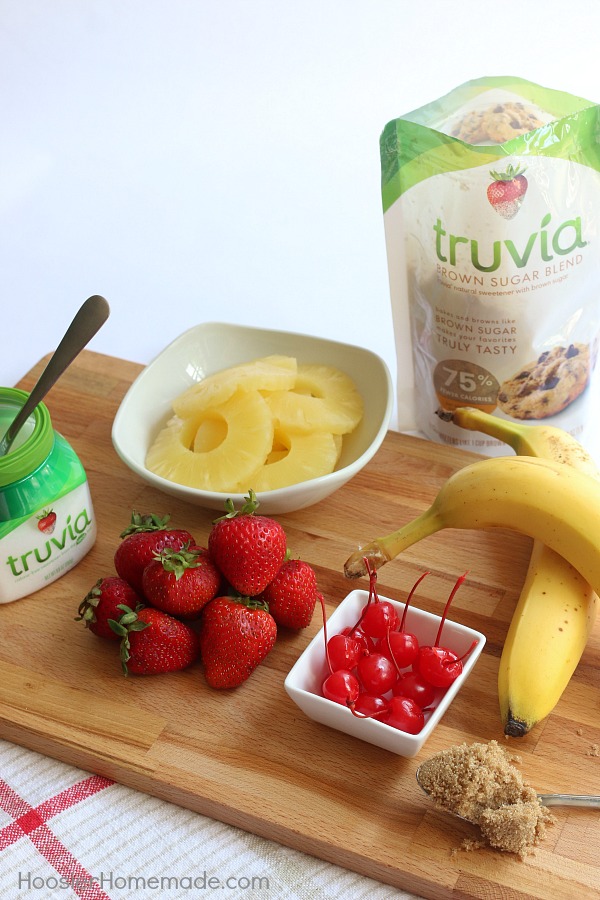 The next thing I wanted to change was the fruit. Bananas are great, but summer means there is a lot of fresh fruit readily available and that the grill is always on! So I sprinkled strawberries with Spoonable Truvia and the bananas with Brown Sugar Blend Truvia and threw them on the grill with well drained pineapple. Grilling fruit really brings out the flavor, and the caramelized sugars made the bananas the highlight of the dessert!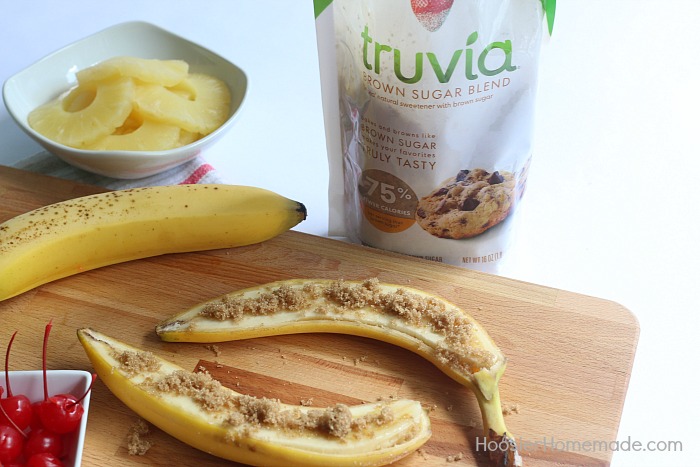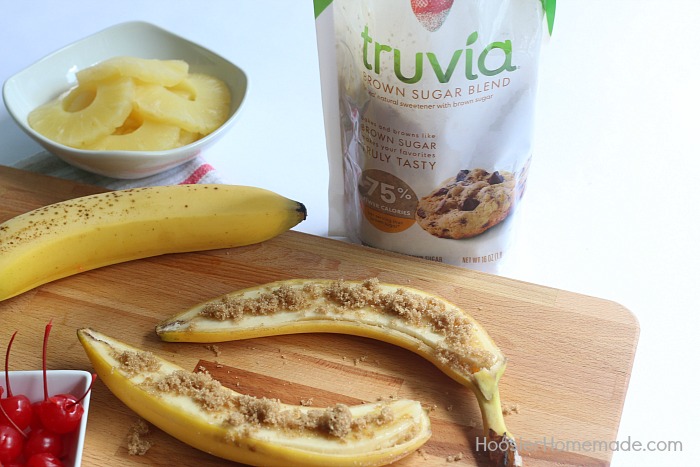 Tip: Grill the bananas whole so they don't fall through the cracks in the grill! And put the strawberries on a skewer- it makes them much easier to turn over!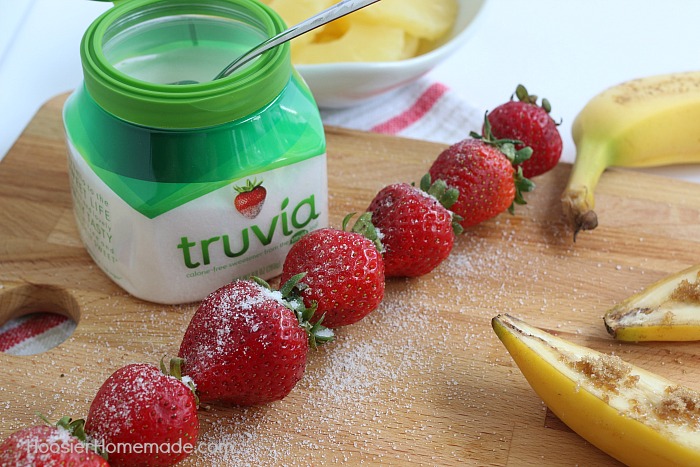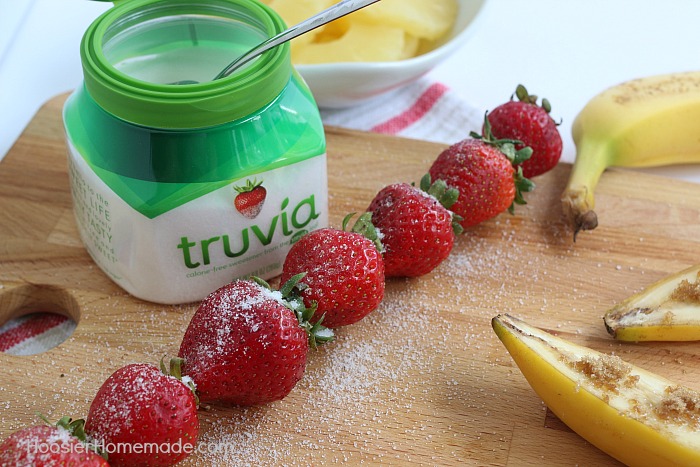 Make sure that you let the fruit cool completely before assembling your sundae- otherwise the ice cream will be a melty mess! Once the fruit is cool, cut it into bite sized pieces.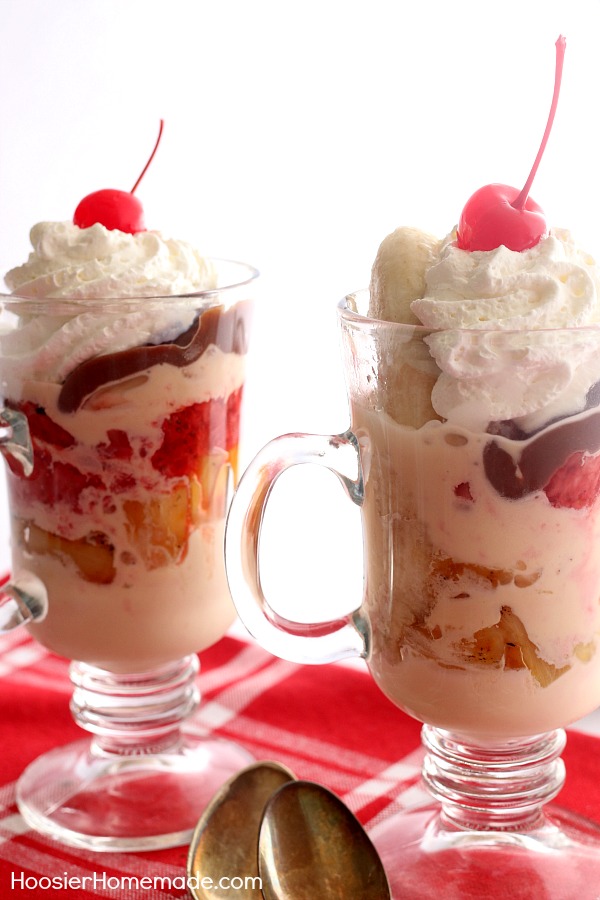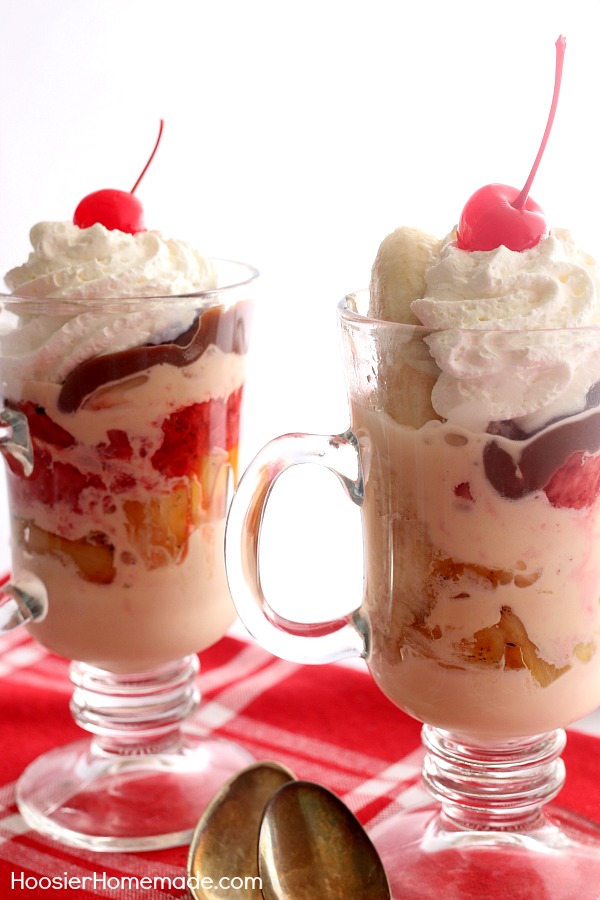 It is time to assemble! In your sundae glass add ice cream, then pineapple, another scoop of ice cream, strawberries, and a final scoop of ice cream! Add hot fudge and top with whipped cream, a cherry, and half of a banana! It doesn't get much better than that!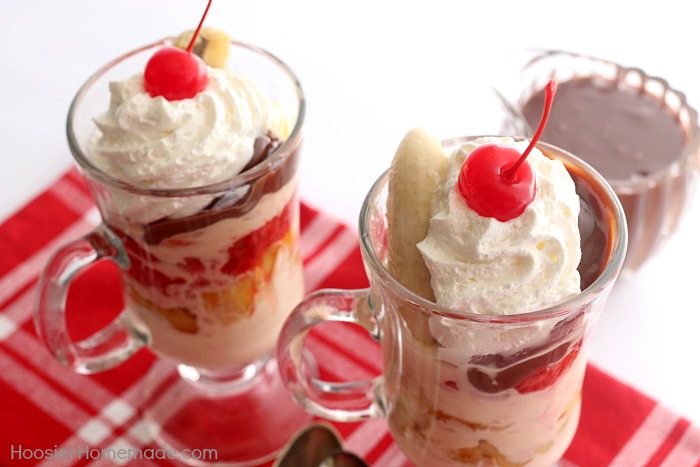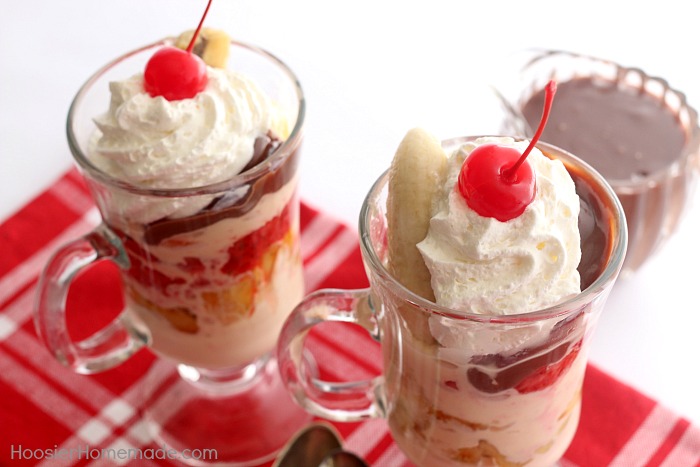 These banana splits are so decadent- but easy enough to serve at a party! Grill up a bunch of fruit, put out ice cream, and let guests create their favorite combinations. The grilled fruit really sets these things over the top!
What does your favorite banana split sundae look like?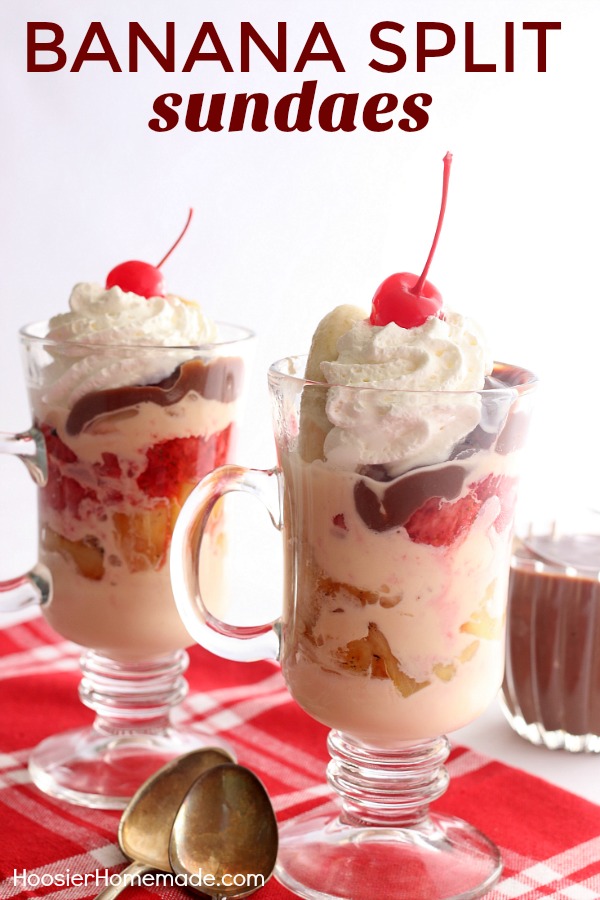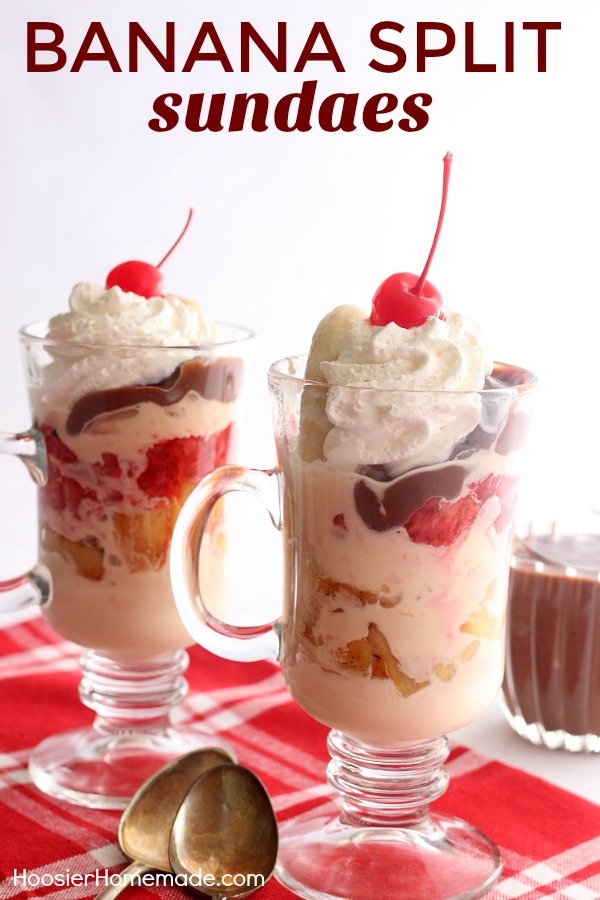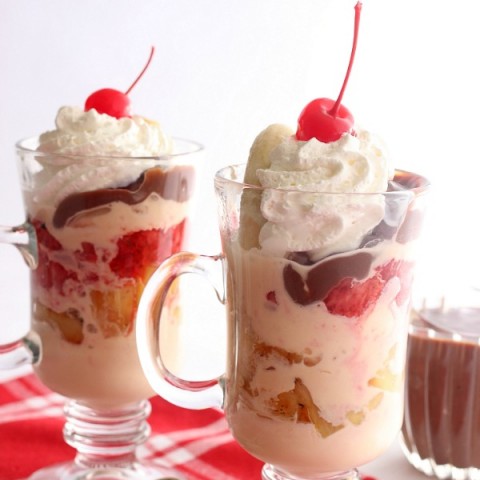 Banana Split Sundae
Who says your Banana Split can't be layered in a glass? These Banana Splits have a special ingredient - grilled fruit! Grilling the fruit takes the flavor to a whole new level!
Ingredients
Vanilla Ice Cream
Pineapple - fresh or canned
Bananas
Truvia Brown Sugar Blend
Strawberries
Truvia Spoonable
Hot Fudge Sauce
Maraschino Cherries
Whip Cream
Instructions
Grilling Fruit
Bananas - slice banana in half and sprinkle with Truvia Brown Sugar Blend
Strawberries - thread berries onto a skewer and sprinkle with Truvia Spoonable
Pineapple - drain canned pineapple well
Heat grill to medium high, brush grates with cooking oil
Place all fruit on grill at the same time
Place banana skin side down on to grill, cook for 2-3 minutes, turn and cook for 2-3 minutes or until nicely brown
Lay skewer of strawberries on to the grill and cook 6-8 minutes, turning often
Lay pineapple directly on to grill, turn when you see the pineapple begin to loose moisture, cook until brown
Remove from grill and let cool
Sundaes
Cut pineapple and strawberries into small pieces
In a tall glass add 1 scoop of ice cream, add pineapple
Add another scoop of ice cream, add strawberries
Add another scoop of ice cream, add hot fudge
Top with whip cream and cherry and a banana
Follow Truvia on Pinterest, Facebook, Twitter and You Tube