One of the best things about summer are all the great salads you can make. They are quick, easy and refreshing in the heat.
During a quick trip to Aldi's Grocery Store today, they had cucumbers for .49/each, I couldn't pass them up, since our garden is quite a bit behind, and we don't have any cukes ready yet.
Thinly slice 3-4 cucumbers ( I peel them leaving a strip to make them look pretty)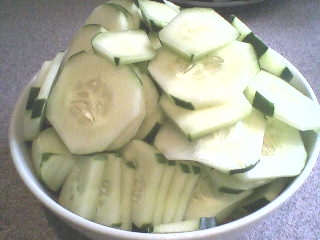 Toss in 1 small onion, thinly sliced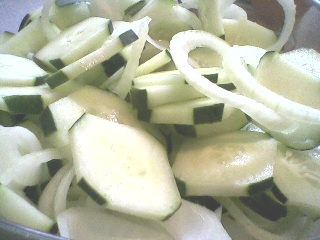 Sprinkle on 1 heaping hand full (that's technical for tablespoon) of celery seed and 1 small hand full of Accent Salt
Bring to boil on stove, 1 c. White Vinegar, 1/2 c. Water and 3/4  c. White Sugar. Pour over cucumbers.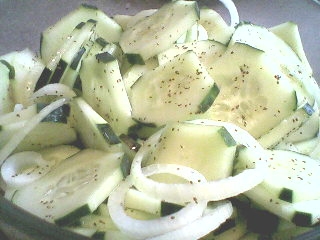 Cover and chill. You can eat the salad at room temperature, but it should marinate for at least 1 hour.
For more great blog carnivals, please visit:
~Famly Recipe Friday hosted by Vanderbilt Wife 
~Ultimate Recipe Swap hosted by Life As Mom 
           (they are having a Salad Round-up today)