Meyer Lemon & Strawberry Pie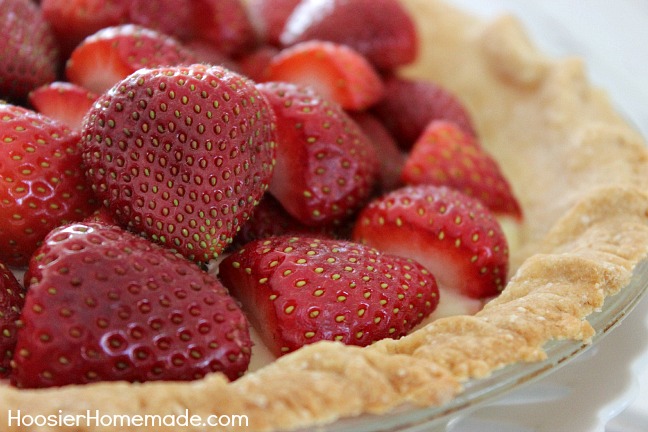 Well my friends, Spring is on the way, at least we are hoping it is! Spring brings to mind…tulips, daffodils, trees budding, fresh air and of course Spring Desserts…especially lemon and strawberry! Ever since I used the Meyer Lemons in the Citrus Drop Cookies last month, I've been on the lookout for another delicious recipe to use them again.
As I was flipping through my Pillsbury wall calendar, I spotted the Meyer Lemon & Strawberry Pie, and with the beautiful, juicy strawberries in the store right now…it was a win – win!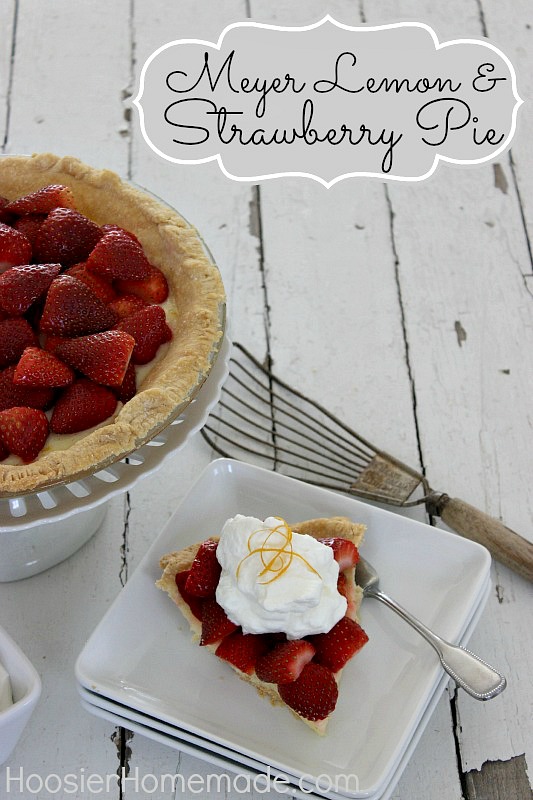 The filling is a light yet tangy lemon flavor cooked on the stovetop and spread in a flaky pie crust. Then topped with fresh strawberries and a heaping spoonful of whipping cream…heavenly!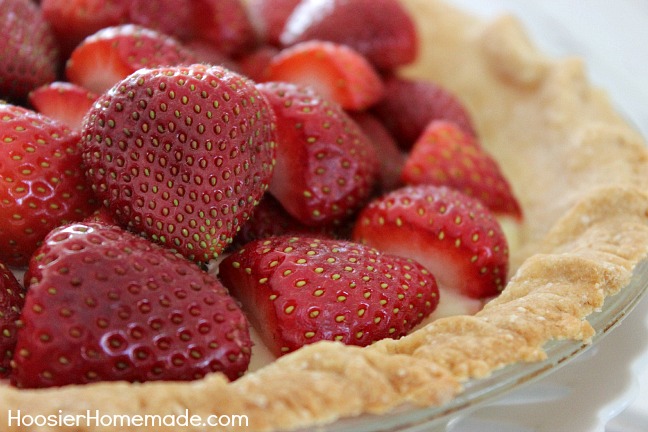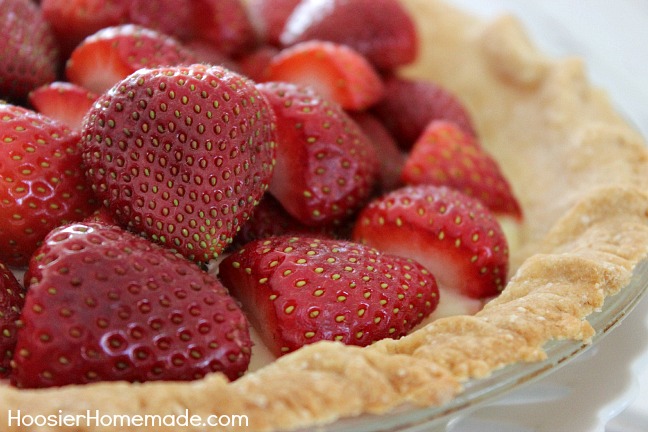 Let's get baking…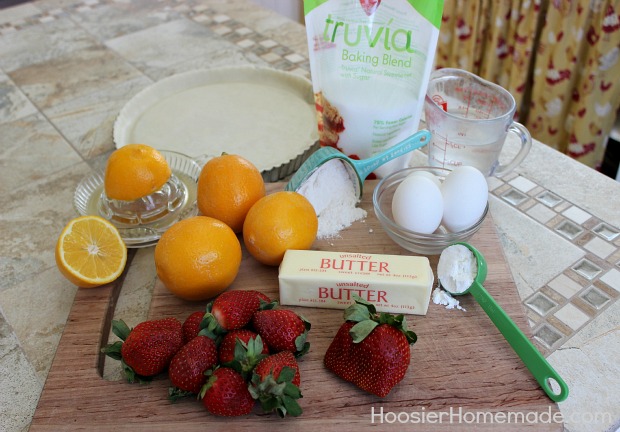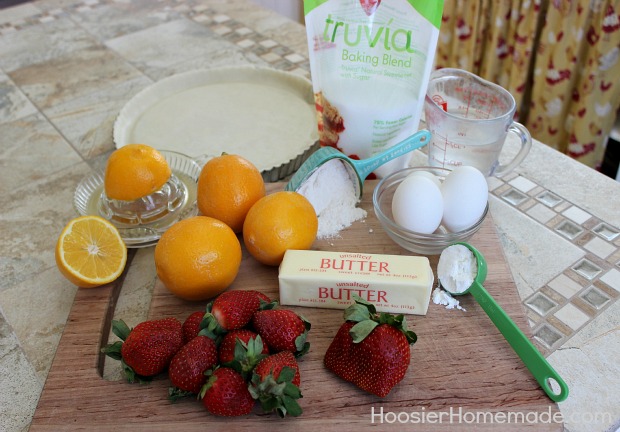 The ingredient list is simple; Meyer Lemons, egg yolks, flour, cornstarch, water, butter and Truvia Baking Blend combined for the filling. The pie crust can either be store bought or homemade. It's actually very easy to make pie crust, I used the recipe from Barbara Bakes. And fresh strawberries for the top. Oh and…did you know today is National Strawberry Day?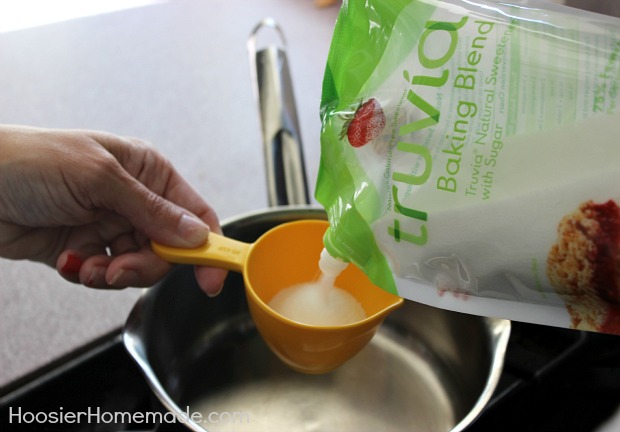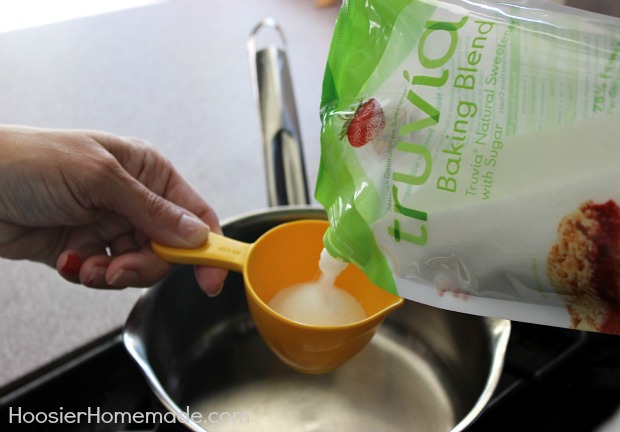 First you will combine the flour and Truvia Baking Blend in a saucepan, then gradually add the water. Remember Truvia Baking Blend is a sugar substitute blend of zero-calorie Truvia natural sweetener and sugar and packaged in a product that's designed for easy, at-home baking. It also can be substituted for sugar in any recipe by simply using half as much Truvia Baking Blend as you would sugar.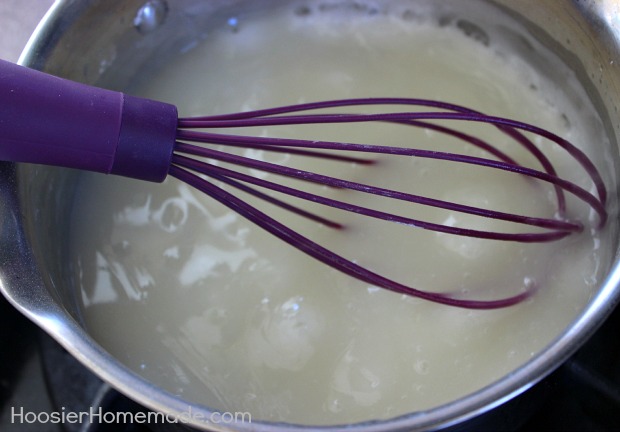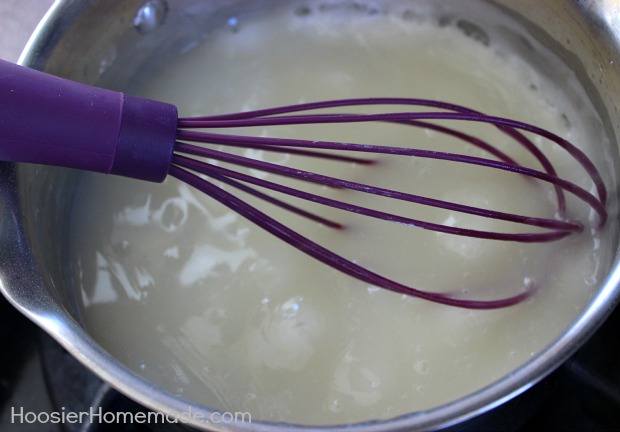 Bring the mixture to a boil over medium heat, cook and stir for 1 minute longer.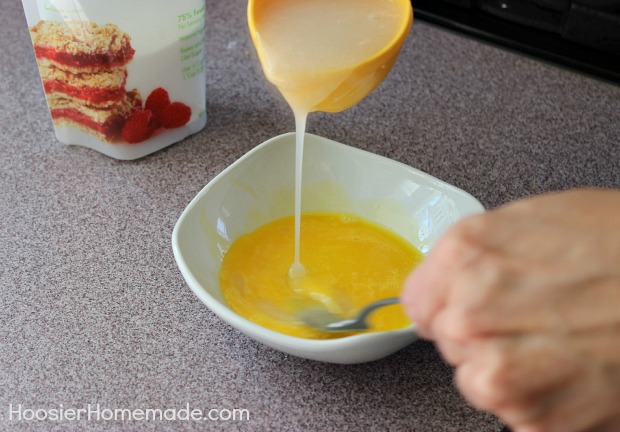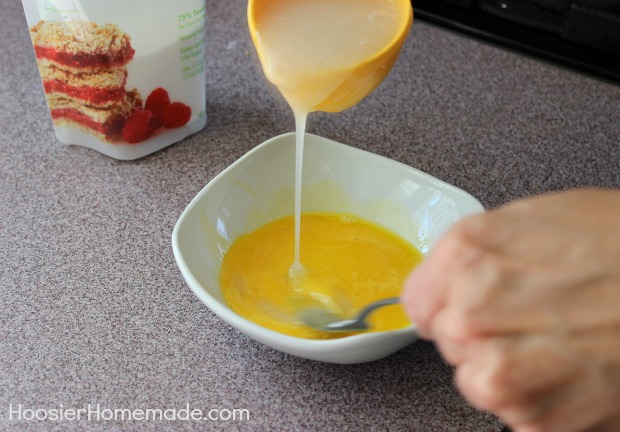 Next you will need to temper the egg yolks, this is very simple, just whisk 1/2 cup of the cooked mixture into the egg yolks, then gradually stir the egg mixture back into the cooked mixture.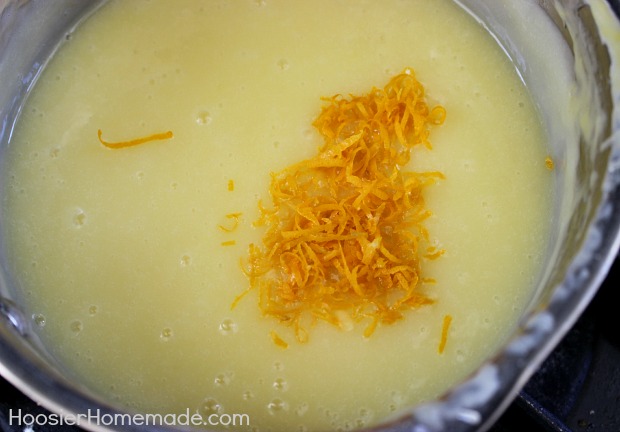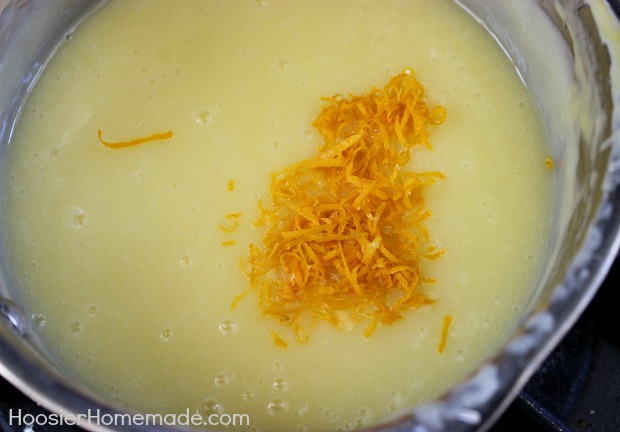 Now add in the lemon juice and peel, cook for about 5 minutes, stirring constantly until the mixture is thickened. Remove from the heat, and stir in the butter. Let stand for 10 minutes before pouring into the baked and cooled pie crust.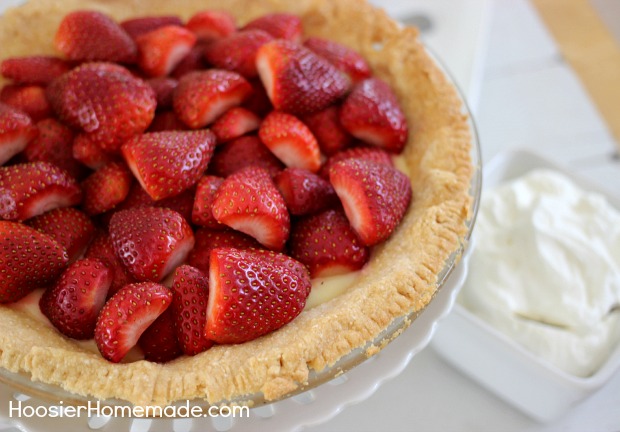 After the filling has cooled in the fridge for a couple hours, then clean and slice the strawberries and add on top of the filling. Serve with fresh whipping cream and you have a delicious Spring Dessert!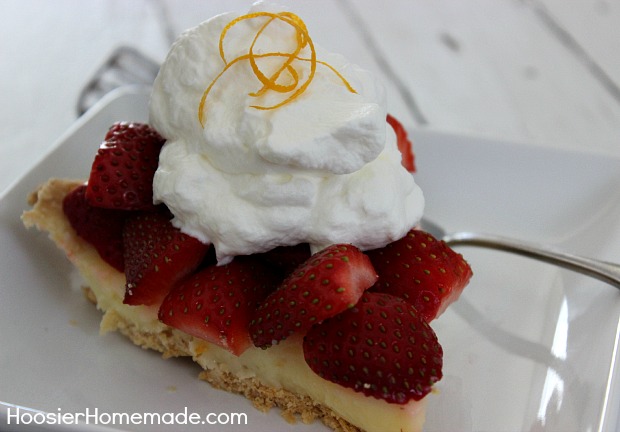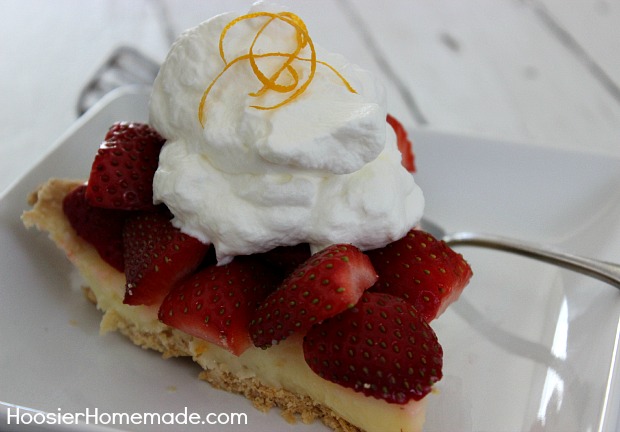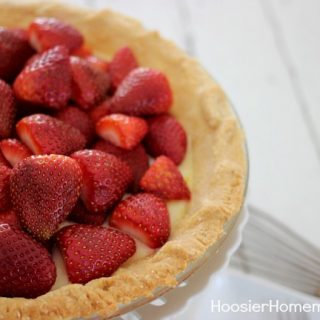 Meyer Lemon & Strawberry Pie
Light yet tangy lemon filling topped with strawberries. Recipe from HoosierHomemade.com
Ingredients
1 pie crust - store bought or homemade
Filling
1/2 cup Truvia Baking Blend
2 tablespoons cornstarch
2 tablespoons flour, all-purpose
1 1/2 cups water
3 egg yolks, beaten
1 tablespoon grated Meyer lemon peel
1/3 cup Meyer lemon juice
1 tablespoon butter
Topping
Fresh Strawberries
Fresh Whipping Cream or whipped topping
Instructions
Preheat oven to 400 degrees. Prepare and bake pie crust according to directions on box or make your own in a pie plate or tart pan.Cool
Filling
In a saucepan, combine flour, cornstarch and Truvia Baking Blend
Gradually add water, whisking constantly
Heat to boiling over medium heat, cook and stir for 1 minute, remove from heat
Whisk egg yolks in a small bowl. Gradually add 1/2 cup of cooked mixture, whisking constantly.
Stir the egg mixture into the cooked mixture
Stir in butter, lemon juice and peel, cook over medium heat for about 5 minutes until thickened, stirring constantly
Remove from heat and let stand 10 minutes
Pour into cooled pie crust and place in fridge for at least 2 hours
Clean and slice strawberries when you are ready to serve
Serve with fresh whipping cream
Keep leftovers in fridge
Notes
Total time includes chilling
Recipe adapted from Pillsbury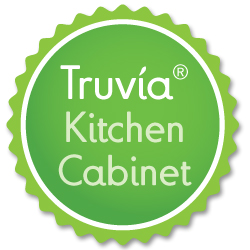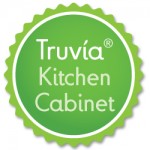 For more recipes, visit Truvia.com, follow Truvia on Facebook and Twitter
Disclaimer: Compensation and products for review were provided by Truvia. I received a free sample of the product for the purpose of this review. The opinions expressed herein are those of the author and are not indicative of the opinions of Truvia.