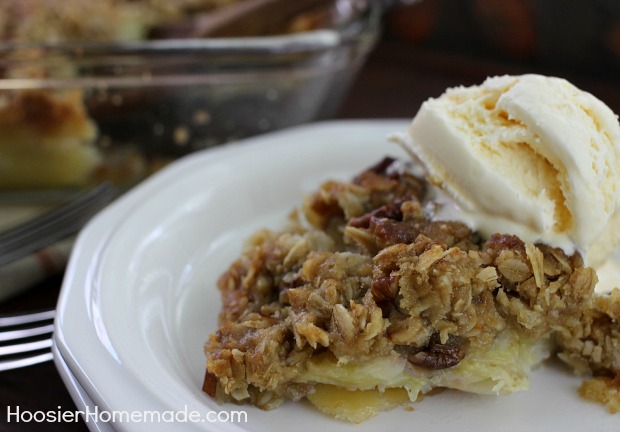 The holidays are upon us! Let the baking begin! Banana Bread is a classic treat to enjoy in the morning with breakfast, as an afternoon snack along with a cup of tea or even as a delicious addition to your dessert table.
Today we are taking the traditional Banana Bread and kicking it up a notch in this hearty Banana Bread Cobbler.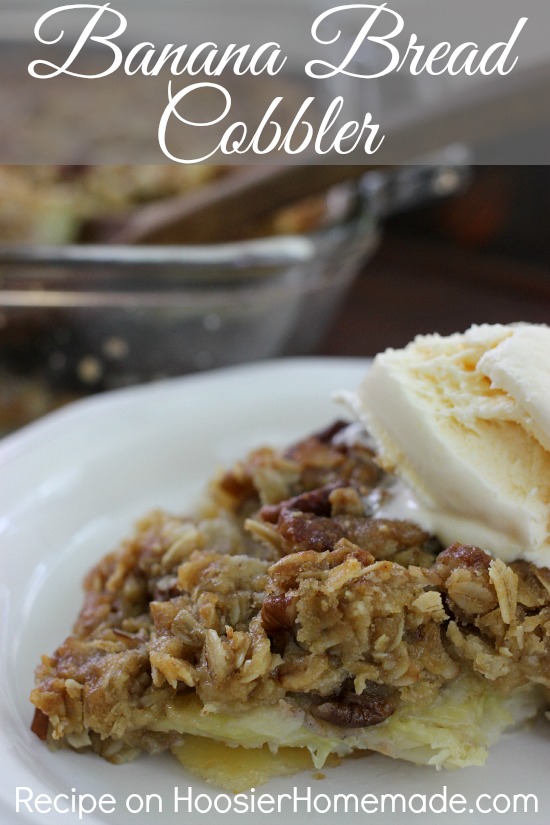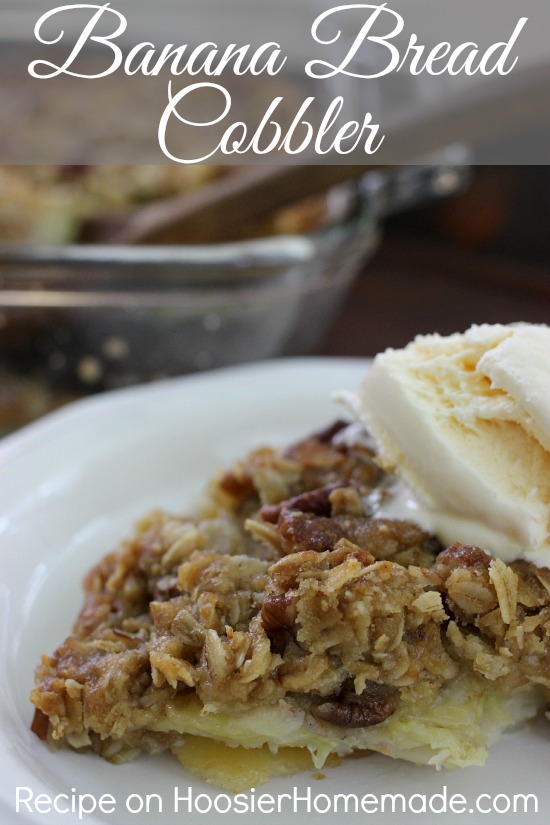 This post is brought to you by Truvia Baking Blend.
The rich buttery base is topped with sliced bananas, then topped with a crunchy topping with oats and pecans. Serve it warm with a scoop of vanilla ice cream.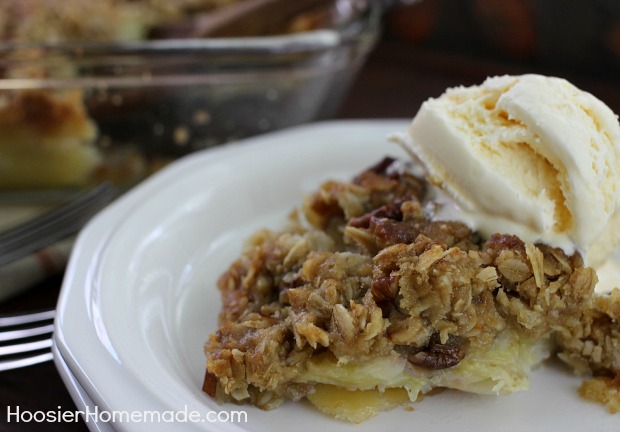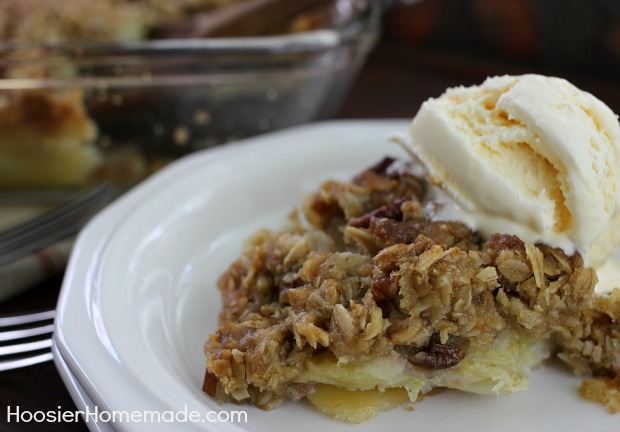 This recipe took me back to memories of Banana Bread baking in my Mom's kitchen. However, this recipe is lightened up with Truvia Baking Blend  in the crust as well as Brown Sugar in the topping.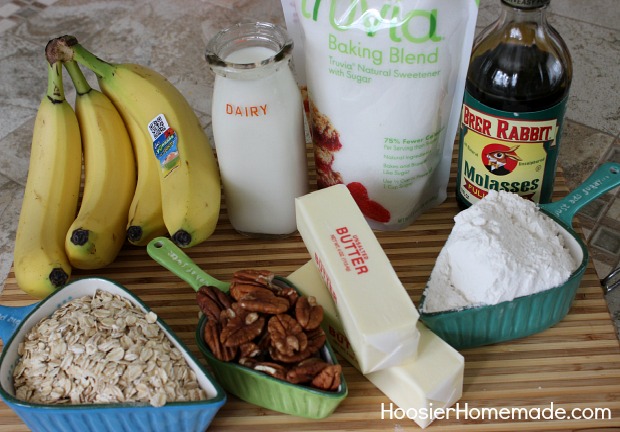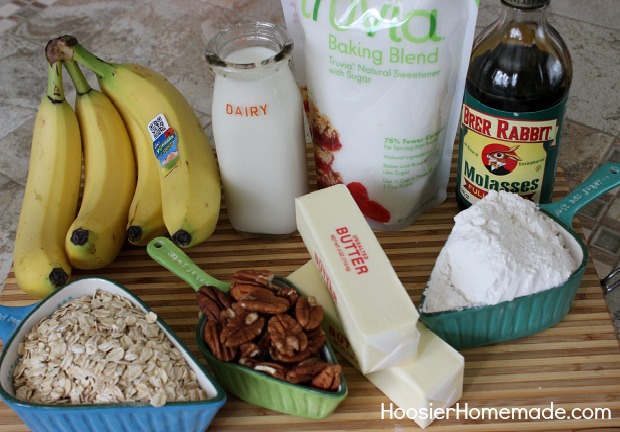 Making your own Brown Sugar with fewer calories is easy, it only takes 2 ingredients. Learn how to make your own Brown Sugar with fewer calories.
You will also need bananas, old fashioned oats, pecans, butter, flour, milk and Truvia Baking Blend. Designed for easy, at-home baking, Truvia Baking Blend is a blend of Truvia natural sweetener and sugar. It provides sugar-like taste and texture in recipes, but with 75% fewer calories and twice the amount of sweetness than sugar.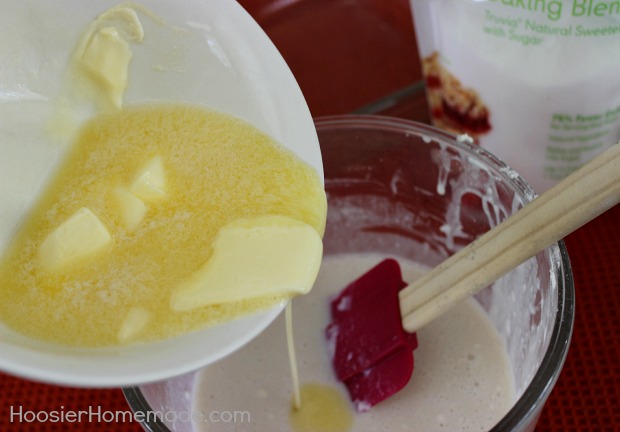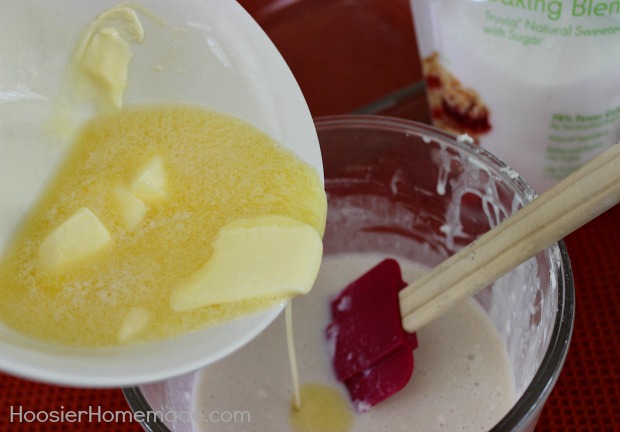 For the base, combine flour, Truvia Baking Blend, milk and melted butter.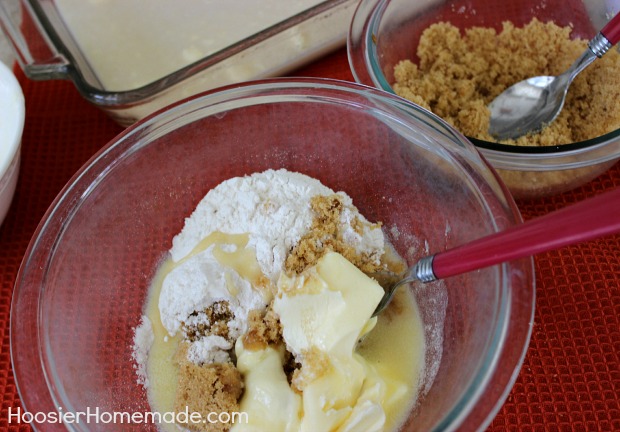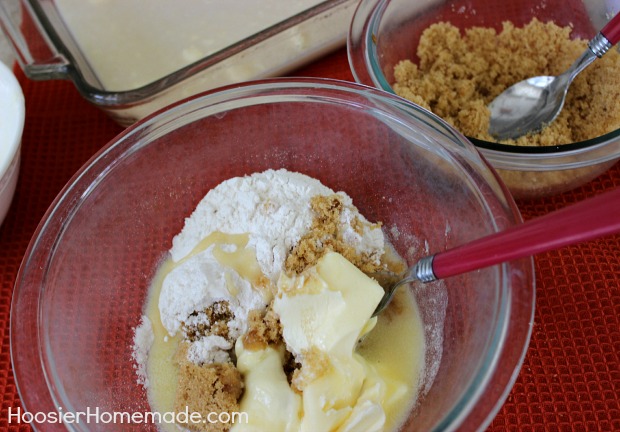 For the topping, combine brown sugar, flour, softened butter until combined.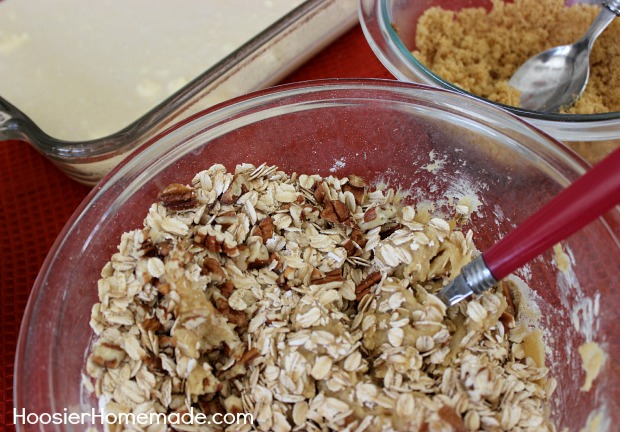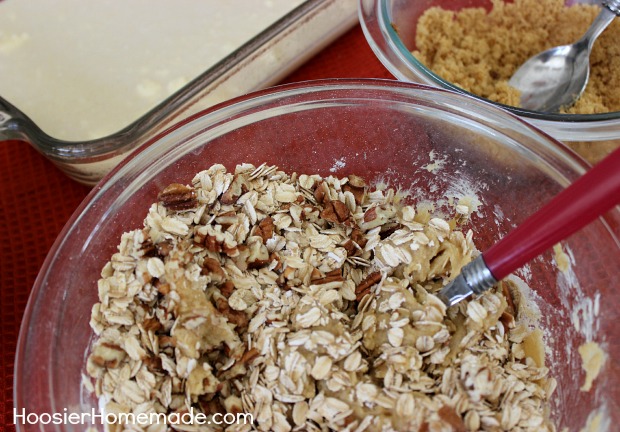 Add in the oats and pecans until crumbly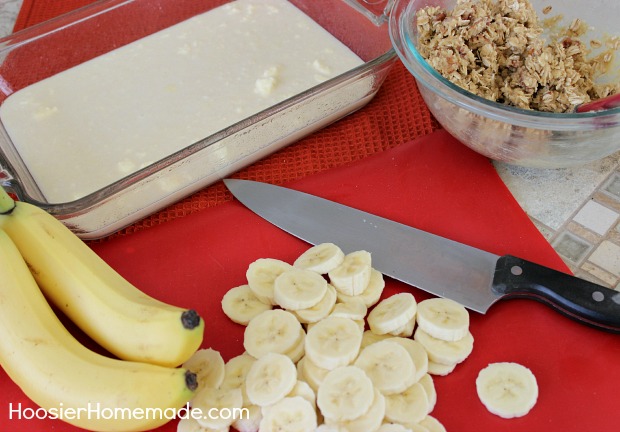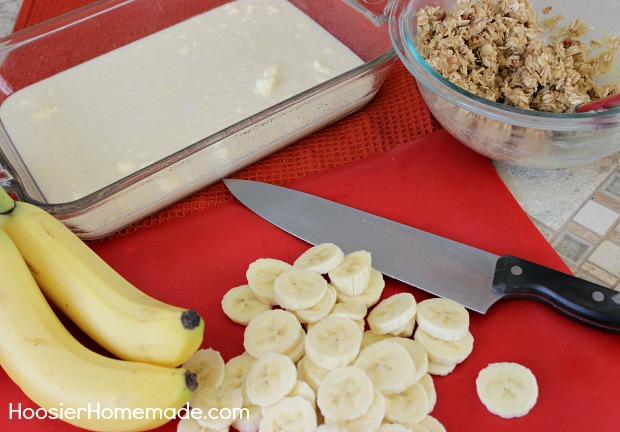 Slice the bananas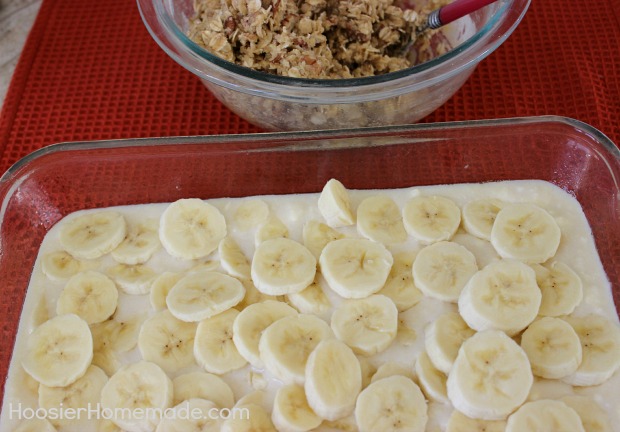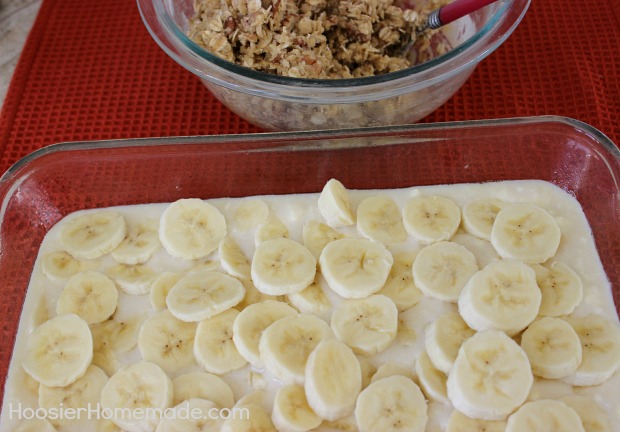 Lay the bananas on top of the base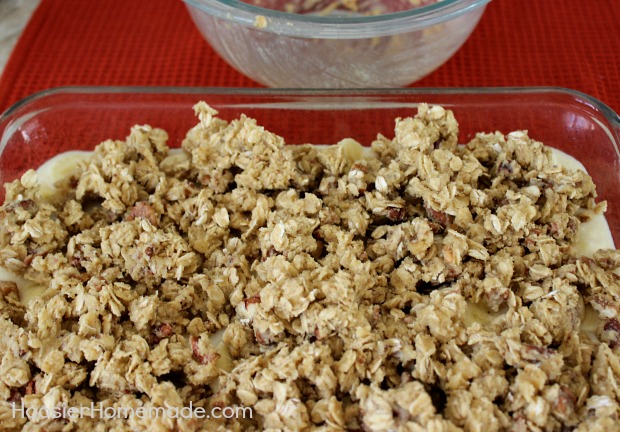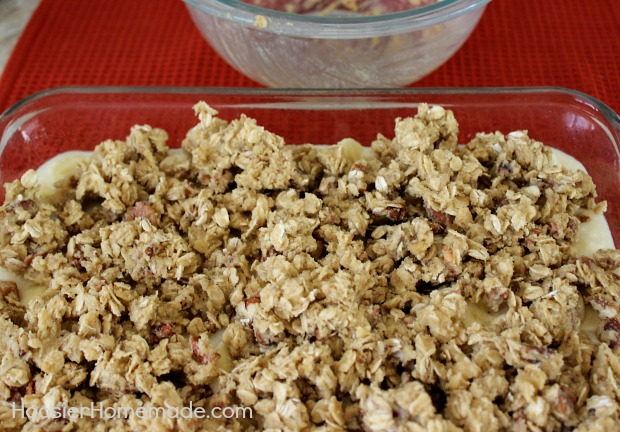 Sprinkle the oat mixture over the bananas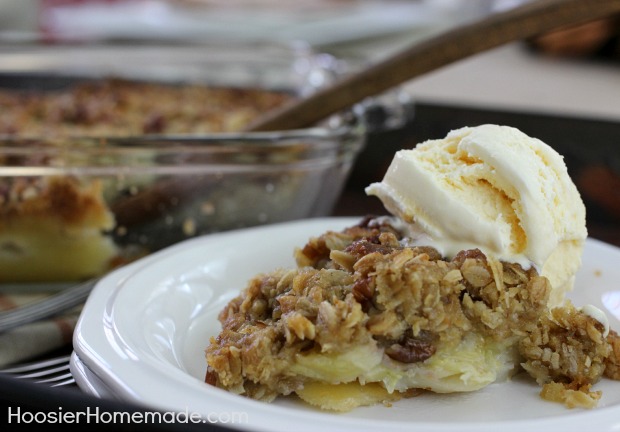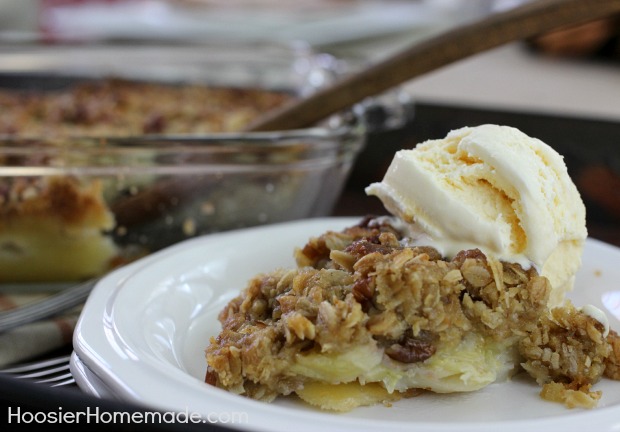 Bake for about 50 minutes. Serve warm with ice cream for dessert, or without ice cream for a delicious addition to your Holiday Brunch.
Looking for more recipes using Truvia Baking Blend? Here are the ones I have shared…
And visit Truvia for more recipes, and follow them on Facebook, Pinterest and Twitter.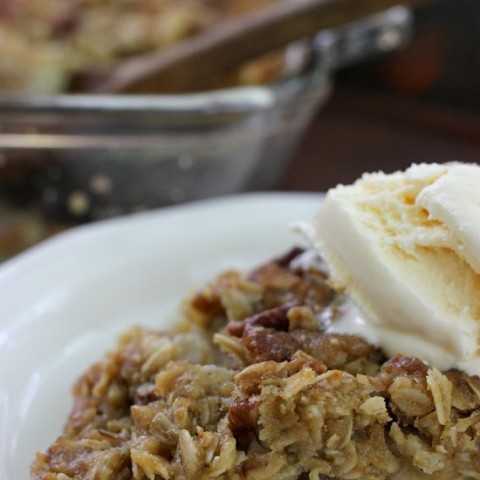 Banana Bread Cobbler
Total Time:
1 hour
10 minutes
A new twist on the classic Banana Bread. Recipe on HoosierHomemade.com
Ingredients
1 1/2 cups flour, all-purpose or self rising
1/2 cup Truvia Baking Blend
1 cup milk
1/2 cup butter, melted
3/4 cup brown sugar (make your own with fewer calories)
1/2 cup butter, softened
1 cup old fashioned oat
1/2 cup chopped pecans
4 ripe medium bananas, sliced
Vanilla ice cream, if desired
Instructions
Preheat oven to 375 degrees, coat a 11x7 baking dish with cooking spray
In a medium bowl, combine 1 cup of flour, Truvia Baking Blend, milk with whisk just until blended
Stir in melted butter, pour into greased baking dish
In a small bowl, combine brown sugar, remaining 1/2 cup flour and softened butter with a fork
Stir in oats and pecans
Slice bananas and place on top of base, sprinkle with oat mixture
Bake for 40 minutes at 375 degrees, remove from oven and cover with foil
Bake for an additional 10-15 minutes or until brown and bubbly
Serve warm with ice cream, if desired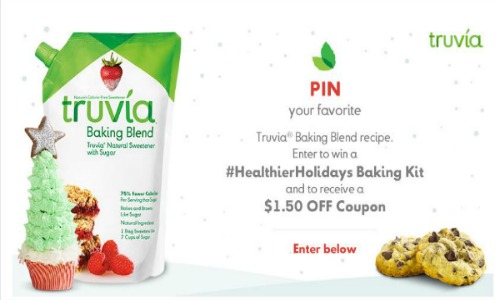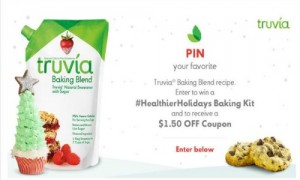 Share how you're using Truvia Baking Blend to lighten-up recipes this holiday season by entering the #HealthierHolidays Baking Sweepstakes on Facebook. To participate, head to the Truvia® Sweepstakes Page at www.facebook.com/truvia, and "like" the Truvia Facebook page to enter for a chance to win Truvia® prizes. You'll also have the option to "Pin" any of your favorite Truvia holiday baking recipes with #healthierholidays!