Perfect for breakfast, snack time or even dessert, this Cinnamon Pecan Quick Bread begins with a moist vanilla batter and has ribbons of cinnamon and pecans.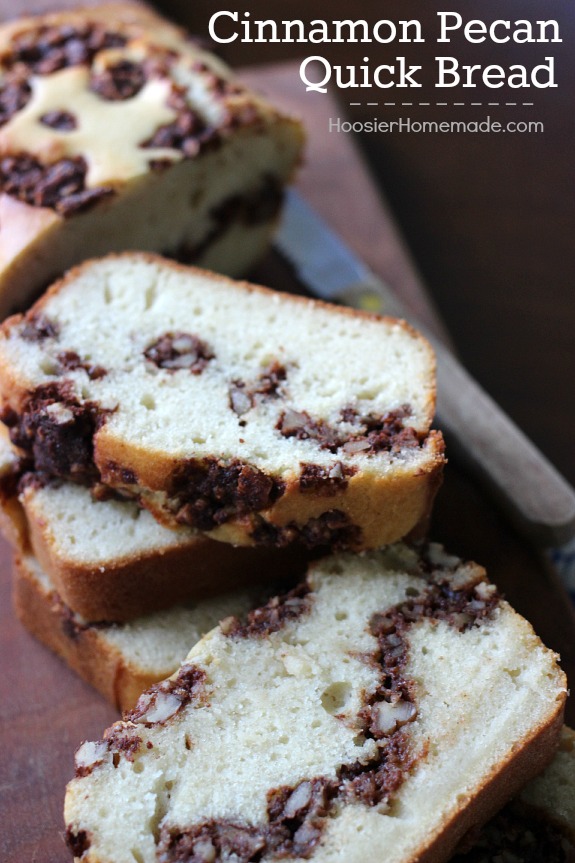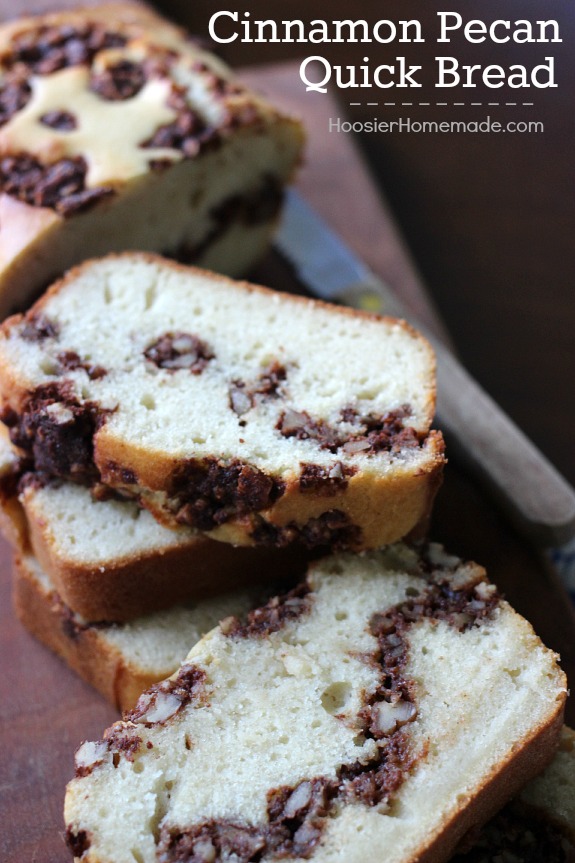 Are you as surprised the year is gone as I am? It's totally crazy how fast time goes. As we look forward to the new year beginning, we often set goals, and often times, at least for me, there are healthy eating goals. But let's be honest, I really don't want to give up all the delicious desserts.  I think the key is to not give them up, but to just cut back. And this recipe does just that.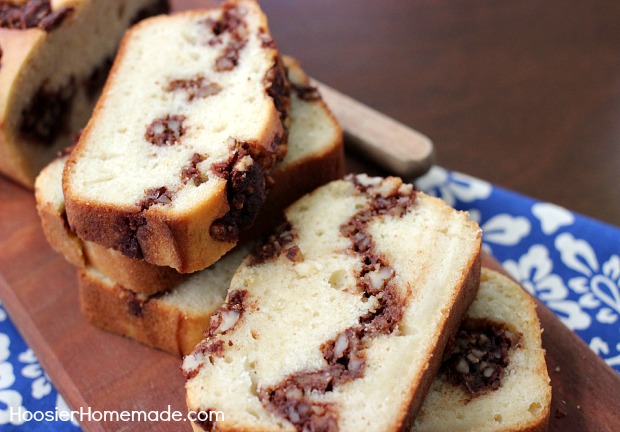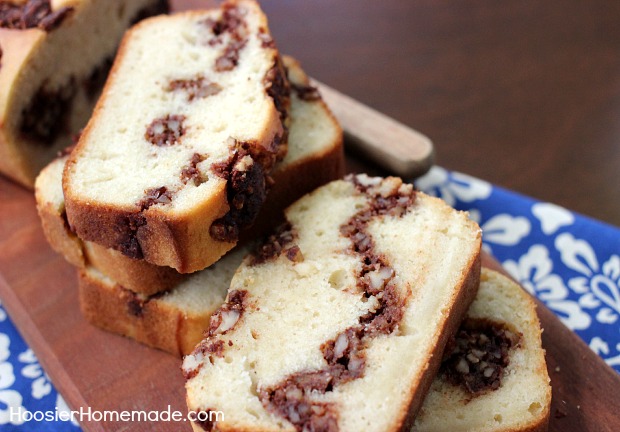 Quick bread recipes are some of my favorites. This Banana Walnut Bread is one of our favorites. The nice thing about quick breads, besides being quick, is that you can enjoy them anytime during the day. They make a great addition to any Breakfast or Brunch menu, they are the perfect afternoon snack, and can also be served as dessert.
But just what exactly is a Quick Bread? What is the difference between Quick Bread and Regular Bread?
Quick Bread – is well – quick. It has no yeast, which means it does not require any time to rise. They are typically made with baking powder and baking soda for the chemical leaveners instead of yeast. And most of the time, all-purpose flour is used.
Regular Bread or Yeast Bread – is made with yeast and requires time to rise. And they typically use bread flour.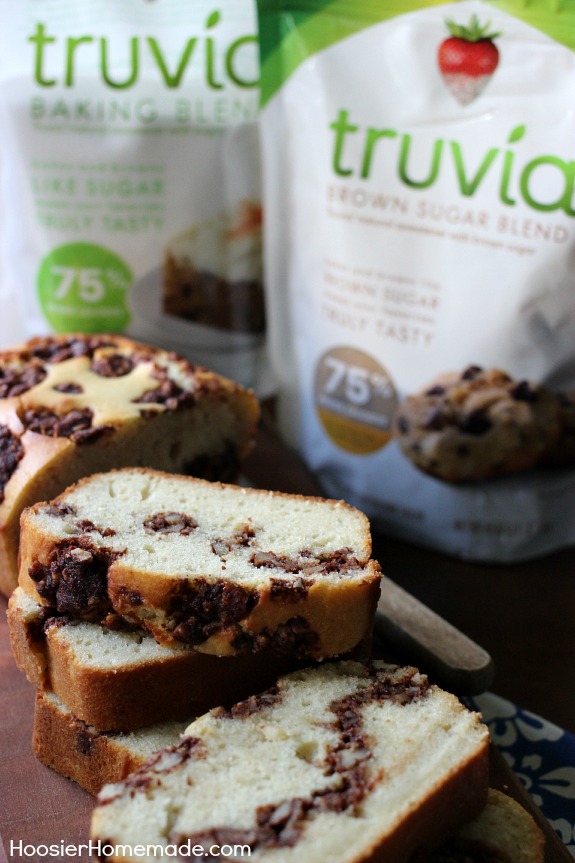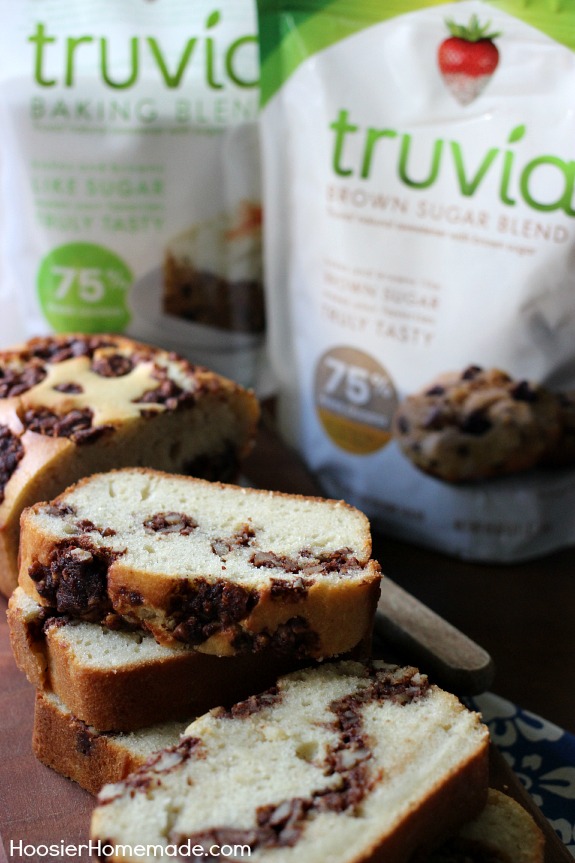 So how about the best of both worlds? Quick and less sugar?
This Cinnamon Pecan Quick Bread is one of those recipes you can make and eat, and still feel like you are cutting back. This Quick Bread is made with Truvia Baking Blend and Truvia Brown Sugar Blend, which has 75% fewer calories than brown sugar per serving,
Truvia Brown Sugar Blend is designed for the home baker and is made with a blend of Truvia natural sweetener and brown sugar. If you are making a recipe that calls for regular brown sugar, just substitute half the amount. For example, if the recipe calls for 1 cup of brown sugar, use 1/2 cup of Truvia Brown Sugar Blend.
You may also like these recipes made with Truvia Baking Blend and Brown Sugar Blend.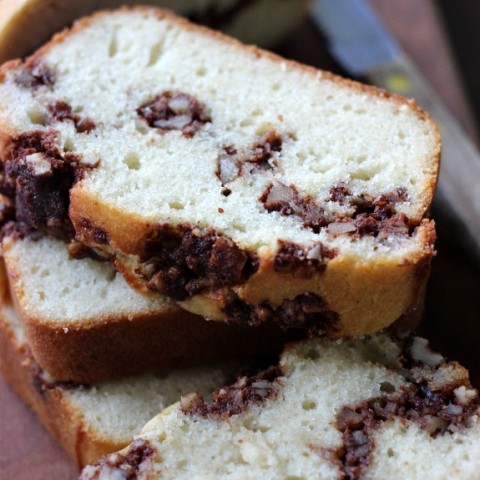 Cinnamon Pecan Quick Bread
Cinnamon Pecan Quick Bread - moist vanilla bread with ribbons of cinnamon and pecans. Perfect for Breakfast, Snack time or even Dessert.
Ingredients
Vanilla Bread Recipe
1 3/4 cup Flour
1 1/4 teaspoon Baking Powder
1/2 teaspoon Salt
1/2 cup (1 stick) Butter, softened
1/3 cup + 1 tablespoon Truvia Baking Blend
2 eggs
1 1/2 teaspoons Vanilla Extract
3/4 cup Milk
Cinnamon Pecan
1/4 cup Truvia Brown Sugar Blend
1/2 cup Pecans, chopped
1/4 cup (1/2 stick) Butter
1 tablespoon Flour
1 tablespoon Cinnamon
Pinch of Salt
Instructions
Preheat oven to 350 degrees and spray a 9 by 5 inch loaf pan with non-stick cooking spray
Mix together the dry ingredients, set aside
In a large mixing bowl, beat flour and Truvia Baking Blend until fluffy
Beat in eggs and vanilla
Add milk
Gradually add dry ingredients and mix until smooth
In a small bowl, combine all ingredients for cinnamon pecan mixture
Add half of the vanilla batter to loaf pan, sprinkle with pecan mixture, reserving a little for the top (optional, see notes)
Add remaining batter, spread evenly
Bake at 350 degrees for 45-55 minutes, or until a toothpick inserted comes out clean
Cool completely, remove from pan.
Store in airtight container.
Notes
You can reserve some of the pecan mixture for the top, or put all in the center.
Also, if you want to add a glaze, mix 1 cup powdered sugar and 1 tablespoon milk until smooth and drizzle over warm bread.
Try one of these recipes using Truvia Spoonable, Truvia Baking Blend or Truvia Brown Sugar Blend…
Follow Truvia on Pinterest, Facebook, Twitter and You Tube