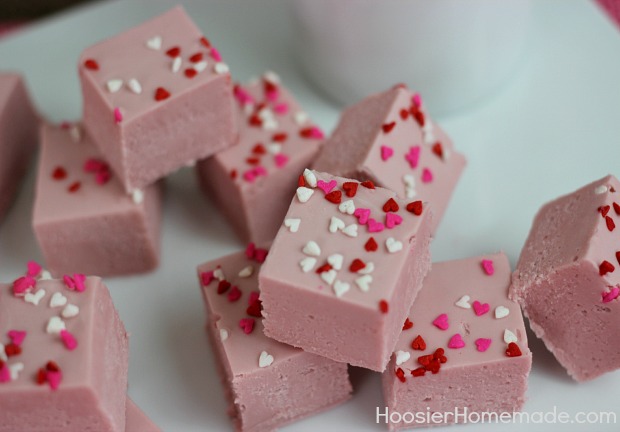 Creating a special treat for my loved ones for Valentine's Day is one of the ways that I love to make memories! But who says you have to wait for a holiday, this Cherry Vanilla Fudge is simple enough to make any time of year. Using the same recipe as the Cotton Candy Fudge I shared last Summer, I just simply changed the flavor.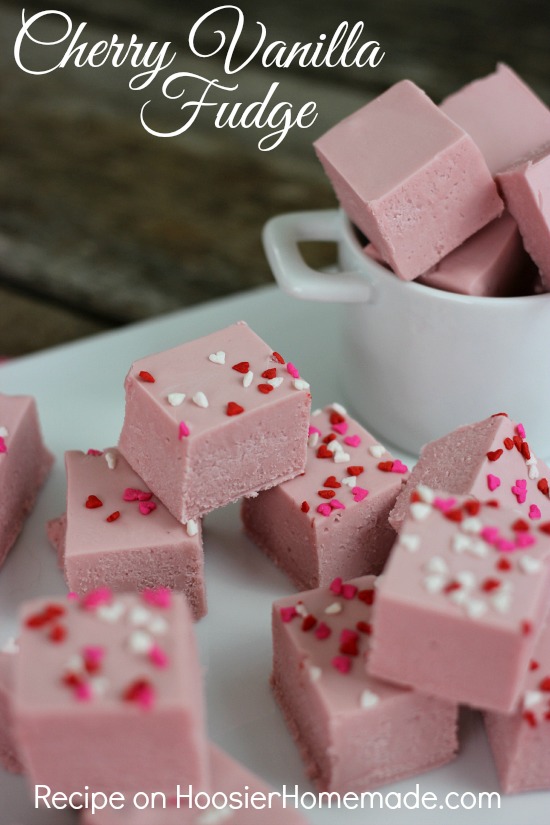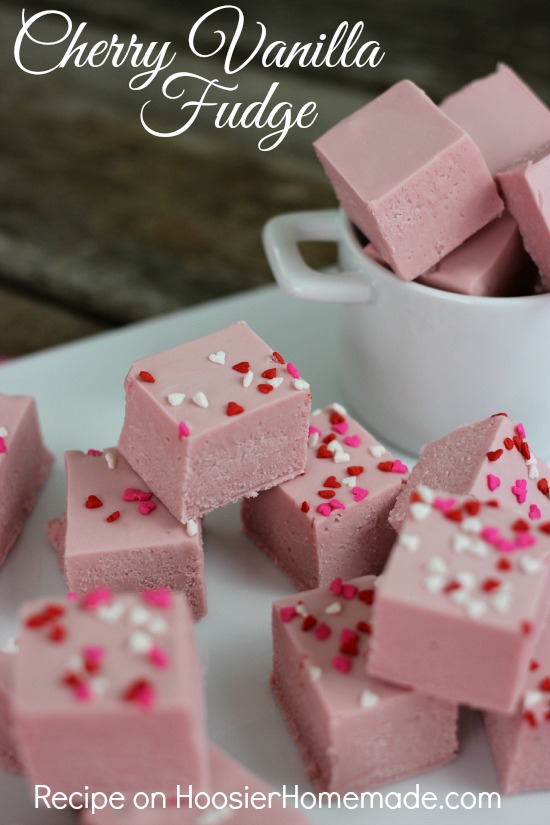 This recipe is brought to you by Truvia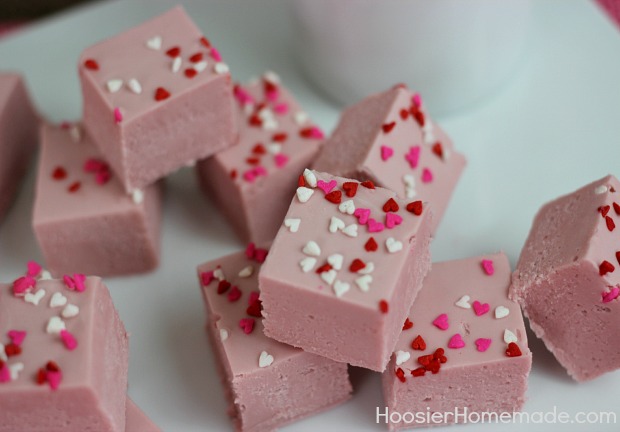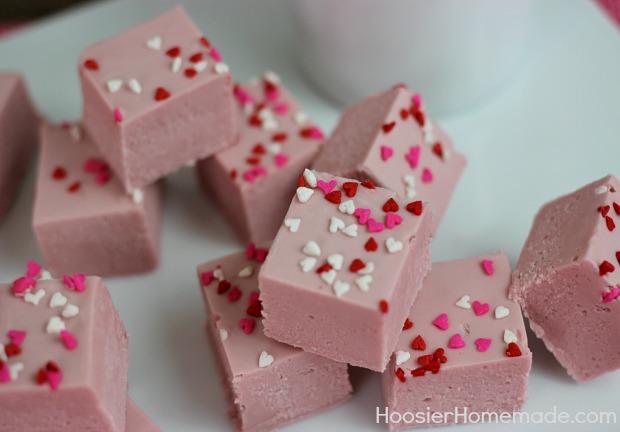 Fudge is one of those desserts that seems like it's loaded with sugar. And while this Cherry Vanilla Fudge does have calories, by using Truvia Baking Blend is cuts a lot of the calories out. We have chatted over the last several months about Truvia Baking Blend, and how to substitute it in your recipes, giving them the same great taste but with less calories.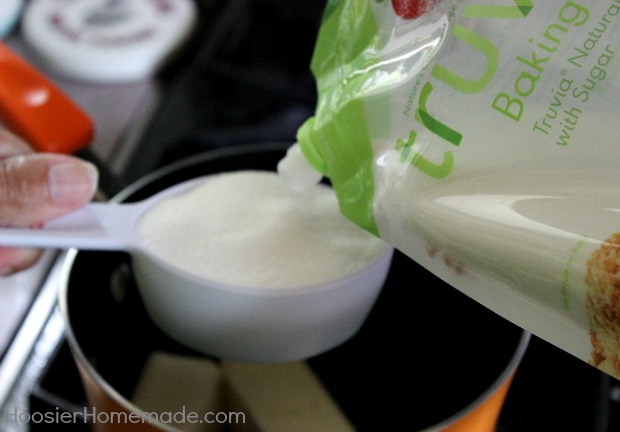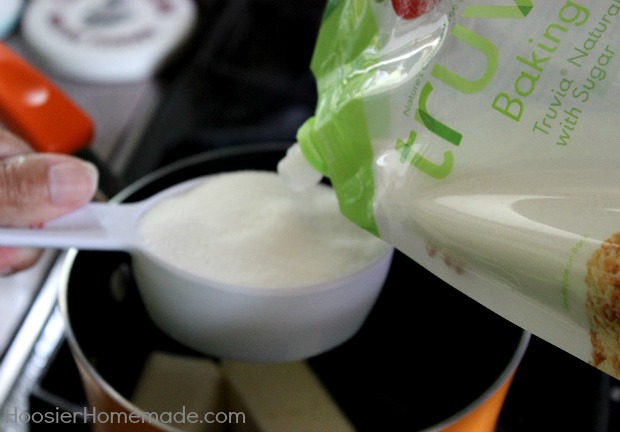 A mixture of Truvia Baking Blend, butter, heavy cream and salt is cooked on the stovetop. A packet of  Duncan Hines Cherry Vanilla Frosting Creations is whisked in, and then mixed with Marshmallow Fluff and white chocolate chips. The creamy mixture is then poured into the pan and placed in the fridge to set up overnight.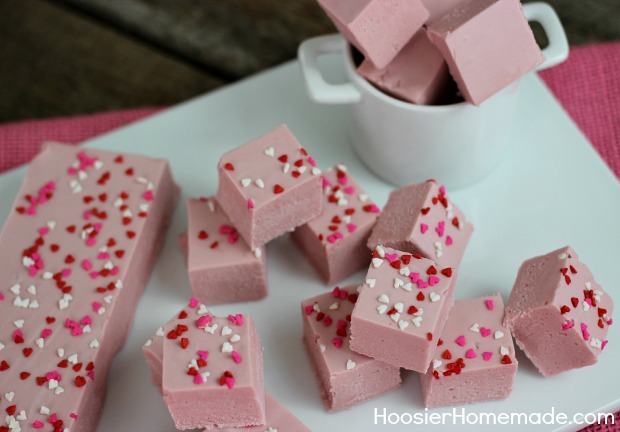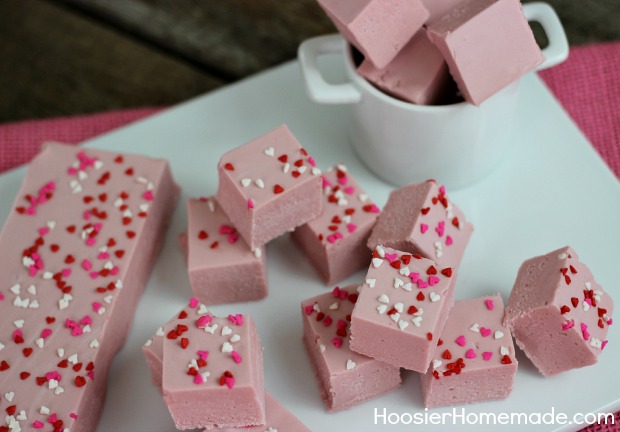 I added some Micro Heart Sprinkles for a touch of Valentine's Day, but you can certainly leave them off to enjoy this fudge any time.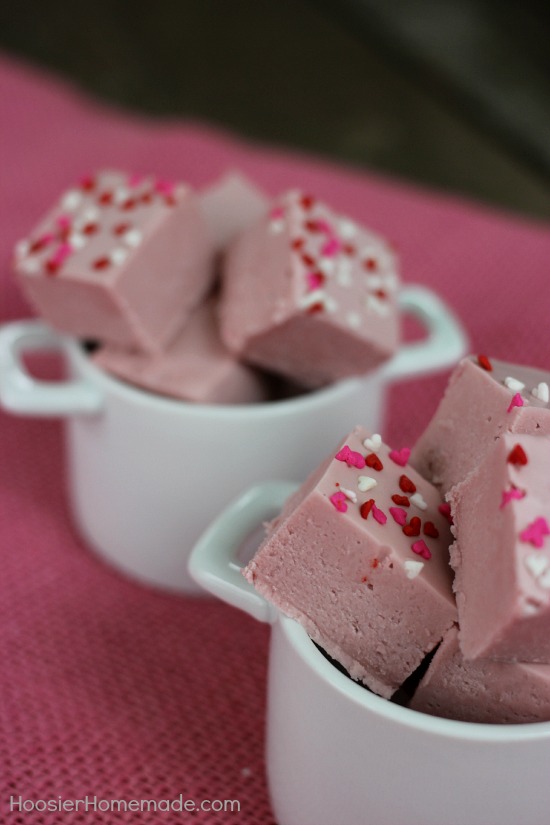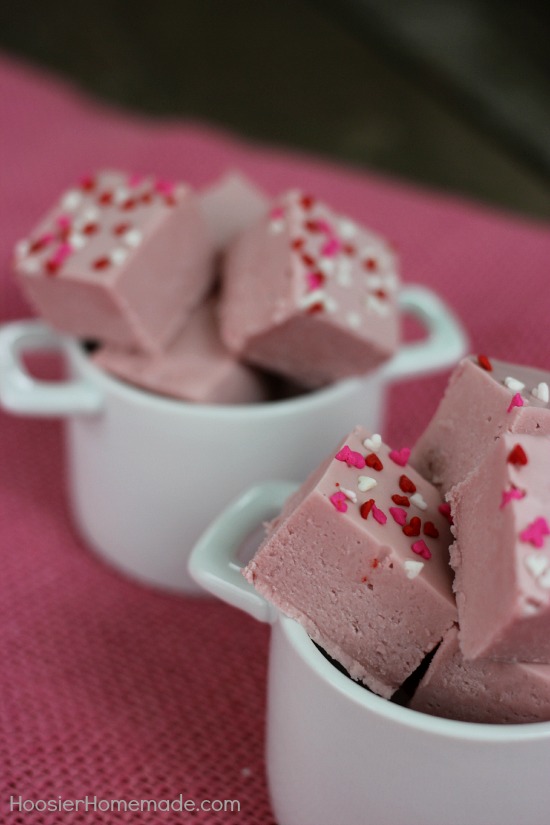 Truvia Baking Blend is a sugar substitute blend of zero-calorie Truvia natural sweetener and sugar then packaged in a product that's designed for easy, at-home baking. It also can be substituted for sugar in any recipe by simply using half as much Truvia Baking Blend as you would sugar.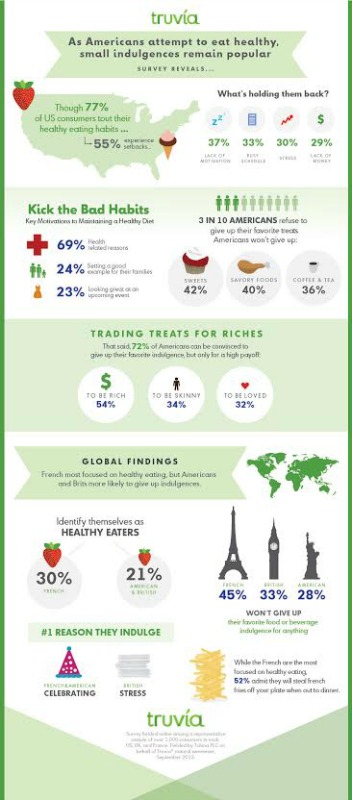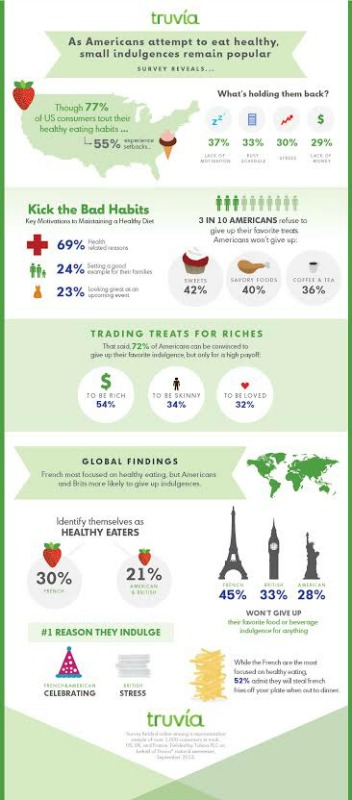 This year, the Truvia brand released results from a survey that revealed some fun facts about eating habits. Here are 5 Small Switches that will Jump-Start Your Health in 2014 from Nutrition Twins – Tammy and Lyssie Lykatos, top health and wellness experts…
1. Follow our Red, Green and Orange Rule. At each of your meals, include either a red, green or orange fruit or vegetable. You'll focus on what you should be eating rather than what you should stay away from and you'll fill up on nutrient-, antioxidant-, and fiber-rich foods that are an important part of a balanced diet.
2. Focus on quality carbohydrates like sweet potato, butternut squash, spaghetti squash, beans or oatmeal. Our newly released book, "The Nutrition Twins Veggie Cure: Expert Advice and Tantalizing Recipe for Health, Energy and Beauty," explains that foods like these are fiber- and nutrient-packed sources of long lasting energy. Both your brain and muscles will be fueled appropriately to help stave off cravings and squash hunger. As an added bonus, veggies have their own specific health- and beauty-related benefits, such as fennel and artichokes for beating bloat, squash and green beans for fighting stress, tomatoes and cucumbers for improving skin tone and carrots and beans for fighting cancer, etc.
3. Sneak in exercise. It's not always possible to get to the gym each day, but it's important to sneak in exercise wherever you can. Take stairs instead of the elevator at work or push your kids on the swings for an arm workout. Even if you walk around the neighborhood for 15 minutes, it counts. Just get moving!
4. Use zero-calorie sweeteners like Truvia® natural sweetener in your coffee, tea, oatmeal and yogurt to cut calories. You can still enjoy sweetness, but with zero calories. Small changes can add up – if you save 100 calories a day, that equals a 10-pound weight loss over the course of the year!
5. Shut off your electronics 30 minutes before bedtime. Computers, TVs, phones, and iPads—they all stimulate your mind and disrupt sleep. Interrupted sleep and sleep deprivation slows your metabolism and negatively affects your immune system.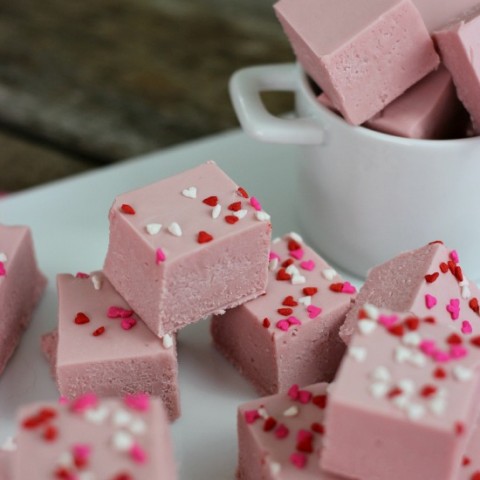 Cherry Vanilla Fudge
Easy treat to make for Valentine's Day, and fun for anytime. Recipe from HoosierHomemade.com
Ingredients
1 container (7 oz) Marshmallow Fluff
2 1/2 cups white chocolate chips
3/4 cup butter, unsalted
1/2 cup Truvia Baking Blend
3/4 cup heavy whipping cream
Pinch of Salt
1 packet Duncan Hines Frosting Creations Cherry Vanilla Flavor
Valentine Heart Sprinkles, optional
Instructions
Prepare 9 inch square pan with parchment paper or wax paper
In a large mixing bowl, add the marshmallow fluff and white chocolate chips
In a medium saucepan, combine butter, Truvia Baking Blend, heavy cream and salt
Bring to a boil, stirring constantly and boil for 5 minutes, continuing to stir
Remove from heat, whisk in the Cherry Vanilla flavor packet until mixture is smooth
Carefully pour into large mixing bowl and beat until smooth
Pour mixture into pan and spread evenly
Sprinkle immediately with Valentine sprinkles if desired
Place in fridge to set at least 2 hours or overnight
Cut into small squares to serve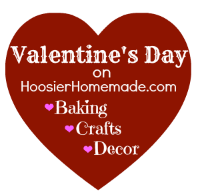 Looking for more recipes using Truvia Baking Blend? Here are the ones I have shared…
Linking to…Gooseberry Patch