Thanksgiving is done…let the Christmas baking begin! I'm kicking off the best baking season with these delicious and easy Cherry Almond Bars. With all there is to be done during the holidays, bar cookies are perfect! They go together in a snap and one batch typically makes a lot.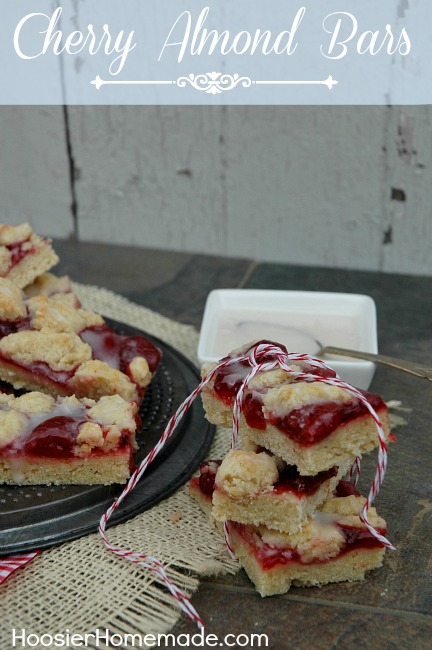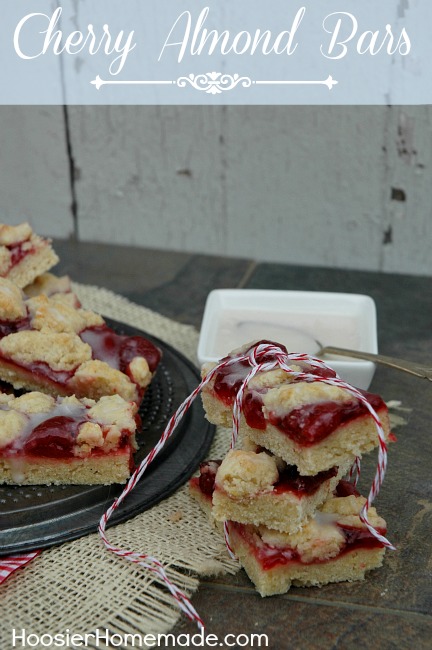 This Cherry Almond Bars Recipe came from the Gooseberry Patch Christmas Book. And are lightened up with Truvia Baking Blend, which has a sugar-like taste and texture in recipes, but with 75% fewer calories per serving than sugar. Truvia Baking Blend can be substituted for sugar in any recipe by simply using half as much as you would sugar.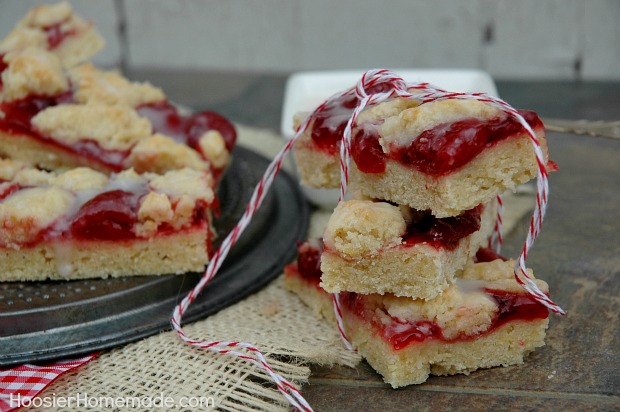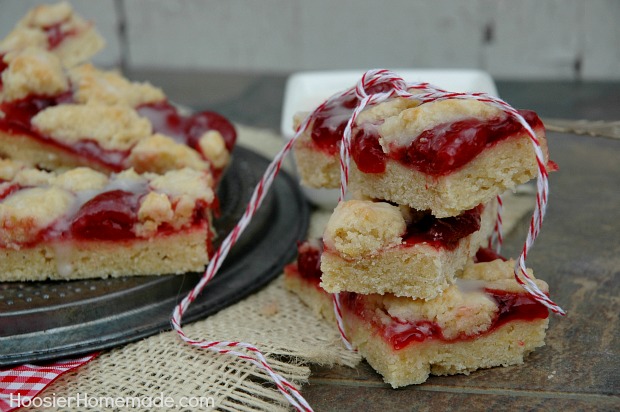 Let's gather our ingredients…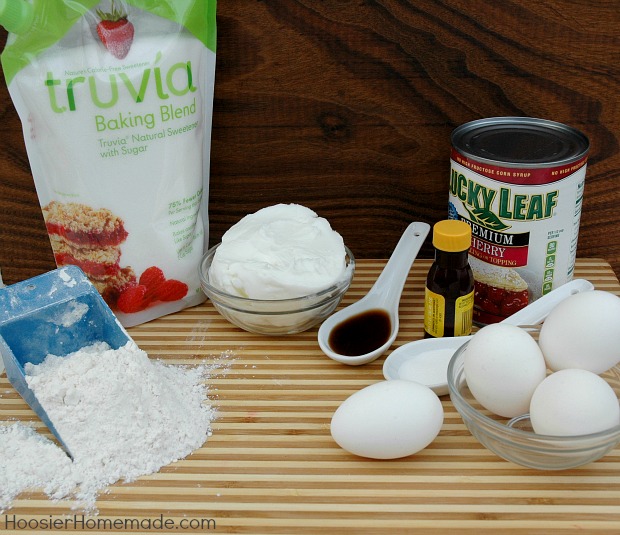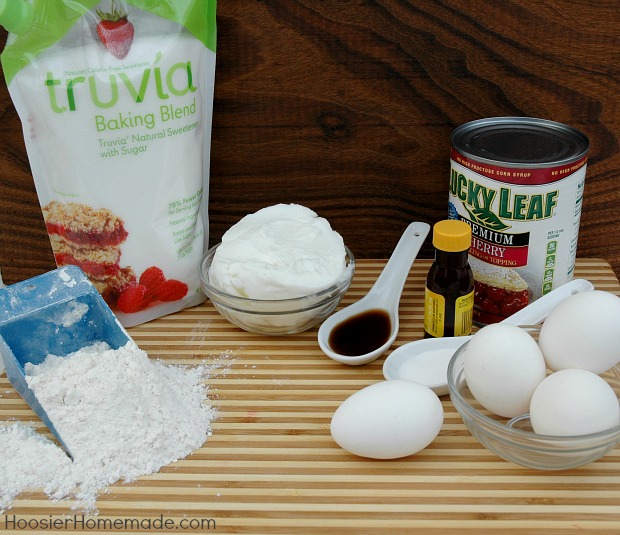 Cherry Almond Bars Ingredients
Shortening
Flour
Eggs
Vanilla Extract
Almond Extract
Salt
Cherry Pie Filling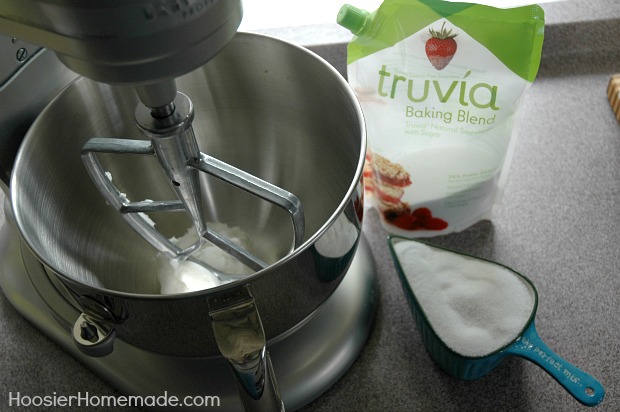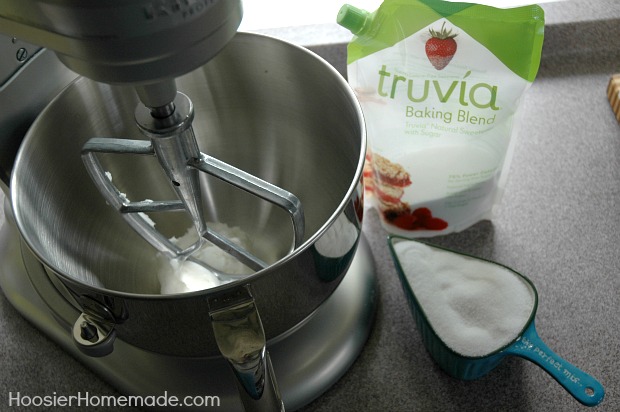 Before we get started, I have to show you my early Christmas present. While Doug and I were doing a little Black Friday shopping at our local outlet mall, we came across this beauty! Now, if you have been around for awhile, you may remember that I did not own a KitchenAid Stand Mixer, and even made Homemade Marshmallows with a hand mixer.
I named her Mabel, yes she even has a name…bakers are crazy like that! Mabel is a Professional 600 series and she came with 3 attachments! I couldn't be more excited!  Now…let's make some Cherry Almond Bars…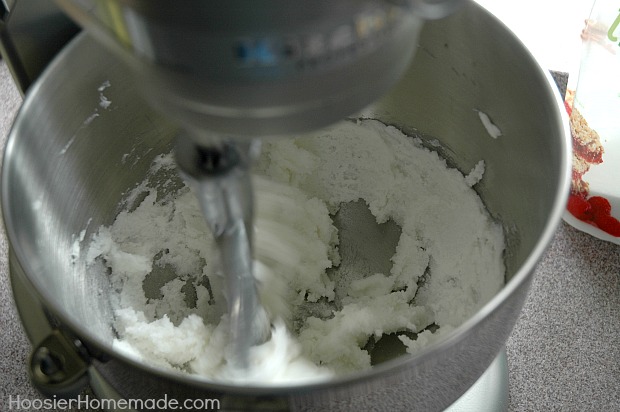 Combine the shortening and Truvia Baking Blend until creamed together well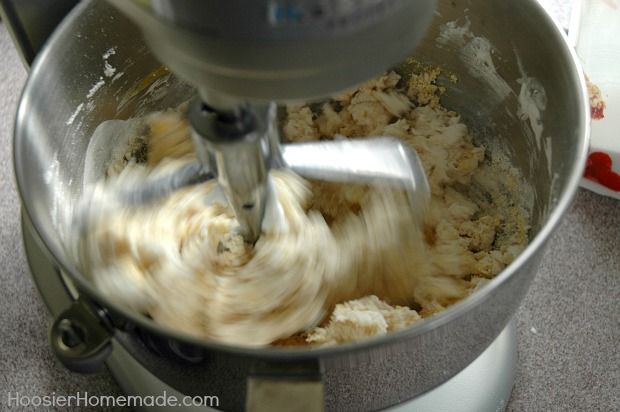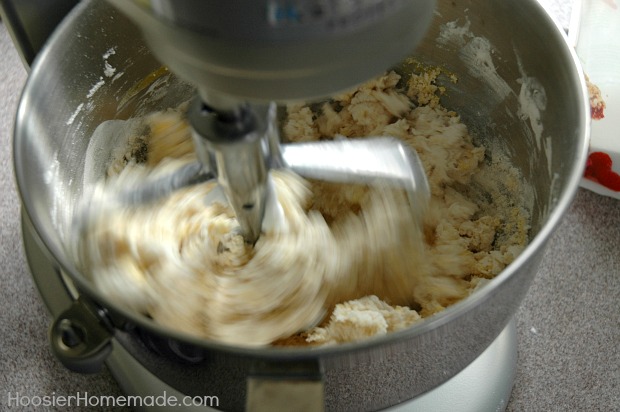 Add the flour, eggs, extracts and salt until well combined. The dough will form into a ball.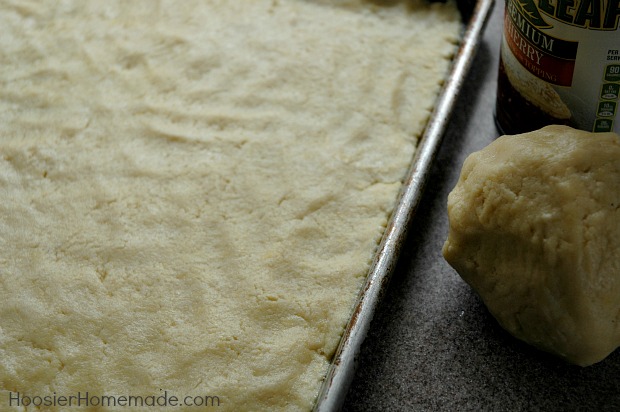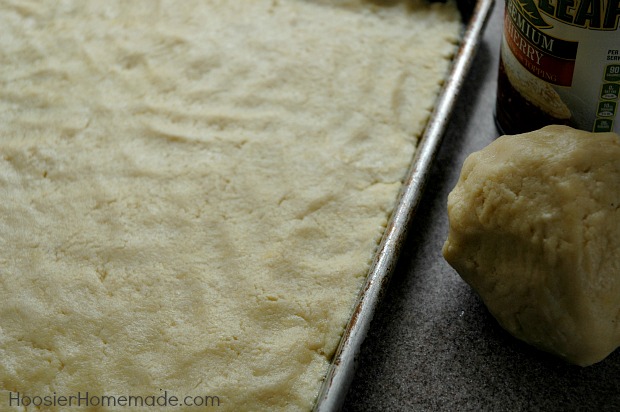 Press about 3/4 of the dough into a greased 15×10 jelly roll pan and preheat oven to 350 degrees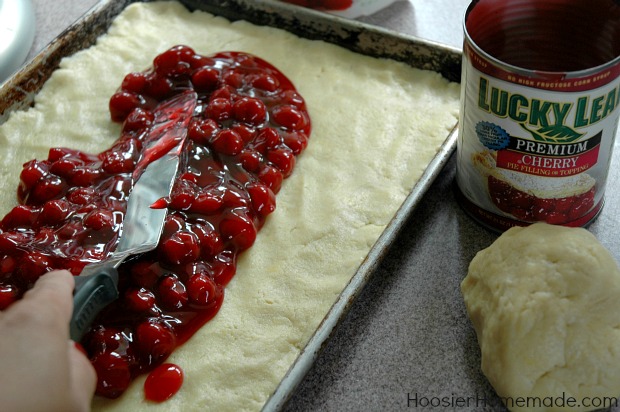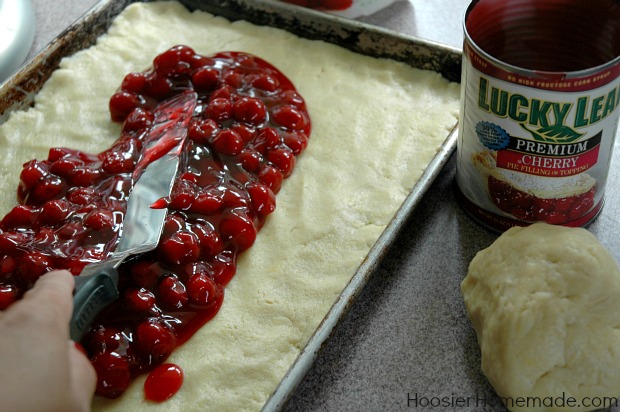 Spread the Cherry Pie Filling onto the dough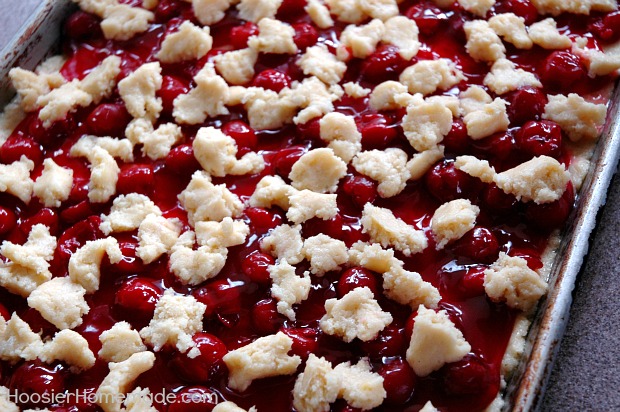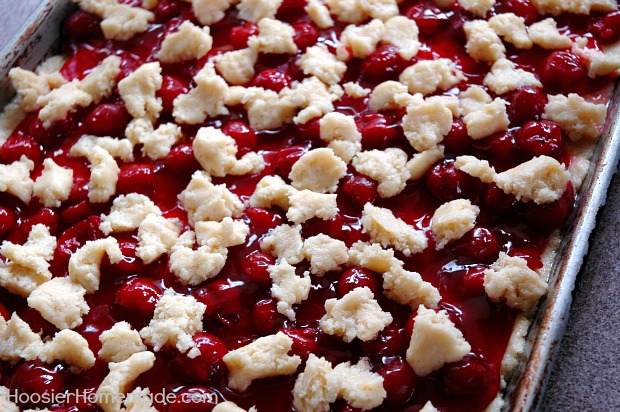 And dot with remaining dough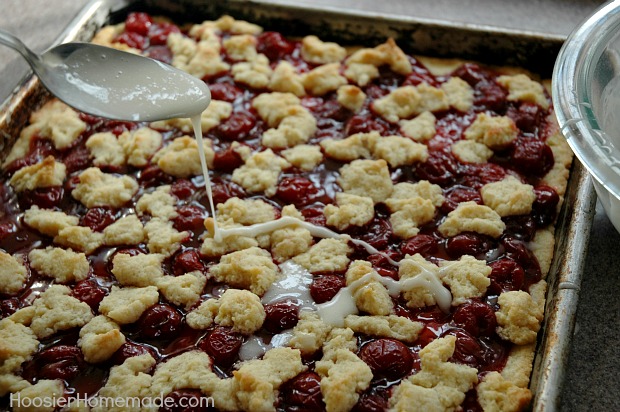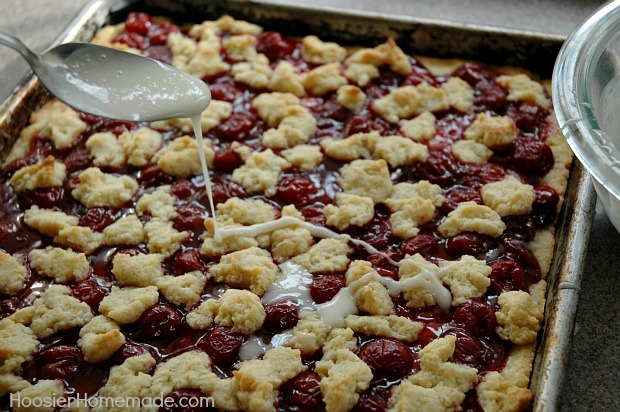 Bake for about 30-40 minutes, let cool about 15 minutes and then drizzle with Almond Glaze.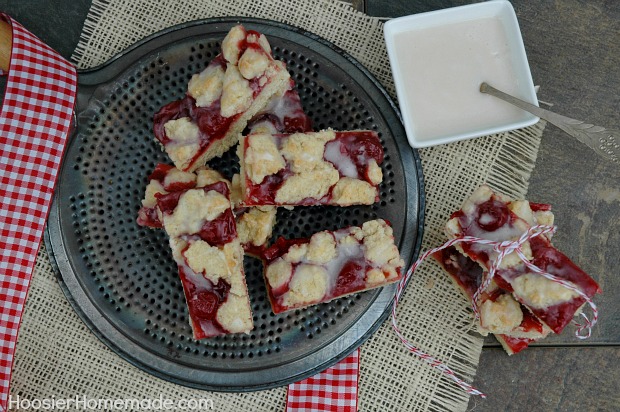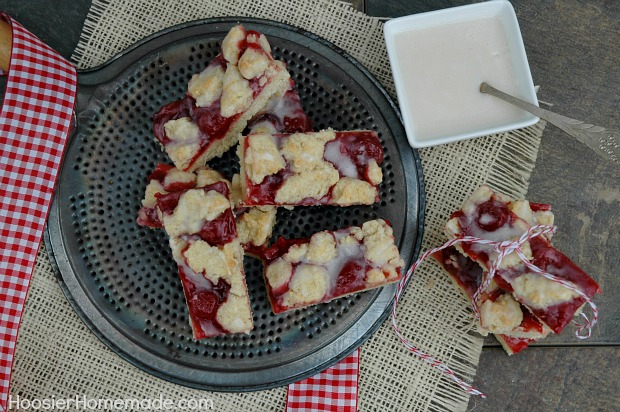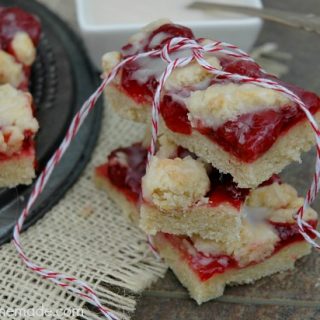 Cherry Almond Bars
Easy and delicious bar cookies that are perfect for Holiday baking or great anytime of year. Recipe from HoosierHomemade.com. Adapted from Gooseberry Patch Christmas Book
Ingredients
Cherry Almond Bars
1 cup shortening
1 cup Truvia Baking Blend or 2 cups sugar
3 cups flour
4 eggs
1 teaspoon vanilla extract
1 teaspoon almond extract
1 teaspoon salt
1 (21 oz) can cherry pie filling
Almond Glaze
1 cup powdered sugar
1/2 teaspoon vanilla extract
1/2 teaspoon almond extract
1-2 tablespoons milk
Instructions
Preheat oven to 350 degrees and spray a 15x10 jelly roll pan with non-stick cooking spray
Combine shortening and Truvia Baking Blend and mix until creamed together
Add flour, eggs, vanilla, almond extract and salt, combine well
Press about 3/4 of dough into prepared pan
Spread on cherry pie filling
Dot with remaining dough
Bake for about 30-40 minutes or until golden brown
Cool about 15 minutes
Drizzle with Almond Glaze, cut into bars to serve
Notes
These bar cookies also freeze well. Wrap in plastic and freeze in airtight container.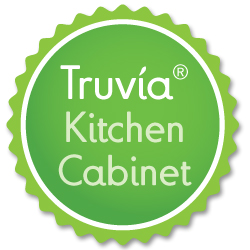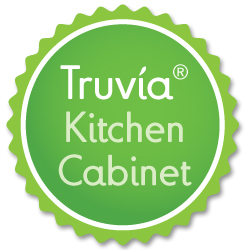 For more recipes, visit Truvia.com, follow Truvia on Facebook and Twitter
Disclaimer: Compensation and products for review were provided by Truvia. I received a free sample of the product for the purpose of this review. The opinions expressed herein are those of the author and are not indicative of the opinions of Truvia. 
Linking to…Gooseberry Patch, Ingredient Spotlight