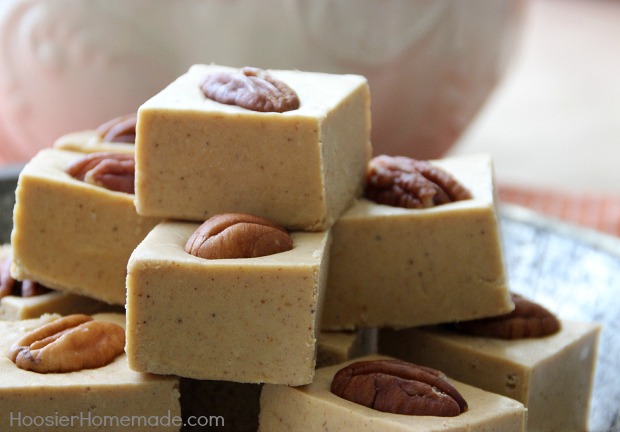 It's a match made in heaven my friends! Pumpkin Pie and Fudge – creamy white chocolate fudge with pumpkin and pumpkin pie spice – you really must add this to your holiday baking list!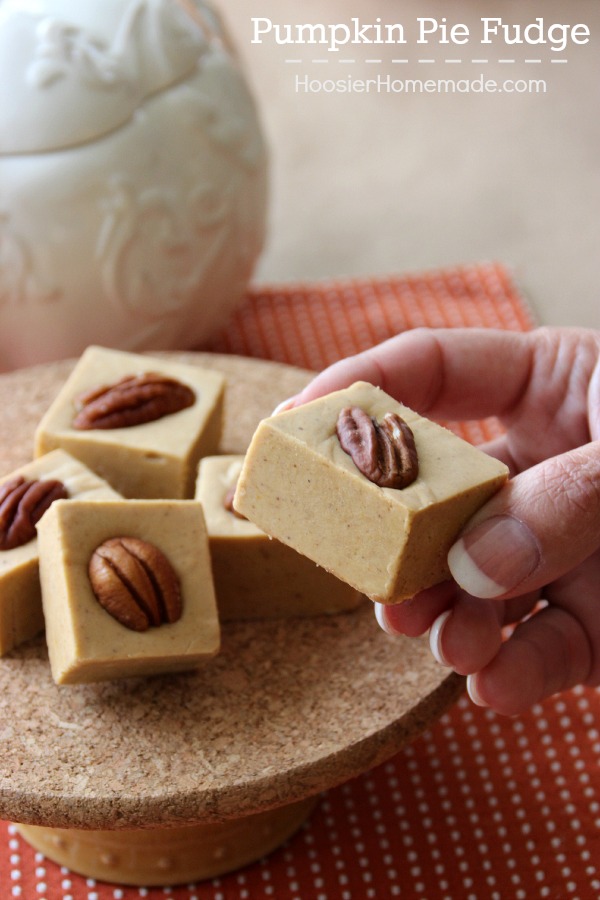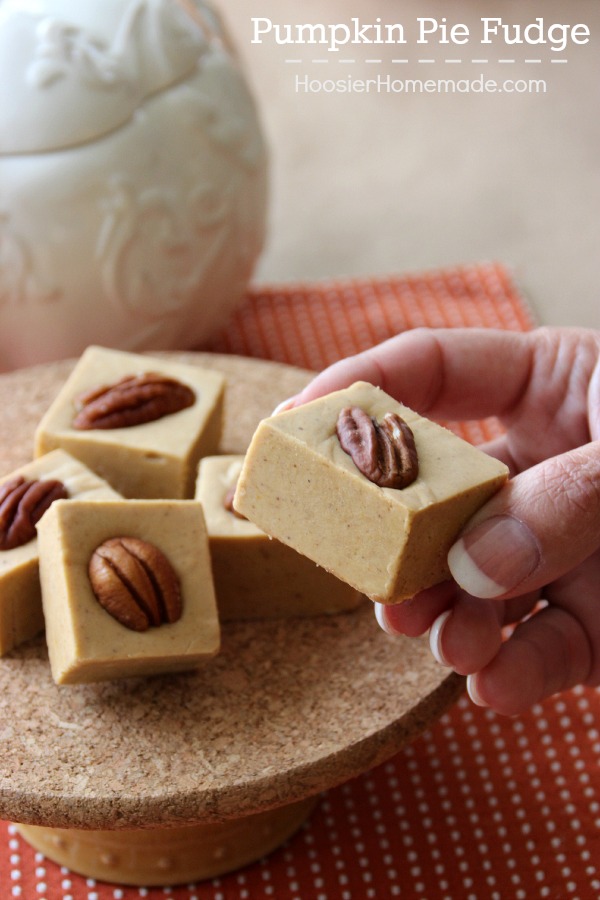 Many moons ago I thought making fudge was only for experienced candy makers. Using a candy thermometer seemed difficult and a crazy thing to figure out. But after I figured out that 1) making fudge is really easy and 2) you really don't have to use a candy thermometer if you don't want to, I was super excited to try more flavors.
Now, a few years later, I have made fudge several times. From flavored fudge that you cook on the stovetop – Cotton Candy Fudge – to Caramel Apple Fudge that only has 2 ingredients – to Peppermint Fudge for the holidays – and even multi-colored White Chocolate Fudge. So needless to say, I'm a little hooked on fudge.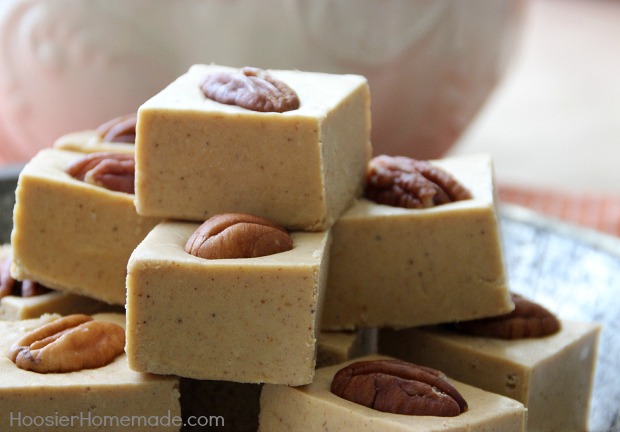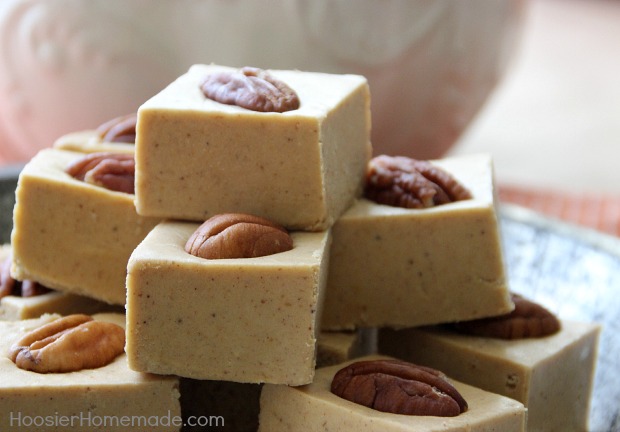 After making all of the other homemade fudge recipes, it was time to give Pumpkin Pie Fudge a try. Because of course, it's November, it's time for Pumpkin Dessert Recipes…everywhere! So I knew the Pumpkin Pie Fudge Recipe needed to be easy, because well, I'm all about simple and easy, but it needed great flavor.
So I started with the same recipe I have used for most of the fudge recipes I have already made, which also happens to use Truvia Baking Blend and heavy whipping cream. I followed the directions on my other fudge and let it boil for 5-7 minutes. Then…big fat fail! Yes, the fudge tasted delicious but it didn't set up well. So then I needed to figure out what went wrong, the only thing we can figure out is the fat in the heavy whipping cream and the liquid in the pumpkin just didn't like each other. So changed the whipped cream to Evaporated Milk, and decided to use a candy thermometer this time around.
Here are 3 important things I learned for this recipe…
You should use a candy thermometer. It took about 20 minutes for it to reach the soft ball stage which is

234° to 240º F

If you don't have a candy thermometer, you can test the mixture by dropping a small amount into a chilled water, it should form a soft, flexible ball. It will also pull away from the sides of the pan.
Canned pumpkin adds liquid to your recipe, so you will take that into consideration when cooking. The cooking times could vary depending on what kind of canned pumpkin you use. Of course, if you are adding canned pumpkin to muffins or bread, the extra moistness is a good thing. Fudge – not so much.
Truvia has a new brown sugar blend, and I'm a HUGE fan of it. It's soft, tastes great and also has 75% fewer calories than brown sugar per serving, remember I used it in my Homemade Caramel Sauce that has only 5 ingredients and by the way – you don't need a candy thermometer, just like the fudge recipes.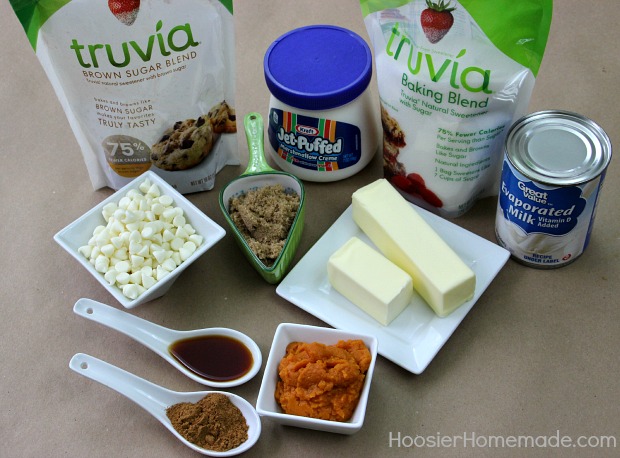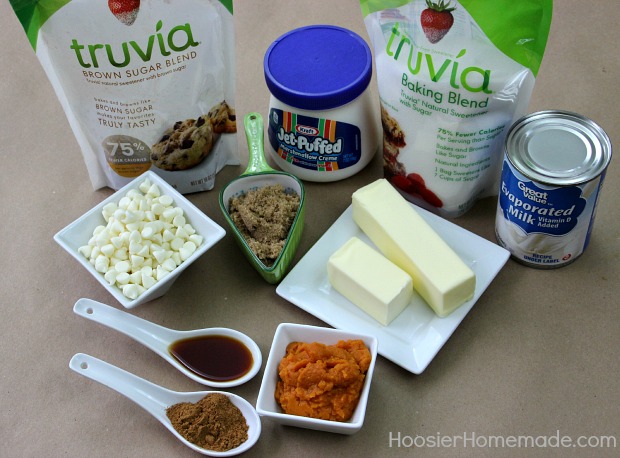 This Pumpkin Pie Fudge Recipe goes together in a snap too! Besides the Truvia Brown Sugar Blend and Baking Blend, I added marshmallow creme, evaporated milk, butter, white chocolate chips, pumpkin pie spice, vanilla and of course, pumpkin. And then I garnished each piece with pecans. You can also chop the pecans and add them to the fudge.
Truvia Brown Sugar Blend is designed for the home baker and is made with a blend of Truvia natural sweetener and brown sugar. If you are making a recipe that calls for regular brown sugar, just substitute half the amount. For example, if the recipe calls for 1 cup of brown sugar, use 1/2 cup of Truvia Brown Sugar Blend.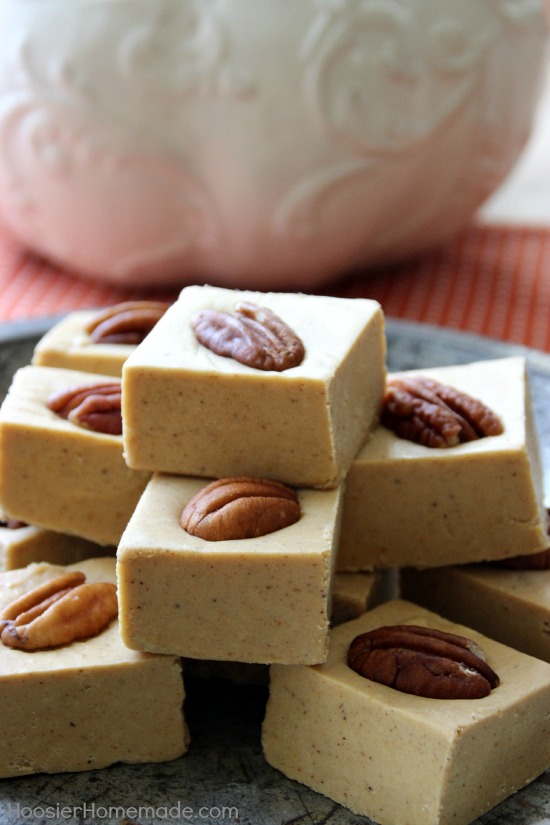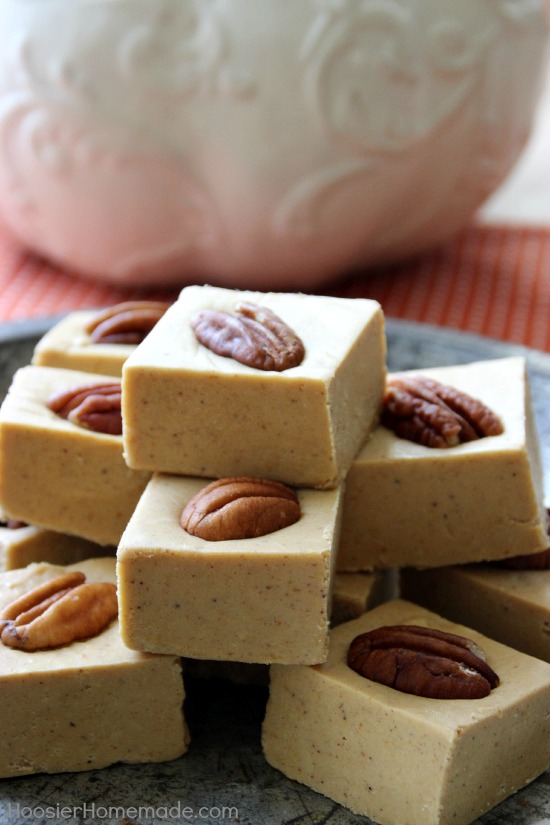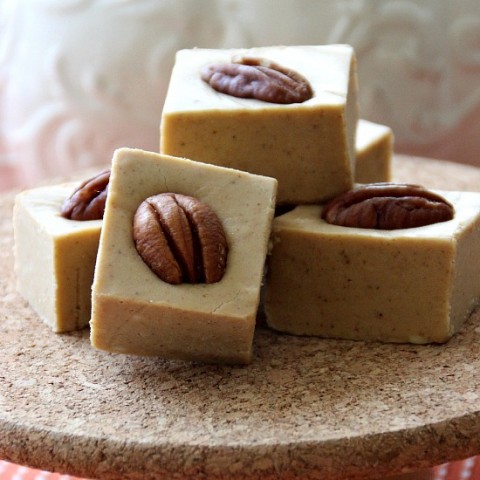 Pumpkin Pie Fudge Recipe
It's a match made in heaven! Pumpkin Pie + Fudge = the perfect holiday treat! This Pumpkin Pie Fudge melts in your mouth! Recipe on HoosierHomemade.com
Ingredients
1 cup Truvia Baking Blend
1/2 cup Truvia Brown Sugar Blend
3/4 cup (1 + 1/2 sticks) butter
2/3 cup (from 5 oz can) Evaporated Milk
1/2 cup pumpkin (canned not pumpkin pie filling)
2 teaspoons pumpkin pie spice - Homemade Recipe HERE
2 cups white chocolate chips
1 jar (7 oz) marshmallow creme (also known as fluff)
1 + 1/2 teaspoons vanilla extract
1 cup pecans - whole for garnish or chopped for adding to fudge
Instructions
Add foil to 8x8 pan and spray very lightly with cooking spray
In a large bowl, add white chocolate chips and marshmallow creme
Combine Truvia Baking Blend, Brown Sugar Blend, milk, pumpkin,butter and pumpkin pie spice in a medium saucepan.
Bring mixture to boil, stirring constantly, add candy thermometer to side of pan. Boil until mixture reaches the soft ball stage, 234° to 240º F. Mine took 20 minutes, cooking time will depend on how much liquid in the pumpkin.
Carefully pour hot mixture over chips and marshmallow creme, stirring immediately and vigorously - you want the chips to melt quickly, because when the mixture cools down they won't melt.
Stir in vanilla extract
Pour mixture into prepared pan and let set on counter for 2 hours or until completely cooled
Wrap tightly and refrigerate several hours or overnight until set
To cut, lift foil from pan and cut into small pieces
Notes
You can also put this recipe in a 13x9 pan, the fudge will just be less thick.
Try one of these recipes using Truvia Spoonable, Truvia Baking Blend or Truvia Brown Sugar Blend…
Follow Truvia on Pinterest, Facebook, Twitter and You Tube