The perfect Summertime dessert, Shortcakes, have been made healthier with gluten-free flour and low sugar, and the addition of Blackberries and Blueberries for even more goodness. Serve these Gluten Free Triple Berry Shortcakes for any occasion, they are simple enough for weeknights yet special enough for a dinner party or upcoming 4th of July holiday or Father's Day.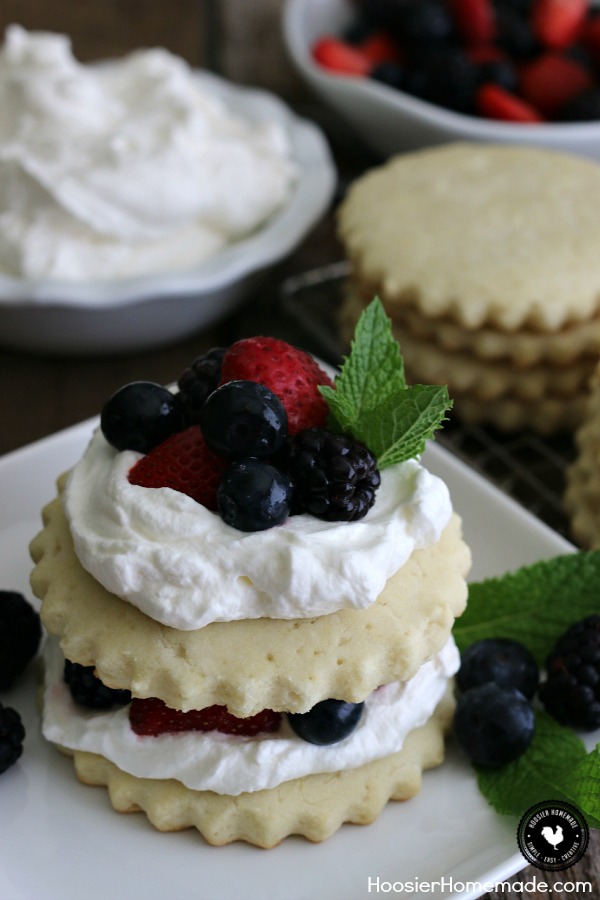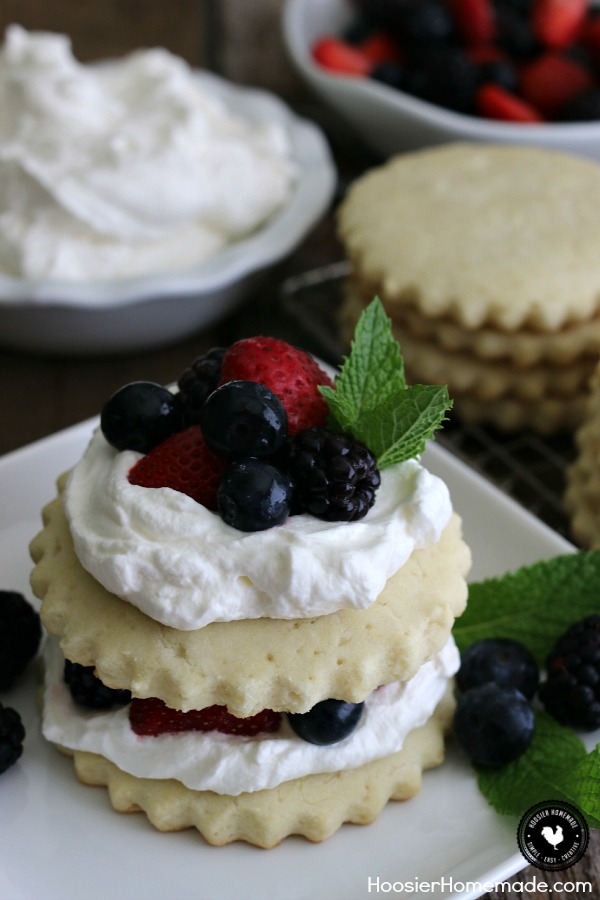 One of the greatest things about Summer is the abundance of fresh berries. We eat them as often as possible for breakfast, lunch, dinner and of course, dessert! There are so many wonderful ways to feature berries in a dessert.
I have shared a little with you about my health journey this year, my morning routine and how I'm trying to bring more fun into my life. After my detox in February, one of the things that the Doctor discovered is that I should avoid gluten in my diet. Well, of course, this hit pretty hard since I LOVE to bake delicious desserts and share them with you. So slowly I have been changing some of my classic recipes that we all enjoy and making them Gluten Free.
These Gluten Free Shortcakes are the perfect example of taking an ordinary recipe and making it healthier.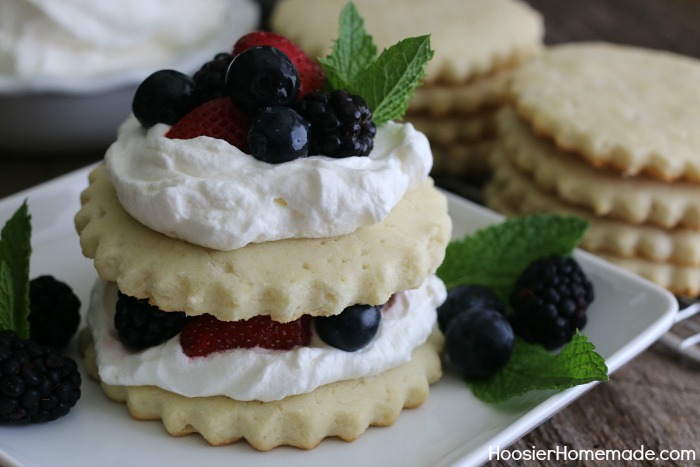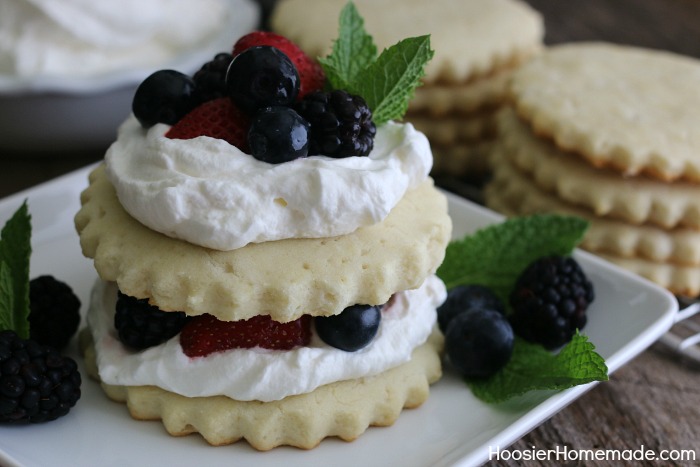 The Berry Ice Cream Floats that I shared last month, made with Truvia Spoonable Natural Sweetener would be a great addition along side of these Triple Berry Shortcakes.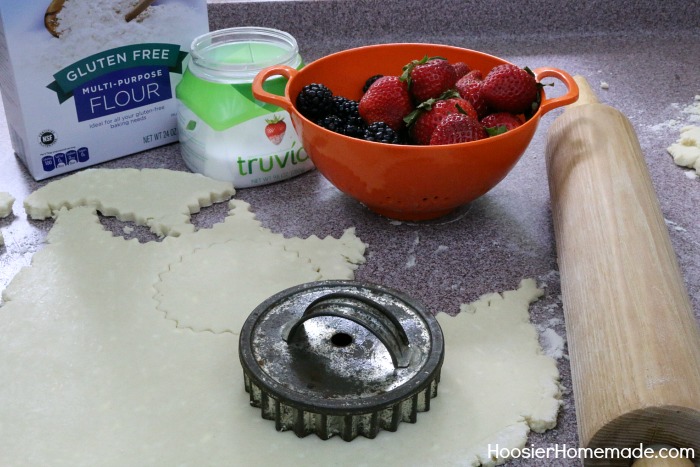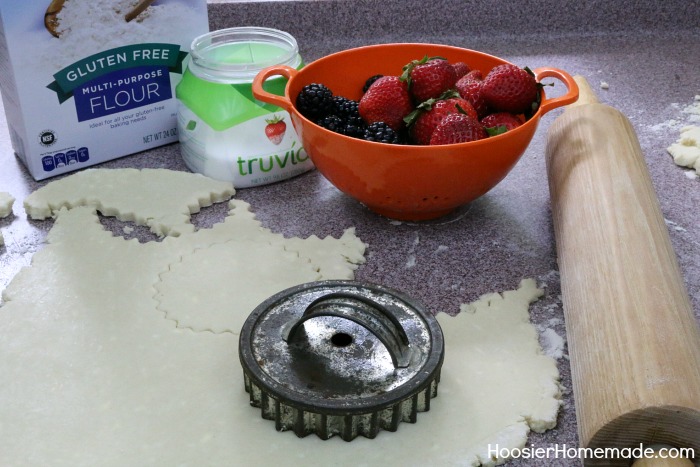 These Shortcakes are made with Gluten Free flour and Truvia Spoonable Natural Sweetener, making them better for you, but still delicious. I started with my original recipe for Triple Berry Shortcakes with Real Whipping Cream, changed the regular flour to gluten free flour, and instead of sugar I used Truvia in the shortcakes as well as a sprinkle on the fruit.
The shortcake dough is simple to make and comes together quickly in the food processor or by hand. The process of the dough making is similar to making a pie crust, after the dry ingredients are sifted together, then cut in the butter until the dough resembles course pebbles. Then add the egg and milk, and mix well until the dough comes together in a ball.
I like rolling out the dough and using a cookie cutter, but you can also make the shortcakes by using a teaspoon and dropping them onto the cookie sheet.
While the shortcakes are baking, clean the fruit and sprinkle it with 1-2 tablespoons Truvia Spoonable Natural Sweetener, let it set while the shortcakes cool down. You can also make the shortcakes ahead of time and store them in an airtight container. To assemble the Triple Berry Shortcakes, I used heavy whipping cream with a teaspoon of vanilla for flavor and whipped until stiff, you could also use Cool Whip if you like, then it's time to put the shortcakes, berries and whip cream together and enjoy!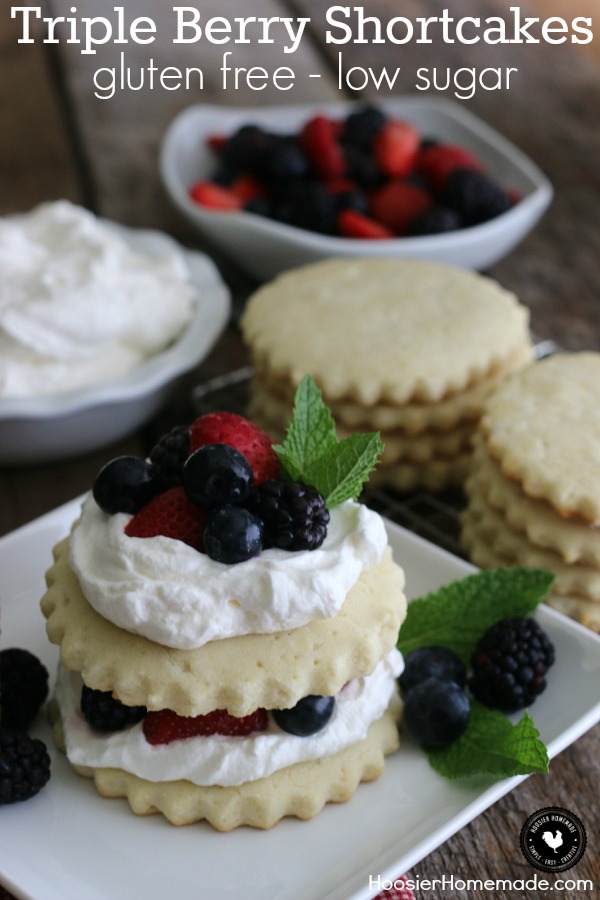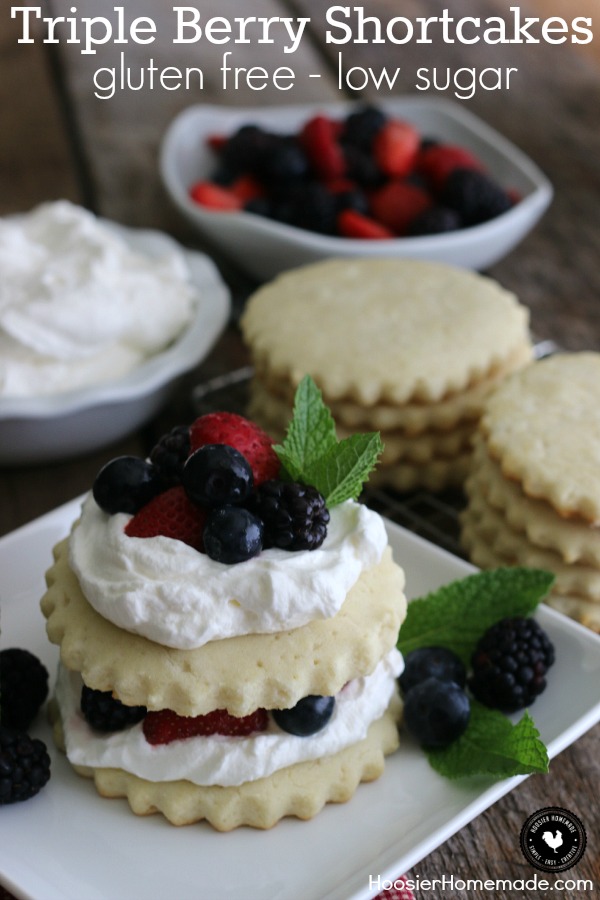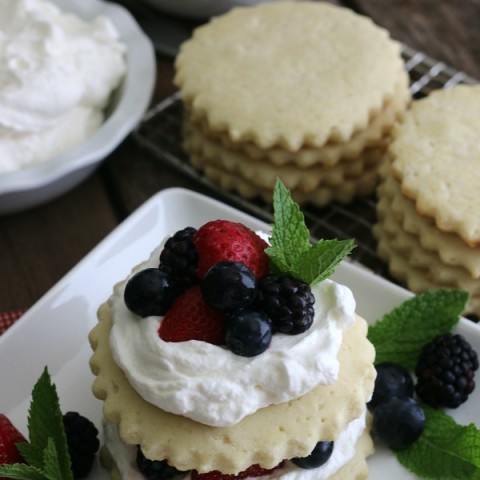 Gluten Free Triple Berry Shortcakes
The perfect Summertime dessert made healthier with gluten-free flour and low sugar
Ingredients
Shortcakes
2 cups Gluten Free Flour or all-purpose flour
2 tablespoons Truvia Natural Sweetener
3 teaspoons Baking Powder
1/2 teaspoon Salt
1/2 cup Butter, cold, cut into pieces
1 Egg, beaten
1/2 cup Milk
Berries
1 cup Strawberries, cleaned and sliced
1 cup Blueberries, cleaned
1 cup Blackberries, cleaned
1-2 tablespoons Truvia Natural Sweetener
Instructions
Shortcakes
Preheat oven to 350 degrees and lightly grease cookie sheets
Sift together dry ingredients and using a Pastry Blender, cut in the butter. Or place in food processor and pulse lightly
Mix the beaten egg and milk, pour into center of dry mixture
Mix well
Place dough on a lightly floured surface
Add enough flour and knead until the dough is not sticky
Roll out dough and cut with cookie cutters
Cut out shortcakes and place on greased cookie sheet
Bake at 350 degree for about 12-15 minutes or until golden brown
Berries
Clean berries and sprinkle with Truvia, set aside
Assembly
To serve, whip a carton of heavy whipping cream until stiff peaks form, add 1 teaspoon vanilla for more flavor if you like. You can also use Cool Whip.
Place a shortcake on the plate, top with whip cream and berries, add another shortcake, whip cream and more berries.
Store shortcakes in an airtight container. Store leftover berries and whip cream in fridge
Try one of these recipes using Truvia Spoonable, Truvia Baking Blend or Truvia Brown Sugar Blend…
Follow Truvia on Pinterest, Facebook, Twitter and You Tube