Triple Berry Shortcakes with Real Whipping Cream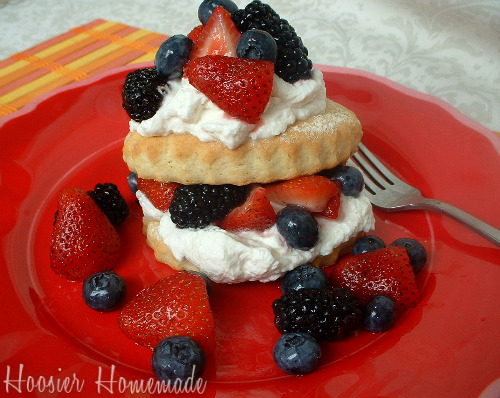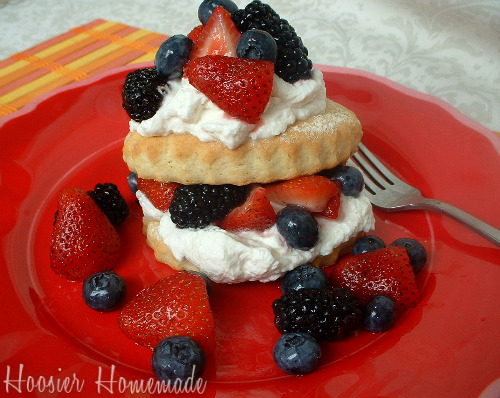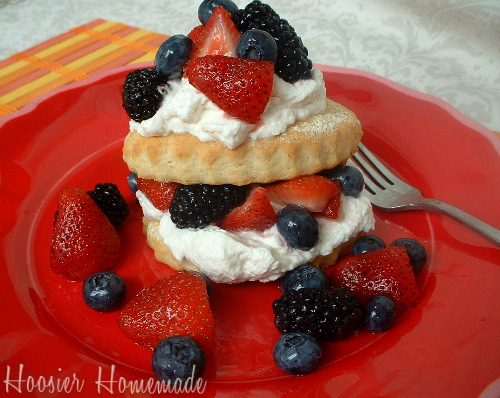 Yup! It's me again, making you drool all over keyboard! These Triple Berry Shortcakes just scream Summer! Don't ya think?
Even though they do require firing up your oven, they only take about 12 – 15 minutes, it goes pretty quickly, so you don't heat up your kitchen too terribly. You can also bake in the early morning or in the evening, like the girls over on BlogFrog suggested.
I used my favorite Old Fashioned Shortcake recipe, but rolled them out instead of just making drop biscuits.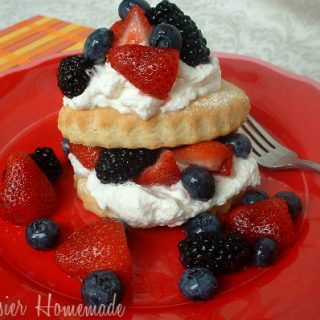 Triple Berry Shortcakes with Real Whipping Cream
Triple Berry Shortcakes with Real Whipping Cream - recipe from HoosierHomemade.com
Ingredients
Shortcakes
2 cups Flour
2 tablespoons Sugar
3 teaspoons Baking Powder
1/2 teaspoon Salt
1/2 cup Butter, cold, cut into pieces
1 Egg, beaten
1/2 cup Milk
Real Whipping Cream
Heavy Whipping Cream
Powdered Sugar
Triple Berries
Strawberries
Blueberries
Blackberries
Instructions
Old Fashioned Shortcakes
%http://hoosierhomemade.com/wp-content/uploads/Shortcakes-collage.jpg
Sift together dry ingredients and using a Pastry Blender, cut in the butter.
Mix the beaten egg and milk, pour into center of dry mixture
Mix well
Place dough on a lightly floured surface
Add enough flour and knead until the dough is not sticky
Roll out dough and cut with cookie cutters, I chose an antique rippled one (it's old, that's why it looks yucky) and a plain round one
Cut out shortcakes and place on greased cookie sheet
Clean berries and place in bowl. I used Strawberries, Blueberries and Blackberries, about 1/2 cup of each
Sprinkle lightly with sugar, stir and set aside. You can skip this step, but I like the juice that it makes by adding just a little sugar
Bake Shortcakes in 375 degree for about 12-15 minutes or until golden brown. Store in tightly covered container.
Real Whipping Cream
%http://hoosierhomemade.com/wp-content/uploads/Whip-Cream-collage.jpg
Place cold heavy whipping cream in bowl and beat for about 2-3 minutes, on medium speed
When soft peaks form, like this, add about 1/4 cup of powdered sugar, depending on how sweet you like your whipping cream
Beat on high speed for another 2-3 minutes or until stiff peaks form, like this
Assemble your shortcakes with the berries and whipping cream.
In the past, I have used a Food Processor to mix these Shortcakes, but mine bit the dust. I have a new one coming from CSN Stores, though! I'll be doing a giveaway soon over on It's A Blog Party!
And of course, if you really don't want to heat up your kitchen, even for these delicious Triple Berry Shortcakes, you can always just mix the berries and add a good helping of Real Whipping Cream to them!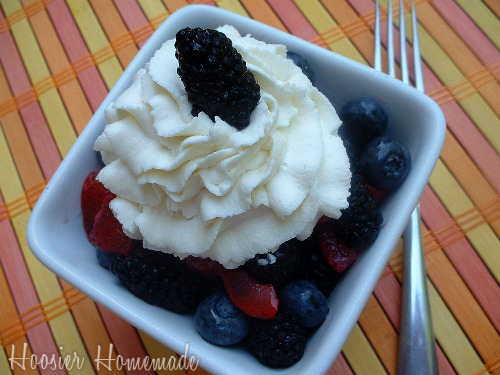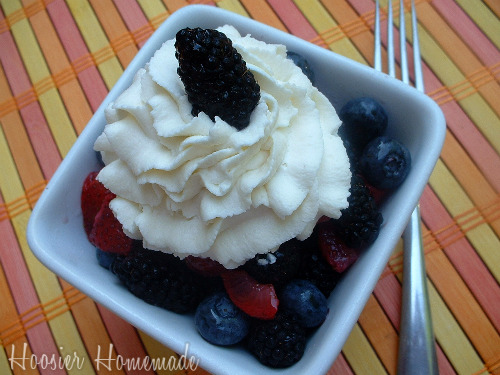 Looking for another yummy No-Bake Dessert? You may also like the Summer Lime Pie, we loved it in our house!
What is your favorite Summertime dessert?
I'm linking to…Eat at Home