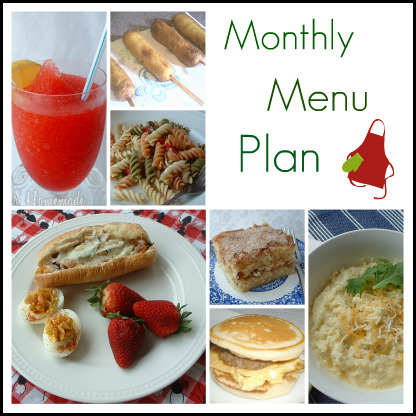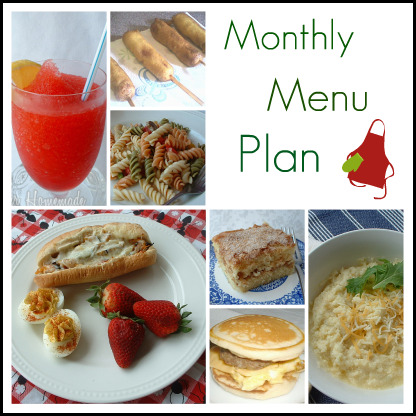 Well, here we are, another month has gone by! Seems like I was sharing last month's menu just last week.
I've tried to keep this month's menu as simple as possible. Andrew graduates next week from High School and Casey's birthday is later this month. We also will be gone to my Father-in-law's for a weekend, and Nick has Baseball Tournaments 3 weekends this month. Wow! This month is gonna fly by too!
And, don't forget, the Dads Rock Giveaway Bash is June 10th! How would you like a Cisco Wireless Router? Or maybe some Thompson's Water Deck Sealer? And guess what? We even have a FlipShare Camera too! Just to name a few! This event promises to be the highlight of the summer!
So, what are we having during this crazy month? Hopefully I can keep up…
31 ~ Happy Memorial Day! Cookout Menu
1 ~ Taco Ring, Spanish Rice
2 ~ Loaded Baked Potato Bar, Side Salad
3 ~ Spaghetti & Meatballs, Italian Biscuits and Salad
4 ~ Aloha Chicken and white rice
5 ~ Inside Out Burgers, Pasta Salad, Chips and Dip
6 ~ Yay! Andrew Graduates from High School today!! Party recipe to come!
7 ~ Party Leftovers
8 ~ Sandwiches & Salad
9 ~ Strawberry & Cream Cheese Stuffed French Toast, Fruit Smoothies
10 ~ Crockpot Chicken, Mashed Potato Casserole
11 ~ Quesadillas, Cheesy Chili Dip
12 ~ Homemade Pizza and Slushies
13 ~ Honey Lime Grilled Chicken, Seasoned Rice
14 ~ Fettuccini Alfredo, Parmesan Knots, Salad
15 ~ Sloppy Joes, Veggies and Dip
17 ~ Chef Salad
18 ~ Bacon Cheeseburger Buns (think I'll use Crescent Rolls though), Roasted Potatoes
19 ~ Out of Town
20 ~ Out of Town
21 ~ Homemade McGriddles, Fried Potatoes, Fruit
22 ~ Chicken Stir- Fry and Rice
23 ~ BBQ Meatballs and Oven Fries
24 ~ Meat Pies, Mashed Potatoes, Salad
25 ~ Grilled Honey-Soy Pork Chops, Salad, Deviled Eggs
26 ~ Casey's Birthday Celebration – Wow, another teenager in the house
27 ~ Buffet (leftovers from party)
28 ~ Grilled Salsa Chicken, Rice, Veggies
29 ~ Southwestern Salad
30 ~ Chicken Nuggets and Fries
Don't miss my giveaway for Tyson Grilled & Ready Chicken, it's awesome!
Please visit the Blog Parties in my footer, you might just find one or two new ones!