The meal plan for last week went pretty well. All of the meals went as planned except for the Tostadas on Friday, which I moved to Saturday because my youngest son wanted to have mashed potato bowls. Apparently he had them at school. I had leftover mashed potatoes from the Meatloaf night, I opened a can of corn and threw some popcorn chicken in the oven, heated up some chicken gravy. I layered the potatoes, then chicken, corn and topped it off with the gravy. He was thrilled.
On Sunday, we had some friends over to celebrate my middle son's birthday, which is tomorrow, he will be 16! I shared our dinner plan with some recipe links.
The recipe I am sharing today is on the schedule for this week, it comes from the Pampered Chef 29 minutes to Dinner Cookbook. I am a huge Pampered Chef fan, I love their tools and their recipes. Most of the recipes are quick, easy and don't take very many ingredients.
Tex-Mex Chicken & Rice Skillet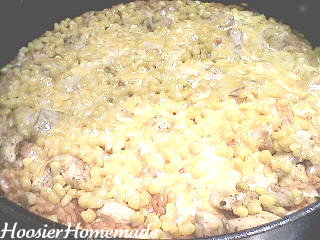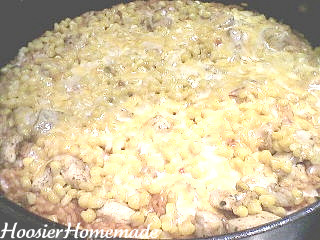 Ingredients:
1 t. + 1 T. Oil, divided
1 can Mexican Style Corn
1 lb. boneless, skinless chicken (thighs or breasts)
1 T. Southwestern Seasoning Mix (or taco seasoning)
2 c. uncooked instant white rice
2 c. Chicken Broth
1 1/2 c. Salsa
2 T. Fresh Cilantro (I left this off)
1 c. Mexican Shredded Cheese
Directions:
Add 1 t. Oil to skillet, drain corn, pat dry with paper towel, add to skillet in a single layer. Cook without stirring 5 minutes or until carmelized on one side. Remove corn from skillet, set aside.
Mix chicken and seasoning in a small bowl to coat, add to skillet, cook 5-7 minutes or until center of chicken is no longer pink, stirring occasionally. Remove chicken, set aside.
Add remaining 1 T. oil to skillet, add rice, stir until well coated with oil, add broth and salsa, bring to a simmer, cover, reduce heat to low. Simmer 5 minutes or until liquid is absorbed.
To serve, spoon chicken over rice mixture in skillet, sprinkle with cheese and corn, cover and let stand for 5 minutes or until cheese is melted. Sprinkle with Cilantro if desired.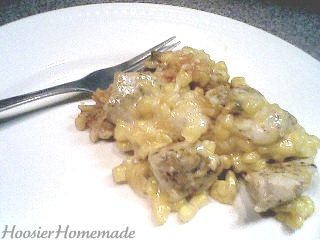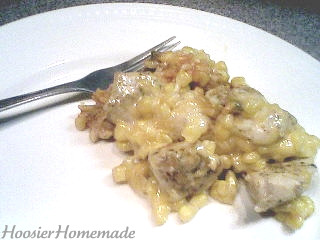 And for this week
Monday ~ BBQ Meatballs, Mac & Cheese
Tuesday ~ Birthday Dinner for Nick
Wednesday ~ Tex-Mex Chicken Skillet (recipe above)
Thursday ~ Soup & Sandwich
Friday ~ Pizza
Saturday ~  Fall Ball for the 2 oldest, Doug's Birthday & catering  job
Sunday ~ Chicken Stir-Fry and Egg Rolls
Don't forget to enter my giveaways for a Pampered Chef Pie & Tart Cookbook and a yummy Red Velvet Cake Candle. It will be open until Wednesday at 8 p.m. You can still enter your link for the Holiday Food Fest ~ Fall Desserts. This week the Holiday Food Fest will feature Thanksgiving and Fall Dishes hosted by Alta at Tasty Eats at Home.
And be sure to stop back tomorrow for Cupcake Tuesday.
For more great menu plans, please visit:
And for more great recipes, please visit:
~Slightly Indulgent Mondays hosted by Simply Sugar & Gluten-Free