Last time I posted the recipe I didn't have a good picture of the dip. So, I made it again (the family was happy) and took some pictures before they dug in. 🙂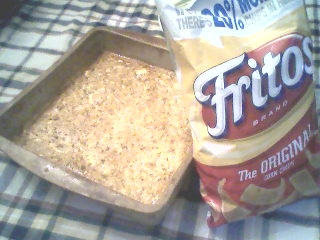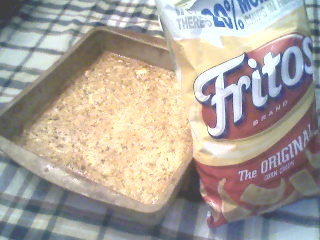 This dip is quick and easy. And cooks up in just 5 minutes in your microwave. Yep, cook it right in the Pampered Chef Stoneware.
Cheesy Chili Dip
4 oz. cream cheese
1 (15 oz) can chili without beans
1 t. Southwestern Seasoning Mix
4 oz. Monterey Jack cheese, shredded
1 garlic clove, pressed
1 small tomato, chopped
1 green onion, thinly sliced (I left these off)
1/4 c. pitted ripe olives, chopped (And these too)
Sour Cream, optional
In a medium bowl, combine, chili, cream cheese and seasoning mix. Shred cheese into bowl, mix well.  Press garlic over chili mixture and mix well. Spread over bottom of 8″ Mini-Baker. Bake for 20-25 min. (I doubled the recipe and cooked it in the microwave for 5 min.) Chop tomato, olives and onion, sprinkle over top of chili mixture after baking. Serve with sour cream and Fritos or tortilla chips.