Meals ~ Nov 16 – 22 ~ Taco Ring


Well, we finished up our Birthdays this week. My middle son turned 16, he wanted Stir-Fry and Egg Rolls, so I switched that meal from Sunday to his birthday. And on Sunday I made Amy's Chicken Fried Steak, Mashed Potatoes and Gravy for my husband's birthday dinner. Saturday was Doug's birthday, but the older boys had Fall Ball, so we had a nice dinner on Sunday instead.
Today I'm sharing the Taco Ring recipe with you. This recipe can be changed to fit your taste very easily. You can make it into a simple, quick weeknight meal, or even a appetizer, of sorts, to have at a party. Most of the time I make one large ring, but I have also made them into individual pieces, by placing the taco meat into each crescent roll and rolling it up.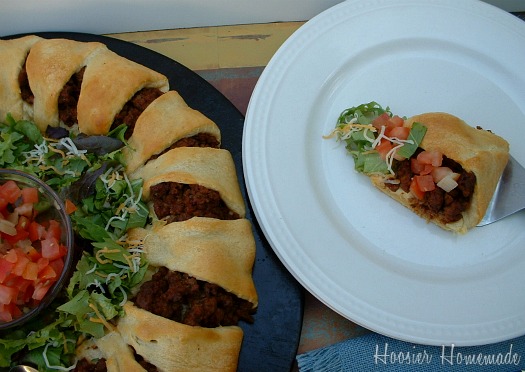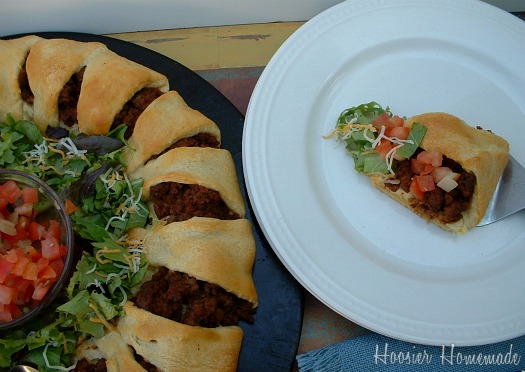 Taco Ring
Ingredients:
1 lb. Hamburger, cooked and drained
Seasoning for tacos (whether you make you own or buy a mix)
2 tubes of Crescent Rolls
Toppings (lettuce, tomatoes, cheese, salsa, taco sauce, etc)
Directions:
Place crescent rolls (similiar to the Veggie Twist I shared last week) in a ring on a cookie sheet or round stone (that's what I use, that's why it looks dark, it's well seasoned)
Place taco meat on top of crescent rolls
And fold over crescent rolls to form a ring
Bake at 375 degrees for about 30 – 40 minutes.
Serve with toppings of your choice. I have also served rice or chips and salsa with the Taco Ring.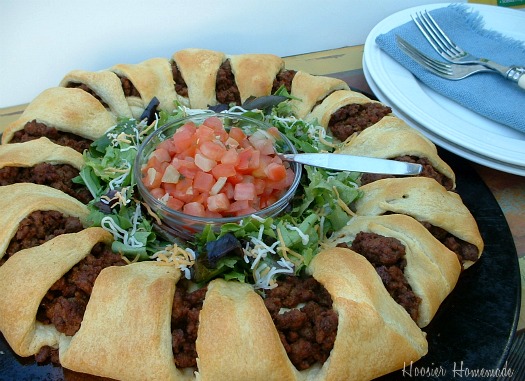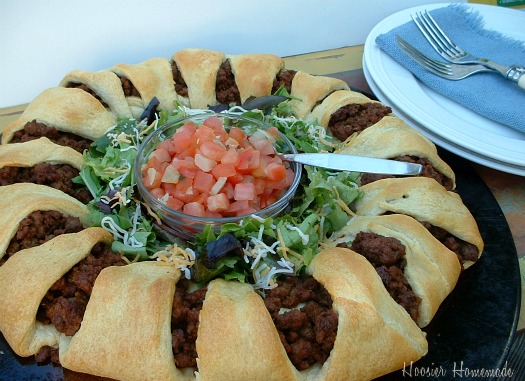 Meals for this week
Monday ~  Chicken Pot Pie
Tuesday ~  Breakfast Tacos, Fruit, Muffins
Wednesday ~  Stromboli
Thursday ~  Tuna Casserole
Friday ~  Taco Ring  (recipe above)
Saturday ~  Clean out the frig – leftovers
Sunday ~  Chicken Nuggets and Fries