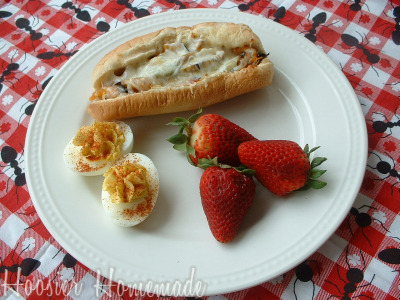 GIVEAWAY CLOSED…winners announced soon
Summer and Grilling season is upon us, but with our busy schedule, I don't always have time to grill out.
Tyson recently sent me a Gift Card to purchase some of their Grilled & Ready Chicken. So, I headed over to my local, LaPorte Walmart, and found lots of varieties to choose from like, Oven Roasted Diced Chicken, Seasoned Beef Strips or the Fajita Chicken Breast Strips, which all sounded good. I choose the Chicken Breast Fillets.
My house full of men, loved the chicken. And for me, it was super quick and easy.
Print
Chicken Phillies with Tyson Grilled & Ready Chicken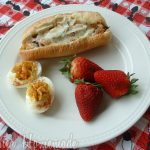 A quick and delicious Chicken Hoagie recipe from HoosierHomemade.com.
Ingredients
1 bag of Tyson Grilled & Ready Chicken Breast Fillets (sliced thinly)
1 large onion
Multi-colored Peppers (green, yellow, orange, red)
Small amount of oil for drizzling on peppers
Italian or Mozzarella Cheese, shredded
Hoagie buns
Instructions
Slice the chicken thinly, warm up in microwave or pan on stove.
Clean and slice peppers, and onion, thinly.
Place peppers and onions on cookie sheet and drizzle with a little oil, place under the broiler and watch VERY closely. **You can also put the peppers and onions on the grill, but it was raining the night I made these, so I just put them under the broiler.
Slice veggies thinly.
Place chicken, veggies in Hoagie buns, top with shredded cheese and place in oven for about 5 minutes to melt cheese and heat through.
I served them with Deviled Eggs and Strawberries.
Full Disclosure: Collective Bias & Tyson provided me the Gift Card to purchase the Tyson Grilled & Ready Chicken, the opinions of the chicken are my own.
Tyson is providing 10 lucky readers with a Free product Coupon!
Giveaway Guidelines:
You can enter once per day in each category!
Please leave a seperate comment for each entry.
Visit the Tyson Grilled & Ready Chicken website. Leave a comment telling me which product you would like to try.
Become a subscriber, leave me a comment.
Follow me on Twitter, and leave me a comment with your Twitter ID, if you already follow me, just leave me a comment.
Tweet about the giveaway including @HoosierHomemade in the tweet and a link to the giveaway post. Leave me a comment.
The Giveaway will be open until Friday, June 4th, 10 p.m. CST, the winner will be notified and have 48 hrs to claim their prize.
Good Luck!