Meals ~ January 25-31 ~ Homemade McGriddles
Having breakfast for dinner is a family favorite in our house. I include it on our menu at least twice a month. Recently I decided to give some Homemade McGriddles a try. They quickly became a favorite. These little McGriddle type sandwiches are very versatile, I served them for dinner one night along with breakfast stew and some fruit, and also made them a couple times for Sunday morning breakfast. Be sure to make extras too, they keep well and make a quick breakfast when you are in a hurry.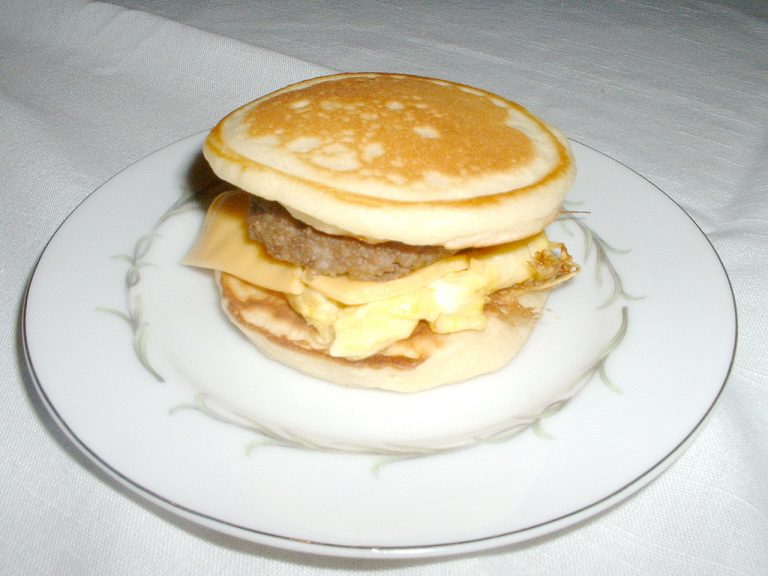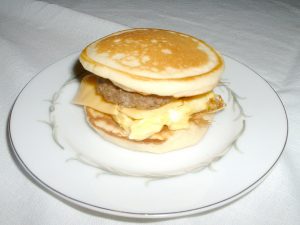 Directions:
Make a batch of silver dollar (small) pancakes, I use this recipe
Slice and cook sausage patties or cook some bacon in the oven
Scramble 1 egg at a time in a bowl, then fry, trying to keep the eggs from spreading (I need to get one of those handy cookie cutter type egg holders)
Assemble pancake, egg, sausage or bacon, add a slice of cheese and top with another pancake
I'm glad my family enjoys having breakfast type food for dinner, it's not only delicious, but it's a frugal meal too, depending on how much meat you serve. I keep the cost of the meal around $5, but sometimes a little higher if we add bacon.
Additional notes: I forgot to add that sometimes I add syrup to the pancakes while they are cooking (Thanks Connie for reminding me).
Monday ~ Chicken Stir-Fry, Rice
Tuesday ~ Beef N' Noodles, Mashed Potatoes
Wednesday ~ Breakfast
Thursday ~ Vegetable Soup, Cornbread
Friday ~ Enchilladas, Mexican Rice
Saturday ~ Corn Dogs, Onion Rings
Sunday ~ Shanghai Wings, Rice
If you are looking for some Cupcake ideas, head on over to my Cupcake Heaven page.