This Fruit Salad Recipe is bursting with flavor. Serve as a refreshing side with your breakfast, pack in a picnic, take it to a potluck and it's the perfect addition to your cookout!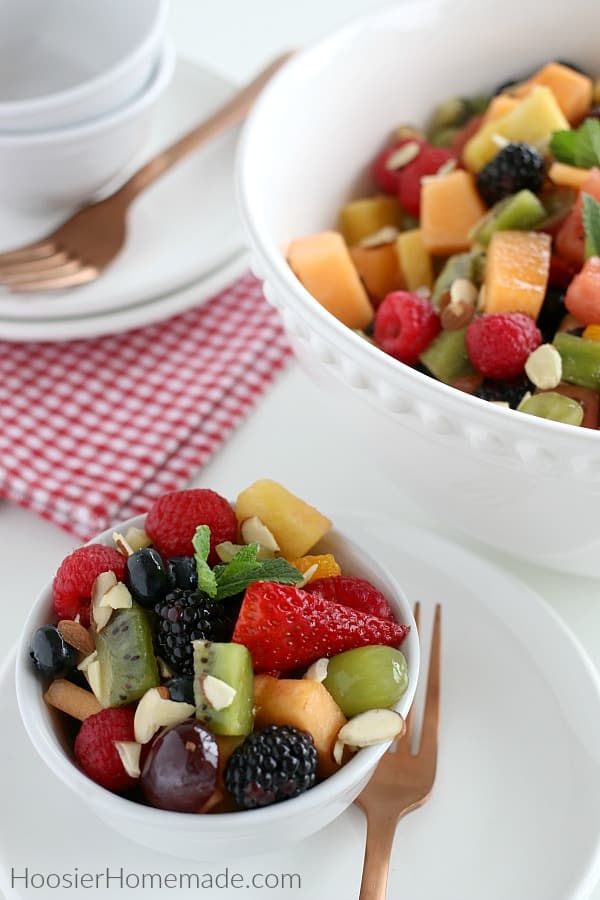 There's just something about a big bowl of fresh fruit that is so satisfying. During the Spring and Summer when the fruit is at it's best, or during the Winter months when you need a little brightness in your day – Fruit Salad is always a favorite.
While fruit salad is a very simple dish, there are several different ways you can make it. Some have a creamy Fruit Salad Dressing Recipe that you can pour over top making it like Ambrosia Salad, and some have Honey Lime Fruit Salad Dressing Recipe like this fruit salad has on it. And I've also seen Fruit Salad with Cool Whip, the options are endless.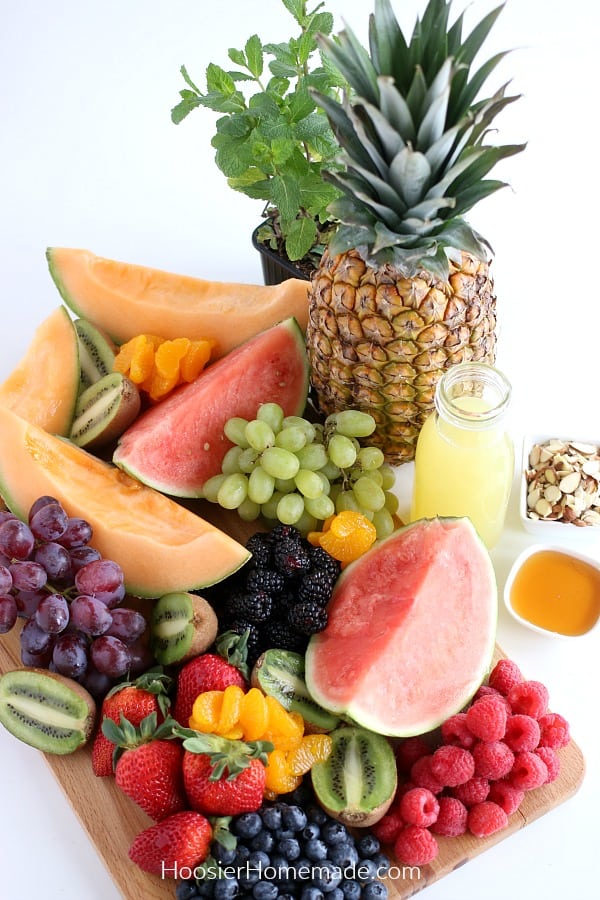 The fruit that is added to Fruit Salad, is really totally up to. Here are the fruits in this easy fruit salad recipe –
Watermelon
Cantaloupe
Strawberries
Pineapple
Mandarin Oranges
Blackberries
Raspberries
Blueberries
Kiwi
Grapes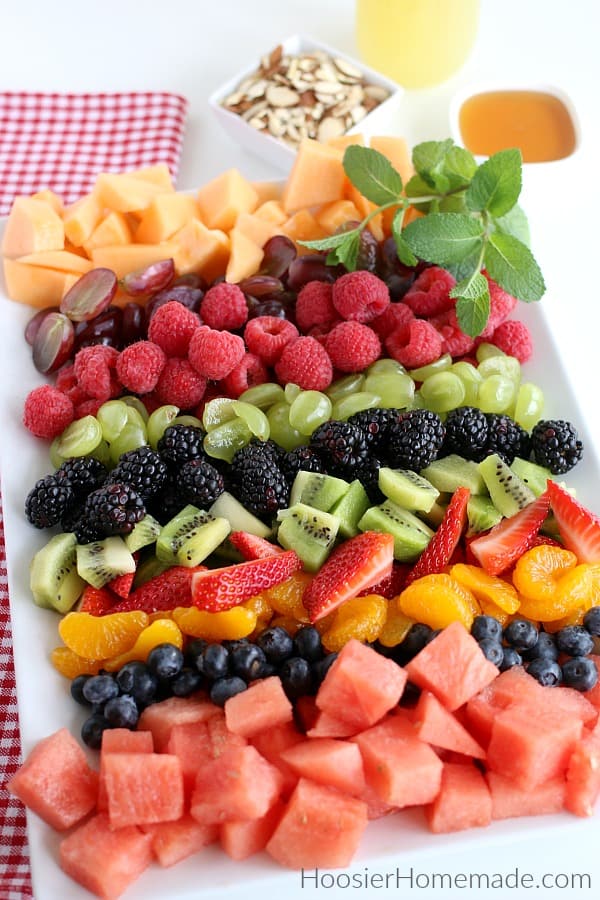 There is something about having fruit all cut up and prepared that makes it so much easier to grab from the fridge and enjoy. It's great for those warm summer days. A big bowl for lunch or a snack is so refreshing.
Creating a Fruit Platter takes minutes and can be served for a super easy breakfast with Blueberry Muffins, pack it in a mason jar for a picnic, take it to a potluck or cookout and watch it disappear, and of course fruit goes great with just about anything on the grill for a cookout.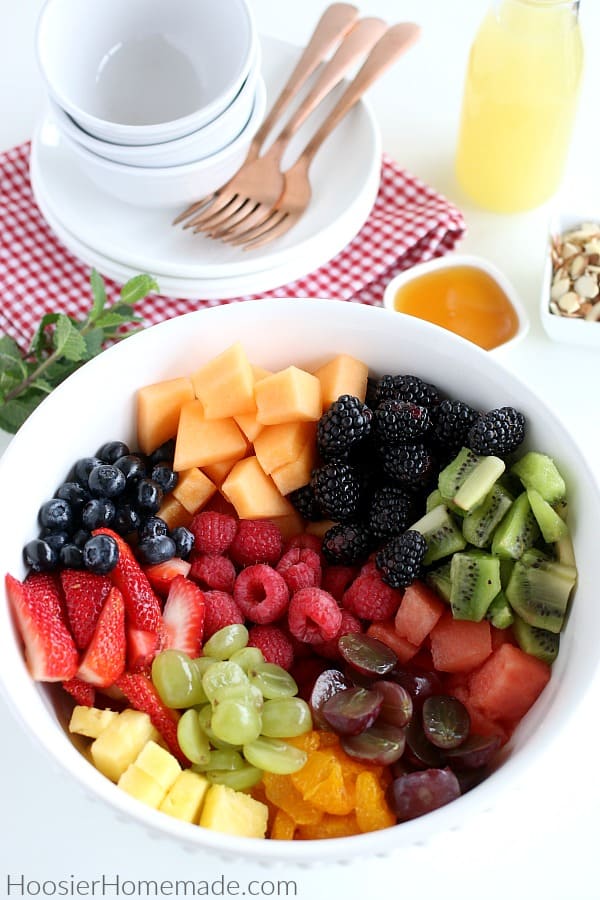 The freshness of the fruit even looks delicious piled high into a bowl.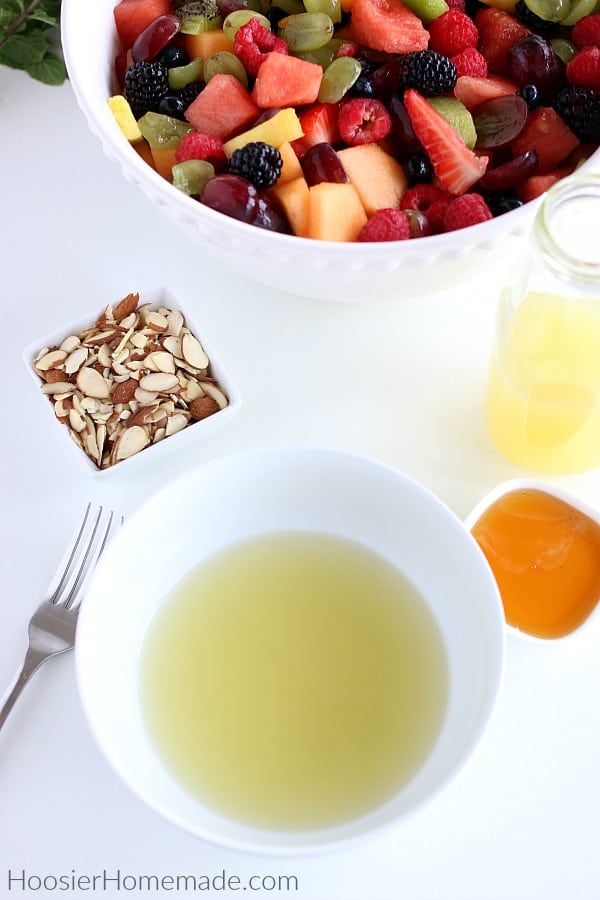 This Fruit Salad Recipe can be served with or without the dressing. This Honey Lime dressing gives the fruit a little more sweetness.
Fruit Salad Dressing
Ingredients
Limeade Frozen Concentrate – thawed
Honey
Kitchen Essentials Needed
Large Bowl
Knife
Small Bowl for dressing
Measuring Cup – 1/2 cup
Measuring Spoon – tablespoon
Whisk or Fork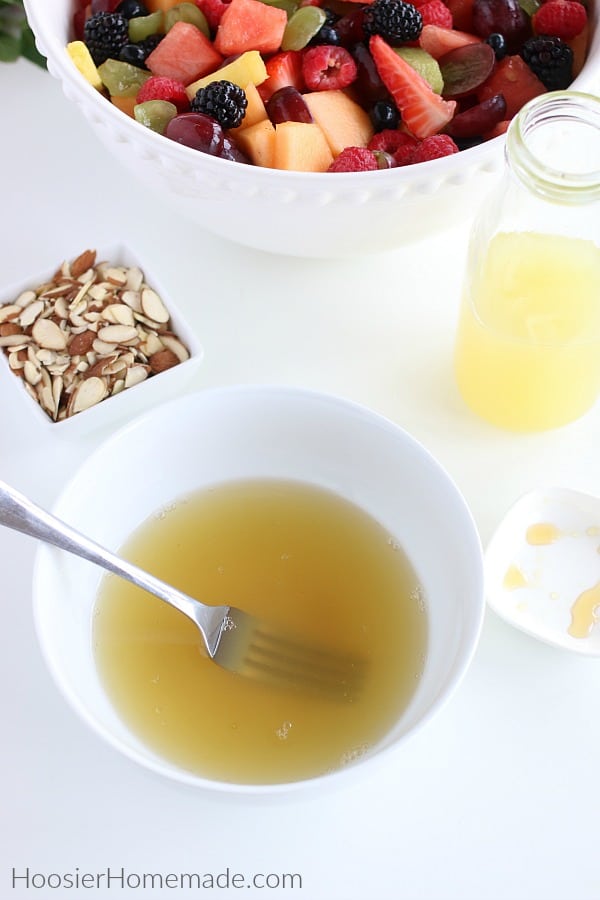 In a small bowl, whisk together the limeade and honey. The amount of honey can vary, depending on how sweet you like it.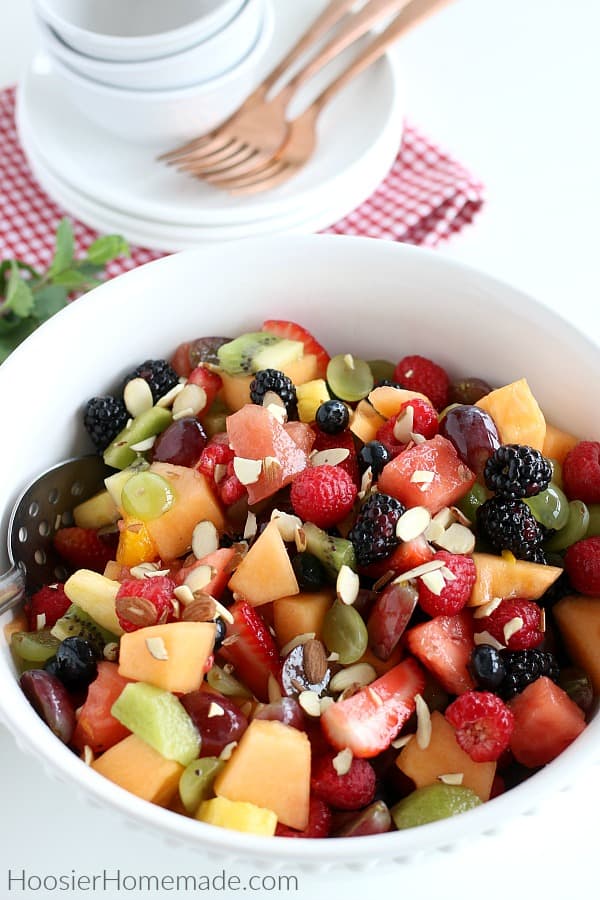 Pour the honey lime dressing over the fruit and stir until well combined and the fruit is coated. Sprinkle with toasted almonds for a little crunch if you like.
Cook's Tips
Make Ahead – you can easily make this fruit salad ahead of the time you will be serving it. You can either add the dressing right away and store it in the refrigerator or wait to add the dressing until before serving. If you add the dressing right away, just be sure that you serve within a day, the fruit tends to soak up the dressing and become a little mushy. It still takes good, but doesn't look as good as it does when it's fresh.
Fruit – you can easily add whatever fruit you like or that you have on hand to this recipe.
Variations – you can also add Poppy Seeds to this recipe for a little texture and flavor.
Storing – be sure to store the Fruit Salad in an airtight container in the fridge. Stir well before serving.
Leftovers – store leftovers in the fridge. If you happen to have too much fruit salad that doesn't get eaten in a few days, drain the juice off the fruit and place fruit in freezer safe bag. Freeze and then use in smoothies.
Frozen Fruit – you can use frozen fruit (although fresh is better), just be sure to thaw it first
Fruit Salad for a Crowd – you can easily double or triple this recipe if you are making it for a potluck, party or large number of people. This recipe will serve about 16 people with a 1/2 cup servings. Some people may eat more than that, to be safe, you could count 12 servings – double to feed 24 people, or triple to feed 36, and so on.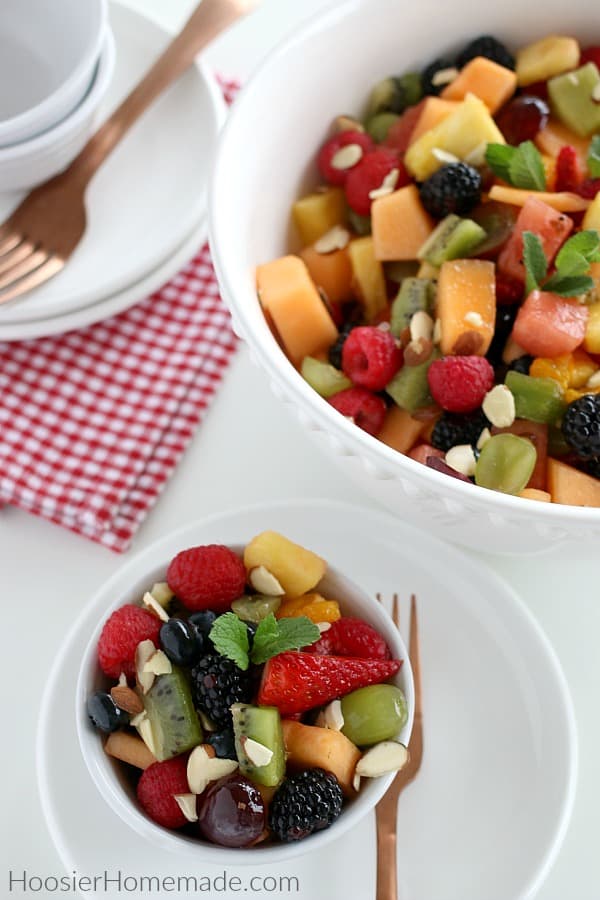 What to Serve with Fruit Salad
Breakfast or Brunch:
Lunch or Picnic:
Dinner or Cookout: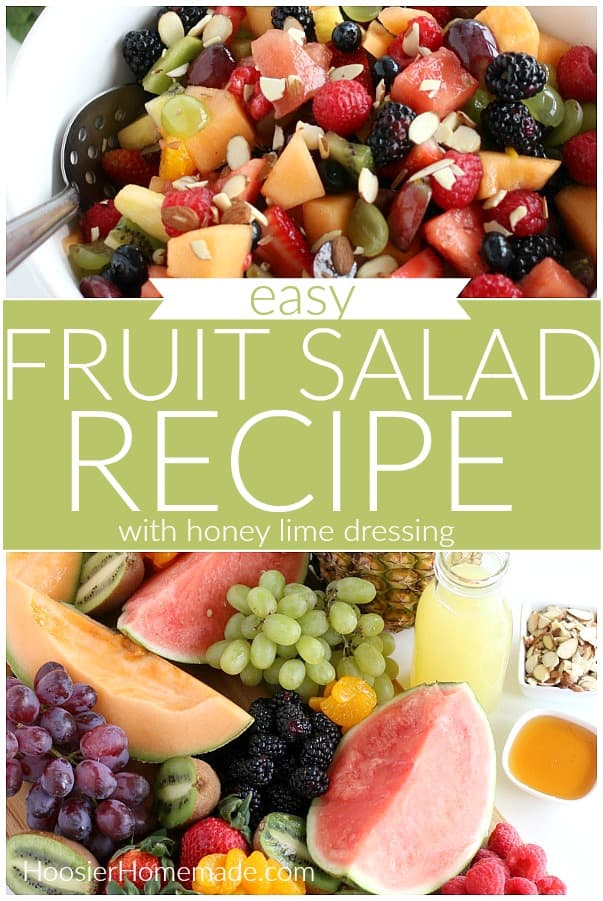 Follow along with the 100 Days of Homemade Holiday Inspiration for more simple recipes, easy crafts, homemade gift ideas, decorating tips and much more!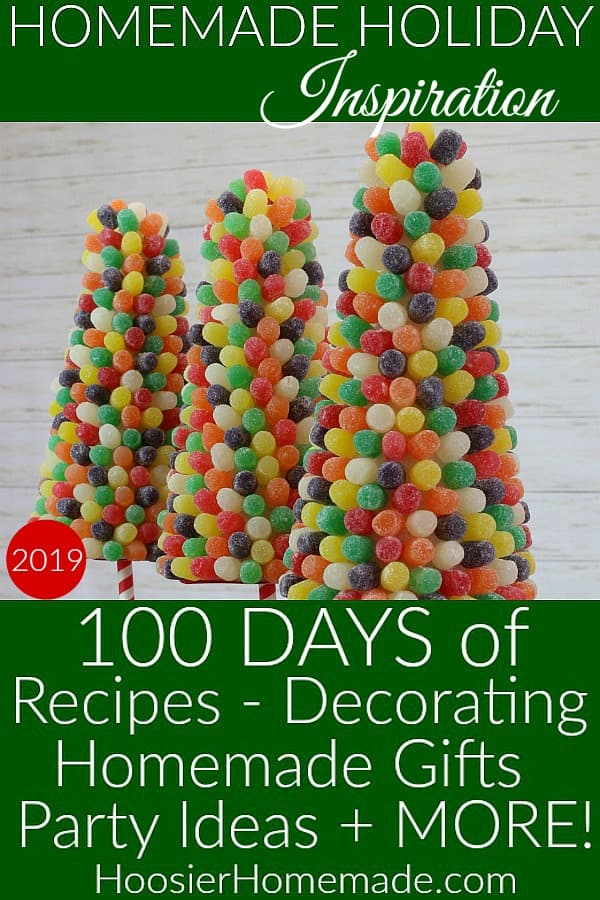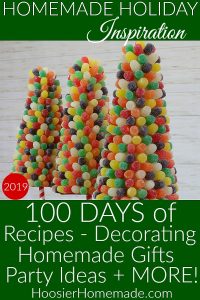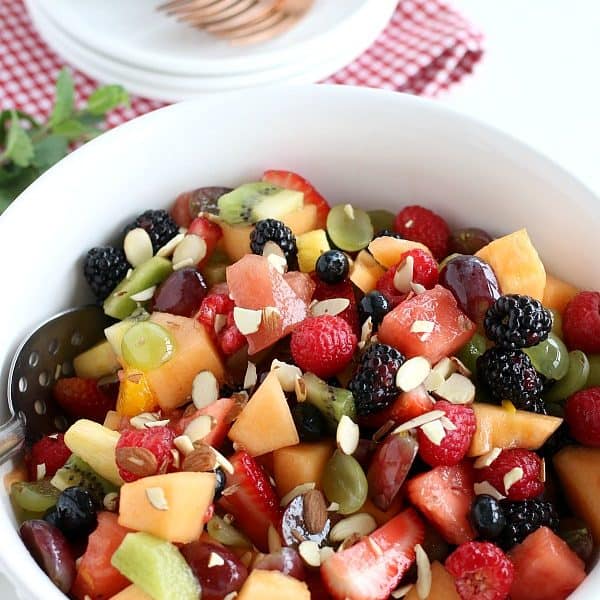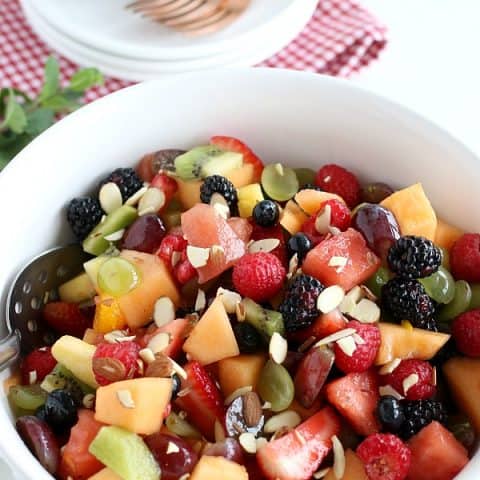 Fruit Salad Recipe
Easy Fruit Salad Recipe with Honey Lime Fruit Salad Dressing
Ingredients
8 cups fresh fruit - watermelon, cantaloupe, berries, kiwi - whatever you like
1/2 cup frozen Limeade, thawed
2 tablespoons Honey - more if you like it sweeter
Toasted Almonds, optional
Fresh Mint, optional
Instructions
Clean and cut all fruit and place in large bowl
In small bowl, whisk together the limeade and honey until well combined
Pour over fruit and stir until well combined
Serve immediately with toasted almonds and fresh mint or store in refrigerator until ready to serve
Store leftovers in refrigerator in airtight container
Notes
The honey lime dressing can easily be left off the fruit salad and it's still delicious.
Looking for more Salad Recipes? Click on the photo for the Recipe –