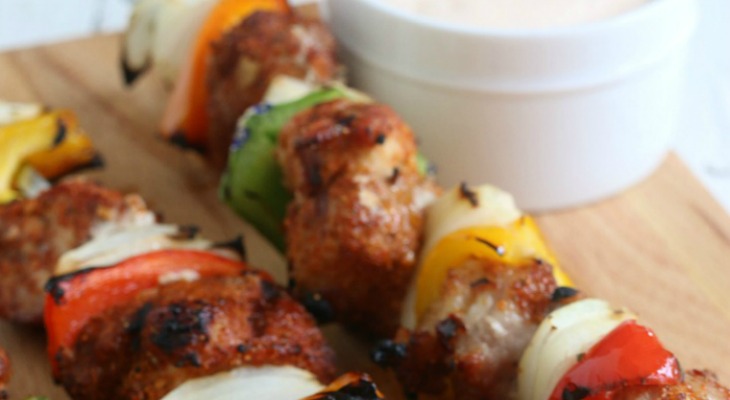 Add a little kick to your grill! These Southwestern Pork Kabobs are full of flavor, easy enough for a weeknight meal but special enough to serve at a party!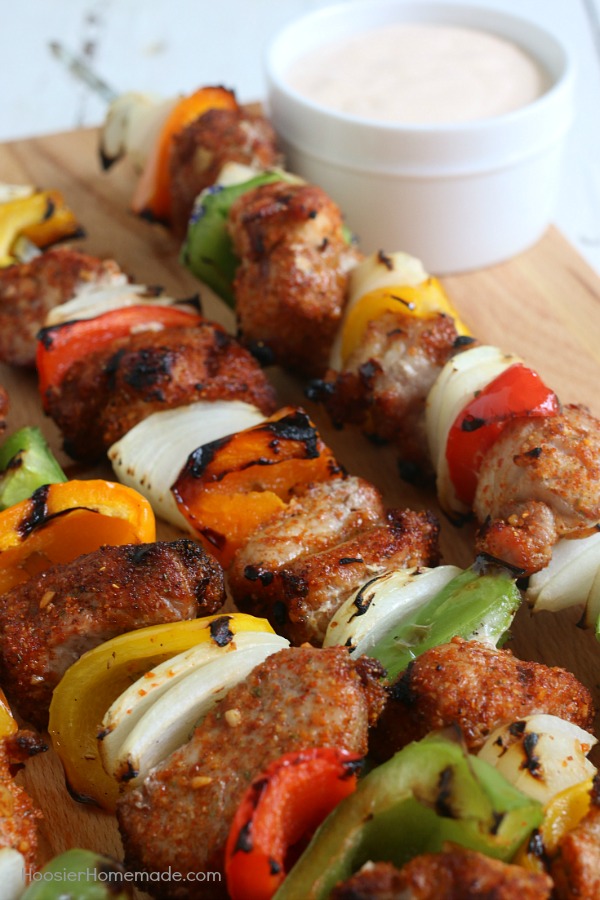 Grilling season is upon us and I couldn't be more excited. I know technically you can grill all winter, but in my neck of the woods, stomping through a couple feet of snow just isn't what I call fun.
After grilling the Barbecue Bacon Pork Chops and Grilled Stuffed Pork Chops last season, I couldn't wait to try another recipe with pork. Those two recipes were incredible. Really, barbecue sauce, bacon and beer? It doesn't get much better than that.
Well, I think it might have gotten a bit better with these Southwestern Pork Kabobs. They have just enough heat to give them a ton of flavor, but aren't really spicy. And of course, anytime you add grilled vegetables, you know the recipe is delicious.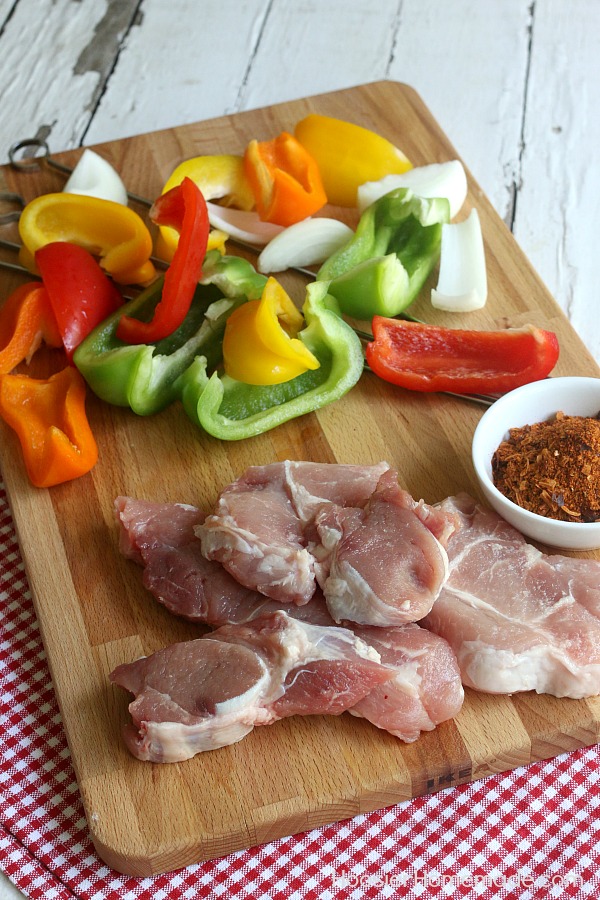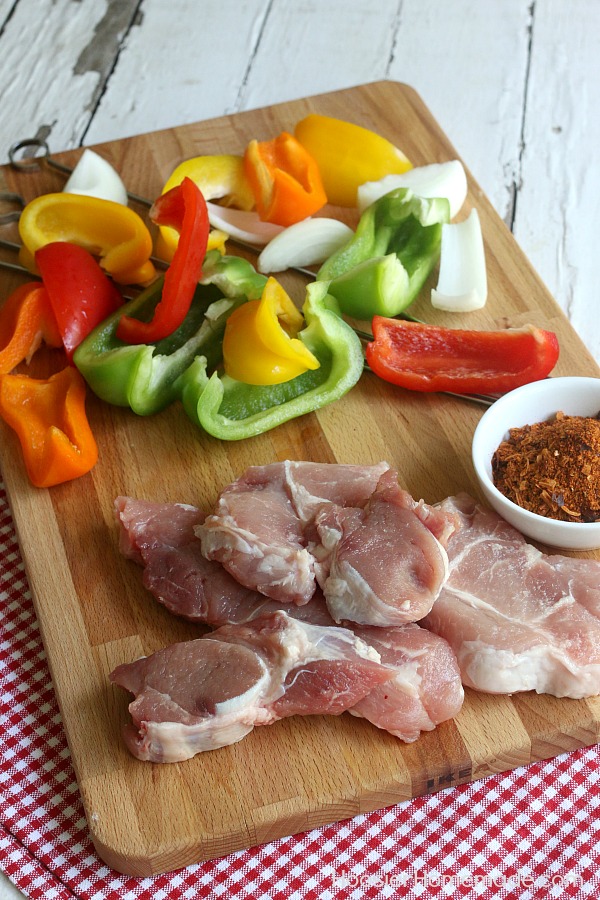 The ingredients are very simple – pork, vegetables and taco seasoning. The original recipe, courtesy of the National Pork Board, called for boneless pork chops, we used bone in and they worked great. Doug cut the bone out and cut the pork into large chunks, then seasoned them with the taco seasoning.
The three color peppers add color as well as great flavor. Green peppers and onions added even more flavor.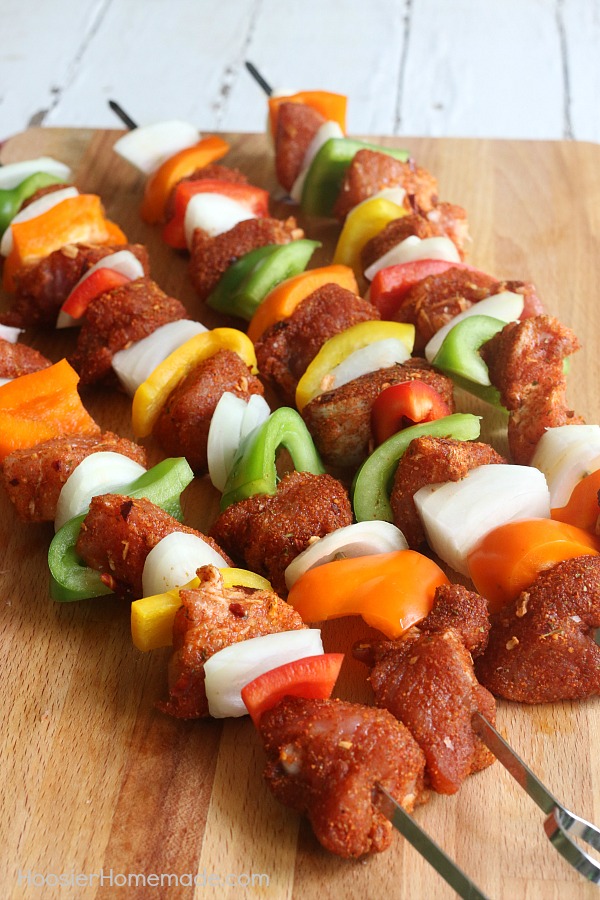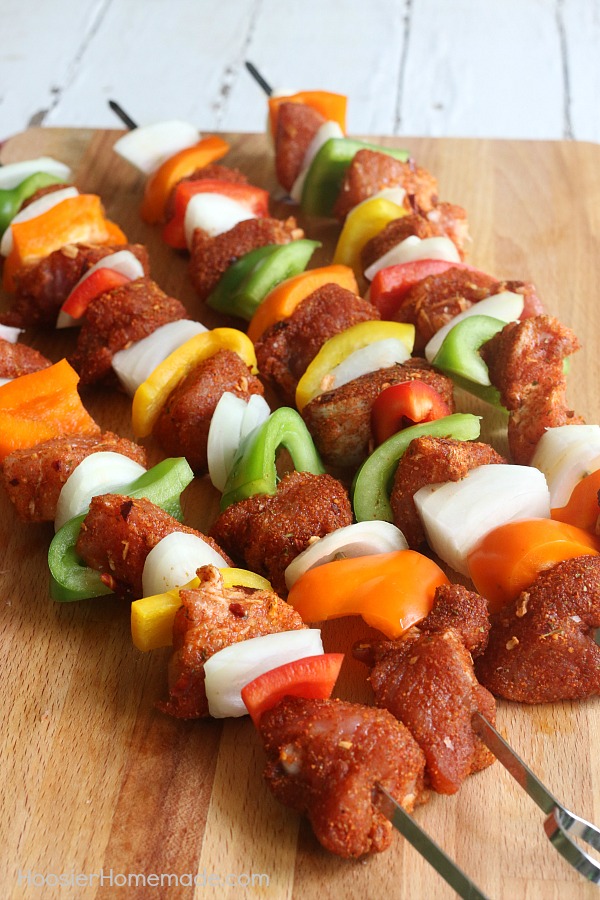 We threaded the pork and vegetables onto the metal skewers. I like using metal skewers instead of wooden, they seem to cook the food better and you don't have a chance of them catching on fire. But if you do use wooden skewers, be sure to soak them in water at least 20 minutes before using them.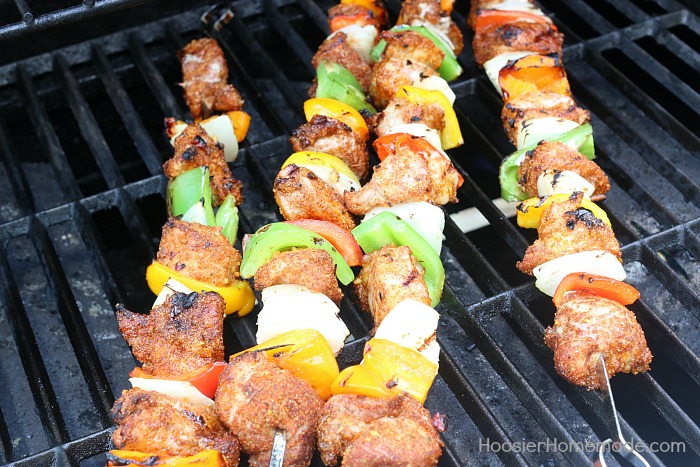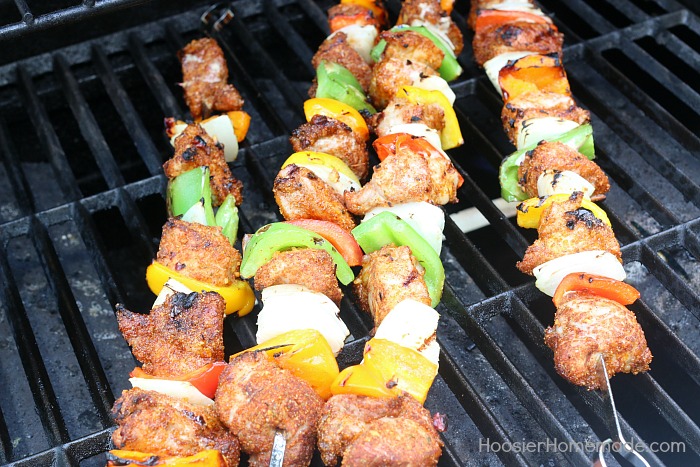 Now it's time to fire up the grill. The National Pork Board recommends that for tender, juicy and delicious pork loins, roasts, chops and tenderloins to cook them like you would a steak – until a digital thermometer reads an internal temperature between 145°F (medium rare) and 160°F (medium), followed by a three minute rest.
Doug grilled the pork kabobs about 10 minutes, turning occasionally.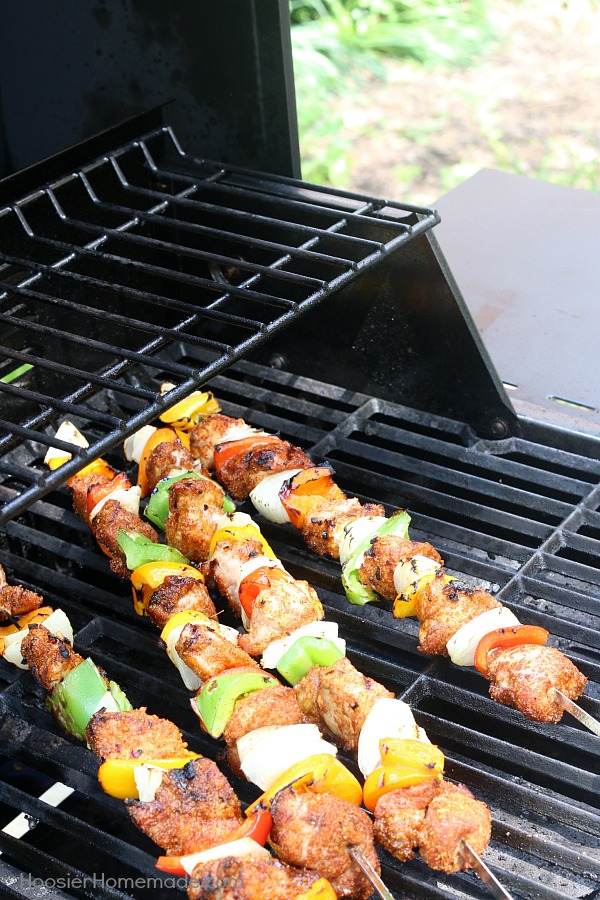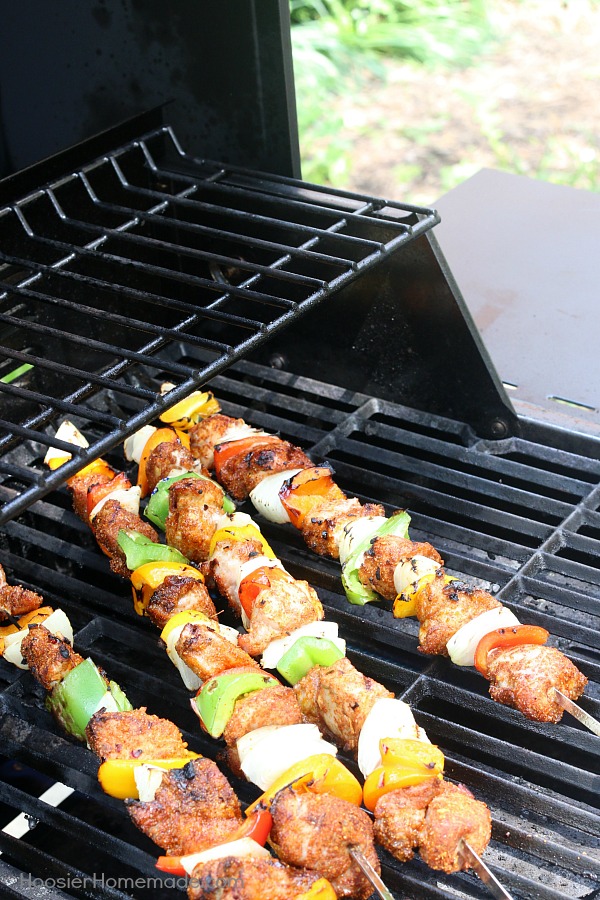 For the first time ever, America's going to see grilling season from the perspective of the hottest, most popular guy at the barbecue – The Grill – and discover that what really gets his flames going is delectable, magical pork.
Have you ever wondered what your grill was thinking? Let's have some fun!
I asked the grill some "burning" questions and he was nice enough to answer me.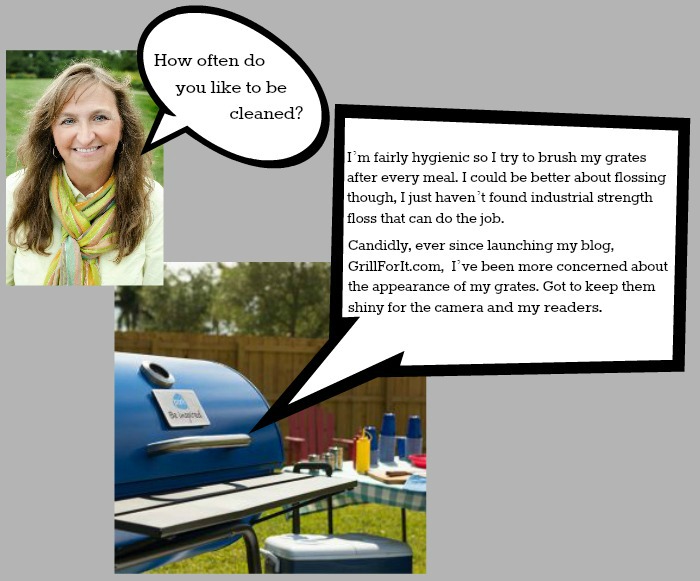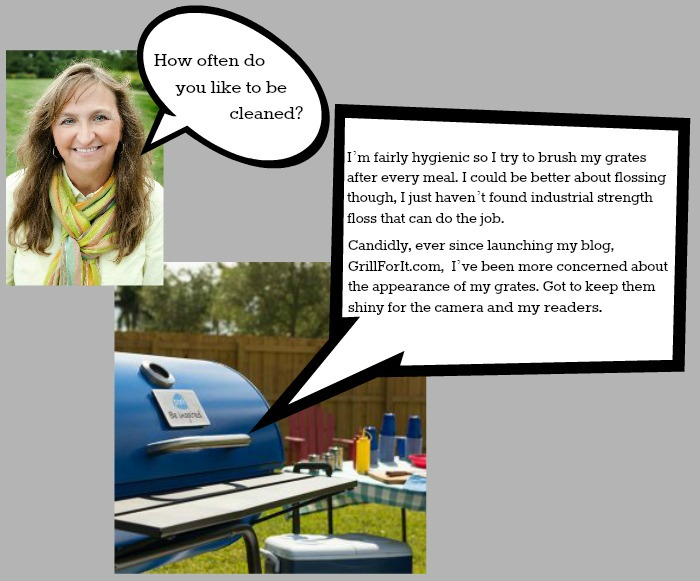 Visit GrillForIt.com for more recipes and tips on grilling.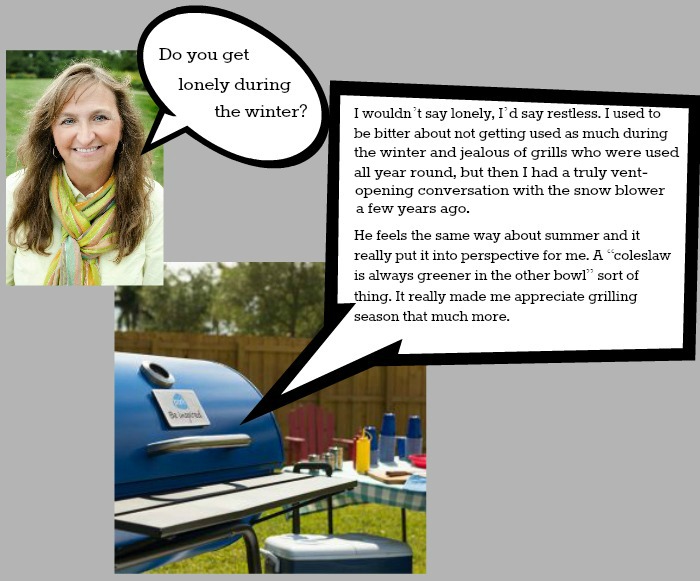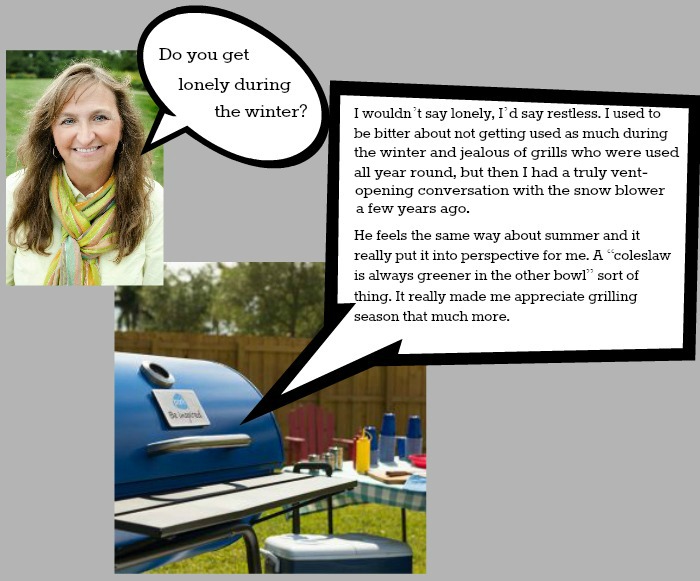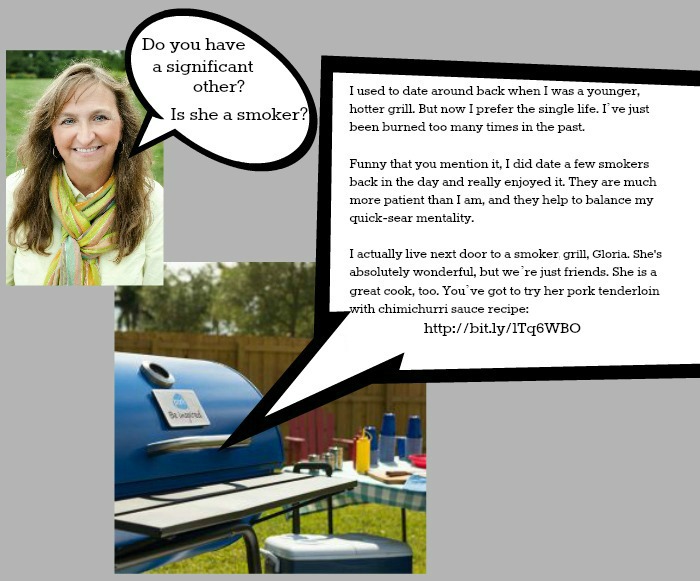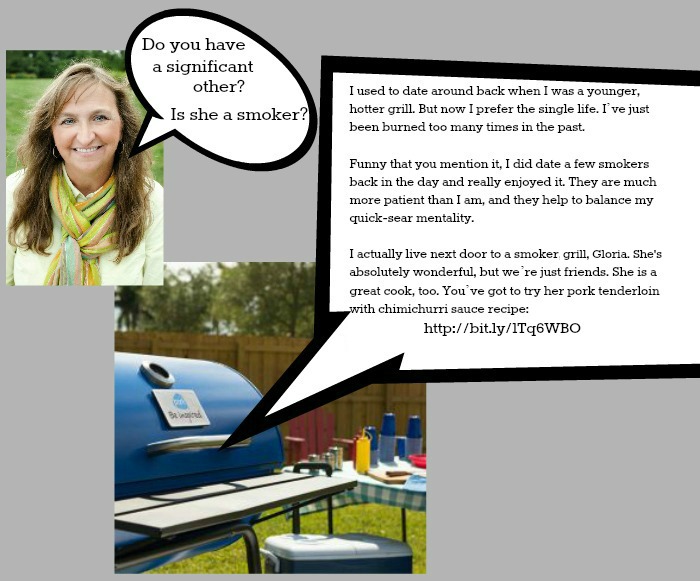 Pork Tenderlion with Chimichurri Sauce Recipe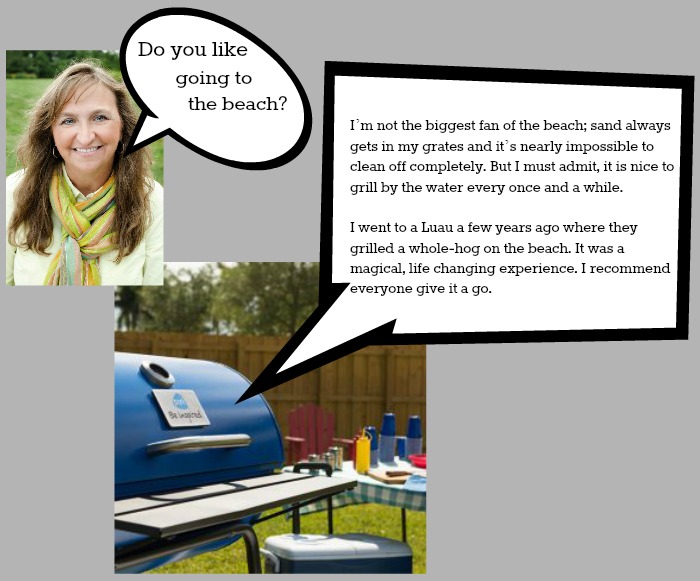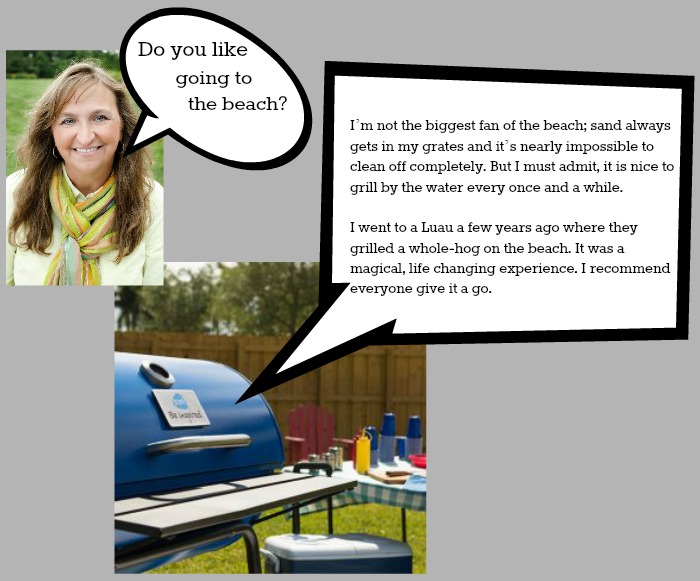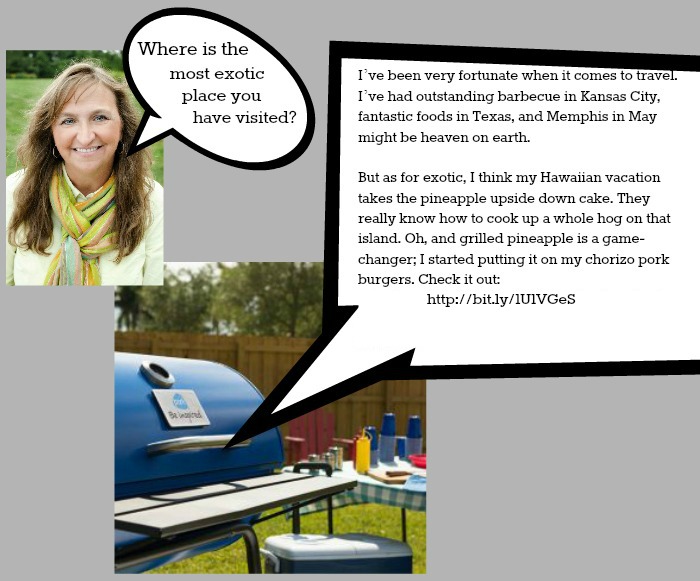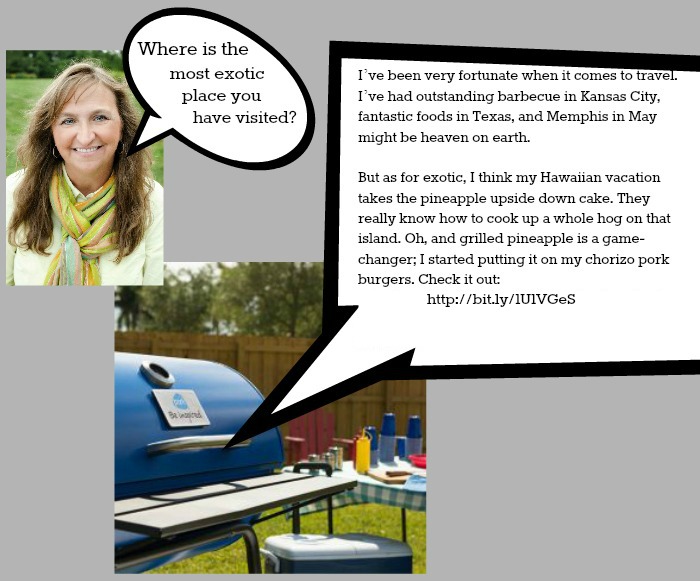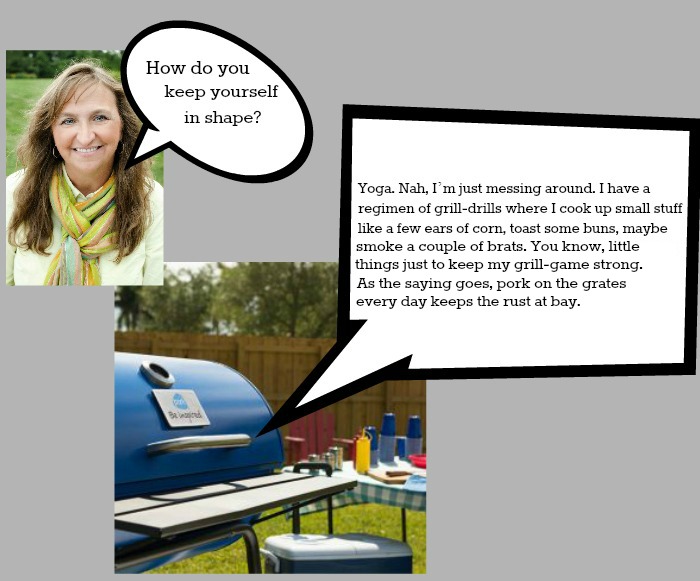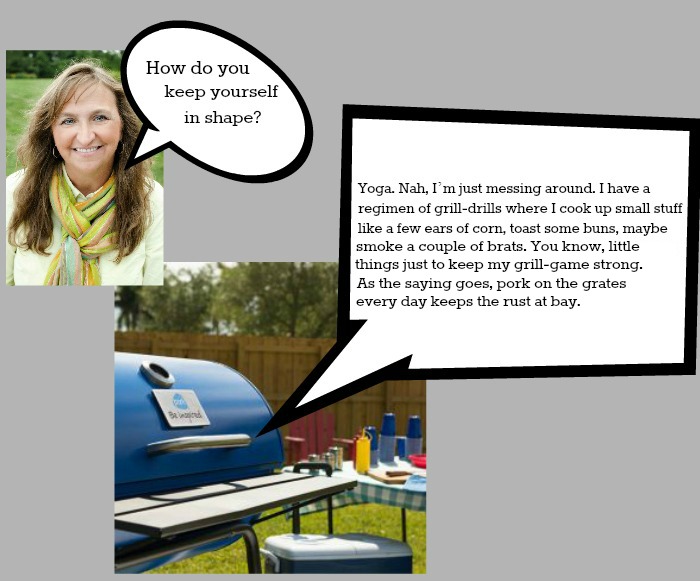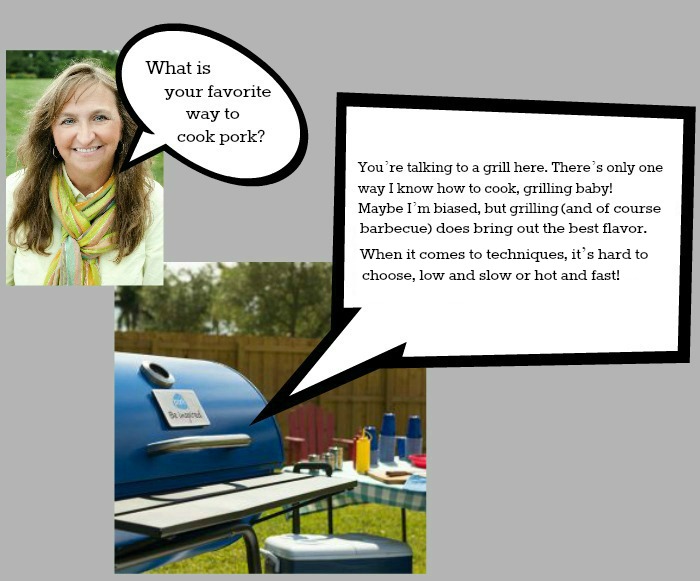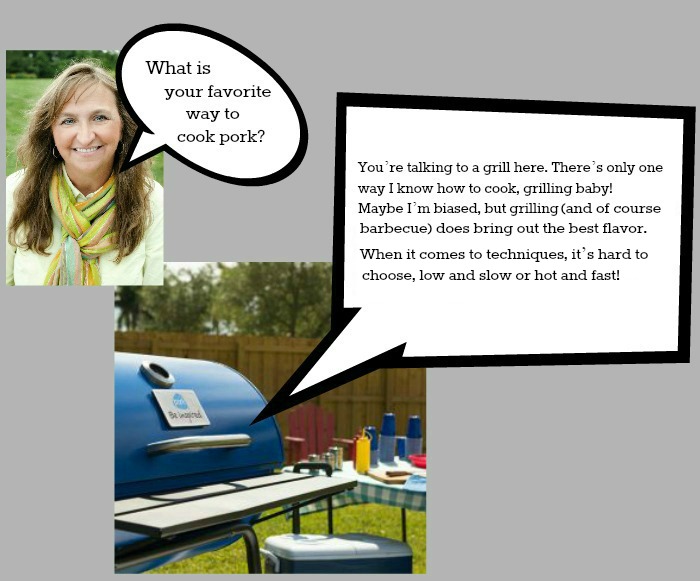 Do you have a burning question for the grill??
Find him on Facebook or Twitter and ask away…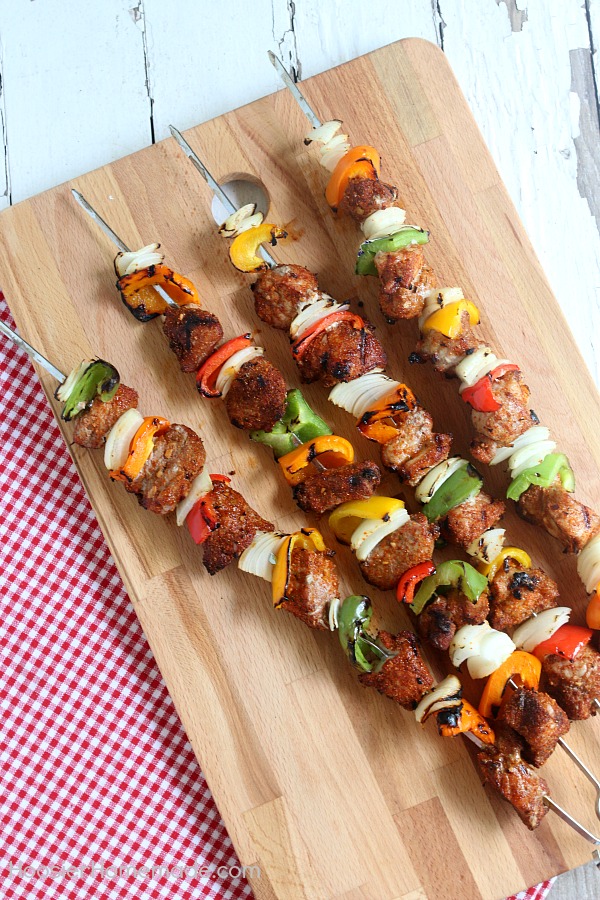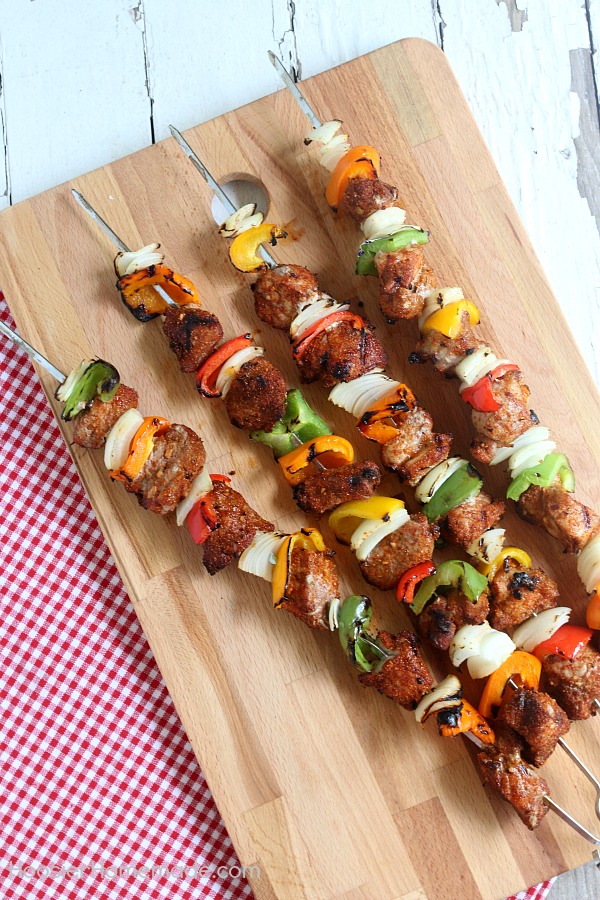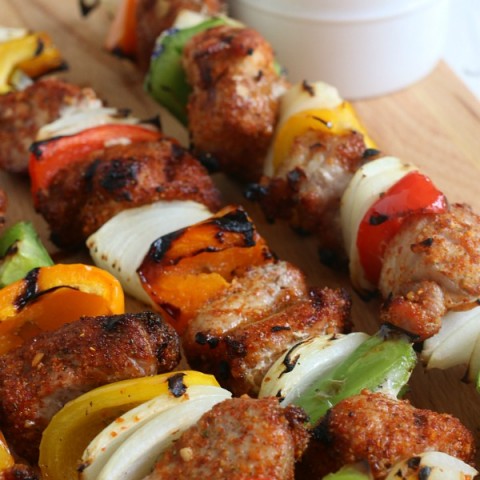 Southwestern Pork Kabobs
Yield: 4

Prep Time: 10 minutes

Cook Time: 10 minutes

Total Time: 20 minutes

Add a little kick to your grill! These Southwestern Pork Kabobs are full of flavor, easy enough for a weeknight meal but special enough to serve at a party!
Ingredients
4 Pork Chops - cut into 1 inch cubes
4 tablespoons taco seasoning
1/2 large onion - peeled and cut into chunks
1/2 each red, yellow, orange and green peppers - cleaned and cut into chunks
Instructions
Cut pork and vegetables
Place pork in a large plastic resealable bag, add taco seasoning and shake to coat
Thread pork and vegetables onto skewer
Note - if using wooden skewers, they need to soak in water at least 20 minutes before using
Grill kabobs over medium-high heat turning occasionally
Cook for about 10 minutes
Nutrition Information:
Yield: 4 Serving Size: 1
Amount Per Serving: Calories: 388Total Fat: 18gSaturated Fat: 6gTrans Fat: 0gUnsaturated Fat: 9gCholesterol: 132mgSodium: 704mgCarbohydrates: 13gFiber: 2gSugar: 6gProtein: 41g

Give these Southwestern Pork Kabobs a try, or one of these delicious recipes from PorkBeinspired.com
Pork and Chorizo Burgers with Pineapple and Sriracha – This recipe combines ground pork and chorizo with breadcrumbs, eggs, red pepper and garlic into a mouthwatering patty that gets
topped with homemade Sriracha aioli and fresh pineapple.
Cuban-Style Pork Burgers – A departure from the typical burger, this version includes ground pork and chorizo, creamy Thousand Island dressing and shoestring potatoes.
Grilled Pork Burritos with Salsa Verde –Boneless New York pork chops are grilled to perfection, then cut into bite-sized pieces and wrapped up in a lightly toasted tortilla along with refried beans, rice, cheese, cilantro and homemade salsa.
Stuffed Pork Tenderloin with Chimichurri –Pork tenderloin is stuffed with sautéed garlic, spinach, bell peppers, cheese and breadcrumbs, grilled and then served with a hot and tangy chimichurri sauce.
Double Smoky Ribs with Bacon-Bourbon BBQ Sauce – Pre-soaked woodchips add extra smoky flavor to grilled ribs covered in a bourbon-infused barbecue sauce made with bacon, chili sauce, cider vinegar, peach preserves and Worcestershire sauce.
Grilled Pizzas with Herbed Pork and Brussels Sprouts –Simply marinated and pre-cooked boneless pork chops are diced and then added to a grilled homemade crust along with crispy Brussels sprouts and savory cheese.
Pulled Pork Salad with Grilled Vegetables – This salad features grilled pork shoulder and vegetables, crushed honey-roasted peanuts and DIY honey mustard dressing.
Korean Pork Chops with Gochujang Marinade –Porterhouse pork chops – marinated with Korean chili paste, soy sauce, sesame oil, rice vinegar, brown sugar and ginger – are grilled until tender and served with an Asian slaw on the side.