All American Barbecue Burger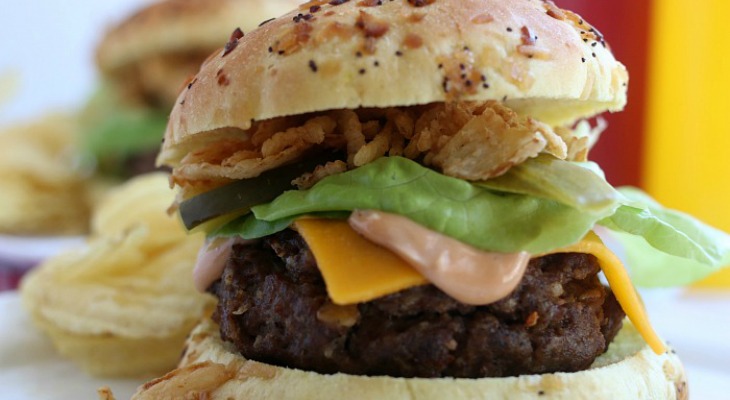 Are you ready to step up your grill game? If so, this All American Barbecue Burger is just for you- made with a secret ingredient, it is perfect for your next dinner party!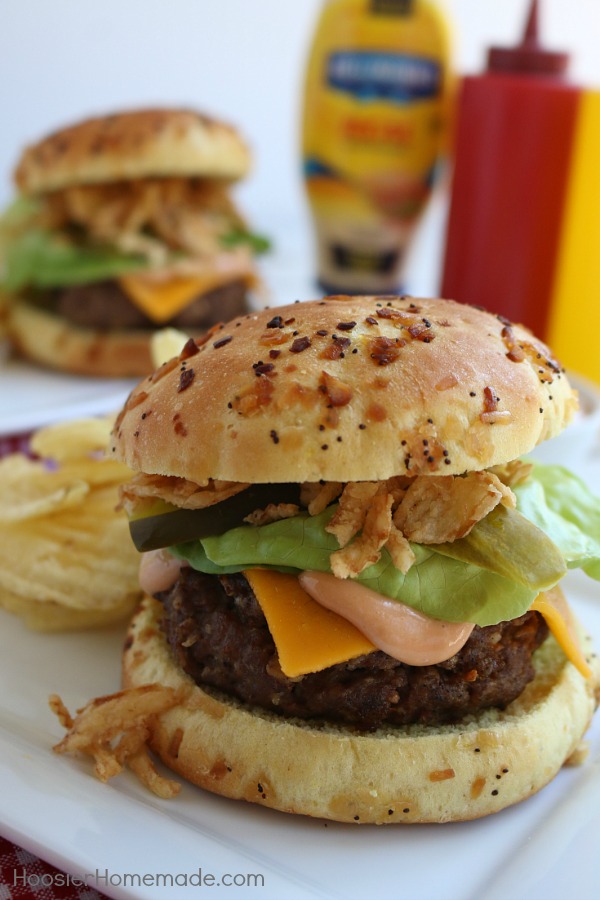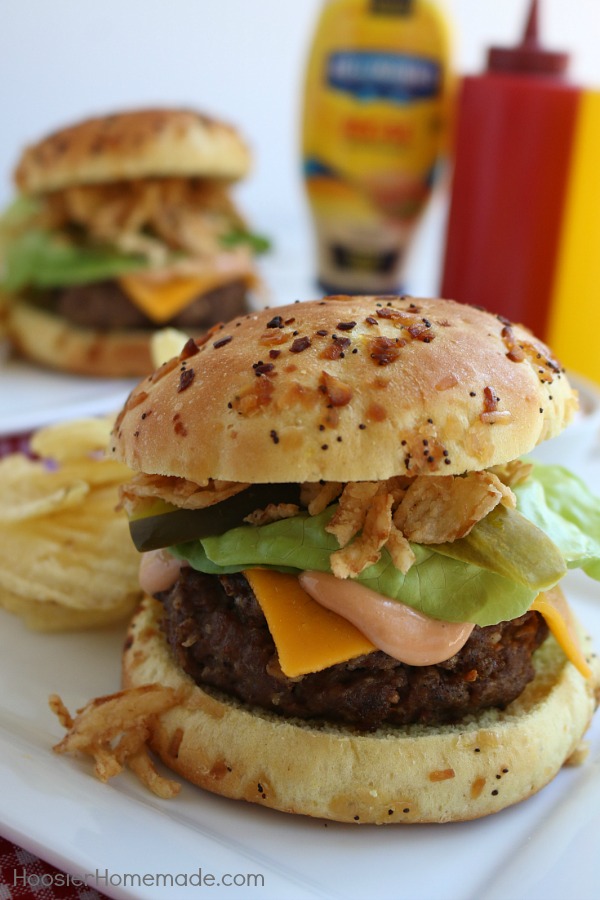 Grilling out is so much fun- and burgers taste so good on the grill! However, lately I had been defaulting to giving my burgers their flavor with toppings and sauces. Well this burger has both of those (sauce is almost always my favorite part!), but it also has a secret ingredient- 1 envelope Lipton® Recipe Secrets® Onion Soup Mix and Hellmann's® Real Mayonnaise mixed right into the patties!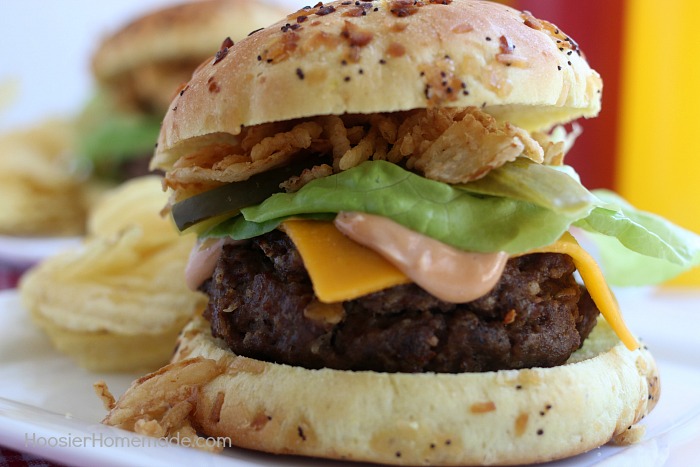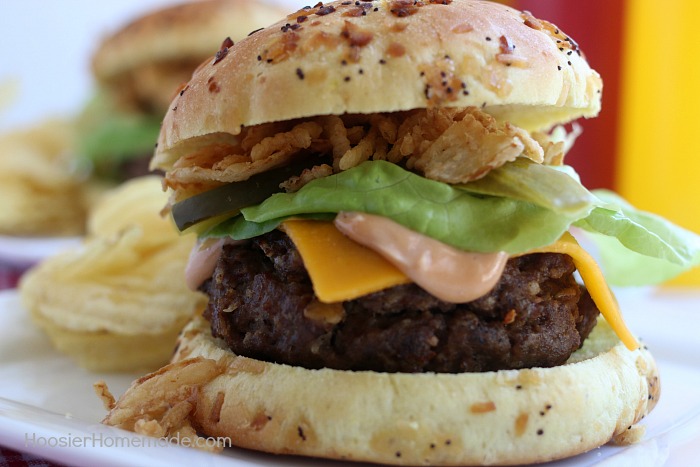 To make these burgers, mix all of your ingredients for your burger in a bowl until well blended. Then on a cookie sheet lined with wax paper, use an ice cream scoop to make sure the burgers are the same size. This ensures that they are all cooked to perfection! I used two scoops of my ice cream scoop- but you can use any size!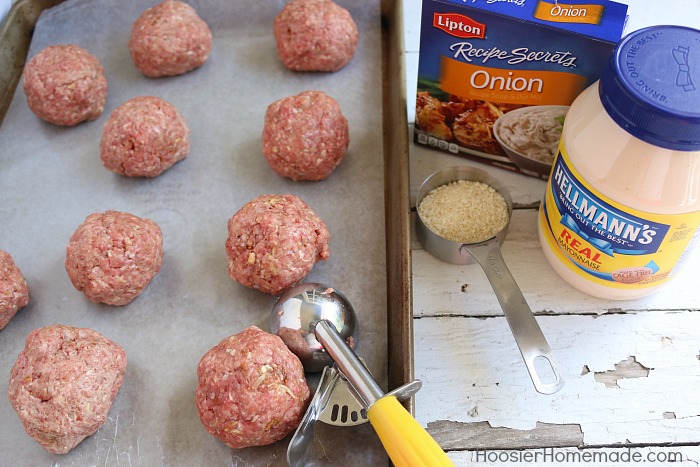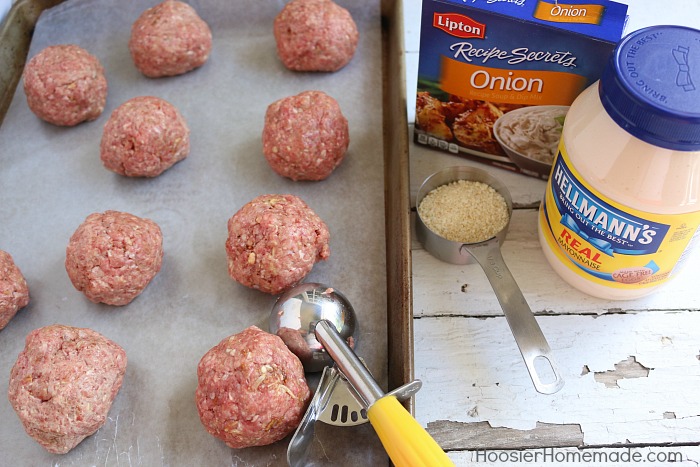 To flatten the burgers, add wax paper to the top and press down.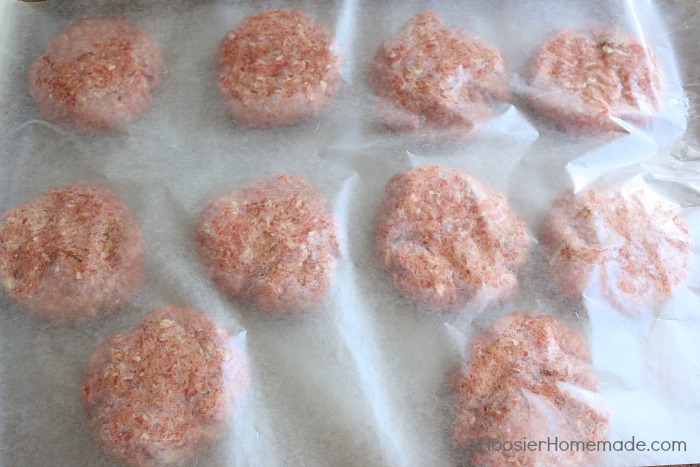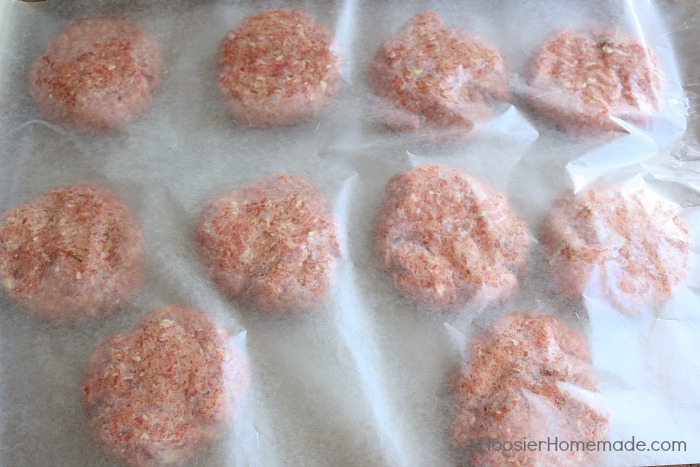 Finally, with your thumb or a melon baller, make an indentation in the top of the burger. This seems like a silly step, but it makes sure that your burgers are flat on the top. If you don't do this, they end up really round- and hard to put toppings and sauces on!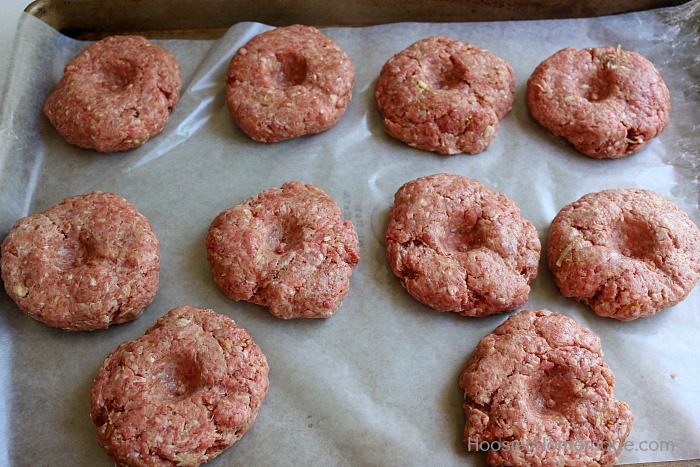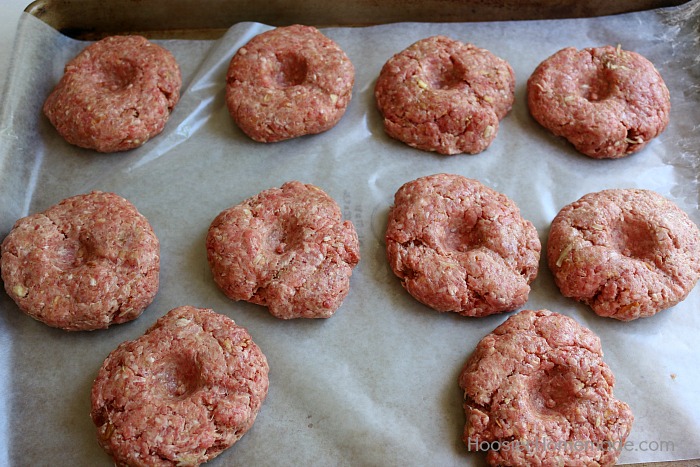 Grill up your burgers and add all of your favorite toppings! I used onion buns, french fried onions, lettuce, tomato and cheese.
Then I whipped up some sauce (I told you- I love the sauce!) by combining 1/2 cup Hellmann's® Real Mayonnaise and 2 tablespoons Barbecue Sauce- sweet and tangy!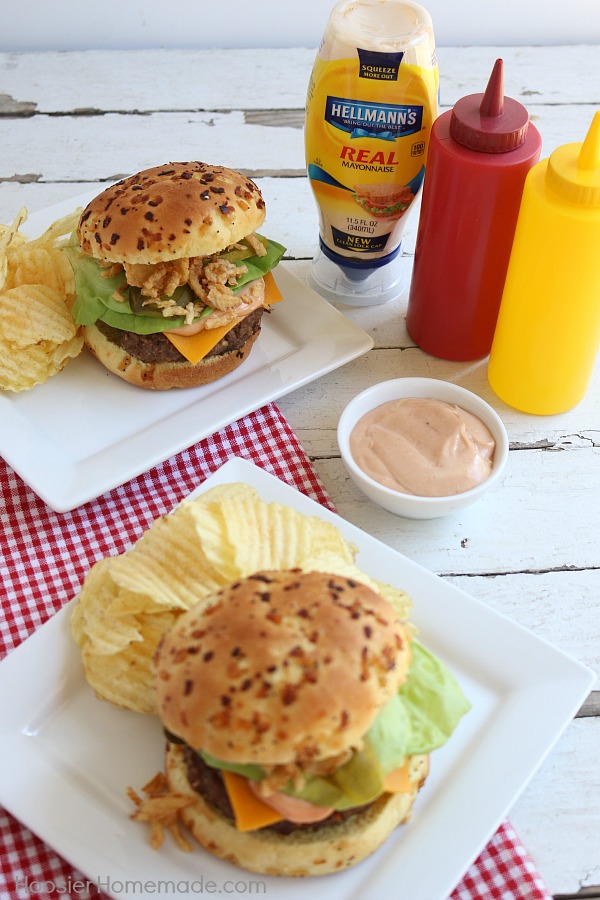 The onion soup mix in the patties really set these burgers apart! And the sauce is the perfect mixture of tangy and sweet- add on the french fried onions for crunch and you have the perfect all American  barbecue burger!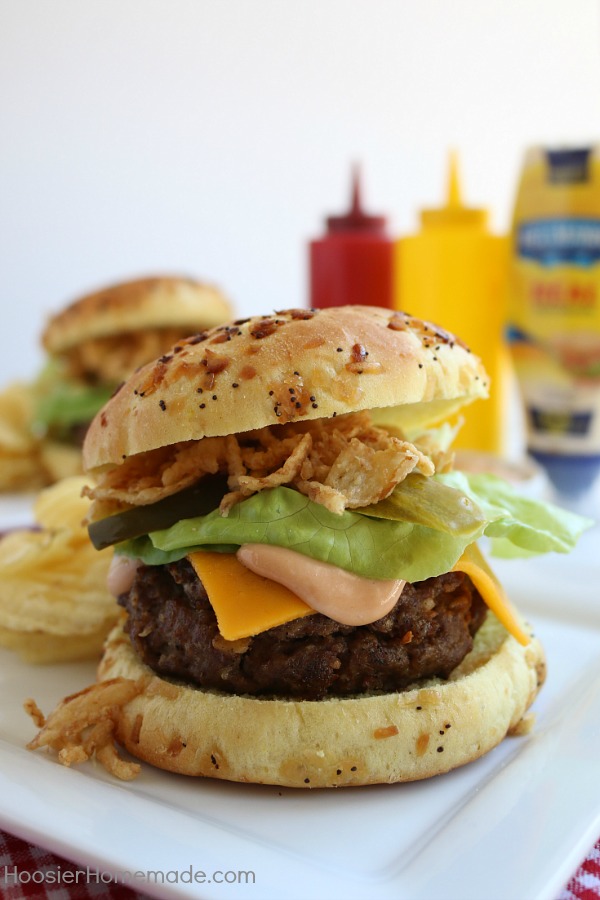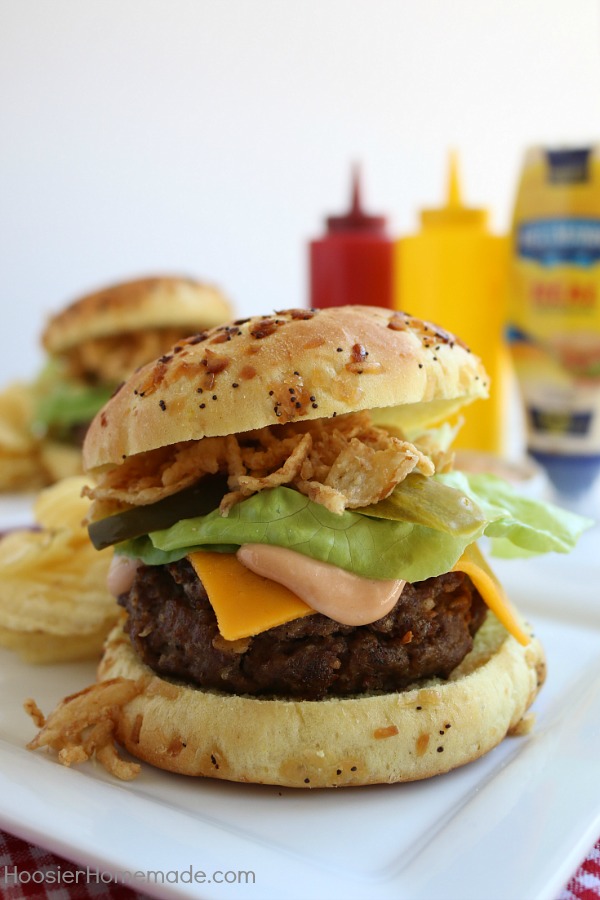 Unilever wants you to win $10,000! There are two ways to win- enter here daily for a chance to win a $50 grocery card to Jewel or other retailers. These are drawn weekly! OR enter your qualifying receipts here to be entered to win the $10,000 grand prize! The sweepstakes runs until September 1, 2016!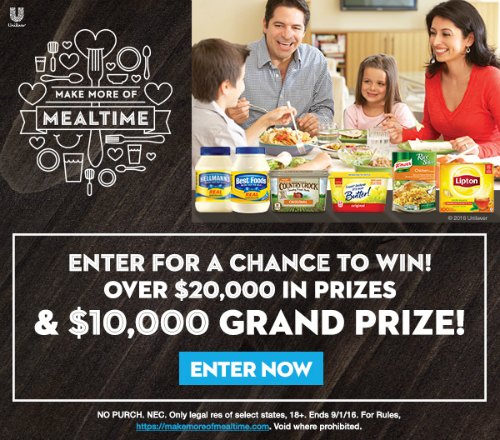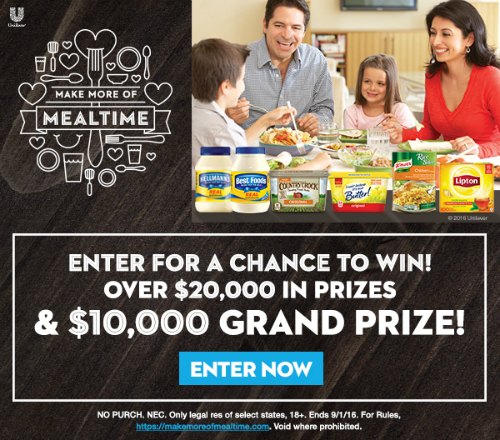 No Purchase Necessary. Open only to legal residents of AK, AR, AZ, CA, CO, DC, DE, FL, HI, IA, ID, IL, IN, LA, MA, MD, ME, MT, ND, NE, NH, NJ, NM, NV, OR, PA, RI, SD, TX, UT, VA, VT, WA, and WY who are at least 18 years or older. Sweepstakes starts at 12:00 PM ET on 6/10/16 and ends at 11:59:59 PM ET on 9/1/16. There will be 12 separate weekly enter periods and 1 grand prize drawing during the Sweepstakes. For Official Rules, including how to enter, entry periods, free method of entry instructions, list of participating products, prize details and restrictions, visit http://makemoreofmealtime.com. Void where prohibited or restricted by law.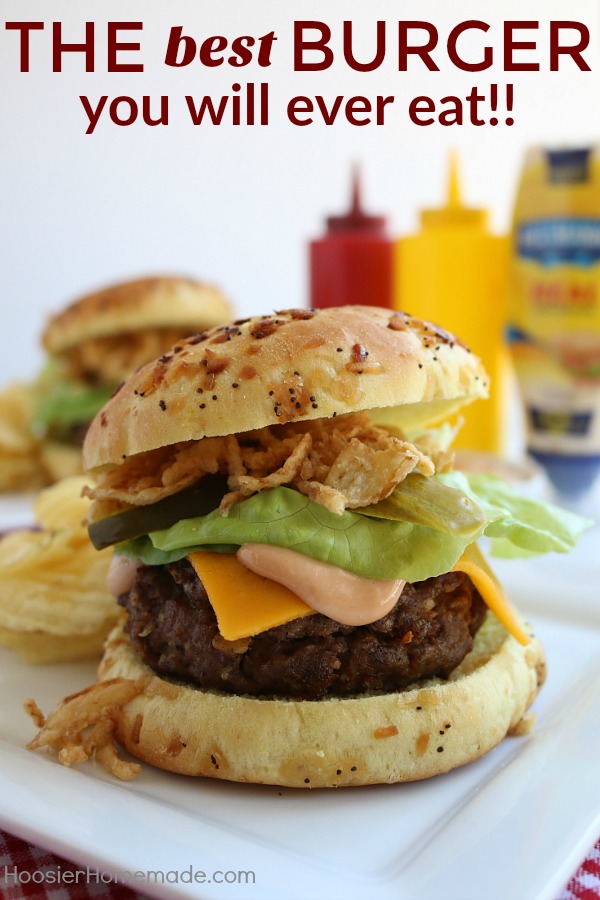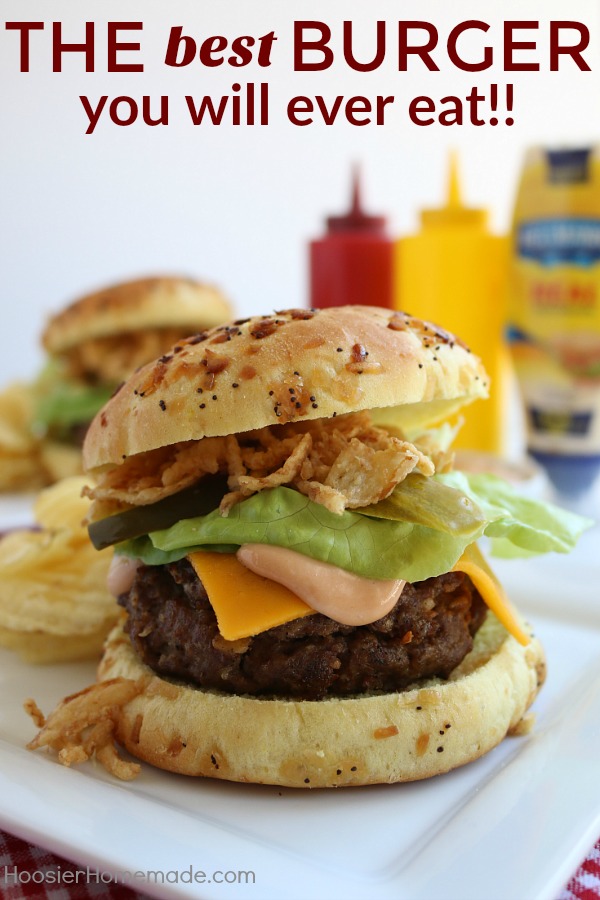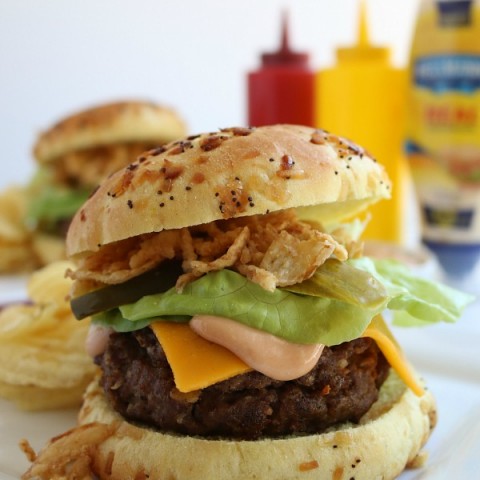 All American Barbecue Burger
This All-American Barbecue Burger is the BEST you will ever eat! Made with a secret ingredient and piled high with barbecue/mayo sauce, cheese, lettuce and pickles all on a special onion bun!
Ingredients
Burgers
1/2 cup Hellmann's® Real Mayonnaise
1/2 cup plain dry bread crumbs
1 envelope Lipton® Recipe Secrets® Onion Soup Mix
2 lbs. ground beef or ground turkey
Toppings
Onion Buns
French Fried Onions
Lettuce
Tomato
Pickles
or your favorite toppings
Sauce
1/2 cup Hellmann's® Real Mayonnaise
2 tablespoons Barbecue Sauce
Instructions
Burgers
Mix all ingredients together until well blended
On a lined cookie sheet, use a large ice cream scoop to make evenly sized burgers - I used 2 scoops
Add wax paper to top of burgers and press down until decided thickness
Use a melon baller or your thumb to make indentations in the burgers
Grill over medium-high heat until done
Mix barbecue sauce and Hellmann's® Real Mayonnaise
Serve burgers with toppings and buns